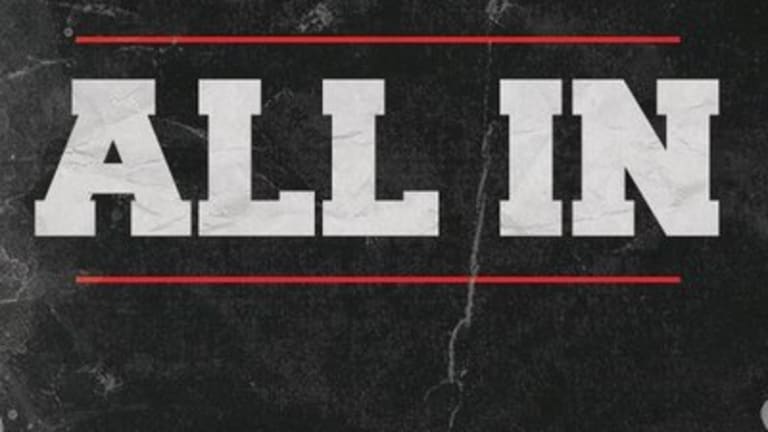 ALL IN Weekend Cashing In Big
Thomas Fenton Reports
ALL IN was a tremendous success across the board including all of the Starcast events, meet and greets, panels, parties, the show itself, but especially in merchandise sales. 
At the time of this writing, the merchandise figures are still be accounted for, however, the numbers of these sales are much higher than even the biggest fan could have expected. 
We should have had an idea of this coming after the ALL OUT PRE-PARTY sold 2000 tickets in less than 3 hours which included a T-shirt at $20 a ticket, grossing at 40,000 dollars alone in sales. ProWrestling Tees also did a clip of just under half a million dollars in sales from Thursday to Saturday. 
With only two merchandise stands at the ALL IN show, many fans saw lines that last over an hour long, with many exclusive shirts selling out prior to 4:30 pm. It is being currently estimated that the sales for Bullet Club and ALL IN related merchandise reached a sum total just south of 1 million dollars from Thursday-Sunday, and does not include the online merchandise orders that are coming in. To put some perspective on the average on this, the average for WrestleMania merchandise per head the last three years was around $48.67 at the events. 
One of the biggest keys in the merchandise sales for ALL IN was that the fans were able to purchase merchandise at Starcast, Pro Wrestling Tees, the ALL OUT Party, and the show itself. With all that being said, the amount of money being spent per head was significant. While it can be debated, the WrestleMania and Mania Weekend events would put merchandise per head well over the per head amount of $48.67. What cannot be debated is that we are talking about these two events in the same realm in a per person average. 
The next big question that needs to be answered to ALL IN is how the WGN America viewership did. Anything over 300K would be huge considering it was the first day of College Football. These numbers should be released tomorrow. The PPV Buys will take a bit longer to figure out as Honor Club will hurt the buy rates for PPV along with Direct TV not carrying the event. The FITE number should be available this week. 
This event, no matter what further numbers come into play, was a much bigger success than most could have ever dreamed of. It is a testament to Nick and Matt Jackson along with Cody for putting the event together, and Conrad Thompson for making Starcast as big and successful as it was. All the workers involved at the event leading to the show, and those who were on the ALL IN show, but to the fans as well for supporting the show and showing that an alternative in wrestling is not only wanted, but desired on a lager scale.