Vince McMahon & Triple H Still On Poor Terms Over Cuts, Backstage Chaos, This Week's WNW Premium Newsletter
The following article is only available to WrestlingNewsWorld.com Premium Members. Sign-up here to view this article and unlock all our exclusive features. By signing up not only will you unlock all exclusive features but the website is also 100% advertisement free!
Welcome to the WrestlingNewsWorld.com Premium Newsletter. This is where you will find all of the big news and Ask WNW segments from the week neatly archived for your viewing pleasure. This week's edition covers news from Saturday, August 2, 2014 to Friday, August 8, 2014 as well as all five Ask WNW segments from the week. Use this newsletter as your own personal tool to catch up on any of the news that you may have missed during the week. Below is a table of contents:
Note From Richard: For those that have asked, the Newsletter is organized with the news posted on Saturday at the top with the most recent stories at the bottom. We have it organized this way so you can read the news in the order in which it happened. Thanks for your support!
Table Of Contents
- WWE News
- TNA News
- Ask WNW
WWE News
- WWE is running an injury angle with Divas Champion AJ Lee following Paige's attack on this week's Smackdown. The article explains:
"AJ was initially not responding when we got to her," stated WWE physician, Dr. Chris Amann. "As a precautionary measure, we put her in a neck brace, put her on a backboard and escorted her to a local medical facility for follow-up testing. There, she was diagnosed with a whiplash injury."
Click here for more.
- Eden attempts to get an interview with The Miz on this week's Smackdown Fallout, available at this link.
- Ricardo Rodriguez was released from WWE on Wednesday as part of the company's budget cuts. Since breaking Rodriguez away from Rob Van Dam, the company had struggled to find a spot for him on the main roster. Rodriguez was given a role on the Spanish broadcast team and worked occasional matches under a masked Lucha Libre gimmick known as El Local.
Rodriguez wanted to wrestle and that was something he shared in his first comments following the news of his release broke:
He's expected to work dates on the independent scene and Tweeted a photo on Friday where the was bowling in Florida with TNA Knockout Brittany:

- Hulk Hogan was recently a guest on Busted Open with Doug Motman and Dave Lagreca on SiriusXM 92 and on the SiriusXM app. In the interview, he had some interesting comments regarding Sting's deal with WWE.
Hogan recalled running into Sting at the airport -- either before or after their appearance at San Diego Comic Con International -- and discussed their conversation. He said he told Sting he needs to wrestle [in WWE] and it's something that needs to be done.
The Hulkster explained Sting has never established himself on the big stage and while no disrespect to his accomplishments, he was always a southern type of wrestler and always was with NWA or WCW. Hogan said Sting needs to make that statement because he's still got it, can still do it and is still over. If not Undertaker, he needs to wrestle John Cena. Hogan said Sting has to make his mark and it can't just be a game or action figure.
- This week's episode of The JBL & Cole Show is online at this link.
- Newsday has a Q&A online with Paul Heyman to promote WWE's latest DVD and Blu-Ray documentary, "Ladies and Gentlemen, My Name is Paul Heyman." You can read it at this link.
- Sean "X-Pac" Waltman and Kevin Nash will not be on the Degeneration X panel at SummerSlam. I'm not sure where that information originated from as we always reported the DX panel will feature Triple H and Shawn Michaels. Click here for more.
- WWE issued a survey to fans to gauge interest in a Fantasy Camp at the WWE Performance Center.
The "VIP experience" would not include any physical involvement but the opportunity to tour the facility, observe a promo class taught by Dusty Rhodes, watch a training session, meet superstars, coaches and legends, attend a private live event and take home merchandise.
The proposed cost for a 3 Night/2 Day WWE Fantasy Camp at the Performance Center is $7,500.
We've attached the entire survey in images you can see below: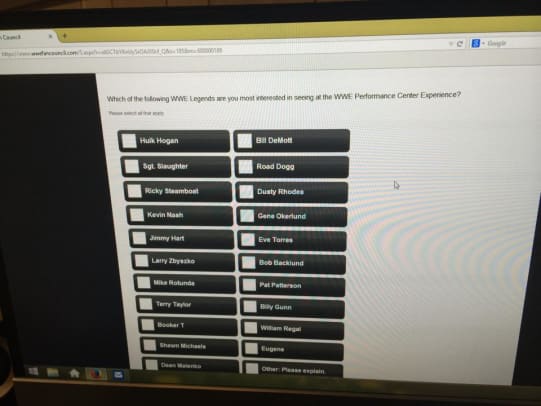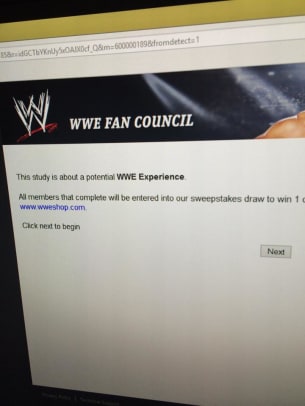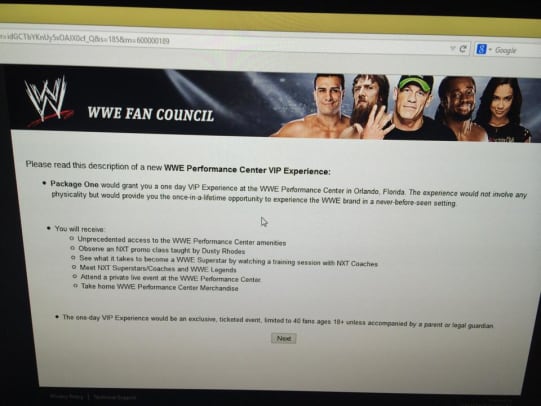 - Vickie Guerrero has landed work in the field of medical administration. She Tweeted the news on Saturday, writing that a pharmaceutical company hired her to process patients for treatment through their insurance companies. She'll also work with doctors.
The following is from Twitter:
Vickie left WWE earlier this year to conclude a storied 9-year career. Once seen only as "the wife of Eddie Guerrero," Vickie earned the right as one of the best talkers in the history of the wrestling business. - Hulk Hogan held a meet and greet at iPlay America in Freehold, New Jersey on Saturday. While there, Jimmy Hart essentially let it slip that Hogan will be featured on an upcoming episode of Raw. Hogan said he's training to wrestle and his ideal opponent would be John Cena. This is something Hogan has lobbied for since he was with TNA but Vince McMahon and Triple H are not (or haven't been) on board. In fact, I was told when Hogan was negotiating with WWE, the company didn't want any deal to be contingent on a match. That's not to say it doesn't happen either. - One of the new WWE production trucks with the WWE Network logo on it features Undertaker and Ultimate Warrior. You can view a photo below: - While we haven't followed this too closely, Guardians of Galaxy, in which Batista plays Drax the Destroyer, brought in $94 million over the weekend. The number was the biggest August opening of all-time. Forbes has the story at this link. - Randy Orton has some issues with people on Twitter that he would like to clear up. The former WWE World Heavyweight Champion took to his verified account to explain that he doesn't do fan Q&As [like Zack Ryder and Dolph Ziggler} and he was not dishonorably discharged from the United States Marine Corps. The following is from Twitter:

I don't do Q&A's. So stop asking. Try @ZackRyder or @HEELZiggler.

— Randy Orton (@RandyOrton) August 2, 2014
Was that a pseudo-shot at Ryder or Ziggler?

Bad Conduct Discharge, not Dishonorable. Fact check next time ya D bagRT @BillntwrkBill: @RandyOrton ... http://t.co/WkDPZ0VRBv

— Randy Orton (@RandyOrton) August 3, 2014
Orton's discharge from the military caused him to be The Marine 3. The Miz ended up with the role. - Remember when Nick and Matt Jackson a/k/a The Young Bucks (f/k/a Generation Me) rubbed several wrestlers the wrong way backstage at a WWE TV taping in August 2011? For those that do not remember, the tag team prior to a WWE TV taping in August 2011. Their work was in front of producers without the crowd present. However, it was what happened out of the ring that made headlines. At the time, Booker T Tweeted that he ran into "two small guys" backstage and they didn't introduce themselves. He accused them of having "no respect" and later Tweeted if you can't make it in the locker room, you won't make it in the ring. Goldust Tweeted the following about it in :

As booker says.....better show some respect when in the locker room, there are good teachers here that know more than you young bucks….
A month prior to the controversy, Rob Van Dam, while he was employed with TNA Wrestling. Fast-forward three years later and Matt Tweeted the following photo of him and Nick with Booker T from backstage at a Northeastern Wrestling show on Saturday night:

Was it all an #angle? pic.twitter.com/wQcwKGYqa4

— The Young Bucks (@MattJackson13) August 3, 2014
At the show, The Young Bucks "did the honors" to The Hardy Boys. - Randy Orton's behavior on Twitter has gone from questionable to downright bizarre (if not mean?). The former WWE World Heavyweight Champion Tweeted a photo on Sunday of what appears to be a female fan with the following inscription:

Look @kimklro I met the Latino Ms. Piggy today at the gym. I wish you were there to have a good laugh with me! #MsPig
You can view the photo below: Orton when he told fans he didn't do Q&As like Zack Ryder and Dolph Ziggler and called a fan a "D bag" regarding his discharge from the United States Marine Corps.

Look @kimklro I met the Latino Ms. Piggy today at the gym. I wish you were there to have a good laugh with me! #MsPigpic.twitter.com/kS86wxy3rs

— Randy Orton (@RandyOrton) August 4, 2014
August 4, 2014 9:40 AM EDT Update: Apparently this has do with some drama involving Orton's real-life girlfriend. She justified the Tweet with the following:

Thats what @kgomez325 gets for always talking shit about me . Your not the only one who can play games

— Kim Marie ❤️ (@KimKlro) August 4, 2014
- The Bella Twins were at the inaugural Wizard World San Antonio Comic Con on Sunday. Here's a photo of them with Jason David Frank: - The Wrestlemania 30 world premiere special aired on NBC on Sunday night. As expected, neither of Daniel Bryan's matches were shown. They weren't pulled because of a "lack of confidence" in him but because he is out of all creative plans indefinitely. The company didn't want to use an hour of broadcast programming, showing a superstar they couldn't currently deliver in some fashion at this time. - The Undertaker is scheduled to attend Wizard World Austin at the Austin Convention Center on Friday, October 3, 2014. The appearance will take place from 4:30-8:30 PM and will feature him signing autographs and posing for photos. This will be his first public appearance since Brock Lesnar ended his streak at Wrestlemania 30. for more information. - WWE World Heavyweight Champion John Cena Tweeted a photo of his character in WWE 2K15. You can view it below:
WWE Warehouse and is featured in a new episode of the
YouTube
series. You can watch episode five at this
WWE previously announced
John Cena
,
Hulk Hogan
,
Sheamus
,
Cesaro
and
Roman Reigns
for the
WWE 2K15
roster reveal at LA LIVE in Los Angeles over
SummerSlam
weekend. The event will be hosted by
Steve Austin
and will also feature
Sting
.
for updated details on dot com. -
Alberto Del Rio
handled interviews in Spanish that were dubbed into last week's episode of
Monday Night Raw
in Spanish viewing countries. The gig used to belong to
Ricardo Rodriguez
, who Del Rio heeled in character. Del Rio referred to Rodriguez as "fat and useless" in Spanish. Rodirguez
WWE contract last week
. He was the former ring announcer for Del Rio in storyline. - The world television premiere special of
Wrestlemania 30
that aired Sunday night on NBC garnered an average viewing audience of 3,900,000 viewers. You can view how it stacked up to other broadcast programming at this
Hulk Hogan confirmed on Twitter what
in that he'll be at next week's episode of
Monday Night Raw
-- the go-home to
SummerSlam
-- in Portland, Oregon. The following quote is from Twitter:
I will be at RAW next week in Portland Oregon brother HH

— Hulk Hogan (@HulkHogan) August 4, 2014
- Wrestling News World reader Jorge Romero reports that Lex Luger was at the Mid-Atlantic Wrestling Legends Fanfest over the weekend. According to attendees, Luger was confined to a wheel chair. A photo of him with a fan is available at this 2KSports will release WWE 2K15: Hulkamania Edition. The special set will come with a copy of WWE 2K15, premium packaging, collectible art card autographed by Hogan, Funko Hollywood Hulk Hogan vinyl figure, piece of ring canvas from Hogan's Monday Night Raw appearance, two pre-order launch exclusive playable Hulk Hogan characters and two pre-order launch exclusive playable Sting characters. The price for PlayStation 4 and XBox One is $99.99. A photo of the set is available below: - TMZ has a poll online asking if the Randy Orton fan that he called "Latino Ms. Piggy" deserved it. With 20,241 votes submitted, 55% voted No and 45% voted Yes. We covered the sophomoric/ridiculous story at this WWE right now. While the office cuts were finalized last Thursday, many people feel like they're "walking on eggshells" and the slightest mistake or incident could result in their termination. Producers and backstage workers are extremely worried about their job security with one employee stating they have performed their normal job differently to do whatever they can to please their superiors. The implication here is they are more concerned with appeasing the brass than doing their job as they would do it. - The script for this week's episode of Monday Night Raw was not finalized as of 11 PM EDT on Sunday night. - Randy Orton is expected to meet with WWE officials over his Twitter activity Monday afternoon at Raw, although I doubt it will be much of an issue, considering he's gotten away with much worse in the past. - One WNW Premium Member asked us if AJ Lee had a "no touching policy" when taking photos with fans, I'm told show does not. Obviously there are boundaries but to insinuate she doesn't allow casual contact as someway to bury her is asinine and untrue. - It was a busy Sunday for Bray Wyatt and Nikki Bella as they appeared at the inaugural Wizard World San Antonio Comic Con prior to working a WWE live event in the city. John Cena, who was originally scheduled, was off due to filming commitments. - Wrestling News World reader Jeff House met Chris Jericho on Monday at a Fozzy autograph signing in Austin, Texas. Take a look at what he got signed: Thanks to Jeff and of course to Mr. Jericho! We greatly appreciate it. - Who has the best arsenal in WWE? Watch a video about it at this announced on Monday that AJ Lee will defend her Divas Championship against Paige at SummerSlam. - Last week's episode of WWE Smackdown -- featuring Chris Jericho vs. Erick Rowan -- garnered an average viewing audience of 2,713,000 viewers on SyFy. The show was the highest rated cable original on Friday night. The number was down from what the show has been doing as of late. TV by the Numbers has data for the top 100 shows on cable for all of Friday at this WWE Night of Champions is now available. You can view it below: WWE Night of Champions will take place September 21, 2014 at the Bridgestone Arena in Nashville, Tennessee. for more. - WWE Studios and Lionsgate will release "Leprechaun: Origins" starring WWE'sHornswoggle in theaters after all, Variety is reporting. While the movie was slated to be released for direct to home entertainment platforms on August 26, it will go to theaters on August 22 after an impressive presentation at last month's San Diego Comic Con. for coverage by Variety. - FolioMag.com is reporting that WWE Magazine is ceasing publication after 30 years in print. According to their report, 14 of the 55 WWE office cuts were related to the publication. They include the following statement from a WWE spokesperson:

"Our internal operations for WWE Magazine have ceased," the company says in a statement. "We will look at both domestic and international licensing opportunities moving forward."
What this means is the company will look at possibility outsourcing the magazine to a third party going forward. This is part of ongoing budget cutbacks WWE is making to become more efficient as they look to improve on their new WWE Network driven business model. Click here for coverage by FolioMag.com. - Fergal Devitt spoke with Renee Young about leaving stardom in Japan for WWE NXT. You can watch the interview at this WWE Network coming to Canada on August 12, 2014. The subscription service will be available on Rogers Channel 512. for more information. - Randy Orton has deleted his controversial Tweet and apologized. As we reported , Orton Tweeted a photo with a fan and called her "the Latino Ms. Piggy." The Tweet resulted in silly mainstream media attention, including . We reported that WWE officials were expected to meet with Orton over the Tweet Monday afternoon before Raw. Below is Orton's apology:

I apologize if any of my previous tweets offended anyone. The answer to bullying isn't more bullying...

— Randy Orton (@RandyOrton) August 4, 2014
As stated, his original Tweet [with picture class="twitter-tweet" src="//platform.twitter.com/widgets.js" href="http://www.wrestlingnewsworld.com/chaos-wyatt-bella-orton/#.U-ASoIBdWVc>here" alt="WWE Night of Champions 2014" width="278" height="360"] has been deleted.
- It was announced on WWE.com on Monday that Roman Reigns will face Randy Orton at SummerSlam. You can check out the official match preview here.
- Mark Henry returned on Monday Night Raw and beat Damien Sandow. Henry has been dealing with nagging injuries and last provided a health update in June. Video footage of the bout is available at this link.
- The Miz will defend his Intercontinental Championship against Dolph Ziggler at SummerSlam.
- Roman Reigns suffered a laceration on his forehead during his match against Kane on tonight's episode of Monday Night Raw. According to WWE, the wound required 6 staples to close but Reigns will not miss any time in the ring as a result. Click here for more from WWE.
Reigns tweeted out the following photo after his match:
- As noted, Hulk Hogan will be appearing next week on Raw from Portland, Oregon and will be celebrating his birthday. WWE is advertising special guests and surprises for the celebration. Scott Hall added his name into the speculation:

- JBL announced on this week's Raw that the WWE Network will be available in the United Kingdom on October 1st.
- Luke Harper and Erick Rowan will both be banned from ringside during Chris Jericho vs. Bray Wyatt at SummerSlam. Jericho beat Rowan last week on SmackDown and then beat Harper by disqualification on Raw after Wyatt interfered.
- After this week's episode of Monday Night Raw went off the air, Big Show, Dean Ambrose & Roman Reigns beat Bray Wyatt, Seth Rollins & Randy Orton in a dark match main event. Show hit the Knockout Punch on Orton to go over.
- Here's the Raw GIF of the night on dot com.
- The WWE Studios project "Oculus" is now available on DVD, Blu-ray and Digital HD. For more information, click here.
- Former University of Texas/Tennessee Titans quarterback Vince Young was at this week's episode of Monday Night Raw in Austin. Mark Henry actually sought him out after his match to shake his hand.
- WWE Studios and Lionsgate will host an advanced screening of "Leprechaun: Origins" starring Hornswoggle on Wednesday, August 13th at 7 PM PDT at The Los Angeles Film School in Hollywood, CA. Click here for more.
- Speaking of WWE Studios, they have transitioned to the new WWE Network style logo. You can view it to your right:
- Paul Heyman was on The MMA Hour on Monday and talked plenty about CM Punk. Heyman stated that Punk's goal in life is to never lace up his wrestling boots again. He also claimed that he doesn't believe WWE wants Punk back, although that could obviously change down the road. You can watch the appearance at this link.
- For those that missed this week's episode of Monday Night Raw, the company had no shame in promoting the underperforming WWE Network. The promotion was forced and came off as desperate.
At one point, JBL held a hand-written $9.99 (the subscription price) note over the face of Michael Cole when talking up the Network (mind you this was in addition to the show's opening segment being dedicated to the promotion).
Here's a photo for the record:
Maybe it's just me but maybe people aren't buying the WWE Network because the people headlining SummerSlam -- John Cena vs. Brock Lesnar -- were nowhere to be seen (despite some video packages).
Cena wasn't there due to filming commitments for The Hive and Lesnar's part-time status leaves his dates limited.
WWE announced last week the WWE Network has 700,000 subscribers as of June 30, 2014. This number was only up 32,713 since April 7, 2014. Click here for a breakdown of the latest WWE Network subscription data.
- The viewership for WWE's world premiere of Wrestlemania 30 that aired Sunday on NBC has been adjusted down. While the overnight numbers came in at a viewing audience of 3,900,000, the numbers were adjusted down to 2,540,000 viewers. The adjustment is significant, making the audience the smallest [for the special] in the last three years. TV by the Numbers has more at this link.
Backstage News from Monday Night Raw in Austin, TX…
- Roman Reigns will not miss anytime after receiving six staples in his head. The injury occurred when he hit his forehead on the ring post but did he passed all concussion tests. Reigns is cleared to continue to work, although it is concerning that he was banged up just last week. Also, let's not forget he suffered a similar injury (busting open his face) just a few months ago.
- The expectation is for Seth Rollins vs. Dean Ambrose to "steal the show" at SummerSlam, however, the gimmick to their match has legitimately not been finalized. As the storyline goes, Ambrose will announce the stipulation on this week's episode of Smackdown (that will be taped on Tuesday night). We heard ideas pitched included a street fight or a ladder match for the Money in the Bank briefcase.
- Brock Lesnar is scheduled for Raw on August 11 and August 18 (the episodes before and after the pay-per-view). Expect him to be featured prominently next week, pushing him as the "beast" ahead of main event against John Cena. In fact, there was some talk about possibly doing an angle with Hulk Hogan. Remember it was over a decade ago before SummerSlam 2002 where Lesnar "bloodied" Hogan, which many saw as significant in building him as a main event talent.
- We're still hearing plans to do a WWE Tag Team Championship match at SummerSlam with The Usos defending against Goldust & Stardust and Luke Harper & Erick Rowan.
- Expectations are very high for the new Paul Heyman DVD set. One source said WWE believes it could outsell the CM Punk: Best in the World set released in 2012.
- We're told The Ascension continues to be atop the list of WWE developmental talent awaiting a main roster call-up.
- This week's episode of WWE Money Night Raw did an average viewing audience of 4,048,333 viewers on the USA Network. Below is how the show broke down by hour:
Hour one - 4,075,000 viewers
Hour two - 4,193,000 viewers
Hour three - 3,877,000 viewers
TV by the Numbers has data for the entire night available at this link.
The audience was the lowest since the June 23, 2014 episode.
- Vince McMahon talked about the art of silence in Triple H vs. The Undertaker for Wrestlemania XXVII in a preview for an episode of Wrestlemania Rewind on the WWE Network. You can watch at this link.
- Batista was on Chad Dukes Versus the World on Monday to promote Guardians of the Galaxy. He touched on a number of topics, most notably saying he believes The Shield should have stayed together longer and that he's the worst babyface in the history of wrestling. You can listen to the interview at this link.
- You can watch a trailer for Oculus that's now out on DVD at this link.
- One of the new WWE production truck designs features a graphic of The Usos beside the Smackdown logo, with the text "Thursdays 8/7c." The new WWE Network style logo and SyFy logo are there in addition to the social icons and of course WWE.com. You can view a photo taken at this week's television taping in Texas below:
I know there has been talk in recent years about Smackdown moving back to Thursday nights. Thursday night is one of the most watched in television, while Friday is one of the least watched. WWE's new deal with NBCUniversal begins this fall, which would likely be when such a change would take effect.
For those wondering, it's doubtful a move to Thursday nights would mean a switch to a live broadcast. The company would likely still tape on Tuesday night before airing the show on Thursday.
- Randy Orton shed more light on the Twitter incident on Monday where he called a fan "the Latino Ms. Piggy." He wrote the following about why he blocked her on the social media platform:
I blocked you because you've been stalking and harassing my girl for too long now. Then stalking me when I had no idea who you were for a pic, just so you could use it to again, to harass my girl. You waited outside the gym to get to me! That's called stalking! I dare you to get a freaking life or just go be a troll somewhere else. Please
When asked how he would handle this situation in the future, Orton Tweeted:
In other Orton news, he Tweeted a new non-wrestling project was in the works:

Richard Reacts: Randy Orton apologized for said incident. It's at least more palatable that this woman was someone that had been stalking him rather than a random fan he called "the Latino Ms. Piggy," however, it doesn't absolve him of wrong doing either. Orton is a public figure with 3.6M Twitter followers. He's a high profile WWE name, making millions of dollars a year. Rather than playing beef out on Twitter for the world to see, he should have his legal team work to keep this woman away from him and his significant other. If he feels their safety is at risk, he should hire private security or alert the authorities.
- Triple H, Stephanie McMahon & George Barrios took part in "fireside chat" with Entertainment and Media Analyst Laura Martin of Needman Company at the the Needham Interconnect Conference in New York City on Tuesday.
Below are the notable points to come out of the chat:
Episodes of WCW Monday Nitro will be added to the WWE Network in the next 45 days, in conjunction with the premiere of Monday Night War.
The WWE Network being released internationally should be the same as what is currently available in the United States. This includes the $9.99/month price with a six-month commitment or $19.99 for a single month.
WWE believes charisma is the x-factor that separates superstars and megastars.
Chris Harrington from Bleacher Report typed out a lengthy recap that is available at this link.
- WWE will begin their tour of Australia with a show at the Rod Laver Arena in Melbourne on Thursday. The official list of advertised talent for that particular show includes Roman Reigns, Chris Jericho, Ric Flair, The Wyatt Family, Kane, Sheamus, Rob Van Dam, Cesaro, The Usos, The Miz, Kofi Kingston, Fandango and Nikki Bella.
No you are not seeing things, RVD, who has been out with an undisclosed injury, is on the booking sheets for the tour.
He Tweeted the following on Wednesday:
- Dolph Ziggler is featured in this week's kayfabe sit-down interview with Michael Cole. Obviously, he's promoting his WWE Intercontinental Championship match against The Miz at SummerSlam. You can watch at this link. - Eden practices her ring announcing skills in a new video blog at this link. - John Cena challenged actress Aisha Tyler to a thumb war while in his makeup for "The Nest." You can watch at this link. - Dot com has a "Where Are They Now?" piece on Mike Bucci a/k/a Simon Dean online at this link. He's now a branch manager at Woodforest National Bank in Louisville, Kentucky. He has a 4-year-old daughter and is a big Dallas Cowboys fan. - Hulk Hogan told Matthew Aaron of The Matthew Aaron Show that his goal is to perform in the ring again. He said it's not if but it's when. Hogan said he's been training like crazy and his back doesn't hurt at all. He says now, he's really trying to get him in that kind of shape. He said if you get in the WWE ring you have to bring it [like The Rock says]. He said last time he got in the ring, they were begging for him to take it back. Hogan said if he gets back in there, he wants to make sure he's ready and that he gives the fans something to remember him by. The Hulkster said his goal in life is another WWE match. Hogan teased himself, saying he didn't even know how to work his gimmick. He had the largest arms in the world and rather than having the sleeper as his finisher, he was dropping the leg. Hogan said if he wouldn't have been using the leg drop for so many years, he wouldn't have had so many back surgeries. You can listen to the comments at this link. - I reached out to a WWE spokesperson in regards to Smackdown moving to Thursday nights on SyFy. They confirmed a move has been "contemplated," but that no decision has been made. As to how the production truck got updated with "Thursdays at 8/7c on SyFy," the spokesperson, speaking on behalf of the company, said the person that painted it was "overzealous." Below is the official statement in its entirety:

A move has been contemplated, but no decision has been made. Someone was overzealous in updating our production trucks. The trucks are being fixed to reflect the current and accurate information of Fridays at 8pm.
We reported late Tuesday night here on WrestlingNewsWorld.com a move was possible with a photo of the new WWE production truck design. - PWInsider.com is reporting that WWE has released longtime timekeeper Mark Yeaton. I am unable to confirm their report as of press time but shocking would be understating it. Yeaton had been with the company for decades and was known for only missing two editions of Wrestlemania in his career (despite being employed for all of them). WWE profiled his lengthy employment in a feature video last year that you can watch at this link So far, Yeaton has not acknowledged the release on his Twitter account located at http://twitter.com/WWETimekeeper. - Conan O'Brien did a spoof on "Laid Off WWE Wrestlers" amid reports that WWE was cutting 7% of its staff. You can watch at this link. - WWE's live event in Melbourne, Australia is complete and we're working on results. The show was Chris Jericho's first bout in Australia in 9 years. WWE Tag Team Champions The Usos visited the Melbourne Storm rugby club earlier in the day. You can view a photo below: - The Rod Laver Arena was sold out for the show. While John Cena wasn't on the card (as he had to cancel due to filming commitments), he was featured in a video package. - There are several WWE videos to note. First, this week's episode of WWE Inbox features The Miz, Zack Ryder, Renee Young and others talking about their favorite Chris Jericho surprise returns. You can watch at this link. Go behind the scenes of Sasha Banks' summer photo shoot at this link. Jason Albert (f/k/a Tensai) has a new NXT video blog where he talks about the WWE Performance Center available at this link. Wesley Blake explains that it's his dream come true to have the chance to train at the WWE Performance Center in a new video blog at this link. - WWE is heavily promoting the "birthday bash" for Hulk Hogan on next week's episode of Monday Night Raw. In a company-issued press release, it's noted there will be "backstage parties" and "surprise guests." The hashtag #HBDHulkHogan can be used by fans that wish to participant in the celebration. While the "surprise guests" are not confirmed, Scott Hall hinted at an nWo reunion on Twitter. The following is from his verified account:

Next week's Raw will be the go-home to SummerSlam episode and will emanate from the Mota Center in Portland, Oregon. We'll have complete coverage here at WrestlingNewsWorld.com. - Chris Jericho helped a friend propose to his girlfriend at Thursday's WWE live event in Melbourne, Australia. The entire thing was epic and one the couple will never forget. WWE uploaded video at this link. Jericho Tweeted the following from his verified Twitter account:

As noted in our results, the proposal took place after Jericho's win over Bray Wyatt.
Congratulations to Daniel and Mikala!
- The Tampa Bay Times has a new article online featuring quotes from Batista to promote his role as Drax the Destroyer in Guardians of the Galaxy.
In it, he made an interesting comment in regards to his future in WWE. While Batista admits that he left due to obligations with Marvel, he revealed a rift between him and the company.
"I put it aside for now, and that really had a lot to do with my obligations to Marvel," he said. "But it also had to do with the fact that (the WWE and I) weren't seeing eye-to-eye, creatively. The stuff they were doing with story lines just didn't make sense to me. ... I'd love to go back. I'm a professional wrestler at heart and I miss it. But I want to be there and be happy with what I'm doing."
Batista talked about other things, including his desire to live a normal everyday life and his failed co-ownership of a Gracie Fighter Jiu-Jitsu gym in Tampa. You can read the piece at this link.
Richard Reacts: Nothing about Batista's return to WWE went right. From the moment it leaked in advanced promotional materials to creative force-feeding him as a babyface. Royal Rumble was a disaster and it just didn't work out. Batista is a guy that doesn't skirt around the issue and he's calling it as it was. At this point it might not be a bad idea if both sides just part ways for good.
- Three suspects were arrested on Wednesday in connection with the man that Daniel Bryan subdued for police after he allegedly robbed his home.
Phoenix police say Alexandra Olvera, Edward Alexander Johnson and Gilberto Gil Gastelum were arrested while burglarizing a home Wednesday. The vehicle they were spotted in was the one used for the burglary on the home of Daniel Bryan. Olvera was believed to be the get-away driver in that incident.
Information used from the suspect subdued by Daniel Bryan, whose real name is Bryan Danielson, was used to apprehend the aforementioned suspects.
Click here for local news coverage.
- Alberto Del Rio has been released from WWE, according to the following announcement on their official website:
WWE announced the release of Alberto Del Rio due to unprofessional conduct and an altercation with an employee.
Click here to see the announcement. We'll have more on this story as it develops.
- WWEannounced on Thursday evening through a statement on dot com that Alberto Del Rio has been released due to "unprofessional conduct and an altercation with an employee." So far, I am unable to confirm what happened but I have reached out to some key contacts.
Del Rio has been no stranger to controversy during his tenure with WWE. It was just last year when he and real-life best friend Drew McIntyre (who was released earlier this summer), showed up backstage at SummerSlam looking like they had been beaten up. Del Rio had a noticeable black eye from the incident. He later claimed it happened at a WWE live event. Earlier this year he was involved in a spat on Twitter with Batista, which began as a work but turned into a shoot. Del Rio admitted in a media interview that he didn't like 70% of the guys in company. He also went on record saying that he's a "bit of an asshole in real life." I was told in recent years that WWE was worried Del Rio wasn't there for the long haul and could end up returning to Mexico. Some had speculated this was the reason for his push being scaled back over the course of the last year. It would be remiss of us if we didn't mention that Del Rio's release doesn't follow normal WWE protocol. First, the company is featuring it as a top story on their official website. Usually, they downplay releases and bury them in their "News" section. Second, they do not list his real name (Alberto Rodríguez) nor do they wish him the best in his future endeavors. An ongoing rib, most WWE releases that are announced to the public include that. We've also spoken with WWE employees, that were unaware he was fired. If Del Rio is really gone or if it's part of some type of elaborate angle, he has not Tweeted about it. If it's the former, his final bout with WWE was Tuesday night against Jack Swagger in Laredo, TX, in which he went under on this week's episode of WWE Main Event (results). He was not used at this week's Smackdown taping. August 7, 2014 7:55 PM EDT: Rob Feinstein posted the following on Facebook in regards to a possible backstage altercation between Del Rio and a member of WWE's social media staff at a recent television taping:

End update.
- Alberto Del Rio got into an altercation with someone on WWE's website/social media staff at a recent television taping, which ultimately resulted in his release. As for why the company didn't follow protocol by "wishing him the best in his future endeavors," it's because of nuclear backstage heat.
One thing that Brooks Oglesby pointed out that I believe bears repeating is what will go down as Del Rio's final promo in WWE. In the opening segment of this week's episode of Main Event, Del Rio cut a promo in Spanish about Laredo's proximity to Mexico, which garnered him a pop. He ended up thanking fans for all their support over the years. Tom Phillips stated on commentary that Del Rio was playing to the Latinos in Laredo.
Jack Swagger and Zeb Colter, who of course are babyfaces, came out and Zeb tried to salvage the segment by ripping Del Rio for speaking Spanish in America. The speculation is that Del Rio likely knew his termination was coming and knew that was his chance to say goodbye. We can't confirm that, however, it certainly seems odd that Del Rio, as a heel, would cut that type of promo when WWE is trying to so hard to re-start on Swagger as a legitimate threat to Rusev at SummerSlam.
Del Rio will have a 90-day non-compete clause attached to his WWE contract because it was terminated before its expiration. With Ricardo Rodriguez also recently released, one could assume they could take that gimmick somewhere else as a pair.
I spoke with a key observer on Thursday night that told me if Del Rio plays his cards right, he could return to Mexico and work for either TNA Wrestling or Global Force Wrestling. Remember, GFW has already announced an agreement with AAA.
Del Rio's release is not part of an angle. You can read the initial announcement at this link and our followup report at this link.
- Paul Heyman was interviewed by Donald Wood and Bleacher Report Featured Columnists on Ring Rust Radio to promote the DVD/Blu-Ray release of Ladies and Gentlemen, My Name is Paul Heyman. Below are the highlights:
When asked who Brock Lesnar should face after John Cena at SummerSlam, Heyman mentioned Randy Orton, Seth Rollins, Roman Reigns, Dean Ambrose, Big Show and Daniel Bryan.
Heyman stated that he watches everyone to look and see what they do in regards to the evolution of his skills on the microphone. Paul explained there is something to learn from every single person that goes out there from the way they hold their hands to their body language.
Regarding the DVD, Heyman said two years ago WWE wouldn't have made it nor would he would agreed to take part. He's flattered by the positive reviews and has "nothing to bitch about" regarding the project.
You can listen at this link.
- Earlier this week we posted a screen shot of John Cena in WWE 2K15. Two more screen shots have been released -- this time featuring Randy Orton -- that you can view below: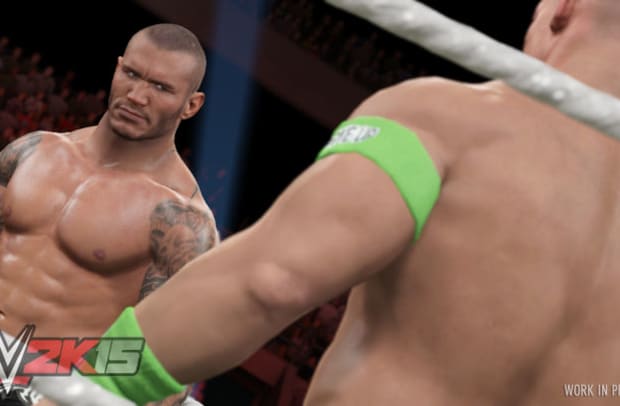 IGN.com has more coverage at this link.
WWE Tweeted the following on their verified Twitter account:
- In the biggest non-story of the week, a video has surfaced online of the woman stalking Randy Orton getting her picture taken with him on Monday afternoon outside of a gym in Texas. It all began on Monday when Orton Tweeted out a photo with a fan with this inscription:

"Look @kimklro I met the Latino Ms. Piggy today at the gym. I wish you were there to have a good laugh with me! #MsPig
Orton was called into a meeting with WWE officials backstage at Raw and later apologized. This was after the Tweet/photo had gained mainstream attention on popular celebrity gossip blog TMZ.com. Orton explained the female fan had been stalking and harassing his significant other. When asked how he would deal with stalkers in the future, he Tweeted:

Now that you're caught up, you can watch a video of someone recording the stalking fan as she obtained the photo in question:
Richard Reacts: This is all completely ridiculous. First, I don't know what's up with the fan but remember fan is short for fanatic. It seems strange (creepy?) they were waiting for Randy to finish his workout just so they could get a photo to tease his significant other with. However, this would have never become a story had Orton not Tweeted the photo out to millions of people. He needs to hire security and look into obtaining a restraining order against this fan. However, he's a celebrity and must realize this comes with the territory and rather than feeding into this bizarre behavior, he should use his resources to prevent it. Let's hope this is the end of it.
- Evan Bourne, whose real name is Matt Korklan, recently did a shoot interview where he touched on the backstage altercation between Big Show and The Great Khali that took place while WWE was touring Puerto Rico in September 2009. Bourne admitted in the interview that he doesn't even think he saw it but they basically just ended up falling over some bags in the locker room because it was a small area.
You can watch his comments -- which contains language NSFW -- at this link.
To recap, Big Show took issue with Khali using certain moves in matches that he felt were exclusive to him, as WWE's giant. Show threw a punch but tripped over some gym bags on the floor, which allowed for Khali to get on top of him. The fight was broken up shortly thereafter.
- AS Monaco FC forward Dimitar Berbatov posted a photo on Facebook with Vince McMahon. You can view it below:
Post by Dimitar Berbatov.
- Chris Jericho told dot com that he ran the epic wedding proposal that took place at Thursday's WWE live event in Melbourne, Australia by Triple H for approval. The fan was Daniel House, who proposed to his girlfriend Mikala with his daughter also in the ring. House was diagnosed in September with terminal cancer and was given only three months to live. He kept in contact with Jericho, who was able to make his dream come true. Click here for coverage on dot com.
- Who is Mr. SummerSlam? Read the latest feature article here on dot com.
- WWE has released new red and yellow John Cena merchandise ahead of his return to television on next week's episode of Monday Night Raw. Sure enough, the main promotional point for next week's episode of Raw is the birthday bash for Hulk Hogan. Hogan of course is known for his flashy red and yellow attire.
Below is a photo:
Click here to purchase Cena's new merch.
Smackdown "Open Thread" Tonight
Brooks Oglesby re-posted the taping results for this week's episode of WWE Smackdown at this link. Dot com published their Five-Point Preview at this link.
Make sure to join us at 7:30 PM EDT here at WrestlingNewsWorld.com for our Smackdown "Open Thread" featuring streaming live results and your discussion.
- For those wondering how the contentious relationship between Vince McMahon and Triple H is going, we're told they're still on poor terms.
Hunter remains upset that NXT is the target of budget cuts. He feels like NXT is a key component to the longterm health of WWE and that's the last place the company should be looking to cut money from right now. However, we're told by one source that essentially out of spite, it's the first place Vince looks to cut.
The budget for NXT has been cut to the point where there "isn't much left to cut."
WWE is hoping by the end of the year to consolidate some of their executive positions so they can cut a few executives and not have to replace them.
- Cesaro got into a sword fight with Aubrey Marcus, while Seth Rollins looked on. Say what? Just watch the video at this link.
- This week's episode of The JBL & Cole Show is subtitled "The Summer-Renee Protection Agency." You can watch at this link.
- It's a known fact that Summer and Renee Young -- who are on this week's show together -- are good friends. For those that didn't watch, you see see Renee's secret message at this link.
- WWE just issued a followup statement regarding the release of Alberto Del Rio on their verified Twitter account. The statement is as follows:
@VivaDelRio is responsible for his own actions. If you're angry at anyone, be angry at Alberto. There's no excuse for a pro athlete not to conduct themselves in a professional manner.
Below are the Tweets in their original format:
The Tweets come less than 24 hours after the company announced that Alberto Del Rio had been released "due to unprofessional conduct and an altercation with an employee." We immediately followed up with details on his controversial past and how WWE did not follow their release protocol.
On Friday morning, we recapped Del Rio's mysterious promo on Main Event and reported the incident was with a WWE.com/social media employee at a recent television taping.
The most-recent Tweets are the latest step counter to WWE's release protocol, as the company is usually silent after announcing a worker's release. His profile has been moved to the Alumni section on dot com but there will only be more fans wondering if this could be spun into an angle following the latest social media activity.
TNA News
- Chuck Caroll interviewed Mr. Anderson on behalf of the CBS affiliate out of New York. Anderson talked about TNA Wrestling's decision to return to a 6-sided ring, recent departures and uncertainly regarding the future on Spike TV as well as wrestlers being given the green light to pitch storylines to creative.
Below are some excerpts:
"I believe my first day in the company was the first day they had the four-sided ring back," he said. "I thought at the time I had really dodged a bullet because I wasn't excited about wrestling in a six-sided ring."
Anderson revealed he actually likes the 6-sided ring because it presents more room to work. However, he doesn't like that cables are used as opposed to traditional ring ropes.
Regarding recent departures, Anderson commented:
"I have no hard feelings toward Sting or anybody else who attempts to make a living in this business," he said.
Regarding the future of TNA Wrestling:
"Honestly I think the sky is the limit. I think that we have the greatest wrestlers in the world working for this company," he said. "I know that I'm probably biased, but I tend to be able to step back and look objectively."
Anderson revealed TNA wrestlers have been given the green light to pitch storylines and ideas to the creative team.
Click here to read the piece in its entirety.
- TNA Wrestling is running vignettes for a new gimmick, revealing it "one letter" at a time. The first letter revealed on last week's Destination X episode of Impact was "H." The gimmick is actually Havok and will be played by Jessicka Havok.
Havok is an Ohio native, active on the American independent scene. She worked TNA's One Night Only: Knockouts Knockdown pay-per-view back in May, going under to Madison Rayne via a middle rope spear.
You can view a photo of her below:
She's also on Twitter at Twitter.com/J_Hav.
For those that missed the vignette on the Destination X episode of Impact, you can watch it at this link.
- TNA Wrestling is going all out in promoting the fact that Bully Ray will put Dixie Carter through a table on this week's episode of Impact. After announcing it on TV last week, they've release a video on YouTube you can watch at this link.
Additionally, the company has declared August 7 "National Put Your Boss Through A Table Day." You can read more at this link.
The angle was taped in June, with video leaking out immediately. Dixie Carter was legitimately injured in the spot and Bully Ray will discuss it with the pro wrestling media on Tuesday.
- Bully Ray participated in a conference call with the pro wrestling media on Tuesday to discuss this week's episode of Impact Wrestling from New York City.
I got to ask the first question, asking him if he had any reservations about putting Dixie Carter through a table. Bully Ray said he didn't have any reservations whatsoever about putting anyone through a table - especially Dixie Carter.
He said he's a professional and knows what he's doing. I pressed if he thought he might kill his boss. Bully said he had absolutely no reservations and it was the highlight of his career.
CJ Blaze from TNANews.com was also on the call and will have a complete recap online later.
- Donald Wood and other Bleacher Report Featured Columnists had the opportunity to interview Jeff Hardy. Below are some notes:
Jeff doesn't know Matt Hardy's status with TNA Wrestling long-term and obviously couldn't speak for him. When asked about The Hardy Boys reunion being a long-term or short-term thing, he said it felt short term.
Hardy said he would love to end his career as World Champion, whenever that might be.
Jeff said he's locked in "pretty much for two more years" with TNA but it's up to them to keep him around. He said he'll make his decision as the time gets closer but right now he has his dream job that allows him to spend a lot of time at home with his three year old daughter. Editor's note: Jeff re-signed with TNA in February 2013 but it sounds like the latter years are TNA option years. We'll see how it plays out.
Finally, Jeff said the perfect scenario for his "last match" would be against Matt.
You can listen to the interview at this link.
- There is a photo making rounds on social media on Wednesday that features Triple H holding what appears to be an updated version of the WWE Championship belt. The updated belt features the new WWE Network style logo with the "Champion" inscription under the current title belt removed.
You can view the photo below:
For comparability purposes, below is the current design of the WWE Championship belt:
WWE is in the process of transitioning their logo to the new WWE Network style logo. The transition has already happened for the WWE NXT title belt, the WWE Studios logo, in pay-per-views and on other WWE trademarked properties.
- Sherri Shepherd and her son Jeffrey were in attendance at Wednesday's TNA Impact Wrestling tapings in New York City.
She Tweeted the following:
Rapper Wale was also backstage at the tapings as TNA agent Al Snow Tweeted the following:
- FoxSports.com has a feature article on war hero Chris Melendez signing with TNA Wrestling. Melendez debuted at Wednesday night's Impact tapings in New York City. In the piece, he discussed losing his leg after an IED explosion on the battlefield in Iraq.

"When I was able to open my eyes after the explosion I looked across the battlefield to see what I thought was a fellow-soldier in need of help," Melendez said in a TNA press release. "I quickly realized it was my leg."
Melendez received the Purple Heart because of his service and was up and walking with a prosthetic leg within 40 days of the explosion. His love for pro wrestling grew from his youth.

"The ability to captivate an audience without having to say any words is what got me hooked," said Melendez, who has been training for two years.
Click here to read the piece on FoxSports.com. Richard Reacts: I have a lot of respect for any man or woman that selflessly serves our wonderful country. It's beyond inspirational to see Melendez go through so much and still realize his dream. I wish him nothing but the best and appreciate his service. - Donald Wood and other Bleacher Report Featured Columnists interviewed Dixie Carter to promote the airing of this week's episode of Impact Wrestling where #ItHappens. Below are some notes from the interview: Dixie said every two years she goes through negotiations with Spike TV, this is just the first time it's been public. She blamed social media for changing how negotiations play out in the public eye. Carter said they are still talking with Spike TV but there are other suitors interested as well. She re-affirmed her commitment to growing the TNA brand domestically, stating that she is not going to stop. Carter confirmed she was injured in the #ItHappens spot that will air on this week's show, where Bully Ray and Devon put her through a table. She wouldn't reveal the severity of the injury, saying she wanted fans to watch it first. Dixie admitted it hurt like hell. Regarding Bound for Glory airing from Japan, Carter explained she thinks it should air in the normal pay-per-view time slot. This, of course, would indicate airing on tape delay. You can listen to the interview at this link. - We highlighted an interview that Dixie Carter did at this link, where she spoke of the ongoing negotiations between TNA Wrestling and Spike TV. While both parties have insisted negotiations remain ongoing, we're told Spike TV is not enthusiastic about remaining in business with Dixie Carter. There remains a significant disconnect between TNA ownership and Spike TV. When Toby Keith and Jeff Jarrett were trying to buy the company from the Carter family, the network was all for it. However, the deal ended when Dixie wanted certain assurances in regards to her role in the company after it was acquired. According to a source, Dixie wanted it in writing she would remain as a contracted performer for ten years after the sale. We're told Spike TV is still unhappy about that. Some people believe the disconnect between TNA ownership and Spike TV could be the network actually planting the seeds to acquire the company themselves. Either way, TNA has played defense in regards to the TMZ report that they've been canceled by Spike TV. We're told TNA creative writer Dave Lagana actually contacted members of the wrestling media [outside of Wrestling News World, he did not contact us] to try and convince them to write stories that TNA was certainly remaining on Spike TV. As far as we can tell, none of those contacted took the bait. - Scott Fishman from Spike TV was at Wednesday's Impact Wrestling tapings in New York City. This is notable for a number of reasons but the company continues to reiterate to talent that negotiations between the two parties remain "ongoing." You can read our latest update -- including details on a disconnect and what Dave Lagana told members of the wrestling media -- at this link. - In addition to the celebrities noted earlier, Peter Rosenberg and Sam Roberts were at Wednesday's taping. You can view a photo of rapper Wale, Rosenberg and Roberts embedded below:

Here's a photo of Rosenberg with Gail Kim:
- Jessie Godderz noted on Twitter that Adam Glyn from TMZ and DJ Paola Sheabb will be at Thursday night's tapings. - War hero Chris Melendez has been making the media rounds all over New York City for his signing with TNA Wrestling. As noted, he taped his debut bout set to air on September 11, 2014 on Wednesday night. I can't say enough about what a great story that is. Go get them Chris, you're an inspiration to everyone! - TNA Wrestling is heavily promoting Bully Ray putting Dixie Carter through a table on this week's episode of Impact. Below is a GIF the company sent us: - For those that missed this week's episode of Impact, which Alex Barie covered at this link, Samoa Joe won the X Division Championship by beating Sanada and Low Ki. - Speaking of Sanada, he's being repackaged as is Manik. Both gimmick tweaks debuted at this week's Impact tapings in New York City and will be seen on television in the coming weeks. - The September 25, 2014 episode of Impact will carry the No Surrender theme. The August 21, 2014 episode carries the Hardcore Justice theme. - Spike TV president Kevin Kay was at Thursday's TNA tapings in New York City. As noted, Scott Fishman was there on Wednesday night. - This week's episode of Impact Wrestling did an average viewing audience of 1,411,000 viewers on Spike TV. The number is up from last week's Destination X themed episode and is along the lines of what the show has been doing when airing from tape in New York City. TNA heavily promoted the spot where Bully Ray put Dixie Carter through a table, leading up intensive media efforts and using the hashtag #ItHappens. TV by the Numbers has a full look at Thursday on cable -- listing the top 100 shows for adults 18-49 -- at this link. - TNA released a kayfabe injury update on Dixie Carter following the airing of the spot where Bully Ray power bombed her through a table on this week's episode of Impact Wrestling. Rather than try to recap a kayfabe report, I'll provide the original text in its entirety:

As IMPACT WRESTLING went off the air medics continued working on Dixie, carefully moving her from the ring to the backstage area. She was cleared for release yet her condition deteriorated throughout the night. On further evaluation Dixie was sent to the Emergency Room at Centennial Hospital, where she was immediately seen by an orthopedic surgeon, neurologist and radiologist. Following numerous tests and scans, X-rays reveal and an MRI confirms Dixie has L2 and L3 Transverse Process Fractures, as well as a hairline rib fracture. Dixie has been released from the hospital and is back home in Nashville resting uncomfortably.
As we reported here on WrestlingNewsWorld.com, Carter was legitimately injured on the spot but wouldn't provide a specific update until the spot aired. Perhaps this is the reason why. In reality, she was so shaken up from the spot she was unable to attend the taping the following night. The spot was taped on Thursday, June 27, 2014 and Carter was absent from the taping on Friday, June 28, 2014.
TNA is using the spot to write her out of storylines indefinitely. Following along with the storyline, Carter "blacked out" her Twitter profile picture and cover image.
Ask WNW
Given Hulk Hogan's comments about Sting working in WWE, that if they can't book a match against Undertaker it should be against John Cena, what do you think about the bout being against a top heel? Maybe someone like Randy Orton?
There is a rather long list of Sting "dream matches" that could be a possibility now that a working relationship between WWE and Sting has been established. The obvious choice from everyone is Undertaker vs. Sting then there are several different opinions. Hogan's opinion of Sting vs. John Cena is one of many. Sting vs. Triple H is also a possibility and even someone like Randy Orton is realistic. Regardless, I want to see Sting work in WWE. It's something he's put off doing and if it's going to happen, it has to be now. Back to Hogan's comments, I felt it was disrespectful for him to refer to Sting as a southern type wrestler. However, I won't read much into the comments other than Hogan being Hogan.
What would you think of the WWE holding an NXT match on the pay-per-views, now that NXT is being viewed by more people on the WWE Network?
I would be against it. It's fine to feature NXT workers in certain situations (such as an entrant in the 30-man Royal Rumble) but a mandated NXT bout at each WWE pay-per-view would come off as overkill. I actually like how WWE has done it with Arrival and Takeover, dedicating one night where NXT talent get to shine in their environment on the WWE Network. It puts all of the focus where it should be and the events come off as a "big deal." While more people watch NXT and are familiar with it now that it airs on the WWE Network, the bouts wouldn't come off as such on main roster pay-per-views.
Why was Daniel Bryan not featured in the world television premiere of Wrestlemania 30 Sunday night on NBC?
We reported in the middle of July that Daniel Bryan's matches would be excluded from the world television premiere special of Wrestlemania 30. On Monday morning, we explained it was due to Daniel Bryan being out of WWE's storyline plans indefinitely. Basically a situation where WWE didn't want to use an hour on NBC to promote something they couldn't immediately followup on. Whether or not you agree, that's the reason for the exclusion and not some anti-Daniel Bryan agenda.
Do 2nd/3rd generation Superstars and Divas have better chances at getting pushes than a normal new star would or is more expected of them because of their past?
The answer to your question is both. Workers like Randy Orton, Bray Wyatt, Bo Dallas, Cody Rhodes, etc. have received wonderful opportunities. It's likely these opportunities were fast-tracked because of the connections they have in the business through their fathers. However, once these workers get signed, expectations are extremely high and the pressure is much more than the average developmental worker. As we've seen, getting signed doesn't guarantee superstardom. Orton did well for himself, Bray Wyatt, Bo Dallas and Cody Rhodes are "getting there" (although Cody has been up quite some time). However, there are others, such as Manu and Ted DiBiase, that are both out of WWE. Curtis Axel was given the green light for a major push and flopped, while The Usos turned the corner when they were almost "endangered species." It all depends on the situation and how the crowd responds but this is clearly a double-edge sword.
From the Ask WNW vault…
November 2012: Is it possible to have the Legacy reunite? This could accomplish Randy Orton's heel turn and possibly see Cody Rhodes and Ted DiBiase as Tag Team Champions. - Anything is possible but there is no way this wouldn't be a step back for all three. Legacy was created to give DiBiase and Rhodes momentum as future stars. Neither has reached their potential like many had hoped, however, I don't see the reformation of their former stable. DiBiase has had his fair share of setbacks and as I type this Rhodes is out with an injury. Rhodes is three years younger than DiBiase at 27 so the more urgent situation would be that of Ted DiBiase and I think he's still further behind Rhodes.
What are your thoughts on the constant $9.99 mentions regarding the WWE Network on Monday Night Raw? I know they were scripted and even funny at times but by the end of the night, it seemed more annoying than anything else.
The biggest thing to come out of this week's episode of Monday Night Raw was the constant 9.99 mentions. I already wrote about how the promotion proved WWE is desperate for Network subscribers. Yes, the mentions were scripted and meant to be funny but they were complete overkill. This is typical of WWE too. Remember when they first went PG? Vince McMahon himself admitted they took it too far (I heard Vince say it directly). Or when they first got heavy into Twitter or invested in Tout.
WWE is known for effective promotion; however, they also have a bad habit of taking things a step too far. In my view, the people in the United States that are going to buy the WWE Network (the hardcore fans like me and you) already have it. Now WWE must use the pay-per-views to sell new subscriptions. However, it's pretty hard to sell the pay-per-view [SummerSlam] with no John Cena or no Brock Lesnar two weeks from a main event match at a "big four" pay-per-view. Even further, we're talking more about 9.99 then we are the pay-per-view.
I also feel inclined to point out that in the midst of all the 9.99 mentions, they never mentioned exactly how to signup. This week's Raw was an utter failure and the shameless WWE Network promotion was a big part of that.
In light of Rusev vs. Jack Swagger at SummerSlam, what exactly does a flag match entail?
The objective of a flag match is to capture your opponent's flag. For example, the American flag will be behind Jack Swagger and the Russian flag will be behind Rusev. It will then be up to Swagger or Rusev to capture the opposing flag before the other does. Whoever captures the opposing flag first, wins the match. The speculation is this match will prevent Swagger or Rusev from actually getting pined, thus preserving some momentum from the undercard program.
Update: I've been informed the object is to capture your own flag, not the opposing flag. So either way, the winner walks away with a flag (whether its the flag of their opponent or their own).
Don't you think it's a bit presumptuous for some fans to hail Roman Reigns as a future main event star?
No, I do not believe it's presumptuous to say Roman Reigns is a future main event star. One of things fans do is evaluate talent. We do it in sport, in life and of course in pro wrestling. It doesn't take much to see there's "something different" about Roman Reigns. The way he carries himself, the way he looks, the way he talks, etc. That's not to say just because someone appears to be a future main event talent means they will be one either. However, it can also get frustrating when workers that appear to be more talented are continuously underutilized. That's not exclusive to pro wrestling either. It's the player that has they're playing time limited or the co-worker no one listens too. The bottom-line is we all evaluate talent and it's up to the "powers that be" to also recognize this talent and utilize it to the betterment of the product.
Considering WWE is paying Brock Lesnar millions of dollars for limited appearances, why are his appearances so short and infrequent?
WWE scripts Brock Lesnar in a manner they feel will leave the viewer "wanting more." There has to be a medium for delivering Lesnar without overexposing him, while at the same time making it seem as though it's a "big deal" every time he gets into the ring. This is also one of the reasons why he has not worked in matches on television or at live events. I have already criticized WWE for no John Cena or Lesnar at Raw this week as I feel at least one of them was needed to hype their SummerSlam program. They're both, however, scheduled for Raw next week in Portland, Oregon.
From the Ask WNW vault…
December 2012: Do you think ratings in WWE would go up if the company developed a new concept or match type that had a significant built to it? - There is no secret concept or superstar return that will instantaneously boost ratings. Sure, there are plenty of "quick fixes" but the most important thing in raising ratings is creating compelling television that people want to watch. WWE is expecting The Rock's return to give them a major boost in the early part of next year but it's up to them whether or not they'll be able to carry the momentum. There's a clear initiative in wrapping up the year in creating new stars hence four developmental workers being put in prominent roles on television.
When and how did Daniel Bryan get his injury?
It's my understanding that Daniel Bryan's injury was an accumulation of injuries that resulted in foraminal stenosis. In foraminal stenosis, a nerve root is compressed inside the neural foramen. The compression is the result of wear and tear on the spine. This is why Bryan underwent a procedure known as a cervical foraminotomy. You can read about the initial procedure at this link and get more details from a medical perspective at this link.
The second surgery that has been talked about deals with his elbow, not his neck. Apparently it's a nerve injury there that's causing him not to re-gain the strength in his arm. Bryan talked about that in a press conference after apprehending a burglar at his house. You can read my report from last month at this link.
Obviously neck and nerve injuries are serious, complicated and unpredictable. I can tell you from WWE's side the company has labeled him as "out indefinitely" and he is not currently in any creative plans. This could change if he receives a timetable as to when he would be eligible to return. However, a timetable is difficult because it all depends on how the nerve injuries heel.
I am a huge wrestling fan and was excited about the WWE Network. I signed up for it the first day it was available. Now after seeing the numbers, I am wondering if there is a such thing as too much wrestling. Could product over-saturation be the culprit for people not buying the WWE Network?
Over-saturation is a problem with WWE and I believe it's one of the reasons why Raw viewership isn't what it once was (especially considering the amount of viewers that tune out for the third and final hour). I've said since the beginning that a three hour show each week with pre and post shows is too much of a commitment. However, I do not believe this is directly the reason people are not buying the WWE Network as expected.
As I noted on Tuesday, hardcore wrestling fans in the United States have already subscribed to the WWE Network. That number as of June 30, 2014 was 700,000. These are people like me and you that see the value in a $9.99/month to get all the WWE Network has to offer. WWE has to find a way to get more casual fans to sign up. This can be accomplished by selling the monthly pay-per-views and it's imperative that WWE explain the pay-per-views "come with" a subscription. A tactic was used on this week's episode of Raw, with the constant 9.99 mentions. I don't know what you thought about it but I found it annoying, if not desperate.
WWE is now moving into international markets to see where that can take them and will look to adjust accordingly. I'm not saying they are giving up domestically, but they've seen little growth from April to June. Now they want to see what they have internationally. It will be interesting to see how the WWE Network evolves from this point forward.
Far too often, talented workers like Dolph Ziggler, Fandango, Damien Sandow and R-Truth continue to get buried with no story lines even on the horizon for them. The most annoying part about all this is that I hear the reasons are mainly that the writers are too busy or uninterested, and yet there clearly are too many hours of wrestling on every week, thus making enough opportunity for every worker to have some kind of a storyline and yet nothing happens. What's your take on this?
It's very easy for us to sit here and fantasy book, fitting everyone neatly into a storyline and restoring them to relevance. Executing such a plan is much more difficult. What a lot of people fail to understand is there are very few spots for workers on television and even fewer spots for the coveted main event spots. Currently, there are 16 performers advertised for the SummerSlam lineup. Those performers are as follows - John Cena, Brock Lesnar, Bray Wyatt, CHris Jericho, Brie Bella, Stephanie McMahon, Jack Swagger, Rusev, AJ Lee, Paige, Randy Orton, Roman Reigns, The Miz, Dolph Ziggler, Dean Ambrose and Seth Rollins.
WWE's updated business model is based on the following key drivers (as stated by Vince McMahon in last week's conference call) - domestic live event attendance, TV ratings and WWE Network subscriptions. While there are many other revenue streams, this is the core of WWE's business. All three of these "key drivers" play off one another. Higher ratings mean higher live event attendance, which means a larger possibility of attracting WWE Network subscribers.
As I discussed above, WWE has to sell Network subscriptions based on the fact the pay-per-views are included (they are the main WWE Network selling point; without them, the WWE Network would not work). Now, we have to go back to the 16 performers on SummerSlam. Live events and television must prominently feature these performers in a way that makes logical sense to make people want to sign up for the WWE Network to watch the pay-per-view.
Now this doesn't explain the ridiculousness of Damien Sandow's gimmick or pairing Hornswoggle with Fandango (other than highlighting that Vince McMahon has a very strange sense of humor), but it does provide some perspective. WWE's core programming must focus on 16 performers and include filler material that provides humor and entertainment without overshadowing the 16 aforementioned performers. Not to mention the structure when looking at the SummerSlam card in that the main event matches have to have more attention and relevance than the undercard programs.
What I don't understand is that we're less than two weeks away from a "big four" show and a pivotal time in which WWE must not only attract new WWE Network subscribers but retain the ones they have and the main takeaway from this week's 3-hour Raw broadcast was $9.99. However, it's hard to sell a main event of John Cena vs. Brock Lesnar solely on pre-taped video packages.
From the Ask WNW vault…
March 2013: Did WWE ever think the reason for viewership dropping in the third hour of Raw is because the show doesn't end until 11:15 and young audience isn't up until that time especially a Monday night with school the next day? - WWE pursuing a younger audience could be a culprit for viewers tuning out for the third and final hour of Raw, however, I do not feel this is the reason. Prior to WWE taking Raw to a three-hour format, the 10-11 hour was always the most watched hour. WWE PG began in 2008 so the audience has been getting younger since then. My belief is viewers are suffering from viewer fatigue and are tuning out for the third and final hour.
Is it just me or the Stephanie/Brie storyline has way too much visibility for what it's worth? I understand the Daniel Bryan angle behind it and the fact that they probably want to turn Nikki. Even then, to me, this feud is supposed to be a background story while we focus on the "real" workers.
Regardless of how you feel Stephanie McMahon vs. Brie Bella should be treated, it's been booked as one of the SummerSlam main events. In fact, it's the 1b behind Brock Lesnar vs. John Cena. There are multiple reasons as to why WWE decided to go this route but the feeling is The Authority is a big draw and there is a lot of intrigue surrounding Stephanie McMahon's return to the ring. Not to mention it gives WWE the opportunity to salvage a small portion of the momentum Daniel Bryan had after Wrestlemania XXX. I'm on record in writing that one should not go in expecting a top level match between Stephanie and Brie but this is clearly seen as a top program at a "big four" show.
I'm a big fan of Paul Heyman but the last three Heyman guys have been a bust (Ryback, Curtis Axel & Cesaro). Is this WWE's doing or did it not just work out? Does this diminish the value of being a Paul Heyman Guy?
WWE tried to use Paul Heyman to help elevate Ryback and Curtis Axel respectively but neither worked out. Paul Heyman can be blamed all day long but he can't do it on his own. Heyman is a valuable asset to any worker that calls him their manager but he can only do so much. As for Cesaro, WWE pumped the brakes on him once again. I can't explain it as it reminds me of how Daniel Bryan has been booked by the company over the years. Given the high profile that Heyman has had alongside CM Punk during his 434-day WWE Championship reign and Brock Lesnar in ending the streak, being a Paul Heyman Guy isn't diminished in the slightest. In fact, I'll assert some casual fans do not even remember Heyman was paired with the failed experiments of Ryback and Axel.
I think wrestlers that are full-time are opposed to a part-timer because they are jealous of them receiving a main event match or being pushed to the top of the card. These full-timers need to remember what it took for the part-timers to establish such a position. Do you agree?
I've spent a lot of time over the years defending part-timers, specifically pointing out that stars such as The Rock and Brock Lesnar are big enough draws where they can still move the needle so I favor any situation we can get them in the ring. However, the initial luster has worn off and I'm growing tired of it. The problems have been very apparent in John Cena vs. Brock Lesnar, trying to promote a main event match at a "big four" show by the use of pre-taped video packages. The promotional framework for next week's episode of Raw is built around Hulk Hogan -- another part-time guy that doesn't even wrestle anymore. There's nothing wrong with using these names to help with exposure and sell the WWE Network but it's gotten to the point where everyone that is there every week, the guys that work the live events are true second-rate citizens to the part-timers. As with the $9.99 stuff, WWE has a hard time with moderation. So to answer your question, no, I do not agree. It's fine to bring someone back on a part-time basis and promote a big main event match -- like how WWE treated The Undertaker for the past several editions of Wrestlemania -- but the boundaries have gone too far the other way. Take a look at the current tour of Australia. WWE has to get guys in top programs on more shows, using part-time talent more like how Chris Jericho is utilized.
Why is TNA doing there shows in New York ? It looks so low budget.
TNA is resetting with New York City as a hub for Impact Wrestling. They like the venue, the crowd and the atmosphere and I couldn't disagree more about it looking "low budget." The production value is good and the crowd has reenergized the roster to produce some of the company's best programming in quite some time. Viewership has increased as well so it's clearly working.
From the Ask WNW vault…
October 2012: When a WWE worker makes a non-wrestling appearance (e.g. autograph signing, media appearances, etc.) does the company instruct them to appear in or out of character? - WWE workers have a lot of freedom in media interviews but there are directives that come down from the office. Obviously the company doesn't want stars leaking storylines and generally speaking, they want the focal point of the interview to promote the product. We've seen it all – from Randy Orton completely shooting on Kelly Kelly to Sheamus constantly remaining in-character during media appearances. John Cena is known for focusing on the product in-character and is seen as the best promotional mouthpiece they have. Speaking from experience, when I've done interviews with workers alongside radio anchors, the radio station has met with company officials to let them know to keep it clean. My biggest pet peeve with interviews (and why I don't do many of them) is workers using them to put themselves over rather than actually answering the questions. Kind of like what we saw with the Presidential debate on Tuesday night, where the candidates would be asked a question, but skirt around it to get to their approved campaign rhetoric.
Dream matches have always been a part of pre-Wrestlemania season talk because it's the show where pretty much anything is possible. Out of The Rock, Sting, Brock Lesnar and Hulk Hogan, who has the best chance of competing on next year's card?
Brock Lesnar is a sure thing for next year's Wrestlemania 31, so I'll put him at the top of the list. The Rock has revealed he has a verbal agreement for another match and a bout Vince McMahon wants to do is Brock vs. Rock. Sting wants a match at Wrestlemania 31 and has established a working relationship with WWE. We'll put him as third on this list. Hulk Hogan, like Sting, has a working agreement with WWE and the desire to wrestle again. However, we'll put him at the end of the list due to internal concerns about his ability to work in the ring. When WWE was negotiating with Hogan to return, one of the things neither Vince McMahon nor Triple H wanted a deal to be contingent on was an actual match.
Did Dixie Carter going through the table on Impact looked weak? It just looked horrible! Bully Ray just went ass first through the table while Dixie took a half ass bump onto the ring. For something that had been heavily promoted throughout the show I expected a better delivery.
Calm down. Dixie Carter is not a trained performer and spots like this only get one chance. This isn't the type of thing that TNA could just re-tape if they weren't happy with it. I thought the spot looked fine and borrowing words from Dixie Carter, it looked like it hurt like hell. Bully Ray has established a career of putting people through tables, including putting Mae Young through a table when he was with WWE. I spoke to Bully about the spot and he told me it was the highlight of his career. The spot writes Dixie off television indefinitely and TNA is promoting it for all its worth, which is a smart move.
With all that's been revealed in the 17 years since the Montreal Screwjob, do you think Vince McMahon made the right call? I have the utmost respect for Bret Hart but it seems like Vince was in a tight spot and did what was best for business. Thoughts?
I've covered and studied the Montreal Screwjob from every angle. Vince McMahon was in a bad spot but he gave Bret Hart his word on a finish and I will not defend Vince, Shawn Michaels or Earl Hebner. It was sneaky, underhanded and disrespectful. There were better ways the situation could have been handled, without all the chaos.
Will R-Truth receive more of a push now that he was the one that ended the winning streak of Bo Dallas?
Bo Dallas avenged the loss in a quick victory on this week's episode of Raw. I'll say Truth going over Bo Dallas is the most prominent thing he's done on WWE television recently but I do not see much coming out of it. He is on WWE's tour of Australia and went over Dallas again on Thursday at a live event in Melbourne. R-Truth was in a battle royal on Friday but was a non-factor.
From the Ask WNW vault…
February 2012: Despite only airing for two weeks the angle of Natalya is tedious already. Is there any purpose in it or is it just a way to keep kids entertained during the PG era? - The Natalya "farting" gimmick is disgusting. I have told people that I feel it is Vince McMahon's immaturity at the forefront, highlighting his weird sense of humor. I don't know the purpose but I can't believe someone would find it entertaining.