Main Event Shakeup In WWE, Former Top Star Wants To Return, TNA's TV Deal
The following article is only available to WrestlingNewsWorld.com Premium Members. Sign-up here to view this article and unlock all our exclusive features. By signing up not only will you unlock all exclusive features but the website is also 100% advertisement free! *FREE* Preview Inside!
Welcome to the WrestlingNewsWorld.com Premium Newsletter. This is where you will find all of the big news and Ask WNW segments from the week neatly archived for your viewing pleasure. This week's edition covers news from Saturday, November 8, 2014 to Friday, November 14, 2014 as well as all five Ask WNW segments from the week. Use this newsletter as your own personal tool to catch up on any of the news that you may have missed during the week. Below is a table of contents:
Note From Richard: For those that have asked, the Newsletter is organized with the news posted on Saturday at the top with the most recent stories at the bottom. We have it organized this way so you can read the news in the order in which it happened. Thanks for your support!
Table Of Contents
- WWE News
- TNA News
- Ask WNW
WWE News
- WWE Tag Team Champions Gold & Stardust are featured in the latest episode of Smackdown Fallout. Click here to watch.
- The WWE Studios production "Queens of the Ring" will be released on DVD and Digital Download next Tuesday. WWE names featured include The Miz, Eve Torres and CM Punk, however, Punk's name was left out of the trailer's description that you can view below:
In a desperate attempt to reconnect with her estranged son who is a passionate WWE fan, Rose grabs his attention by joining a rigorous training program to learn to wrestle like a legitimate WWE Diva. She convinces her bored fellow cashiers at the local supermarket to join her challenging new adventure and together they become the "Queens of the Ring". Featuring cameos by The Miz and Eve Torres.
The trailer is online at this link.
- Zack Ryder Tweeted on Saturday that he has a torn rotator cuff and he may need surgery. The following is from his verified Twitter account:
Click here to load Photos/Tweets (if not loaded)
Ryder Tweeted the update following an earlier Tweet where he explained that he wasn't on WWE's current European tour. You can read that Tweet below: Click here to load Photos/Tweets (if not loaded)

Ryder was last used on WWE television in an enhancement role against Rusev on the November 3, 2014 episode of Monday Night Raw. It's been a rough ride for Ryder as he's struggled to establish himself following some short-lived success as a former WWE Tag Team Champion and former WWE United States Champion. You can examine his booking at this link.
It was Ryder that pioneered WWE's utilization of YouTube as he created their first hit Webepisode with Z! True Long Island Story.
- Brie and Nikki Bella will serve as presenters at the 2014 MTV Europe Music Awards. The event is Sunday night from the SSE Hydro in Glasgow, Scotland and will feature a live performance by Nicki Minaj. Dot com has coverage at this link.
- Eva Marie posted a new photo on her Instagram over the weekend, indicating that she is dealing with an injury. Below is the image with its caption:
Eva Marie last competed for WWE on the September 29, 2014 episode of Monday Night Raw in a Handicap Tag Match, teaming with Cameron against Brie Bella. - We reported last week here on WrestlingNewsWorld.com that Cesaro required five staples to his head to close a wound suffered during a match against Dean Ambrose on Monday Night Raw. Over the weekend, Cesaro had the staples removed and WWE posted a photo on Instagram. You can view it below:

- Justin Gabriel heeled the city of Leeds, England on Twitter where he claimed to be returning to the United States. I have no idea the legitimacy of his Tweets at this time but will bring them to you below:
Click here to load Photos/Tweets (if not loaded)
Gabriel went under on the show to Adam Rose, we'll have a complete report online shortly.
- Alberto Del Rio announced on Monday that he has agreed to a deal with WWE and he is completely free for future bookings. The statement was in Spanish and posted on his verified Twitter account. You can view it below:
Click here to load Photos/Tweets (if not loaded)
Del Rio was released by WWE after slapping social media manager Cody Barbierri at the August 5, 2014 Main Event/Smackdown taping in Laredo, Texas. As the story goes, someone told Barbierri to wipe his plate clean at catering in which he responded that was Del Rio's job. Alberto found out about the comment and confronted him. Rather than apologize, Barbierri smiled, which prompted Del Rio to physically assault him. The incident was witnessed by many of the wrestlers, including Jack Swagger. Vince McMahon met with Del Rio and originally told him that he would be suspended. Once the taping started, Del Rio cut a mysterious promo that aired on that week's live episode of WWE Main Event on the WWE Network. Barbierri is no longer employed by WWE. As we reported here on WrestlingNewsWorld.com, Del Rio is set to join the Lucha Underground TV series next year. - Tickets for Wrestlemania 31 officially go on sale on Saturday at 10 AM PST/1 PM EST at Levi's Stadium and on Ticketmaster.com. The official Ticketmaster link is here. - Episode 3 of "The Making of WWE 2K15" is now online at this link. - WWE announced Monday on dot com that AJ Lee will defend the Divas Championship against Nikki Bella at Survivor Series. Nikki earned the No. 1 contendership for the title after winning a Halloween Costume Battle Royal on the October 31 episode of Smackdown. Dot com has complete coverage at this link. WWE Survivor Series 2014 will take place on Sunday, November 23, 2014 from the Scottrade Center in St. Louis, Missouri. We'll have complete coverage here at WrestlingNewsWorld.com. - WWE announced on Monday that Grumpy Cat will guest star on next week's episode of Raw in Roanoke, Virginia. Stephanie McMahon, as Chief Brand Officer (not her on-air character as a member of The Authority), stated the following in a press release:

"WWE's mission is to put smiles on people's faces – and now we will attempt the same with Grumpy Cat," said WWE Chief Brand Officer, Stephanie McMahon. "We are going to do everything in our power to make sure she has a good time."
Grumpy Cat will be there to co-promote her upcoming Lifetime movie, Grumpy Cat's Worst Christmas Ever. The movie is scheduled to premiere on the network on November 29 at 8 PM. Click here to load Photo/Tweet (if not loaded)

- The Liverpool Echo featured Seth Rollins in a new piece to promote this week's Monday Night Raw in the city. He spoke on several topics but I found it interesting what he had to say about main eventing last month's Hell in a Cell pay-per-view.
Below is an excerpt:
"Aside from main eventing WrestleMania you really can't get any bigger than that. You've got two guys under the age of 30-years-old, who have been on the main roster for less than three years, and we're main eventing a pay-per-view, a major pay-per-view, Hell In A Cell, on a show that also features John Cena versus Randy Orton in a Hell In A Cell match as well. So that's a major milestone, and that's something that I'm real proud of, something that I'm going to take with me for a long time.

"It's basically a feather in our caps that we were able to put that together and make that mean so much. I think that's a testament to all the hard work and time that we've spent, just putting in the work, just grinding it out, and getting to that point. It was definitely terrifying up there but after the whole thing was done, I'm glad we had the opportunity to do that, and I'm glad we knocked it out the park."
Click here to read the piece in its entirety.
Richard Reacts: I'm really glad that Dean Ambrose and Seth Rollins got the opportunity to headline Hell in a Cell over Randy Orton vs. John Cena. However, I do not feel their match lived up to expectations. I'll readily admit I went in expecting a MOTY candidate but what we got was a poorly executed high spot too early in the match (due to the camera or whatever) and a dirty finish. With that being said, I see Rollins as a legitimate top star and feel his stock is currently at an all-time high. I am very high up on both Rollins and Ambrose but feel too many people are giving their Hell in a Cell main event a pass based on 1) name value or 2) past reputation. Now that they have arrived they should be held to the same standard that we hold John and Randy too and let's face it, the 1A and 1B proved their worth at the pay-per-view.
Monday, November 10, 2014 3:12 PM EDT Update: I know I'm going to get killed for what I said about the high spot but before you troll me, just watch it:
Ambrose jumped. If that's anyone other than Ambrose, the IWC is ripping this spot apart. End update.
- CM Punk is joining Marvel Comics as a writer for February's Thor Annual #1. Punk did an interview with Marvel.com to discuss his inclusion in the project.
When asked how performing in the ring prepared him for such an endeavor, here's what Punk had to say:
You know, I think I'm more suited for it just because I've been reading comic books my entire life. Wearing tights in front of thousands of people and kind of, almost play-acting, I think down the road, it might give me some sort of insight depending on what kind of characters I'm writing and what the story is, but I'm not really sure it prepared me so much for being able to script a comic book.

I'm definitely prepared to fall flat on my face, I think. If anything, [wrestling] got me used to understanding that failure is part of a process, and the only real failure is if you don't try. Like I could be nervous and bite my fingernails, worried that I think my book is gonna be a piece of crap, but I could be not doing it, and that would be the true failure.
Click here to read the interview in its entirety.
- Justin Gabriel was kayfabing with his Tweets following Sunday's WWE live event in Leeds, England, we can now confirm. Gabriel worked as a babyface against Fandango at Monday's show in Bournemouth, England.
Wrestling News World reader Paul Field, who is at the show, also sent word that Dean Ambrose is facing Cesaro on the show. Dolph Ziggler, who has been working Cesaro on the tour, is likely in Liverpool for this week's Raw taping. This also obviously confirms that neither Amrbose nor Cesaro will be featured on this week's Raw.
We're covering Raw at this link.
- This week is ECW Week on the WWE Network. Immediately following this week's episode of Monday Night Raw is a show called "ECW Exposed" that will be hosted by Paul Heyman and Joey Styles. WWE sent out the following promotional graphic to promote it via email:
Note that WWE Main Event will air on tape delay as it will be taped Tuesday in Liverpool, England. I checked the WWE Network schedule and it's still in its normal 8 PM EST timeslot.
- WWE continues with the Ryback reboot in a new video they posted here on YouTube.
- WWE and Lionsgate Home Entertainment will release their first fitness DVD series on December 2. You can read coverage by dot com at this link.
- Last week's episode of WWE Smackdown garnered an average viewing audience of 2,425,000 viewers on SyFy. That number is up 212,000 viewers from last week's Halloween episode. TV by the Numbers has data for the top 100 cable shows among adults 25-54 for all of Friday at this link.
- WWE announced Monday on dot com they have reached a "mutual understanding" with Alberto Del Rio. Below is the statement in its entirety:
Following his departure from WWE, former WWE Superstar Alberto Del Rio and WWE have reached a mutual understanding with regard to his future booking opportunities. WWE wishes Alberto the best in his future endeavors.
Click here for coverage by dot com.
We ran this story earlier in the day when Del Rio Tweeted out a statement. You can read our earlier coverage -- with a complete recap of his release -- at this link.
- We've heard from a number of readers that security at Monday's Raw taping in Liverpool, England was very strict. Seemingly innocent signs were confiscated and there was a lot of paranoia about what attendees were allowed to have. We're told the event staff heard it from the patrons throughout the show as a result. One element the crowd has let the company know every time out on the current tour is they are disillusioned with the WWE Network delays.
Wrestling News World reader Nick Wood Tweeted the following photos to me:
Click here to load Photos/Tweet (if not loaded)
- Dean Ambrose vs. Bray Wyatt was confirmed for WWE Survivor Series on this week's Raw from Liverpool. - John Cena kicked off this week's Raw and mentioned that Zack Ryder is going to have surgery and will be out for "six months." Whether or not the timetable is for sure, we do know that Ryder tweeted on Saturday that he had a torn rotator cuff and may need surgery. - Following this week's WWE Raw in Liverpool, we now have a better look at what the Survivor Series main event will look like. Team Cena now has John Cena, Intercontinental Champion Dolph Ziggler, Big Show, and Sheamus. Team Authority features Seth Rollins, Kane, Mark Henry, and United States Champion Rusev. Each team still has one open spot left. There's still questions over whether Ryback or Luke Harper will actually fill the last spot on Team Authority. WWE Survivor Series will take place on Sunday, November 23, 2014 from Scottrade Center in St. Louis Missouri. We'll have exclusive live play-by-play coverage at WrestlingNewsWorld.com. - For those that missed it on this week's episode of Monday Night Raw, WWE is finally rebooting the faction of Big E, Kofi Kingston and Xavier Woods for TV. After teasing the faction together on TV over the summer, they were pulled. They were then put back together on live events and are now being hyped in "A New Day" vignettes airing on TV. You can watch the latest vignette at this link. There was some confusion last week — as we detailed in our Backstage Raw News - as to whether or not Woods was re-debuting in singles or with Big E and Kofi. The above vignette confirms the latter is true and the faction is being rebooted. - Adam Rose and The Bunny were featured in this week's episode of Raw Fallout. You can watch at this link. - Eva Marie, who is currently away from WWEdue to an injury, is in Las Vegas with her family on vacation. Cameras for Total Divas are filming. Here's a photo:

- William Regal is with WWE on their current European tour and ran a one-man show Monday in Liverpool. Regal is currently recovering from neck fusion surgery that he had a few months ago. You can watch a segment he did on the WWE App during the airing of this week' Raw? at this link.
- Variety is reporting that The Rock and Kevin Hart will star in "Central Intelligence" with Rawson Marshall Thurber as director. Variety provided a synopsis of the film in their coverage:
The story begins with a class reunion approaching, as a former high school sports star turned accountant (Hart) is contacted by a classmate (Johnson) who was bullied and humiliated back in the day. The "loser" that the accountant remembers is now a CIA contract killer who ropes him into helping foil a plot to sell classified military secrets.
Rock and Hart began teasing working together on social media over the weekend.
Click here to load Tweets (if not loaded)
Click here for coverage by Variety.
- This week's episode of Monday Night Raw garnered an average viewing audience of 3,930,667 viewers on the USA Network. Below is how viewership broke down by hour:
Hour one - 4,018,000 viewers
Hour two - 3,943,000 viewers
Hour three - 3,831,0000 viewers
The show was the highest-rated non football program on cable, earning a 1.4 adults 18-49 rating. Monday Night Football over on ESPN did 11,305,000 viewers.
As you can see, there is good and bad with these numbers. The good is not only that WWE Raw was the highest-rated non football program on cable but that it did so via tape delay (the show was filmed earlier on Monday in Liverpool, England). The bad is the fact the show lost 187,000 viewers from hour one to hour three, declining each hour.
TV by the Numbers has data for the top 100 cable shows in adults 18-49 for all of Monday at this link.
- Vince McMahon appeared at Tuesday's WWE Smackdown taping in Liverpool, England where he said that Liverpool sounded like a skin disease. Below are some reports from people in attendance on social media:
Click here to load Tweets (if not loaded)
He also instructed the crowd to get livelier:

Finally, here's a photo:
- AlternativeNation.net has a new interview online with Edge. In it, Edge talked about getting the WWE Network but the service freezing for him. He talked about knowing more about Christian's status than anyone but didn't give any specifics. Below are highlights sent to us:

On Christian possibly retiring: "Well he's my best friend, so I know what's going on with him more than anybody else. But he's at that kind of point where you sit back and look and go, okay I'm definitely closer to the end of my career than the beginning. After awhile your body just starts telling you, this is a difficult job to do. When you're in your 20's and you think you're indestructible, you can bounce back, but it gets harder when you start climbing into your 40's." On the Attitude Era: "I do think what's been good, people are always talking about the Attitude Era, and all of this and all of that, but if you watch back, sometimes the matches weren't that great because we had 2 minutes. It's not possible to have a good wrestling match in 2 minutes, you can't tell a story, you can tell a haiku. Since the PG era, I know when I was in matches, I had half an hour sometimes, 20 minutes, there I can tell a story. To me that's the meat and potatoes of the whole thing, it all boils down to the wrestling at the end of the day. The Attitude Era was a lot about the hijinks backstage, and the matches kind of got forgotten about. It's looked at with rose colored glasses because the ratings were good, and it was working for obvious reasons, but to me those obvious reasons were characters like Stone Cold, who would then get in and have a long match at a PPV. Characters like The Rock who would be entertaining, but still at the end of the day, they could go. I think now, you need a little bit of both. On the WWE Network not working for him: "I haven't watched a whole lot. They finally gave me the WWE Network. Once they asked me to do a show on it, they said, 'Do you want it by the way?' I said, 'Yeah sure, why not?' But for whatever reason, it doesn't seem to want to work up here in Canada. Every time I try to watch something it just freezes, so I haven't really watched a whole lot of stuff. Before it was on the Network, it was on Sports Central up here, and if I was home from set, I would try to watch it Thursday nights. Then it got taken off Sports Central, I got the Network, and the Network didn't work, so it's kind of been out of my hands, I haven't been able to watch it."
Click here to read the piece in its entirety. Richard Reacts: I would never want to make a determination for or about Christian (saying something like he should retire) because that's none of my business. Of course, as a "Peep," I'd love to see him back in the ring BUT I don't want to see him do long-term damage to his health. Regardless, I just hope he plays it safe. The WWE Network comments from Edge are a hoot but I'm not sure I understand. The WWE Network in Canada is a traditional Pay-TV channel, so I guess it wouldn't work OTT? That's extremely confusing. - James "Kamala" Harris has been dealing with health issues and has been hospitalized, Wrestling News World can now confirm. The exact cause of his hospitalization isn't completely known but is believed to be due to peritonitis. Kamala was admitted to the Intensive Care Unit but transferred to a regular room in recent days, however, he underwent stomach surgery on Monday and was transferred back to ICU for recovery. His wife has been telling people that he is doing better but asking for people to keep him in their thoughts and prayers. - Chris Jericho & Dean Ambrose vs. Kane & Bray Wyatt took place as a dark match main event at Tuesday's Smackdown taping in Liverpool. The match WILL NOT air on television and the show itself will be headlined by Kane vs. Ryback. Jericho is featured on the show with The Highlight Reel with The Authority as his guests. Brooks has complete Smackdown taping results at this link. As for the tag match, the babyface went over. - Ric Flair popped up at the WWE Performance Center on Tuesday. He Tweeted the following photo with his daughter Charlotte from his verified account:

- Wade Barrett is not with WWE on their current European tour but back here in the United States to do media for Wrestlemania 31 tickets going on sale.
- Things couldn't be going better for Ryback right now after returning from a strained groin and two sports hernias. We reported in last week's Backstage Raw News that he was well-received backstage and seemed to have a different demeanor than he had before. Expounding on that report, we're told both Vince McMahon and Triple H have been really happy with Ryback's return and the crowd's response to him. Ryback has been "going out of his way" to be a good solider and work on the perceived attitude problems that sunk him previously. One thing that company officials are continually monitoring are the dreaded "Goldberg" chants. We're told one of the reasons Vince soured on Ryback previously is that he hated the Goldberg chants. Since Ryback's return, they've been trying to put him in more competitive matches. The thinking is if they have him start killing enhancement talent again, the Goldberg chants are more likely to catch back on.
- Chris Jericho is featured in this week's sit-down kayfabe interview with Michael Cole. Below are the highlights:
Jericho said he was invited by WWE to do the tour to strengthen up some of the shows and he's always happy to do that. He loves the UK crowds. Cole mentions that he'll be part of this week's Smackdown.
Cole put over Fozzy's "Do You Wanna Start A War Tour" and Jericho said the record has done very well in the US. Jericho talked about the UK being Fozzy's second home and how much he loved the UK and Ireland.
Chris Jericho talked about promoting his new autobiography through social media. He understands how important Twitter is and loves the connection he has with fans and instant feedback that he gets. He said it's the same with a book, a Fozzy record or a WWE match. Jericho admitted he might use Twitter too much. And not just Twitter but Facebook, Instagram, Tweet Secret, etc.
Cole promoted The Highlight Reel with Chris Jericho and The Authority on this week's Smackdown. Jericho talked about Team WWE vs. The Alliance and turning on WWE just to get to The Rock. Jericho played up if Ryback could be trusted. He talked about Team Austin vs. Team Bischoff.
When asked for a prediction for Team Authority vs. Team Cena at Survivor Series, Jericho said the response Cole would expect is he wants Team Cena to win but he doesn't know who takes over if they win. He knows that he gets with Team Authority. Jericho doesn't want the Authority to lose power and talked about keeping your friends close and your enemies closer. He doesn't know what he's getting if Cena wins.
You can watch the interview at this link.
- For those that missed it earlier in the week, the first WWE fitness DVDs featuring Triple H and Stephanie McMahon will be released on December 2, 2014. On Monday, WWE surveyed their Fan Council about similar products.
We've included the survey in a series of screen shots that you can view below: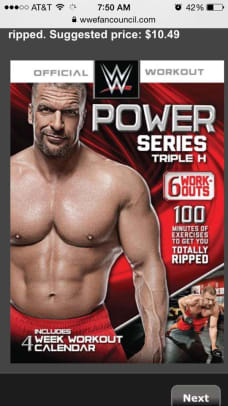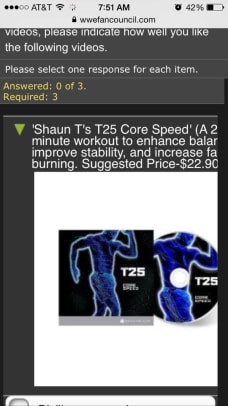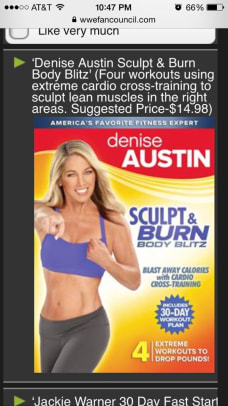 Thanks to Wrestling News World reader Ricky Murph II for his help with this information.
- Bill Goldberg is still interested in a return to the ring, sources have informed Wrestling News World. We're told he's spoken with both New Japan Pro Wrestling and Global Force Wrestling but neither were more than casual discussions. So far, WWE hasn't shown much interest in bringing him in for Wrestlemania season. While Vince McMahon is still trying to bring back more star power to WWE, it wouldn't be a complete shock to see Goldberg return but they've always felt he's too unrealistic when it comes to money (despite getting close on a couple of occasions recently). Rey Mysterio recently met with Vince, who's trying really hard to get him back. We're told one of the pitches Vince made to Rey at a meeting backstage at a Raw taping was to give him more creative control over who he works with. Right now, Mysterio is still adamant that he wants out. Vince has been known to go back and forth, changing his mind from one week to the next, but right now, he's playing nice.
- WWE and Atresmedia announced on Thursday they have extended their TV distribution agreement and promotional partnership for an additional two years to carry Raw and Smackdown . The deal will run through 2016. According to a release issued to announce the deal, ratings for Monday Night Raw and Smackdown have doubled in the country over the past year. The deal comes on the heels of WWE running a sold out live event at Palacio Vistalegre Arena in Madrid. Click here for coverage by dot com.
- The WWE Network went down on Wednesday night. The company attributed the issues to the technical difficulties and have since corrected the issues. I noticed I was unable to log-in to the service during the downtime, which apparently lasted for over an hour.
- This week's episode of WWE Inbox is now online at this link.
- WWE Studios announced on Thursday a "Scooby-Doo! WrestleMania Mystery" sequel featuring Hulk Hogan. No other details were made available as of press time but you can read coverage by dot com at this link.
- WWE has moved the official profiles of The Great Khali and Brad Maddox to the Alumni section of dot com. No other details are available as of press time but usually when this happens it's the result of one or two things. Either it's simply an error or the talent has been released. So far, there have been no official announcements regarding the status of either Khali or Maddox. Khali missed most of April and all of May before returning in June and working a couple of dates in July. He worked a couple dates in August before working regularly for WWE in September and October. He has not worked for WWE in November. Maddox has also working sparingly for WWE after being written off television. He resurfaced on live events last month, ironically enough, jobbing to Khali.
- WWE has a "Where Are They Now?" piece on Beth Phoenix. She talks extensively about leaving the company and becoming a mother as her and Adam "Edge" Copeland have an 11 month year old daughter named Lyric.
Below is an excerpt from the piece:
WWE.COM: First off, what have you been up to since we last saw you in a WWE ring?

BETH PHOENIX: Oh, my gosh! Life has been nuts in the last two years. I've been doing a lot of shuffling and moving around, and the biggest thing that's happened is that I became a mother!

I got pregnant five or six months after I retired, and then it was off to the races! It was a complete change of gears, and I was refocusing my life on my family. That was the reason I left WWE — not to have a baby, but to spend time with family. That was just a wonderful side result of spending time at home and being with my family. That was awesome, and it's been a big change.

WWE.COM: How does being a mom compare with your life in WWE?

BETH: It's challenging, but in different ways. The challenge with WWE was keeping up with the schedule and trying to stay healthy and uninjured during that time. Now, with motherhood, the biggest responsibility is trying to protect this little baby and care for her and her needs. So the shift has gone from a very egocentric world to making sure that she's okay. So it's just a shift in your priorities. I'm learning so much about myself. That's the biggest difference. I'd say the speed doesn't change, but it's just in different areas. It's still a fast-moving life.

WWE.COM: Speaking of the future, is there any chance of a Beth Phoenix return at some point?

BETH: Hey, I would say there's always a chance. Never say never. I can't tell you what tomorrow brings, let alone next year. But I'm physically capable and it's always possible.
Click here to read the piece in its entirety.
- Wrestling News World reader Paul Wycherley sent us some notes from Thursday's WWE live event in Glasgow, Scotland. We already covered the results with photos at this link but I wanted to pass along what Paul sent us.
First, Vince McMahon's apology of the WWE Network being delayed in the United Kingdom was shown after a very strong opener between WWE Intercontinental Champion Dolph Ziggler and Cesaro. The announcement received heat, with people chanting they had been "cheated."
Paul noted that Kane appeared banged up and hobbled in his match against Dean Ambrose. He didn't know if it was a case of Kane feeling the effects of the tour or had picked up an injury but the match quality was reportedly impacted.
Chris Jericho and Bray Wyatt "stole the show" with their Street Fight main event.
Three separate vignettes were shown for Tyson Kidd. Kidd is in the midst of a push that we wrote about at this link.
We've covered every show on WWE's current European tour with detailed coverage, including results and photos. You can get caught up in our WWE House Shows section.
- There are three notable WWE video updates to report before we get to the weekend. They are as follows:
The two-year anniversary episode of The JBL & Cole Show is online at this link.
Hulk Hogan was at Thursday night's Golden State Warriors game and cut a promo. You can watch video at this link.
We reported on Thursday about WWE Studios doing a sequel to a "Scooby-Doo! WrestleMania Mystery" starring Hulk Hogan. Hogan cut a promo for that at this link
TNA News
- Brooke and Robbie E — The Wrestlers - are now in 4th place through 7 legs of The Amazing Race. This week's episode was a non-elimination leg and the team that finished in 6th place — College Sweethearts — will have to perform a Speed Bump during the next leg of the race. Below is the updated standings:
Misty & Jim (The Dentists)
Kym & Alli (The Cyclists)
Amy & Maya (Sweet Scientists)
Brooke & Robbie (The Wrestlers)
Adam & Bethany (Soul Surfers)
Tim & Te Jay (College Sweethearts)
Shelley & Nici (Mother/Daughter)
Keith & Whitney (Team Nashville)
Michael & Scott (The Firefighters)
Dennis & Isabelle (The Dating Couple)
Lisa & Michelle (Miami Realtors)
This week's show is now available online at this link.
- Bully Ray Tweeted the following from his verified Twitter account on Wednesday:
Click here to load Photos/Tweets (if not loaded)
While I'm sure many people will try to spin this, I just want to post the comments for what they are. You can feel free to fire off thoughts in the comments area but I'm not going to sit here and try and unpack these into a story about Ray or his status with TNA Wrestling. He's like Samoa Joe in that his contract with TNA Wrestling is up. TNA is not offering contracts until they have resolved their situation with domestic TV. - TNA Wrestling will announce their new domestic television deal soon, this according to company President Dixie Carter. She Tweeted the following on Wednesday evening: Click here to load Tweet (if not loaded)

The response comes nearly five hours after a cryptic Tweet from Bully Ray, hinting at communication issues.
The latest from the TNA side is extreme optimism regarding a new TV deal. We've heard rumored networks from Velocity HD to WGN America to Spike TV taking them back at a reduced rate.
- This week's episode of Impact Wrestling garnered an average viewing audience of 970,000 viewers on Spike TV. The show was up an average of 40,000 viewers from last week but once again failed to make the top 100 cable programs among adults 18-49 for Wednesday. TV by the Numbers has more data from Wednesday available at this link.
Ask WNW
With Survivor Series being free on the WWE Network, does this mean that we are in for a truckload of dirty finishes, horrible matches and various rematches considering pay-per-views are no longer held in high regard?
We had a very similar question from a concerned reader last week but I don't think so. If anything, I believe Survivor Series being free means the show will be better quality to entice free signups to convert to paid subscribers in December. It's already known that Brock Lesnar isn't on the show so it's not like WWE is promising a World Heavyweight Championship match. The only match announced heading into Raw is a Traditional 5-on-5 Survivor Series elimination tag team match between Team Cena and Team Authority. If Team Cena wins, The Authority will no longer be in power. We've been asked a lot about potential team members and so far it's Cena and Dolph Ziggler on Team Cena and Seth Rollins and Kane on Team Authority.
Monday, November 10, 2014 1:23 PM EST Update: WWE has announced AJ Lee will defend the Divas Championship against Nikki Bella on the show. We have those details at this link.
Who came up with Stardust?
I heard that Stardust was a nickname that Dusty Rhodes gave Cody as a youngster. Shortly after the character's debut the word was out that Rhodes would carry the gimmick for a while but I don't think anyone thought he'd have it nearly 6 months later. The success of Stardust should be attributed to the talent of Cody Rhodes. He's had success with everything he's been given and I feel is capable of more than the WWE Tag Team Championship.
Could you see someone from Team Cena turning heel to join The Authority and costing team Cena the match at Survivor Series?
It's certainly possible, however, I have a hard time believing that Team Cena doesn't go over. WWE is going to want Cena "overcoming impossible odds" to look as strong as possible for another match against Brock Lesnar and there seems to be more to the future of The Authority. I know speculation suggests something involving Vince McMahon for "control of WWE," which is something they talked about doing for Wrestlemania 30 this year but was nixed. This week's Raw should give us a better idea of who comprises Team Cena, which should give us a few clues about the booking of the pay-per-view.
What are the backstage roles of WWE referees?
WWE referees usually help set up the ring. This was very clear earlier this year when veteran WWE official Charles Robinson nearly severed his thumb while setting up the ring for a live event.
From the Ask WNW vault…
August 2012: Don't you think the premise that Brock Lesnar is the conqueror, with nothing left to prove in the WWE, would have been WAY more effective if Lesnar had beaten John Cena? - WWE is basically in damage-control mode by portraying Brock Lensar as the dominant conqueror that "accomplished everything" in a very short period of time. The problem is Lesnar is 1-1 since returning and is hardly a dominant force by beating Triple H who is 0-2 for the year. The company expects logic to be thrown out the window with fans ignoring match outcomes and basing it on Lesnar's "destructive tendencies." The fact of the matter is WWE made a monumental mistake by putting Cena over Lesnar at Extreme Rules and are paying for it with every Lesnar match going forward. I have more on the original plans for Lesnar vs. Triple H at SummerSlam this link.
With what seems like a bunch of hidden clues in conversations between Dolph Ziggler and The Authority, do you see it possible that Ziggler turns on Team Cena at Survivor Series and joins the Authority? If not, do you see anybody turning or any type of screwy finish?
This is how WWE gets in trouble with back-to-back dirty finishes in pay-per-view main events. Now, we're in a situation [with Survivor Series] where a dirty finish could be useful and provide an intriguing storyline to close out the year. Ziggler could turn and get the push we've all been calling for, Randy Orton could return and blow the roof off in his hometown or various other scenarios involving the non-committal Ryback and/or Luke Harper. But could WWE do their third dirty pay-per-view finish in as many months? Would that appease the people watching for free?
I absolutely could see a dirty finish involving a turn in the Survivor Series main event and to be honest, I'm enjoying watching the story surrounding the teams move from week to week. At the very least, we're seeing guys get opportunities. I've been very critical of WWE since SummerSlam but right now, things are moving in a better direction. Rather than focusing on Brock Lesnar being MIA, we're able to focus on all of the elements that go into Survivor Series. And how refreshing is it to see WWE actually utilize the Survivor Series concept?
If you were given the opportunity as a creative writer in WWE, how would you change John Cena for the better?
Well first, I would never want the burden of being a creative writer in WWE. It's an impossible task that is a very difficult job. It's much easier to watch from a distance than get thrown into the fire, being expected to come out of it not smelling like smoke. With that being said, the thing that frustrates male pro wrestling fans over the age of 13 with John Cena is the lack of character progression. I don't even think it's a heel turn that people want, it's just the desire for some movement with "the face of the company."
Vince McMahon found a formula that worked with Cena and is utilizing it like Hogan was used for decades. It's hard to argue with the results from a monetary standpoint. Cena remains a top draw in terms of TV ratings, ticket sales and merchandise. In other words, he not only moves WWE's key drivers but he leads them. So what could be done to not only keep those elements intact but enhance them?
Vince seems to operate under, "it's not broke, so don't fix it." That's fine but I believe even subtle progression to the Cena character could make it more palatable to the older audience and generate even more money. Cena's hip hop gimmick helped get him where he is and while it wouldn't work to the same degree today, what if elements from that gimmick were infused into the current version of John Cena?
Consider Cena's recent work with Wiz Khali. If the writers could figure out a way to take the raw lyrical talent of Cena and put it with his character today, I think the results would surprise people.
All and all, I believe WWE gets too complacent at times. Take three hours of Raw for example. The extra money from the third hour looks great on a balance sheet but has had a negative impact on programming.
What is William Regal's current role in WWE?
William Regal is heavily involved in WWE's developmental system, working as a trainer and color commentator down there. Further, he also scouts talent for WWE and holds the on-screen role as NXT General Manager. The reason Regal replaced JBL as the "GM of NXT" was budget-related as Regal was already there and the company didn't want the added expense of flying JBL in for TVs. Regal is currently in England with the roster and we gave a detailed update on him earlier on Tuesday at this
link.
What's the deal with Adam Rose's Bunny? Is there an actual talent in the costume that WWE plans on introducing at some point? If so, do you have any idea who it might be? Or is it just some silly gimmick to enhance Rose?
The Bunny! Vince McMahon is infamously known for being high up on such ridiculous gimmicks because he thinks they're funny (just think of Natalya's flatulence gimmick to really get a handle on it). There have been rumblings for months about The Bunny evolving to an actual character on WWE TV. The idea is simple - the Bunny will turn out to be a talent the WWE audience is already familiar with. I've gotten a great laugh at some of the coverage outside of WNW this has gotten with people guessing. I believe the eventual plan is to reveal a talent under the costume and have heard all the guesses. We'll see where it goes but it's just mid-card comedy. I don't think the Bunny is being built for any sort of protected push, at least I hope not.
From the Ask WNW vault…
March 2012: Bret Hart, Shawn Michaels and Steve Austin all took years before they became superstars, nowadays talent with name recognition on the independent circuit that get moved up to the majors are almost expected to be automatic superstars. Do you think the independent fans put too much pressure on these talent and bash WWE when these talent's aren't used at every single TV or PPV? - Everyone has to pay his or her dues in some fashion. Even workers such as CM Punk and Daniel Bryan, that are currently main eventers, had to pay their dues in the independent circuit then again in WWE before their run at the top of the card. Many of the well-known independent names are currently paying their dues in WWE developmental where they are treated just like everyone else. Vince McMahon isn't impressed by success outside of WWE and while it may get a worker on his radar, the worker has to prove they can be successful in WWE before they are pushed.
I'm a little confused on Ryback getting pushed directly into the main event when he hasn't done much in some time but when he did have the opportunity to main event a few years ago, it's seems as if he blew it. With that in mind, do you think Vince McMahon is too overconfident in pushing Ryback again?
WWE is rebooting on Ryback in a big way. I'll be the first to admit I'm on record as to writing that I believe the push should go to someone else because Ryback had his opportunity and it didn't work. However, the decision has been made and he's getting another big push. He opened and closed this week's Raw, a very telling indication about the company thinks about him. Let's be clear, WWE didn't do Ryback any favors with his booking. While he was booked in pay-per-view main events, he was booked with shockingly low confidence that damaged him as an unstoppable monster.
Some time off appears to be just what Ryback needed as the audience seems to be refreshed with him being treated as a viable upper-level performer. WWE desperately needs some more names to grab the reigns and take hold in the top of the card. It's now or never for Ryback. Is Vince overconfident or is Vince desperate? Ryback is ready-made for this spot, if he gets over and stays over, it could help a lot right now.
I've got more details about his push and what "sunk" his stock with Vince McMahon the first time at this link.
I purchased the WWE Network expecting that I would be able to watch encores of Raw and Smackdown after they aired on the USA Network and SyFy respectively. Why the delay?
A lot of people are under the impression when they subscribe to the WWE Network they will get immediate access to encore episodes of Raw and Smackdown. While you will get encore episodes, due to TV contracts, encores are available 30 days after they originally air on the USA Network or SyFy respectively. However, content that originates on WWE Network - such as pay-per-views - is available for immediate playback as soon as it's over. While the company clears this up in their official WWE Network FAQ document, it's not well conveyed in promotional materials for the product. I do not consider this a deal-breaker and will continue to recommend the WWE Network to all fans. I believe it's well worth the price of $9.99/month to get every pay-per-view, original content and the vast and expansive video on-demand library.
I recently watched WWE Capitol Punishment 2011 for the first time; that was a period where I didn't follow the WWE for about a decade. The whole President Obama special guest reoccurring segment had me shaking my head in embarrassment. It seems silly, even for the WWE. Has there been any certain segment/feud/etc. that comes to mind as the ultimate "what were they thinking" moment as far being flat out silly?
There are a lot of things WWE has done that have been very silly if not downright deplorable. Mae Young once gave birth to a hand, Hornswoggle was revealed as the Raw General Manager, Natalya couldn't stop farting, Lita and Edge celebrated with a live sex celebration. Do I need to go on? I've mentioned on more than one occasion about Vince McMahon making Trish Stratus get on her hands and knees and bark like a dog is still something that makes me sick to my stomach. Wouldn't be funny if WWE put out a DVD of all the ridiculous things they've done on TV? I bet it would be entertaining.
Ray Leppan's Adam Rose character is wearing thin, but when he took down The Bunny on Raw, his Leo Kruger character seemed to want to burst through. Do you see him being rebranded as the much better Leo Kruger going forward?
The Leo Kruger character was like a mix of what WWE already has with The Wyatts and Rusev. The Adam Rose gimmick provides WWE with some mid-card comedic relief that includes a capped ceiling (I don't think anyone envisions Rose in his current form challenging for the WWE World Heavyweight Championship). The good is that he's on the main roster and regularly featured on TV. The bad is that he's capped in the proverbial mid card and currently feuding with a Bunny. I don't think WWE needs a character like Leo Kruger, they have enough already.
From the Ask WNW vault…
May 2012: Who was the bigger draw – Steve Austin or Hulk Hogan? - These types of questions are nearly impossible to answer because strong cases can be made for both Steve Austin and Hulk Hogan. Given the fact Hogan played a key role in the pro wrestling boom in the 80s as well as the boom of the 90s, I label Hogan as the most influential person in the history of the wrestling business. While we can all question Hogan's sanity today (and probably then too), he legitimized pro wrestling more than anyone before. Steve Austin flourished at a different time when programming was very edgy, however, had it not been for Hogan who knows if there would have been a platform for Austin. Both were tremendous draws and made a ton of money not only for themselves but for everyone around them.
Given Bully Ray's cryptic Tweet, is this an indication we are seeing the final episodes of Impact for the year and for the foreseeable future? Do you have any updates or know whether TNA has set reached a TV deal of some kind with someone?
TNA Wrestling's final show of 2014 was Bound for Glory on October 12, 2014. They have material for next week's episode of Impact but that should wrap it up and we're likely to see some "Best of" type shows in December (there will not be a show on Thanksgiving week). It's rumored the company will tape TV again in January, at which point they'll either be under a new deal with Spike TV or on a different network entirely.
In speaking with TNA sources, there remains confidence that a new domestic TV agreement will be finalized soon. This is something that Dixie Carter herself stated Wednesday evening on Twitter. The impatience from talent and fans alike has to do with the fact everyone is in a holding pattern. Talent with deals that are up (like Bully Ray and Samoa Joe) aren't being offered extensions and fans of course want to know what is going to happen. Let's not forget talent that is under contract isn't making money because they're not on shows.
With that being said, I have no idea if that's what Bully Ray was talking about in his Tweet and really don't want to speculate. If/when TNA announces their new domestic TV deal, we'll bring the details immediately, however, it's crunch time for sure.
With Rusev running through everyone put in front of him, could you see Kurt Angle being brought back to defend America, ultimately leading to Angle vs. Brock Lesnar at Wrestlemania 31?
There have been rumors off and on about WWE bringing Kurt Angle back but I'm just not buying in. I know WWE sources have indicated about the on again/off again interest, but I'm not seeing it this close to the build to Wrestlemania 31. I can tell you Rusev is being mentioned in many prominent feuds for next year's Wrestlemania and could be next year's Bray Wyatt. Does that mean he gets John Cena at the pay-per-view next year? I have heard that come up but obviously not confirmed.
Is there any validity to the rumor around many indy scenes (from what I've been told) that the indy talent contacted for the Adam Rose and Bunny party group is a rib on indy wrestlers?
I've heard the same rumor and I guess it's possible but it sounds like a high degree of paranoia. WWE has always utilized local independent wrestlers as "extras" on their television. In fact, one of our readers actually participated as an "extra" in an angle with Chris Jericho several years ago. It's a great networking opportunity for the worker(s) called in. Remember Colin Delaney? He was brought in to work a per shot and landed a contract. The wrestling business is very much about *who* you know and any local talent called to work a WWE show should use it to get their name out there.
If Team Cena wins at Survivor Series, then what's next? A general manager comes back? Does The Authority leave TV for awhile?
There continues to be a lot of "what's next" chatter surrounding the outcome of Team Cena vs. Team Authority at Survivor Series. What we know for sure is that John Cena will be challenging Brock Lesnar for the WWE World Heavyweight Championship after the pay-per-view so regardless, he'll be protected in the match.
Speculation/backstage gossip over the past couple of weeks has suggested The Authority are going to be written off TV, with WWE possibly reverting back to a Vince McMahon vs. Triple H "power struggle" program that was originally slated for this year. The Authority has been highly protected, overcoming the odds for well over a year now. Will a different outcome take place at Survivor Series? I can't confirm for sure but regardless of the outcome, Cena will be protected to be a viable challenger for Brock Lesnar and the WWE World Heavyweight Championship.
Do you think now the WWE Network is in full swing and PPVs are more 'special events,' do you think it's more likely WWE finally holds a PPV in the United Kingdom?
The WWE Network gives the company the ability to hold a live televised special from the United Kingdom. However, it would be a horrible idea to try and rebrand one of the monthly pay-per-views from the United Kingdom because of the time difference. All we have to do is look at how Bound for Glory 2014 fared just last month. I know TNA has a slew of other issues but it was a sad state of affairs.
WWE needs to get their Network up and running over in the United Kingdom before this would be a possibility .
From the Ask WNW vault…
September 2012: Why did WWE have The Miz job to Ryback in under three minutes on Raw? - If you've been keeping up on Richard's Backstage Blog then you read here a couple weeks ago that Vince McMahon was ready to take Ryback to the "next level" despite concern from most workers and officials. As we saw at the conclusion of this week's Raw, it's happening and WWE is ready to start feeding Ryback in the main event. Some are speculating Ryback is the backup plan to work against Punk should John Cena not be able to go but one thing is clear, he's getting ready to get his push at the top. Check out my report from a couple weeks ago for some interesting details that will prepare you for the major push.
If the World Heavyweight Championship was still active, do you think guys like Dolph Ziggler and Ryback would be main eventing?
The reason why I opposed unifying the WWE and World Heavyweight Championships last year is because having two belts forced the company to have two main event scenes. Two main events were a staple of every pay-per-view, with both titles being regularly defended. Two main events meant more main eventers, thus there was a second tier of top level workers.
A year later and we've really seen the drawbacks of one world title, especially since the champion for the past three months has been a part-time star. The main event scene in WWE has shrunk and while we've seen the pleasant elevations of guys like Seth Rollins and Dean Ambrose, guys like Sheamus and Dolph Ziggler have been relegated back to the proverbial mid-card.
There does appear to be a renewed emphasis on pushing some of these guys up as Ziggler is back in the limelight and Ryback has received the green light for another top push. However, are Ziggler and Ryback being pushed because there is a renewed confidence in them as main eventers or because of injuries (Daniel Bryan, Romain Reigns), Randy Orton off and Brock Lesnar being part-time?
Time will tell how far Ziggler and Ryback go in the main event and I've been more optimistic with the quality of WWE's product in recent weeks. Dare I say that I'm looking forward to Survivor Series? But I truly believe only one world title — especially one world title held by a part-time star — has been damaging to the overall quality of WWE.
To answer your question, would Ziggler and Ryback be main eventing… that's anyone's guess. There would be more main eventers with a second world title, so guys currently on the fringe would likely be competing for it, but it's still a hypothetical guess at best.
Do you think AJ Lee gets annoyed with the "CM Punk" chants directed at her?
I haven't noticed AJ Lee ever getting rattled due to the "CM Punk" chants. In fact, she's probably come to accept them. I have no idea why people feel the need to continually chant CM Punk at her or anyone else but it's just become one of the uncontrollable elements of a live crowd. I've said it before and I'll say it again, if you pay to go to a WWE show with the sole purpose of chanting for a superstar that left on their own terms, the rib is on you.
Why didn't WWE mention Daniel Bryan's involvement in the celebration of the Giants winning the World Series?
WWE uploaded footage of Daniel Bryan celebrating with the San Francisco Giants and presenting Hunter Pence with a WWE title belt on their YouTube channel. I don't know why it never made WWE television but the company was well-represented with Bryan's participation. You can watch the footage embedded below:
http://youtu.be/aMgoPRHuu6k
What is the update on Billy Jack Haynes and his lawsuit against WWE?
WWE was granted an extension earlier this week to respond to the claims brought against them by Billy Jack Haynes. The company will have until the end of the year to respond to the suit. You can get caught up on the litigation filed by Haynes and WWE's initial response at this link.
Do you think WWE has made a mistake moving Smackdown to Thursdays? For four months out of the year, they will go head to head with the NFL on Mondays and Thursdays now. It's almost like WWE is throwing in the towel in the fall months.
I agree it will be an added headache for WWE to compete against the NFL on Mondays and Thursdays in the fall, however, I do not believe moving Smackdown back to Thursday nights is a mistake. WWE actually never wanted to move the show to Fridays in the first place and it was a network decision made when they were still under contract with Viacom (and Smackdown was airing on UPN). Airing on Friday night is known in TV as a "death slot" because Friday is the least-watched night of the week, whereas Thursday is actually the most-watched. WWE proved all the critics wrong by having success with Smackdown on Friday nights, however, I believe Thursday is a better night for the series.
From the Ask WNW vault…
April 2013: When Mick Foley was originally announced for the 2013 WWE Hall of Fame wasn't he slated to be the "face of the class" or did this change with Bruno Sammartino? I don't understand why they would scrap his speech from the television special on the USA Network. - WWE pursued Bruno Sammartino before anyone else for the 2013 WWE Hall of Fame class, however, even Vince McMahon didn't think a deal would be able to get done so they started looking for another headliner. With Mick Foley being from New York and well deserving of a Hall of Fame nod, he was decided upon as an inductee and the offer was extended. Now here's where things get tricky. While Bruno was still up in the air, Triple H was willing to be inducted as a member of DeGeneration X (before going in as a singles wrestler) to help add to the value of the class. Hunter has always been critical of Foley and his drawing power. There was even an incident backstage several months ago where Vince McMahon rebuked Triple H in front of other staff members when Hunter spoke negatively of him. Vince told Hunter (and everyone in the meeting) they needed to make Foley look as legitimate as possible if they were going to push him as the face of this year's Hall of Fame class. Triple H turned up the heat for Bruno and ended up "pulling off the impossible" by getting him to agree. Not only that but he landed Arnold Schwarzenegger to induct him. This was what WWE wanted all along so they have gone full-steam ahead with the class built around Bruno. Had he not agreed, some have speculated DeGeneration X would have co-headlined with Foley.