Brock Lesnar's WWE Future, TNA Resets, Survivor Series Changes
The following article is only available to WrestlingNewsWorld.com Premium Members. Sign-up here to view this article and unlock all our exclusive features. By signing up not only will you unlock all exclusive features but the website is also 100% advertisement free! *FREE* Preview Inside!
Welcome to the WrestlingNewsWorld.com Premium Newsletter. This is where you will find all of the big news and Ask WNW segments from the week neatly archived for your viewing pleasure. This week's edition covers news from Saturday, November 15, 2014 to Friday, November 21, 2014 as well as all five Ask WNW segments from the week. Use this newsletter as your own personal tool to catch up on any of the news that you may have missed during the week. Below is a table of contents:
Note From Richard: For those that have asked, the Newsletter is organized with the news posted on Saturday at the top with the most recent stories at the bottom. We have it organized this way so you can read the news in the order in which it happened. Thanks for your support!
Table Of Contents
- WWE News
- TNA News
- Ask WNW
WWE News
- Sky Sports has a video feature on The Miz at this link. In it, he comments on his pairing with Damien Sandow. While the comments are kayfabe-heavy, Miz admitted Sandow was going nowhere fast before they were paired together and that Sandow wants to be a main act.
Richard Reacts: Damien Sandow's role as The Miz's stunt double is an upgrade from what he was doing (the Charlie Haas treatment), kayfabe or not. That doesn't mean it's either sustainable or beneath what he should be doing. Sandow is a talented prospect and it would behoove WWE to come out with something for him.
- WWE Intercontinental Champion Dolph Ziggler is featured in this week's episode of Smackdown Fallout after his stellar match on this week's Smackdown with Tyson Kidd and Cesaro aired. You can watch at this link. Jamie Welton, who blogs Smackdown each week, gave the match 5 stars. You can read his blog at this link.
Richard Reacts: Tyson Kidd is in the midst of a push and Dolph Ziggler is being highlighted. They're two of the most talent and most deserving stars on the roster. The same can be said for Cesaro. These are the guys WWE should be featuring and featuring prominently. They have everything to be successful in the wrestling business. This was one of the best Smackdown bouts of the year and is worth going out of your way to see.
- The editors of dot com published a new article online, questioning which Superstars and Divas are the future of WWE. Such pieces are perfect for a weekend read, so we'll recap their selections accordingly.
The dot com editors have tabbed the following as "the future of WWE:"
Luke Harper
Sami Zayn
Dolph Ziggler
Dean Ambrose
Charlotte
Finn Bálor
Hideo Itami
Cesaro
Baron Corbin
Roman Reigns
Click here to read the article in its entirety for their comments on each worker. Please note, the dot com piece didn't "rank" the aforementioned workers.
Richard Reacts: What does this mean in the broad scheme of things? Absolutely nothing. However, such pieces are fun to read and I doubt many are going to argue with this list. Baron Corbin is probably the most least-recognized name and is a former Arizona Cardinals offensive lineman that signed with WWE last year. He made his official NXT debut at NXT Takeover II back in September, going over CJ Parker in 30 seconds.
- Congratulations are in order to R-Truth, who announced the birth of his daughter on Twitter over the weekend. The following comes from his verified Twitter account:
Click here to load Photos/Tweets (if not loaded)
That's awesome - congratulations! - Alberto Del Rio and Ricardo Rodriguez appeared together at Saturday's House of Hardcore VII in Philadelphia, Pennsylvania. Rodriguez introduced Del Rio after Christian York went over Curt Hawkins and Hawkins cut a promo in the ring. The show also featured TNA Champion Bobby Roode beating Tommy Dreamer in an Old School Extreme Rules match, as Roode replaced an injured Ethan Carter III. Below is a photo of Ricardo, Drew McIntyre and Del Rio that was posted on Twitter: Click here to load Photos/Tweets (if not loaded)

- Hulk Hogan appeared at WWE's Wrestlemania On-Sale Party on Friday at Intel Plaza at Levi's Stadium in Santa Clara, California. While there, he participated in a Q&A session with fans and was asked if he had one more match in him. Below is video of the question and response from Hogan:
http://youtu.be/dCfNgq9PT2U
Hogan continues to politic publicly for another match, just like he politicked last year. I truly believe Hogan wants to try and get the hype for the match so he can bring that to Vince McMahon and talk him into it. Ultimately, that's whose decision this will be and he's right, we never say never in this business. I know Vince and Triple H didn't want Hogan's return to WWE to be contingent on a match and they wanted to bring him back just like they have, under an ambassador's role.
Not only is Vince not optimistic about letting Hogan work again at 61 after multiple back surgeries, the incident with Jerry Lawler a couple years ago really changed things. This has made Vince even more hesitant about legends returning, even for one match.
- Daniel Bryan appeared at WWE's Wrestlemania On-Sale Party on Friday at Intel Plaza at Levi's Stadium in Santa Clara, California. While there, he participated in an interview with CSN Bay Area.
Bryan talked about Hunter Pence from the San Fransisco Giants bringing the "Yes" chant to the clubhouse. Bryan said Pence asked him about it and he said he didn't care that he used it and thought it was cool. He admitted Jayson Werth of the Washington Nationals has a better beard. He talked about his "beard off" with Oakland A's outfielder Josh Reddick last year. Bryan said that he won because Reddick shaved it off.
Daniel Bryan said he's not sure when he's going to be back to WWE but he hopes to be back in January and ready for Wrestlemania 31 in March. He said there's no way to know and there's contemplation about a second surgery on his elbow.
You can watch the interview embedded below or at this link:
Richard Reacts: There is no new information here. Daniel Bryan still has not underwent a second surgery but doesn't sound any further along in his rehab. It all has to do with his strength returning in his right hand, which must occur for him to be cleared to return to the ring. Nerve injuries are tricky and this is just proof of that. The good news is Daniel Bryan appears to be in great spirits and is not in chronic pain. Hopefully the strength gets back sooner than later and he can resume his illustrious in-ring career.
- Nikki Bella will challenge AJ Lee for the WWE Divas Championship at Survivor Series on Sunday. She posted a kayfabe-heavy note on Facebook, where she wrote about the opportunity. You can read it below:
Post by Nikki Bella - WWE Universe.
- WWE and the USA Network announced on Monday they'll hold "WWE Week" beginning on December 15th with Monday Night Raw, followed by a live episode of Smackdown and a two-hour Tribute to the Troops special.
Below is the official press release:
"WWE WEEK" ON USA NETWORK KICKS OFF DECEMBER 15

NEW YORK and STAMFORD, Conn., – November 17, 2014 – USA Network and WWE will kick off the holiday season with an action-packed "WWE Week" beginning December 15 with MONDAY NIGHT RAW®, followed by a live SMACKDOWN® and a two-hour TRIBUTE TO THE TROOPS® special, along with a week-long daytime roadblock featuring interviews with the WWE Superstars and Divas.

Both RAW and SMACKDOWN feature a star-studded cast of WWE Superstars and Divas, and deliver a shot of adrenaline to viewers with over-the-top action, feats of athleticism and high octane-drama.

On Monday, December 15 from 8-11pm ET, USA will air MONDAY NIGHT RAW, live from Detroit, Michigan. On Tuesday, December 16 from 8-10pm ET, USA will also air SMACKDOWN live from Grand Rapids, Michigan.

On Wednesday, December 17 from 8-10pm ET, USA will air one of the most patriotic and heartwarming shows of the holiday season, WWE TRIBUTE TO THE TROOPS. In the tradition of Bob Hope, WWE brings together the best of sports entertainment and pop culture with celebrity appearances and performances from music's most popular acts for our servicemen and women to honor their commitment and dedication to our country. The 12th annual holiday special will also re-air as a one hour special on NBC on Saturday, December 27 from 8-9pm ET.

WWE also takes over USA DAYTIME from 11am-3pm Monday, December 15 – Friday, December 19, as host Cat Greenleaf interviews WWE Superstars and Divas, on her iconic stoop, including The Miz®, Big Show®, Titus O'Neil™ and Brie Bella™, as well as Chief Brand Officer, Stephanie McMahon.

MONDAY NIGHT RAW on USA is the most-watched, regularly scheduled, year-round program on cable, airing a live three-hour block every Monday night, 52 weeks a year. RAW has been a cable mainstay for more than 20 years and is consistently a top ten show on television. The three-hour block on USA averages 2.12MM P18-49, 2.18MM P25-54 and 4.73MM total viewers P2+. RAW and SMACKDOWN have reached 53.1MM total viewers P2+ 2014 to-date.

Follow the social conversation with #TROOPS on @WWE @TRIBUTETOTROOPS @USA_NETWORK
- There continues to be a lot of Daniel Bryan talk following his weekend appearance for WWE to promote Wrestlemania 31 tickets going on sale. Bryan still hasn't regained the strength in his right hand, however, has not had a second surgery.
Recapping, Bryan had a cervical foraminotomy on May 15, 2014. The surgery was performed by Dr. Joseph Maroon, who is one of the top neurosurgeons in the world, and has performed multiple surgeries on WWE talent. Shortly after surgery, the initial report was strength was "already returning his hands." It's something WWE made sure to mention in their coverage here on dot com.
That initial report turned out to be overly optimistic as Bryan failed to regain the strength in his right hand. As far back as July, another surgery to repair a possible "second location" of his nerve injury in his elbow was discussed. That has been the sticking point. Bryan's failure to regain the strength in his right hand and whether or not another surgery needs to be done to help get it back.
The way Bryan was portrayed in a storyline on Total Divas has resulted in some to believe that Bryan is "refusing surgery." That's not the case. It's the fact doctors are unsure if a second surgery — in his elbow — will help him to regain the strength in his right hand. That's why an operation has not been performed.
As for Bryan's future in WWE, he's hoping to be back in January and has been included on promotional information for Wrestlemania 31. While this does provide some optimism regarding his status, Bryan will not be cleared to return until he regains the strength in his right hand and that's what has kept him out since May.
- Brock Lesnar is scheduled to return to WWE television before the end of the year. He's currently on the booking sheets for Monday Night Raw on December 8th and December 29th. I've been operating under the assumption he'll defend the title against John Cena at TLC but can't confirm as of press time.
- Darren Young was at the WWE NXT live event last Thursday in Orlando, Florida and is expected to be back with WWE soon. Young received clearance to return to the ring earlier this month after suffering ACL and MCL tears (cruciate injuries) last April.
- Last week's episode of WWE Smackdown did an average viewing audience of 2,715,000 viewers on SyFy. The show was the second highest rated on cable with a 0.8 adults 18-49 rating for Friday. TV by the Numbers has more data at this link. This number was up big (+290,000) from last week and is a step in the right direction for WWE.
- It was announced on the WWE Raw Pre-Show that Gold & Stardust will defend the WWE Tag Team Championships in a fatal four-way match against The Usos, The Miz & Damien Mizdow, and Los Matadores at Survivor Series this Sunday.
- Luke Harper beat Dolph Ziggler to win the Intercontinental Championship on this week's Raw after The Authority announced the scheduled singles match would be for the title. This is Harper's first championship on the main roster.
- A commercial for what is being advertised as a Supershow WWE live event from the Izod Center in East Rutherford, New Jersey on Saturday, January 24, 2015 aired during this week's Raw in local New York/New Jersey markets and proclaimed that "Roman Reigns is back."
In addition to Reigns, Chris Jericho, who was on WWE's most recent European tour, is on the list of officially advertised talent here on dot com.
Reigns is being advertised for WWE live events at the end of December, so perhaps he'll be in the midst of a full-on main event push come time for Royal Rumble. He was expected all along to be back in December from his incarcerated hernia that required emergency surgery in September and that timeline remains intact.
As for Jericho, I stated in Monday's installment of Ask WNW that I would mention when he was booked again, so here it is.
- WWE has announced that Larry The Cable Guy will be the special guest star on next week's Raw.
- Bad News Barrett and Paul Heyman will be featured on the WWE Survivor Series Kickoff Panel. Fandango will return to action, with Rosa Mendes as his new valet. The Survivor Series Kickoff Show starts at 6:00 PM EDT. We will have live coverage right here at WrestlingNewsWorld.com.
- Following this week's WWE Raw, Team Cena is now compromised on John Cena, Dolph Ziggler, Big Show, Erick Rowan, and Ryback. Sheamus was written off TV after Mark Henry sent him through the commentary table. Team Authority has Seth Rollins, Kane, Rusev, Mark Henry, and Luke Harper.
- It's noted in the Survivor Series Kickoff preview here on dot com that we'll see the "return of a new and improved" Fandango (something Michael Cole also stated on this week's Raw).
While Fandango has continued to work on WWE live events, he hasn't been seen on television since an episode of WWE Superstars back in August. In fact, that match taped on August 25, 2014 against R-Truth, was his only win in his past 50 matches. Below is an excerpt from dot com's coverage:
Plus, the WWE Universe will see the return of a new and improved Fandango, who will be competing on the Kickoff. What can the WWE Universe expect to see from the the fleet-footed Superstar's first televised match in three months?
To say Fandango has been lost without a plan would be an understatement, as he's been relegated to nothing more than an enhancement talent.
Fandango Tweeted the following about his reboot from his verified Twitter account:
Click here to load Tweet (if not loaded)
- I posted a question on social media on Monday night, asking my friends who would have thought Luke Harper would hold a singles title in WWE before Bray Wyatt. This of course alluding to Harper beating Dolph Ziggler for the Intercontinental Championship on this week's episode of Monday Night Raw, as CJ Blaze covered at this link. While Bray Wyatt is still being pushed in the top of the card in his program with Dean Ambrose, the elevation of Harper, even strapping him before Wyatt, should not come as a surprise. We filed a report here on WrestlingNewsWorld.com Premium on October 6, 2014 regarding how the faction was viewed behind the scenes. Rather than grab from that report, I felt it was appropriate to include it in its entirety. The following is from our Backstage News sectionfrom October 6, 2014:

The potential separation of The Wyatt Family with the company running the vignettes about Luke Harper being "set free" is a brainchild of Vince McMahon. We're told Vince is high up on Harper because of his size and sees him as a bigger star than Bray Wyatt. Triple H feels differently and was against splitting up the faction but didn't resist the decision. One observer pointed to the fact the writing was on the wall for the faction and that Vince was essentially killing them off so why not let him have his way and push Harper. However, this same observer expressed concern because Luke Harper is nowhere close to Bray Wyatt on the mic. Another issue right now is that with the talent roster so thin and Seth Rollins and Dean Ambrose working towards the top of the card now, Vince feels that by splitting the Wyatts, they can end up with two top acts instead of one. Again, nothing regarding Erick Rowan was mentioned.
- After this week's episode of Monday Night Raw went off the air, John Cena & Dean Ambrose beat Seth Rollins & Bray Wyatt in a dark match main event. Below are Raw Fallout vides posted to the official WWEYouTube channel after this week's show: Will the Stars Align at Survivor Series? - Raw Fallout - November 17, 2014 http://youtu.be/56TtYPT-fWs Tyson Ain't Kidd-in' Around - Raw Fallout - November 17, 2014 http://youtu.be/1tvqP3ABlmI - Brock Lesnar's part-time Performer's Contract with WWE expires after Wrestlemania 31 next March and there is starting to be a lot of talk about his future. Fox Sports has a new piece online featuring quotes from UFC President Dana White that indicates the door is open for the former UFC heavyweight champion and current WWE World Heavyweight Champion to return to the octagon. Below are White's comments courtesy of Fox Sports:

"Brock Lesnar's under contract with the WWE. We have a great relationship with him. He's healthy and he has said that he's interested in fighting again," White stated. "We'll see what happens."
Click here for coverage by FoxSports.com. Richard Reacts: It's almost been like a cat and mouse game between Vince McMahon and Dana White for the services of Brock Lesnar over the years. Vince was intent that Brock's first post-UFC appearance would be for WWE and he "broke the bank" to make sure it happened. Vince renewed Lesnar's contract in 2013 and now he'll work through Wrestlemania 31. With WWE making budget cutbacks, will they be willing to offer Lesnar a deal valued in the 7-figure range when White and UFC will undoubtedly be interested? Lesnar is 37 and will be 38 next year. He still has some life left in pro wrestling but would he able to compete at the top level of Mixed Martial Arts going forward? There are a lot of questions that will have to be answered but right now, WWE has the exclusive rights to Brock Lesnar. I detailed his return in a backstage news report filed at this link. - For those curious why Ryback was booked in such a competitive match against Cesaro on this week's episode of Monday Night Raw, it's part of WWE's plan to reboot him. As we reported here on WrestlingNewsWorld.com Premium last week, one of the things that sunk Ryback's push in addition to perceived behavioral issues was the crowd's response to him. Vince McMahon hated the "Goldberg" chants that he garnered and it played a part in the company giving up. Now, WWE is revisiting what started to get Ryback over with the "feed me more chants" but they don't want to book him in one-sided bouts in fear it will only restart the "Goldberg" chants from the audience. This is why Ryback was booked in a competitive match against Cesaro — one that went over 14 minutes — rather than dominating him as expected. WWE is making an effort to tactfully elevate Ryback as opposed to force feed him, something they tried before and failed. - Grumpy Cat was a hit at this week's Monday Night Raw in Roanoke, Virginia. WWE sent out four photos to media outlets to highlight this week's guest star. You can view the gallery below: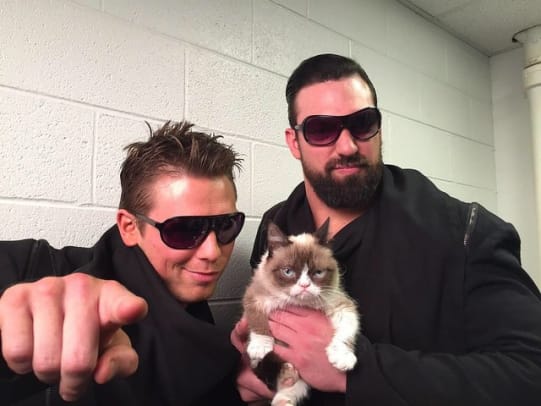 - The guest star gimmick will continue next week, as CJ Blaze noted, Larry The Cable Guy will guest star from Indianapolis. He Tweeted the following about the gig: Click here to load Tweet (if not loaded)

- Following the "topless photo" of Vladimir Putin on this week's episode of Monday Night Raw, WWE posted this Vine vide of Lana backstage:
- WWE 2K15 was released for PlayStation 4 and Xbox One in North America on Tuesday. The game will be released on Next-Gen consoles internationally on November 21, 2014. - This week's episode of Monday Night Raw — the go-home to Survivor Series — garnered an average viewing audience of 3,771,667 viewers on the USA Network. Below is how viewership broke down by hour: Hour one - 3,894,000 viewers Hour two - 3,780,000 viewers Hour three - 3,641,000 viewers Viewership was down big (-268,666) from last week. Monday Night Football over on ESPN did an average viewing audience of 12,766,000 viewers. TV by the Numbers has data for the top 100 cable shows in adults 18-49 for the whole day at this link. - WWE announced Tuesday evening that there will be a four-on-four Divas Traditional Survivor Series Elimination Tag Team Match this Sunday at the Survivor Series pay-per-view. It will be Natalya, Alicia Fox, Naomi, and Emma vs. Paige, Cameron, Summer Rae, and Layla. Backstage news from Monday Night Raw in Roanoke… - Sheamus has been working banged up lately but it's unknown if that is why he was written off television on this week's show. We've heard WWE plans to turn him heel and it could be part of that too. - Triple H views Ryback as a "personal project" and wants to see if he can regenerate him as a top guy (was he ever a top guy?). Believe it or not, there has even been talk about Hunter returning to the ring to work with him. - The members of Team Cena for Survivor Series weren't finalized until over the weekend, which was pretty apparent with additions such as Erick Rowan. The plan all along was for the team members to get laid out throughout this week's show and that element of the script was executed untouched. - Cesaro has no creative direction. Company officials have gone back and forth on heel or babyface for him, which has literally played out on television. It's very apparent if they ever plan to push him to the top it has to be now or never because he isn't getting any younger and the top of the card has never been so depleted. Cesaro is well-like backstage but it's just one of those things where Vince McMahon is all for it one week and then against it the next. - Jey Uso had his shoulder iced up backstage and it's something that is becoming more routine because of the Plancha spot where, "no one seems to catch him." - For those that missed it in our Smackdown taping results, another stipulation has been added to the Survivor Series main event. This time, a stipulation that benefits the heels. Now, if Team Authority beats Team Cena, then all members of Team Cena are "fired." Remember the stipulation that was added last week in a surprise appearance by Vince McMahon was if Team Cena wins, The Authority will no longer be in power. Click here for complete Smackdown taping results for this week. Richard Reacts: Regardless of which stipulation plays out, there is plenty of intrigue about this year's Survivor Series main event. For years the Survivor Series concept and gimmick has dwindled in meaning and in usage. Now, this year's show completely revives that. I'm all for the added stipulation and am looking forward to Sunday's show. - Sin Cara beat Heath Slater and NXT Champion Adrian Neville beat Curtis Axel in dark matches at Tuesday's WWE Main Event/Smackdown tapings. After Smackdown finished, Dean Ambrose beat Bray Wyatt via disqualification in a dark match main event when Ambrose used a kendo stick. - Tessa Blanchard was backstage at WWE's TV tapings in Knoxville, Tennessee. - John Cena is featured in a new Foot Locker commercial as part of their Week of Greatness campaign. You can watch at this link or embedded below: http://youtu.be/S_vzu_oe0P4 - WWE and Warner Bros. Home Entertainment announced on Wednesday a multi-year partnership for home video distribution of WWE programming that will start Jan. 1, 2015, and include United States distribution rights for physical and digital formats. Below is the official press release:

BURBANK, Calif., and STAMFORD, Conn. — Warner Bros. Home Entertainment (WBHE) and WWE have announced a multi-year partnership for home video distribution of WWE programming that will start Jan. 1, 2015, and include United States distribution rights for physical and digital formats. The new agreement will provide WBHE the home entertainment distribution rights to release new documentaries, match compilations and pay-per-view events, including WrestleMania and SummerSlam, as well as a robust catalog of collectible titles throughout the U.S. The companies have recently worked together on two animated series tied to the Scooby-Doo and The Flintstones franchises. "WWE is an iconic brand that has one of the most passionate fan bases in sports and entertainment," said Jeff Brown, General Manager and Executive Vice President, Television, Warner Bros. Home Entertainment. "Since WWE titles accounted for all of the top 10 sports DVDs of 2013 and WrestleMania 29 was the No. 1 sports title, we're very excited to expand our distribution in 2015 and beyond." "We are thrilled to partner with Warner Bros Home Entertainment, a brand that has proven itself to be the market leader," said Casey Collins, Executive Vice President, Consumer Products, WWE. "They have already demonstrated success leveraging the WWE brand with the hit 'Scooby-Doo! WrestleMania Mystery,' and we look forward to expanding our home video relationship by utilizing their expertise."
Click here for coverage on WWE.com. - Michael Cole gave a kayfabe injury update on Sheamus during this week's episode of WWE Main Event. Cole stated on the WWE Network broadcast that Sheamus suffered a left cervical neuropraxia (a stinger in his arm), bone spurring, narrowing of the spinal canal, narrowing of the nerve canal and nerve compression in his neck as a result of Mark Henry putting him through the announce table on Monday Night Raw. Cole teased a further update on this week's episode of Smackdown or next week's episode of Raw but said he wouldn't be in action on Sunday. While some were questioning if Sheamus was legitimately injured on the spot, I'm told he's actually been working banged up. I am currently unable to confirm if he was written off due to a legitimate injury or because he's tapped for a heel turn. Obviously there are questions surrounding both possibilities but the update Cole read on Main Event — the injury was due to the table spot — was kayfabe in nature. - WWE has implemented bookmark and watchlist features to the WWE Network. I noticed the new features when I went to watch the tape of this week's episode of Main Event and when I returned to my account, the show was under a "Continue Watching" tab with a progress bar underneath it. I was also given the options of adding the episode to my watchlist, adding the series to my watchlist, resume watching or watch from the beginning. Below is a screen shot: Also note the show carried a TV-14 rating, which I wouldn't read too much into. - Hulk Hogan and Jimmy Hart were in Cleveland on Wednesday to promote WWE TLC in the city on December 14, 2014. While there, they attended the Cavs game against the San Antonio Spurs and also did an interview with Chris Van Vliet. You can watch the interview at this link or embedded in the video below: http://youtu.be/jVj0uBFJdog - Kevin Steen is set to make his WWE NXT debut as Kevin Owens at NXT Takeover: Our Evolution from the campus of Full Sail University on Thursday, December 11, 2014. The special episode of NXT will air live on the WWE Network at 8 PM EST. Matches announced for the show are as follows: Adrian Neville vs. Sami Zayn for the NXT Championship. If Zayn loses, he'll leave WWECharlotte vs. Sasha Banks for the NXT Women's Championship The Lucha Dragons vs. The Vaudevillains for the NXT Tag Team Championship Finn Bálor & Hideo Itami vs. The Ascension We'll have complete coverage here on WrestlingNewsWorld.com. - Former WWE wrestler Bull Buchanan — whose real name is Barry — is now a deputy with the Carroll County Sheriff's Department in Georgia. Buchanan began the transition last year while working at the Carroll County Jail and still working independent dates. Now, he's hanging up the boots for good and transitioning into public service. Click here for coverage by the NBC affiliate out of Atlanta. Richard Reacts: This is awesome. I love seeing people transition to successful careers after life in the ring. There are too many tragedies of talent after their in-ring careers and not enough success stories. I would rather cover these stories! Congratulations to Barry Buchanan! - To celebrate the release of WWE 2K15, WWE superstars Curtis Axel, Adam Rose, Dolph Ziggler and The Miz discuss what they would do for a match with Sting. You can watch at this link or embedded in the video below: http://youtu.be/ivtlC154YBg - Sheamus underwent an undisclosed surgery on Thursday. The former WWE United States Champion Tweeted the following photo from his verified Twitter account: Click here to load Photo/Tweet (if not loaded)

On Wednesday, we updated on Sheamus at this link and in our Backstage Raw News. In both updates, we mentioned how the spot with Mark Henry on Raw was kayfabe in nature but that Sheamus had been working banged up lately and there were plans to turn him heel. At the time, we didn't know if he was pulled from Team Cena at Survivor Series due to the former or the latter. We did note that his exclusion was last minute.
Given Sheamus' activity on social media, it looks as if Sheamus was written out of storylines to deal with injury concerns and not because of a forthcoming heel turn. WWE has teased a further update on Smackdown or Raw but he should be considered out for the pay-per-view.
- Earlier this month, Zack Rydertweeted that he had a torn rotator cuff, which would prevent him from going on WWE's overseas tour and may require surgery.
Today, Ryder released a YouTube video detailing his injury and its treatment. In the video he reveals that he received a stem cell injection on November 11 in the hopes of avoiding future surgery, and says that he should know by the end of the year if he will need surgery
. The video available at this link and embedded below:
https://www.youtube.com/watch?v=GYYqV5pAEws
- WWE has been in the process of opening negotiations with Brock Lesnar to extend his contract, Wrestling News World can confirm. As things currently stand, Lesnar's Performer's Contract with WWE expires after Wrestlemania 31 next March.
According to sources close to Lesnar, he doesn't want to consider an extension yet. As a result, it's making things tricky for WWE because of how he's booked going forward is going to largely defend on whether he's returning to UFC after Wrestlemania.
Whether Brock returns for TLC next month or Royal Rumble in January is still up in the air and a lot of the main event booking is "by the seat of the pants" kind of thing right now. The last-minute changes and stipulations to the Survivor Series main event shows just how fluid the booking is right now.
As of early this week, WWE was still unsure of the TLC main event and had not yet agreed on a finish for Survivor Series. Vince McMahon wants The Authority off TV for a while and has talked about putting his Mr. McMahon character back on TV. We're told Vince has even complained to some internally that if he'd have been pushing the Network on TV every week, subscriber numbers would be higher.
The drama between Vince and Triple H is still brewing but one observer described it as being more passive aggressive lately. There have been no big blowups backstage or anything that would make the dissension obvious to the roster.
- Complete details for the next WWE NXT live special — called TakeOver: R Evolution — were announced on this week's episode of NXT.
The show will be headlined by Adrian Neville defending the WWE NXT Championship against Sami Zayn. Additionally, Kevin Owens (the former Kevin Steen) will make his WWE NXT debut. You can watch a promo for Owens' debut at this link or embedded in the video below:
http://youtu.be/MTYm_u-nf3M
Additionally, the following bouts are scheduled:
Charlotte vs. Sasha Banks for the NXT Women's Championship
The Lucha Dragons vs. The Vaudevillains for the NXT Tag Team Championship
Finn Bálor & Hideo Itami vs. The Ascension
NXT TakeOver: R Evolution will air live on WWE Network on Thursday, December 11, 2014 at 8 PM EST from the campus of Full Sail University in Winter Park, Florida. Dot com has an official preview at this link.
We'll have complete coverage here at WrestlingNewsWorld.com.
- Brooks Oglesby ran the latest update from Zack Ryder earlier here on WrestlingNewsWorld.com. Currently, Ryder is hoping the stem cell injection will allow him to miss 6 weeks of in-ring action. If Ryder ends up having surgery, he'll be out an estimated 6 months. He's currently out with a torn rotator cuff.
- The weekend is here and so is episode #104 of The JBL Show. You can watch at this link.
- The Reno Gazette-Journal has a new article online featuring quotes from Roman Reigns. The piece is to promote his appearance at the Reno Comic-Con on Saturday.
In it, he discussed his incarcerated hernia that resulted in emergency surgery back in September and left him off the WWE Night of Champions card.
Below is an excerpt:
"I was walking back to my hotel room from the restaurant and that's when it happened," Reigns said. "My hernia popped out."
Reigns also made it clear he doesn't like to be compared to John Cena.
"Last time I checked, I'm 6'3" 265 pounds, which is bigger than John Cena," Reigns said. "Last time I checked, my hair is long and jet black, and last time I checked John Cena's isn't. I'm way better looking and I'm way more athletic than he is so for anybody to compare me to him is completely asinine."
Click here to read the piece in its entirety.
You can meet Reigns on Saturday at the Ren Comic-Con. He'll take photos at 10:45 AM, sign autographs at 11:15 AM and featuring in a Q&A panel at 12:45 PM.
- The added stipulation to Team Cena vs. Team Authority is that if Team Authority wins, all members of Team Cena will be fired on Monday.
You can watch the announcement that aired on this week's episode of Smackdown at this link or embedded in the video below:
http://youtu.be/BCZiV6a-d1w
The stipulation in favor of the babyfaces is that if Team Cena wins, The Authority will no longer be in power.
We're told the stipulation added on this week's episode of Smackdown was last minute in nature and further reflects the current booking of the main event being "by the seat of the pants" kind of thing right now.
Richard Reacts: Maybe I'm reading too much into it but notice how Triple H said there are only three people that can do what they do - Stephanie McMahon, Vince McMahon and himself. It's these kind of hints that *could* be setting up a "power struggle" storyline if WWE goes that direction. I looked at more scenarios in a new feature article at this link.
TNA News
- There was some talk about TNA Wrestling on Saturday night at Bellator 131 in San Diego, California. Bobby Lashley was at the show while cross-over stars Tito Ortiz and King Mo were in action (and both won).
The word regarding TNA on Spike TV was that the relationship is ending. This is something we reported here on WrestlingNewsWorld.com Premium on September 1, 2014. There had been some optimism lately that Spike could end up renewing Impact just because they would be getting such a discount with rights fees that it wouldn't make since not to. However, the word going around at Belator 131, seems to suggest the ship has sailed and they are moving on.
This is something that Jeremy Botter, who covers MMA for Bleacher Report and was at the show, Tweeted to his followers on Twitter from the show on Saturday evening:
Click here to load Photos/Tweets (if not loaded)
In regards to where TNA goes from here, this isn't "new" news, they've known (like you've known) Spike TV was looking to move on and have been negotiating with other networks. There continues to be a lot of optimism from TNA officials they will be landing a TV deal and it will be announced before the end of the year. As things currently stand, they only have new material taped through this week at which point "Best of" shows will air or Impact will simply vanish from Spike TV completely. Dixie Carter tried to reassure fans last week, when she said it would be "soon" when TNA Wrestling announced their new domestic TV deal. Furthermore, it was announced by Bellator at Saturday's show that Lashley's next fight will be at Bellator 133 on Friday, Feb. 27, 2015 against James Thompson. Lashley said he hoped TNA and Spike could work things out. Regardless, he's expected to remain with TNA as he is under contract. - Now that TNA Impact Wrestling is departing Spike TV, the discussion has shifted to what their new network will be. Multiple sources have indicated a new domestic deal is coming and according to Dixie Carter, it's coming soon. Click here to load Tweet (if not loaded)

The frontrunner to land the domestic TV rights to TNA's programming is one owned by Discovery Communications. Discovery currently owns 14 domestic networks but the two rumored to land TNA programming include Velocity and Destination America.
Velocity was available in 58 million homes as of 2013 and is an HD-only network. Destination America was available in 57 million homes as of 2013 and has an HD Simulcast (like other cable networks such as Spike TV). How both networks compare to Spike TV is they are available in significantly less homes. Industry estimates have Spike in 98.7 million homes.
It is certainly possible that TNA will get more clearance on their new domestic TV deal. While their deal with Spike gave them a two-hour weekly slot in prime time for Impact, that was it (aside from occasional specials). They currently distribute TNA Xplosion and British Bootcamp internationally and Dixie Carter made it abundantly clear in a piece she did with Grantland.com that she wanted two things with a new domestic TV partner - stability and more hours. Below is her quote:
"We will die a slow death on the vine if we just stay as one two-hour show in the U.S.," she says. "I have big decisions to make. I want this to be a big play. I don't want this to be a status quo play."
TNA already has TV tapings scheduled for January and those tapings will be for their new network. While we wait for TNA to announce their new domestic TV deal, here's what we know:
TNA will continue to air on TV in the United States from 2015 and beyond
The final first-run episode of Impact will air on Spike TV on Wednesday, November 19, 2014
TNA's new TV partner is rumored to be Discovery Communications
Rumored networks to house TNA programming include Velocity and Destination America
TNA will be available in fewer homes in the United States
Dixie Carter wants more than 2 hours per week and the new domestic deal has the possibility of more weekly hours
As soon as TNA announces their new domestic TV deal, we'll bring it to you right here at WrestlingNewsWorld.com.
- Ethan Carter III underwent surgery to repair a torn biceps on Monday. The injury caused him to miss the House of Hardcore show last Saturday and he was replaced by TNA Champion Bobby Roode.
The following is from his verified Twitter account:
Click here to load Tweet (if not loaded)
- Dixie Carter is teasing an announcement regarding the future of TNA Impact Wrestling for Wednesday. To get the news, she's plugging a new mailing list for the company. The following is from Twitter: Click here to load Tweet (if not loaded)

We're all awaiting details on TNA's new domestic TV deal, which we previewed at this link.
- TNA Wrestling officially announced on Wednesday their new domestic TV deal with Discovery Communications to bring Impact to Destination America in the United States beginning in January 2015.
http://youtu.be/PpP2mL7ceHc
Specifics regarding the deal were not made available in the initial press release, other than it is a multi-year deal for Impact to air on the network. The announcement ends months of speculation after TMZreported in July that Spike TV had canceled the series. Spike ended up adding dates to their deal to carry the series later into the year but it appears as if the final episode of Impact will air on the network on Wednesday night. We previewed that episode at this link. Spike has held the exclusive domestic distribution rights to Impact since October 2005.
As for how Destination America compares to Spike TV, it's available in 41,700,000 less homes, with an estimated availability in 57 million American households as of 2013. Spike TV is available in 98,700,000 homes. It's unknown how much Destination America will pay TNA for the rights to Impact as Spike was paying $65,000 per hour for Impact or $130,000 per week. United Talent Agency, who negotiated the deal on behalf of TNA, will also profit from this deal.
Another thing to watch for is possible more clearance for TNA on Discovery Communications networks. Dixie Cartersaid in September that TNA will "die a slow death on the vine if we just stay as one two-hour show in the U.S." The feeling is she wants more programming and given the multiple networks owned by Discovery Communications, that is certainly a possibility.
TNA is set to tape their first set of Impact shows for Destination America in January from the Manhattan Center in New York City. The venue has been reserved for months, with it being known that it was for TV but didn't include Spike TV. An official announcement for those tapings has not yet been made. What we do know is the tapings will occur and the material will air on Destination America.
The official press release to announce Impact's move to Destination America is included below:
(Silver Spring, Md.) – Discovery Communications announced today that it has signed a multi-year deal with TNA (Total Nonstop Action) IMPACT WRESTLING to bring the popular league to homes nationwide on Destination America, the only network dedicated to celebrating the people, places and stories of the United States. Destination America officially enters the ring with its first world premiere of IMPACT WRESTLING in January 2015. The series features some of the biggest names in professional wrestling, including Jeff Hardy, Bobby Roode, Kurt Angle, Bobby Lashley and Gail Kim. The partnership includes the U.S. premieres of additional TNA WRESTLING series and specials and provides Discovery Communications with international broadcasting rights in select regions, to be announced at a later date.

"Our partnership in this uniquely entertaining franchise with TNA IMPACT WRESTLING provides a significant addition to Destination America's programming strategy," said Henry Schleiff, Group President of Destination America, Investigation Discovery, American Heroes Channel, Discovery Fit & Health and Discovery Family Channel. "The enduring, cross-generational enthusiasm of pro wrestling is felt by millions of fans around the country, from coast-to-coast and throughout the heartland. We are delighted to bring this beloved American pastime to the one and only network dedicated to celebrating the unique spirit of the U.S., Destination America."

"Our knockout partnership with TNA IMPACT WRESTLING continues Destination America's mission of bringing our viewers the best of all-American entertainment, and going center ring with one of the world's foremost professional wrestling leagues fits perfectly within our DNA," said Marc Etkind, general manager of Destination America. "Wrestling has created a fiercely loyal, passionate and widespread fan base, and we look forward to being part of the TNA family."

"We are very excited about Destination America being the new network for IMPACT WRESTLING and the partnership with Discovery Communications both domestically and across the globe. Their commitment to promote and grow our brand in innovative and compelling ways was instrumental in knowing we had found the right home," said TNA President Dixie Carter. "Together we will create an experience that takes our fans on a new journey that will push the envelope of technology, including where we take our cameras, going deeper into our superstars' lives and showing the reality of what it takes to create a weekly professional wrestling show, all while showcasing the very best male and female athletes in the world."

Since launching in 2012, Destination America has become one of cable's top five fastest-growing networks*, earning 10 consecutive quarters of year-over-year growth in Prime among P2+. With top series that explore unique American cultures and ways of life – including Mountain Monsters, A Haunting, Hillbilly Blood, Buying the Bayou, Buying Alaska, Ghost Asylum and BBQ Pitmasters – Destination America's programming spans the nation from Alaska, Hawaii and Colorado to Louisiana, West Virginia and communities in between. To find Destination America, the new home of TNA's IMPACT WRESTLING, go to destinationamerica.com/watchda.

TNA is a privately held sports entertainment company based in Nashville, Tenn., specializing in TV properties, events, merchandise, music, and the management and promotion of professional wrestlers. TNA annually delivers more than 500 hours of original content to millions of fans around the world.
Click here for coverage on ImpactWrestling.com.
Richard Reacts: This news means that TNA will continue to exist beyond 2015, something we carefully pointed out at this link. TNA has a chance to reset but make no mistake about it, they will reset in a scaled back form. While Destination America is available in 57 million homes, not only is that significantly less than Spike TV but it is often available on upgraded cable and satellite packages. Spike is generally available in most base packages that include cable television. In other words, less people are going to watch Impact on a weekly basis. With that said, TNA will have an opportunity to grow the network, which could see them return to Spike TV viewership levels.
- After this week's episode of Impact Wrestling, the show will not air next week on Spike TV. However, according to a statement released by network president Kevin Kay, Impact will conclude its run on Spike on Wednesday, December 24, 2014.
Below is that statement in its entirety:
"Our partnership with TNA Wrestling will officially come to an end with our last telecast on December 24.

Dixie Carter and her team have been incredible partners to work with over the past nine years, delivering high-action entertainment and strong ratings.

As Spike continues to evolve into a network reaching a broader audience, we continue to look across our schedule to find opportunities to add original scripted and non-scripted programming that appeals to a wider demographic.

On behalf of everyone at Spike, we would like to wish Dixie and TNA all the best and continued success."
Click here to read the statement in its original format.
- Perhaps lost in the news of TNA Wrestling's new deal to bring Impact to Destination America is that Kurt Angle is heavily featured in the announcement. Take a look at this promotional video the company posted on YouTube to make the announcement. You can also watch embedded in the video below:
http://youtu.be/PpP2mL7ceHc
Angle's contract with TNA Wrestling was up on September 21, 2014 and he became a free agent. While word had began circulating that he would sign a one year deal with TNA, they weren't committing money to talent until their domestic TV situation was resolved. Now that Impact is coming to Destination America, it looks as if Angle's future has also been resolved and that future will be in TNA Wrestling.
Here's what Kurt had to say about TNA Impact coming to Destination America:
Click here to load Tweet (if not loaded)
Richard Reacts: TNA is exactly where Kurt Angle should be working. He'll be a featured top name for another year and he can help TNA reset on their new network. I just hope he's smart about it and doesn't push his health too far. Angle is one of my favorite workers of all-time and also one of the greatest in-ring workers of all-time. It wouldn't make sense for him to risk a WWE return at this point, nor would it make sense for him to join an upstart promotion such as Global Force Wrestling. This is the right move, I just hope Kurt stays healthy and won't push it. Several TNA personalities have Tweeted about the company's new TV deal with Destination America, causing the terms "Destination America" and the hashtag "#DestinationImpact" to trend Twitter. We've compiled some of the Tweets and posted them for your viewing below: Click here to load Photos/Tweets (if not loaded)

In addition to the news of Kurt Anglebeing back for TNA, it looks as though Samoa Joe will be back if his Twitter activity is any indication: Click here to load Tweet (if not loaded)

Joe's contract with TNA was also up and his future was in question. Of note, Bully Ray has not Tweeted anything about the new deal and had a cryptic Tweet about communication last week.
- This week's episode of Impact Wrestling garnered an average viewing audience of 980,000 viewers on Spike TV. That's a wrap for original first run programming for TNA on the network.
Spike President Kevin Kay issued a statement on the network's official website. Given the historical significance of the statement -- that we first ran on Wednesday -- we'll bring you a screen capture:
Impact will not air on Spike TV next week as the network will instead be showing a movie (End of Watch) before Thursday's Thanksgiving holiday. Given the aforementioned statement from Kevin Kay, it would appear Spike will air "Best of Impact" episodes for the month of December. However, it's important to point out that no new material has been taped for those shows and as a result, we will not be providing our weekly "Open Thread" until next year.
- TNA Wrestling announced on Friday they'll show next week's episode of Impact as an online exclusive on YouTube, premiering on Wednesday, November 26, 2014 at 9/8c.
The show is subtitled "Thanksgiving Throwdown" and will feature the best Turkey Bowl matches of all time. They'll return to Spike TV — presumably with more "Best of" type content — on December 3, 2014. While there are no first run episodes of Impact left for Spike TV, we can confirm they'll air shows on the network in their Wednesday timeslot through the month of December, concluding on Christmas Eve.
As reported here at Wrestling News World, Spike president Kevin Kay has said his goodbyes to the promotion.
Click here for coverage by ImpactWrestling.
- TNA Wrestling's announcement of their new domestic TV distribution deal with Discovery Communications was well-received by company employees and the majority of the talent roster. While the company is still in the process of sorting out contracts, the consensus we're hearing from the TNA side is one of optimism and excitement.
The way the new TV deal is viewed is that while clearance will not be what it was on Spike TV, the agreement to air on Destination America is seen as a way for them to rebrand and reset, while also helping grow the network in the process. Executives from the network side are already pleased with the buzz the TNA announcement generated on social media and see Impact as their highest-rated series.
As for what this means for the fans, Impact is expected to undergo a facelift to have a different "feel" to it.It's clear TNA is focusing the reset around Gail Kim, Kurt Angle, Jeff Hardy, Bobby Roode and Bobby Lashley.
We reported here at WrestlingNewsWorld.com that Angle is back with TNA for another year and is seen as the "face of the brand." We'll have much more on his new deal shortly but he is a major part of the reset.
- Several of our Canadian readers have inquired about the availability of Impact Wrestling in their country now that they are leaving Spike TV at the end of the year and will reset on Destination America in the United States. We're able to confirm that TNA is negotiating a separate distribution agreement to broadcast Impact in Canada.
Dixie Carter Tweeted the following update on Friday:
Click here to load Tweet(if not loaded)
- There is a potential story brewing in regards to Kurt Angle's status with TNA Wrestling. We reported shortly after TNA announced their new agreement with Destination America that Angle had re-signed with the company and was back for another year. In addition to hearing from sources that Angle was off the market and locked in, we're told Destination America was operating that a deal was completed [with Angle] last week. This appeared even more obvious when Angle was included in all of the promotional material for Impact's move to the network. He even Tweeted about it on his verified Twitter account: Click here to load Tweet (if not loaded)

Now, we're hearing that report could be premature.
Sources are disputing that Angle has physically signed a contract with TNA Wrestling and has still only "agreed in principle" to return to the company. The claim is the contract has not been physically signed.
So to recap, sources indicate Destination America was led to believe Kurt Angle re-signed with TNA Wrestling last week when it was clear they were going to be Impact's new TV home in the United States. Angle's signing was important to Destination America as they view him as the biggest star in TNA, hence our earlier report of Angle as the face of TNA.
However, sources indicate a deal has been reached in principle between Angle and TNA so this could be a mere technicality but we must mention it is being disputed that Angle has physically signed a new contract with TNA Wrestling.
Ask WNW
Have you heard the rumor that AJ Lee is going to leave WWE after Survivor Series? Is there any legitimacy to this?
I have seen the rumor being pumped out that AJ Lee is leaving WWE after Survivor Series but because I have not been independently told that, I don't believe it. Further, I can confirm she is booked for WWE live events after Survivor Series with an example that you can see at this link. AJ Lee is the real-life wife of CM Punk and she's got her fair share of detractors backstage, so people like to talk about her. If we independently confirm that her status has changed, we'll post it when we hear it. Otherwise, we're operating under the assumption that she'll continue to work for WWE.
With the future of TNA looking bleak, why doesn't WWE acquire TNA content for their network?
TNA Wrestling is expected to sign a new domestic TV deal before the end of the year, which should finally put to bed rumors about the company going out of business. We updated on Sunday about TNA parting ways with Spike TV as you can read that report at this link.
As for WWE acquiring TNA for the WWE Network, that's absolutely not going to happen. I guess Vince McMahon would have interest in the TNA tape library if the company did go out of business but that's not the case. If you think Vince should buy TNA, so Impact can continue on as an extra live show that originates on the WWE Network, that's a fairly ridiculous notion. WWE already has NXT, Main Event and Superstars as live shows that originate on their Network. If they wanted another weekly series, they could produce it.
Is Jeff Hardy coming back to the WWE or not?
Jeff Hardy is currently under contract with TNA Wrestling, in multiyear deal he signed in February 2013. He stated over the summer that he was locked in "pretty much for two more years" with TNA, which would indicate they have options on his services. He has said he would like to finish his career in WWE but that obviously hinges on their interest when he is available.
How long is Chris Jericho back with WWE?
Chris Jericho was asked to work WWE's European tour to add some star power and is now off to tour with his band Fozzy. It's part of his relationship nowadays with WWE and he was used to help bolster the shows/tapings overseas. We'll confirm the next time Jericho is booked to work a WWE show but he's off for now.
From the Ask WNW vault…
July 2014: What did Damien Sandow do to get put in the position he is in now? - Everyone wants to know what you have to do to get booked like Damien Sandow. I don't know if it's a situation where he has heat or if creative just has nothing for him, so they revert to comedy. The booking is atrocious, the gimmick is reminiscent of the dreadful one WWE gave Charlie Haas and I'm not optimistic about his future. Every stat I can give you is horrible. Take into account he's 3-37 in televised/pay-per-view matches for the year (including gimmicks such as Royal Rumble) and lost 3 times at a weekend live event.
With WWE releasing "Macho Man: The Randy Savage Story" on DVD, is this an indication that he'll be inducted into the WWE Hall of Fame?
It is safe to say that "Macho Man" Randy Savage is no longer taboo in WWE. It's just sad that he had to die for it to happen. There are a lot of theories and rumors as to why Savage was off-limits in WWE and quite frankly, I'm not interested in examining those theories and rumors. I absolutely believe a posthumous induction into the WWE Hall of Fame is possible and according to Randy's brother Lanny Poffo, WWE inquired about it a few years ago. No one can say for sure when/if an induction will happen but it certainly doesn't seem there is anything standing in-between an induction either. Savage was one of the greats and was tremendously entertaining. He died way too soon and that's beyond unfortunate.
Am I the only one to realize there wasn't a contract signing for Team Cena vs. Team Authority on this week's episode of Monday Night Raw?
While the contract wasn't signed, the segment was done to close out the show. I think most expected a brawl to ensue and that's how this week's show ended. I've spent a lot of time criticizing WWE since SummerSlam but I'm actually looking forward to this year's Survivor Series. Not only is the company utilizing what made the pay-per-view a "big four" staple with a Traditional Survivor Series match, the bout will headline and it actually means something. There are plenty of side stories that will add intrigue to the bout going in. Will Randy Orton return in his hometown? What about Sheamus? How cohesive is Team Authority? Will Team Cena be ready?
I think it's easy to get frustrated with some of the randomness of the booking, such as Mark Henry and Rusev being on the same team following a program or Erick Rowan being a late addition to Team Cena. But frustration aside, there are several elements to enjoy and even appreciate. As stated, the Survivor Series gimmick is being used, the match means something with The Authority's power at risk and we're seeing WWE push some up and coming talent.
What are your thoughts on Erick Rowan turning face and aligning as a member of Team Cena?
As stated, I believe Erick Rowan aligning with Team Cena is very random and has had absolutely no build or backstory but at least he's not the odd man out in the singles breakup of The Wyatt Family. Remember, earlier in the show he was chasing a stuffed cat! I detailed what we've been told about The Wyatt Family at this link. To recap, Triple H is #TeamBray because he sees Bray as proof that NXT works and Vince is #TeamHarper because of his size. The fact Rowan is getting something is better than nothing. We can't sit here on one hand and call for WWE to push up and coming talent and then complain about them doing it on the other hand. Are there problems? Absolutely but it's much easier to sit here and criticize and sometimes I believe we have to let things go and try to enjoy the product.
Is it just me or did Stephanie McMahon really cheapen the WWE Hall of Fame by, in storyline, offering Big Show an induction if he left Team Cena?
While Stephanie McMahon was clearly trying to get the viewer's attention with that line, it didn't offend me. Big Show is a future WWE Hall of Famer and is one of the best big men in the history of the wrestling business. Had she said that to Dolph Ziggler or Ryback, that would have been one thing but I have no problem with a Big Show to WWE Hall of Fame tease.
Luke Harper is the WWE Intercontinental Champion and that's a good thing. Problem is, these days it's a garbage title. It makes sense from a Survivor Series storyline standpoint, but ultimately could this put a dent in the rise of Harper?
Luke Harper won the WWE Intercontinental Championship and will take part in the Survivor Series main event on Sunday. I completely agree about the title being devalued right now but we can't sit here and criticize WWE for not pushing up and coming talent and blast them when they do. I think the IC title switches hands too frequently without sufficient build, that hasn't changed but I believe Harper has potential to be a main event star and am glad to see WWE booking him with confidence.
OK so just how ridiculous was Grumpy Cat?
Maybe I'm in the minority but I honestly didn't mind it. I actually thought Grumpy Cat heeled The Miz like a pro and am still laughing about it. Here's a GIF from Twitter:
Click here to load Photo/Tweet (if not loaded)
Booking a cat to guest star on Raw is ridiculous even for WWE but they didn't do it to be serious. In fact, Grumpy Cat was nice enough to give us an exclusive… Click here to load Photo/Tweet (if not loaded)

From the Ask WNW vault…
March 2013: What happened to Ranjin Singh? - Ranjin Singh, whose real name is David Kapoor, is the head WWE creative writer for Monday Night Raw.
What is your reaction to TNA Wrestling's new domestic TV deal with Destination America?
Wednesday, November 19, 2014 is a great day for TNA Wrestling. They've officially calmed concerns from the doomsayers that had them going out of business. TNA will survive in 2015 and beyond and that is reason for every wrestling fan to be excited. I am also happy for the men and women that rely on TNA to make their living as I don't believe even the most pessimistic fan wants to see someone lose their job.
Even without knowing the financials of the deal, TNA will have to scale back operations because of the fact Impact will be available in far fewer American households. What does that mean about live events? Wrestler pay? International tours? There are all kinds of questions that will have to be answered but what we know is Impact is coming to Destination America and new episodes will be taped for the series next year.
This has been quite the saga. TMZ.comreported on July 27, 2014 that Spike TV was not renewing TNA's contract. They reported there was no bad blood and Spike gave TNA advance notice so they had time to shop for a new TV deal, noting their deal was good through October.
As it turns out, Spike ended up moving Impact to Wednesday nights and extending their agreement for an additional two months. However, it looks like the TMZ report was completely accurate. While Bob Ryder and Dixie Carter were quick to "debunk" the TMZ report in the days after it was posted, everything turned out just as they reported in July.
In the end, Spike made the decision to move on from TNA Wrestling and now Destination America will be their new TV partner. Will Destination America be the TV partner TNA needs to help compete against WWE or will TNA operate as a shell of its former self? Only time will tell but today is a good day because Impact will remain on cable television.
Aside from the Benoit tragedy, what else would you consider your busiest days ever at work?
Any time news breaks - big or small - business picks up. For example, just this morning things got very busy when TNA officially announced their new deal with Destination America. One of the busiest days I can remember recently was after Ultimate Warrior's tragic death. Wrestlemania season is always busier than the summer months because there is more interest and more information flowing in. I actually view WWE's offseason as two weeks after Wrestlemania through SummerSlam. If WWE had a "season" like professional sports, it would be the middle of August through the beginning of April. Those are the busiest days.
In my opinion the recently added stipulation to Team Cena vs. Team Authority makes the outcome obvious. What are your thoughts?
The stakes have been raised in Team Cena vs. Team Authority with an added stipulation to the Survivor Series main event that benefits the heels if they win. I don't want to spoil it here but WWE wants to give this match an "all or nothing" feel. They framed as much in the weekly kayfabe Michael Cole interview with John Cena. You can watch it at this link or embedded in the video below:
http://youtu.be/xRypik60Ehw
As for my thoughts, I believe Team Cena is the overwhelming favorite to go over at Survivor Series. If not for anything else for the shear fact that Cena must be booked as strong as possible before he challenges Brock Lesnar again for the WWE World Heavyweight Championship. With that said, anything can still happen and I believe WWE has done a good job in utilizing the Survivor Series concept and making it a meaningful main event.
Should we read anything into announcement that Smackdown will be on USA Network (versus SyFy) for WWE Week?
Nothing should be read into Smackdown airing live on December 16, 2014 on the USA Network as part of WWE Week. In fact, Smackdown will repeat in its 8-10 PM timeslot Friday night on SyFy. The USA Network and SyFy are both networks owned by NBCUniversal and this isn't the first time the USA Network has carried Smackdown live as part of a special promotion. Smackdown is changing timeslots next year as it'll be moving back to Thursdays in the 8-10 PM on SyFy beginning January 15, 2015.
From the Ask WNW vault…
January 2013: In all of your time covering and watching professional wrestling, what would you say are the top 5 most shocking, jaw dropping moments? - In order to answer this question I have to pick a start date. Since I've been in the business for over 13 years but full-time since 2007, we'll start with 2007. The most shocking, depressing and outrageous story I've had to cover is the Chris Benoit family tragedy. Other shocking in-ring moments include Bret Hart and Shawn Michaels together again in a WWE ring in January 2010, The Rock's return to WWE in February 2011, Edge's abrupt retirement in April 2011 and the emergence of CM Punk as a top star. Lists like this can always be debated and since I'm doing it off the top of my head, feel free to add to or debate in the comment area below. I do feel I should mention the reason I list Punk's emergence here rather than other moments, Punk changed a lot of things in the business, especially how WWE views top independent talent which is something that will impact the business in the years to come.
I have so many good memories of the King of the Ring, with WWE eliminating the Elimination Chamber (pun?) in-between Royal Rumble and Wrestlemania, wouldn't it be the perfect opportunity to bring it back?
The King of the Ring concept was moved from pay-per-view to TV after 2002 (aside from the KOTR final on Judgment Day 2006) and hasn't been done since 2010. A lot of our readers find the King of the Ring concept nostalgic and entertaining and have clamored for its return. At a time when WWE features gimmicks on their B-level pay-per-view, I don't think it would be a bad idea to resurrect King of the Ring as its own show. With that being said, the last I heard is they were replacing Elimination Chamber with a show called Fast Lane and moving the Chamber until later in the year. I agree with you though, I have a lot of found childhood memories of the King of the Ring show and believe it's something WWE should look at bringing back.
Do you think Global Force Wrestling is trying to be a modern day NWA with the partnerships they are forming?
What we are seeing from Jeff Jarrett and Global Force Wrestling is much different than just creating a wrestling promotion, shooting for a TV deal and going to the marketplace. It seems he is creating something of a modern day NWA and plans to highlight the cross-promoted shows through their own TV show. While Japan isn't what it used to be, Global Force Wrestling's partnership with New Japan Pro Wrestling is big. These partnerships expand GFW's talent base and make them more of a realistic threat to take a chunk of the mainstream fan base. Here's an updated list of GFW partnerships:
Asistencia Asesoría y Administración (AAA)(Mexico)
Emerald Wrestling Promotions (EWR)(Ireland)
New Generation Wrestling (NGW) (Northern England)
New Japan Pro Wrestling (NJPW) (Japan)
Premier British Wrestling (PBW) (Scotland)
Revolution Pro Wrestling (RPW)(Southern England)
Westside Xtreme Wrestling (WXW) (Germany)
World Wrestling Professionals (WWP) (South Africa)
Pro Wrestling Alliance Australia (PWA) (Australia)
WrestleClash (Australia)
Riot City Wrestling (RCW (Australia)
Explosive Pro Wrestling (EPW) (Australia)
Impact Pro Wrestling (IPW) (New Zealand)
WWE seems to be taking a big risk by moving to Smackdown, don't you think viewership will decrease up against all the stiff competition on Thursday nights?
I had a similar question last week but readers continue to express concern about the level of competition that WWE is set to face by moving Smackdown to Thursday nights. Yes, the competition is stiff but Thursday is the most-watched night of the week. WWE never wanted to move Smackdown to Friday nights and I'm surprised it's taken them a decade to move it back. TNA was able to do fine on Thursday nights and I don't think WWE will have an issue drawing what they currently do on Friday nights. In fact, the move should help viewership even with the stiff competition. So to answer your question, I am expecting viewership to rise.
I was wondering what your take is on the "New Day" vignettes?
I want to see Kofi Kingston get an opportunity as more than a proverbial midcarder in WWE. If "A New Day" is a way to elevate him and also tap into the potential of Big E and Xavier Woods, I'm all for it. If this is just another midcard faction that will fizzle out as a forgettable afterthought in 6 months after it's debut, I will be very disappointed. WWE has already started and stopped on this faction, which is never a good sign.
Back in July, The Atlantic penned an article questioning if WWE had a race problem. The author looked at how African Americans have been booked in WWE and criticized the company for characters based on racial stereotypes. I don't really mind WWE exploiting stereotypes if it means a path to success. What I do mind is if WWE exploiting stereotypes only to bury and forget the talent. One bad gimmick can ruin a career. You can go back and read the race problem article at this link.
How much money does it cost to make the championship belts in WWE?
The new WWE World Heavyweight Championship belt — before the updated center plate — cost WWE more than $50,000 to develop and produce.
From the Ask WNW vault…
October 2012: Why does WWE continue to do things such as 3-on-1 beatdowns, sneak attacks and cheap shots if they are serious about their anti-bullying campaign? - We've highlighted hypocrisy in WWE's be-A-star anti-bullying campaign in the past, however, the stuff you mentioned is not bullying. Heels being heels are part of the show and essential to make the business work. The story of the woman claiming Alberto Del Rio bullied her son for ripping his sign at a weekend live event is ridiculous and probably a ploy to draw mainstream media attention. There are boundaries that have been crossed that shouldn't have been but it's also important to remember what you see on television is scripted entertainment (most of the time). There is no need to "check your brain at the door" and I believe most people understand the difference between entertainment and reality.
You've (justifiably) stated how the traditional Survivors Series match this year has meaning. But how about ensuring it's meaningful every year? Why not start the show with the 10 man tag and then have the survivors from the winning team face each other in a match later on in the card. The winner of that, THE survivor, then faces the WWE WHC at the Royal Rumble?
I would be all for the idea of creating a sole "survivor" from Survivor Series with the winner of the show going on to Royal Rumble to challenge for the WWE World Heavyweight Championship. The biggest criticism we've heard from readers regarding Survivor Series in recent years is the actual concept has been buried in the midcard in favor of title matches and other main event level bouts. While I'll be the first to admit the WWE World Heavyweight Championship should be defended at the pay-per-view, it is nice to see the Survivor Series concept getting the main event.
We talked about this extensively in the latest WNW Premium Mailbag. While you can listen to my full analysis there, I will reiterate a quick point. Why do people order the Royal Rumble pay-per-view every year? It's a show that's sold on the Royal Rumble match. It's a timeless gimmick that determines the No. 1 contender for the title at Wrestlemania. With so many other pay-per-views, it's imperative WWE utilize Survivor Series in the way they do Royal Rumble. It won't hurt the WWE World Heavyweight Championship to take a backseat for that particular pay-per-view. In this year's case, WWE was actually forced into focusing on the Survivor Series concept because of a part-time WWE World Heavyweight Champion.
If Team Authority goes over at Survivor Series, wouldn't it be a good idea for them to reintroduce the World Heavyweight Championship and hand it to Seth Rollins? It would generate heat and solve the main event problem.
Brock Lesnar vs. John Cena for the WWE World Heavyweight Championship is on the books, so I do not see Lesnar being "stripped" of his title. The outcome of Team Cena going over [at Survivor Series oN Sunday] seems obvious — as we talked about earlier in the week — but it will be interesting to see how the plan is executed. I wish the belt would have been taken off Lesnar at Night of Champions, before he went back on hiatus. That was wishful thinking and WWE will continue to have an issue in booking their title for as long as Lesnar holds it. Whatever initial optimism there was about Lesnar holding the WWE World Heavyweight Championship for a prolonged period of time is out the window. It hasn't worked and WWE is essentially operating without their top title.
Is it safe to say unifying the WWE and World Heavyweight Championship titles was a huge mistake?
"Huge mistake" may be overstating it but I don't think unifying the titles has helped WWE. What having both a WWE and World Heavyweight Championship did was force the company to have two main events at every pay-per-view, thus expanding the main event scene with more top talent. Now, guys that would have been vying for the World Heavyweight Championship have been relegated to the midcard (I'm starting to continuously repeat this point but it's important). The idea of having one champion is the title would mean more and while we can admit that has somewhat worked, having Brock Lesnar off TV since Night of Champions -- two months ago -- hasn't helped anyone.
Are there separate writers for NXT compared to main WWE TV?
Yes, there are separate creative teams. Here's an updated look at the WWE creative team - Brian Gewirtz (creative consultant), David Kapoor (who you know as Ranjin Singh, head writer), Ed Koskey (head writer for Raw), Steven Guerrieri (head writer of Smackdown) and Ryan Ward (head writer for NXT). The writers are all led at the direction of Vince McMahon, a position he took over from Stephanie McMahon last year.
Let's also be clear that NXT provides WWE with a different opportunity than Raw or Smackdown. With NXT, WWE is able to take an intimate venue -- full of more knowledgable wrestling fans -- and promote shows and storylines based around athletic pro wrestling matches. Essentially, it's Ring of Honor or Dragon Gate USA with higher production value. Many fans that want to see Raw or Smackdown become "more like NXT" must understand the main level shows must target a much broader demographic. In this demographic, there are people that couldn't care less about in-ring work and would rather follow the show for the storylines or what obstacle John Cena overcomes from the "evil Authority." This is also why there are workers having enormous success in NXT that will probably have a harder time duplicating this same level of success on the main roster.
From the Ask WNW vault…
January 2013: With the IC and US titles being meaningless at this point (the titles change hands on non live TV events and haven't had a decent storyline, champion, or meaningful title defense in a long time) in your opinion would it benefit WWE to just drop one or both all together or drop those titles in favor of a gimmick title(s) like say the Cruiserweight title or create something new? - I would be in favor of eliminating the WWE United States Championship but do not think both secondary titles should be scrapped. I am against introducing any new titles as they have a hard enough time showcasing the belts they currently have, as you mentioned. Title changes on taped shows are actually beneficial for the live audience as they maintain the illusion that "anything can happen." It would not be wise to change a major title on tape but as long as the titles are being defended, there isn't a scenario that's necessarily bad.