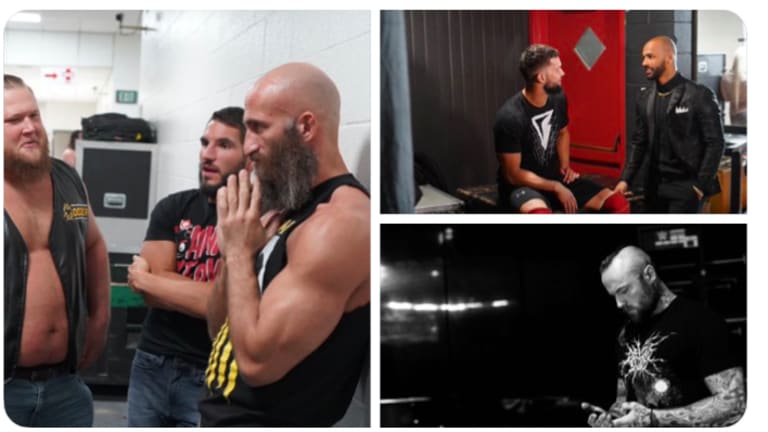 Backstage News Coming Out Of This Weekend's Elimination Chamber And Raw
The following article is part of our premium news section. If you're interested in this news and you're not a premium subscriber, why not give it a try? We put out breaking premium news and backstage news on a frequent basis that we can 100% confirm. If you ARE a premium member, welcome back! Thanks for helping us do what we do.
Thomas Fenton Reports:
-There was a lot of changes made over the weekend to the plans that were tentatively in place for Raw, as was evident during Raw.
During the Elimination Chamber event, we saw the reaffirmation of Drew McIntyre, Baron Corbin, and Bobby Lashley. Which was then immediately forgotten about and not followed up on RAW. We also saw Bobby Lashley attack Lio Rush at Elimination Chamber, but again this was almost entirely overlooked. Many of you are thinking what happened? Well, even before we get into that let's remember that Braun was pulled from Rumble so that he did not have to lose to Brock again. This was all done only to have Braun lose to Corbin and then the next night on RAW beat Corbin. This whole angle and story was something that has been changed and re-changed multiple times and it's apparent by the booking.
-Booking changes did not end here, which is part of the reason WWE made the call to feature more NXT talent on the program over the weekend. Vince felt the show lacked some star power and did want to please some fans. This goes much deeper as the first call-ups from around the Royal Rumble likely is not going to pan out as well as anticipated and the four wrestlers that were used last night are more likely to be major stars on the main roster. 
News began to break on this late Monday afternoon and WWE then showed photos and teased the appearance of Black, Gargano, Ciampa, and Ricochet. For the time being (and likely until Wrestlemania) the talents will also continue to work NXT shows which is different than normal call-ups. Look for Gargano and Ciampa to likely finish their masterful story on the main roster because Vince and brass see the value in working them individually rather than as a team. This is something we have been covering in depth since WWE started tossing around names for call-ups around WrestleMania earlier this year. 
Aleister Black has been on the call-up list for a while and I think most people know Ricochet wasn't going to stay in NXT for long. For those that have also been asking, we have not heard of any additional NXT talent getting brought up for Smackdown tonight. Since November WWE has bounced the new talent between Raw and Smackdown until the right fit is found or a storyline/rivalry sticks. It would not shock me if some were used on Smackdown, but let's remember that RAW is a 3-hour show that doesn't have a World Champion or Number 1 Contender wrestling on the show leading into the biggest show of the year. In addition, it would not shock me to see Adam Cole and The Undisputed Era brought up. However, to take a 4 man faction, that is heavily involved in stories in NXT, leading up to WrestleMania and NXT Takeover is a huge challenge ESPECIALLY with Gargano, Ciampa, Ricochet and Black doing double duty already. Not to say it can't happen, but it would present a lot of challenges. 
We also have to remember Hunter will not completely leave the cabinets bare in NXT; it is still loaded with talent and has even more talent coming in. In a twist of thought, one has to think with WWE not landing any members of The Elite, was this something done to bring up their own talent and show we have tremendous wrestlers as well. It's very rare for four wrestlers to get called up and all four to be a big success on the main roster. If any four wrestlers could do it, it's these four. WWE is determined for these four to be a success. As of right now, look for the Revival vs. DIY to happen again.
-WWE will be looking to re-establish the United States Title soon. They currently feel that the secondary titles need more prestige and value to them, and especially with Smackdown moving to Fox they realize they need everything firing on all cylinders. Smackdown is not without talent that's for sure, as there is a number of talent that could help bring the title back to a certain level.
-We had a little fun at the expense of the RAW crowd in Lafayette Louisiana last night, however, it was no fun backstage or in gorilla as talent, agents, and upper management were all very emotional during the show because of those call-ups that the crowd sat on their hands for. To play Devil's advocate, this type of reaction happens when storylines and angles are constantly started then stopped with no explanation. The announcement Triple H made was also somewhat vague. Were these wrestlers just on the show for tonight or were they called up permanently? However, more likely last night's quietness was not a result of fans not buying in, but last nights crowd was a result of a small fan turn out in a city that is not traditionally a big "WWE city." I'm sure WWE thought those four superstars would have been known by a normal audience. However, that's the kind of reactions you're going to get when only 1/3rd of the arena and have to do massive arena tape offs. (Think about when Vince said he could fix live attendance and house show attendance and that he has a plan.) Hunter told talent not to worry about it, nothing is working with the crowd it's not on any of the guys or girls.
-WWE introducing DX into the Hall Of Fame was done for several reasons. First, it is a way to get Chyna in and start to open those doors on a smaller scale and they would like to use that footage of her in matches when they eventually pull the trigger on intergender wrestling. The other reasons are that talks with The Undertaker and potentially The Rock to headline the Hall of Fame have no gone nowhere fast. At this point, WWE had to get someone or something that could be big enough to headline if need be. It is very interesting that WWE is including Billy Gunn who is a new AEW producer.
We will have much later on tonight.