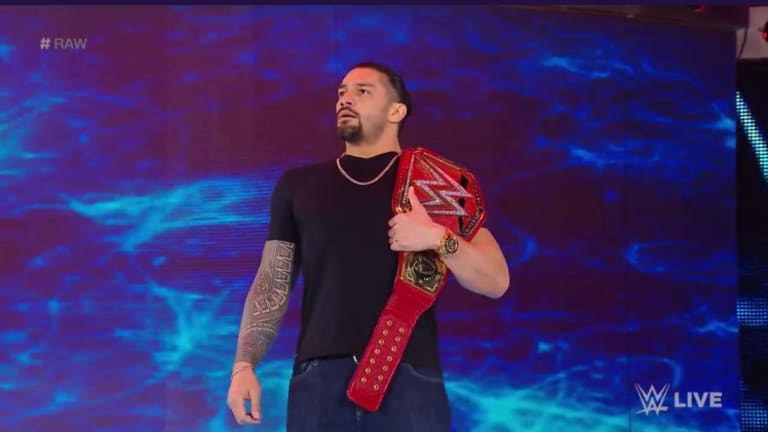 Backstage News Coming Out of Monday's Roller Coaster Raw;  Face Turns, Heel Turns, New Booking Plans
The following news is for our Premium Subscribers. If you're here, but not a Premium Subscriber, why not give it a try?  We break quality backstage news regularly and we only put out what we can verify.  We want to make sure that our news is not only fast, but accurate as well.  Subscribing helps us to do that.  
Thomas Fenton Reports:
-For those who were watching Raw live last night and were in shock you are not alone, most people including those within the company had no idea until the announcement that Roman Reigns' cancer had returned. As you may have been able to tell many booking plans were flipped last minute due to the news. I had heard on Friday as a few others had that Roman was sick/ill and would be off the weekend shows. Vince made the call to go back to Braun being a baby, and that plan was set into place over the weekend as Braun worked babyface. Tonight, they obviously took it a step further with the babyface promo, in addition to the program they are now building towards between Braun and Drew McIntyre. Braun as the babyface Drew as the heel, and it was even discussed adding Drew to the main event at Crown Jewel, however, those plans obviously do not look like they took off unless they move forward next week on Raw. Drew McIntyre was already waiting in the wings for this push, but with Roman needing to leave to battle cancer, his push got accelerated. Other things that escalated faster than originally planned was the heel turn of Dean Ambrose attacking Seth Rollins after they successfully won the WWE Tag Team Championships. Originally this wasn't planned until Survivor Series. WWE felt with turning Braun back to face they had to balance the heel/face ratio so that's when they made the call to pull the trigger with Dean. Finally, the decision was made, after Dean and Braun flipped, to give the crowd some face lines for Elias and have him hit Corbin with a guitar. While Elias is and was super over this was the balancing act that officials were juggling with backstage.
-The Finn Balor/Bobby Lashley program went on as planned, with that said there is talk of giving Finn another run towards the top. Much of this talk and discussion was WWE and officials just grabbing at ideas so don't get your hopes up too much if you're a Balor fan. Obviously, the company runs hot and cold on Finn.
-If these changes do not sit well with Vince it is highly likely that they would want another strong established face on RAW which would them leave them pulling either AJ Styles or Daniel Bryan away from Smackdown. This is more if a contingent than anything else, but would not even be considered for a little while. The conversation of a superstar shakeup was even mentioned. Obviously, these are difficult choices during difficult times, however, there is plenty of talent within the company and plenty that can and will be called up.
-I'm sure phone calls were made or will be made to Brock Lesnar in regarding possible new dates and maybe even a new deal. The Lesnar/Cormier which was once seen as a slam dunk for the UFC in January of 2019 is no longer so easy. UFC has Cormier fighting on short notice with an injured hand at the company's MSG UFC 230 show on November 3rd. Cormier, previously stated this summer he only wanted to have 2 more fights in the UFC before retiring. Cormier will have his choice of either Jon Jones or Brock Lesnar. The question is how long does Cormier wait to have that big super fight as January seems a little earlier at this time. Cormier, whose dream is to be a WWE commentator, is high on FOX's list of people they like and they feel will give the show more of a "sport" feel. FOX has requested this as it will be building the program as such as well as featuring the product he nightly sports highlights show. FOX will also be advertising Smackdown during NFL and MLB games under their umbrella. It is highly likely FOX who has rights to the Superbowl in 2020 just months after debuting their new WWE brand on their network will also plug it during the Superbowl.