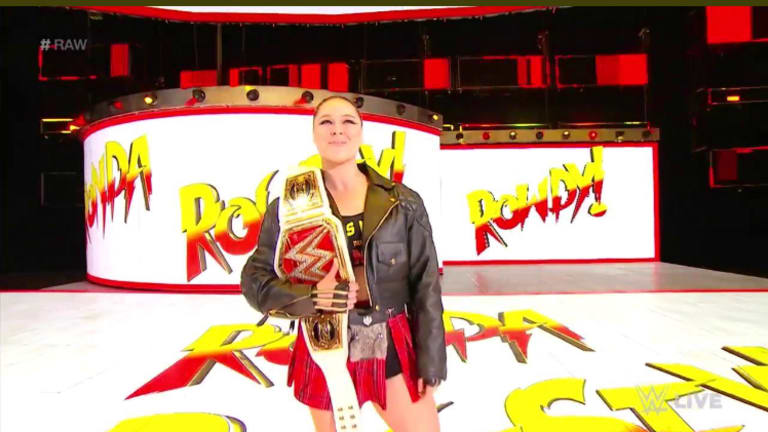 Backstage News From Last Night's Raw And Ronda Rousey, Crown Jewel Update, NXT Call-Ups
The following news is Premium News. If you're not yet a subscriber to our premium news, but you've found yourself here, you might enjoy it! Why not try a subscription with us? We put out quality, accurate backstage news all the time! You won't find a better place for backstage content then right here at WNW! If you're already a subscriber, welcome back! Hit that log-in button! Subscribe for full article
-Ronda Rousey was heavily praised backstage for her promo with Nikki Bella. Officials felt Ronda's delivery was great and that she brought the big fight feel for their match at Evolution. 
-Producers and Vince are at a crossroads of how to book Raw. Vince sees money in eight different people and wants them on the show as much as possible during the three hours of Raw. Vince isn't worried about getting anyone over at the moment as he feels if he can get the Shield members along with Braun, McIntye, and Ziggler as part of the main event, it will help more. 
-Apollo beginning a program with Elias is to help him get over as it did with Lashley. Vince's though process is to get Apollo a reboot going for a push. 
-It was decided over the weekend that while Crown Jewel will be pushed and advertised, the mention of Saudi Arabia will no longer be mentioned.
-For those who are wondering, the Angle and Corbin program will be climaxing at Survivor Series. 
-During Creative Meetings this past week, it was reiterated that there will be multiple NXT call-ups moving into the Winter and after Survivor Series. Some within the company would like to do another shake up, while Vince wants to hold off until next Summer prior to the launching of the new FOX deal. WWE has to make more room for the upcoming talent in NXT and there are many workers ready to be called up. It's just the factor of how they will be called up. 
-WWE is currently trying to figure out a plan for Harper while Rowan is out. A concern is the length of Rowan being out for. With the time and work of putting the Bludgeon Brothers, officials don't want to scrap the characters for a Harper push.