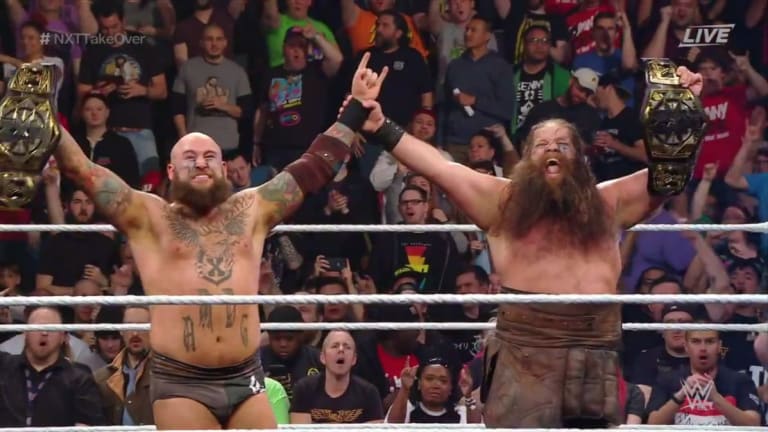 Backstage News On Top Tag Team Name Change, The ShakeUp And More
The following article is part of our premium news section. If you're interested in this news and you're not a premium subscriber, why not give it a try? We put out breaking premium news and backstage news on a frequent basis that we can 100% confirm. If you ARE a premium member, welcome back! Thanks for helping us do what we do.
With one of the major talking points this week of the War Raiders having their name changed late Monday afternoon, our own Thomas Fenton reports that it was Vince himself who made the decision. Vince has multiple reasons for this. He did not want to include the words, "War" as well as "Raiders", since it is a NFL team. Most people pushed to have the names of Hanson and Rowe for the talent, but the decision was made at the last minute. Swamp Vikings was the other name used but was obviously not used on Monday. It will be interesting to see if Eric Young uses his name on the Raw brand moving forward. As of writing, even with the name change and backlash, but not unheard of for the name to be changed back later. What is even more interesting is that the tag team debuted without the tag team championships from NXT. 
As Thomas Fenton discussed within the last week or so, Finn Balor was headed to Smackdown Live and even chronicled the merchandise sell outs and his blue shirt releasing early. It should be noted that the move for Joe to go on Raw was not announced with a graphic. Joe, who has been battling illness and was not on camera for Raw, but the plan is to have him on Monday Night Raw.
Two moves that were discussed in the last few weeks were Adam Cole and Johnny Gargano. As we previously discussed in premium, Johnny went from possibly joining 205 live to becoming the NXT Champion, so it was unlikley he was moving as we got closer to the shakeup. Adam Cole's name was mentioned in a follow up of a NXT storyline that there may be deception within the Undistputed Era. It looks as though they will take their time with this story into the summer and not rushing anything.
Bayley was obviously not thrilled about spitting up from Sasha nor switching shows. The crowd reaction to Bayley last night was hard to justify or understand, however WWE will look to capitalize on this.
While there is no injury update on Daniel Bryan at this time, there is cause for concern from a heel standpoint on Smackdown. After the draft, Elias and Orton are currently the big top heels on the show with Lars building. If Bryan is unavailable for an extended period of time one would expect for a move to be made on the brand. WWE has also not used the Bray Wyatt card as of yet and this could also play into that factor. RAW, while heavy on heels, now has their #1 in Drew McIntyre, however there is also a significant fall off after that as well.
Austin Areis has hinted at signing a big contract and will be in Vegas, however we can not confirm anything at the time of writing.