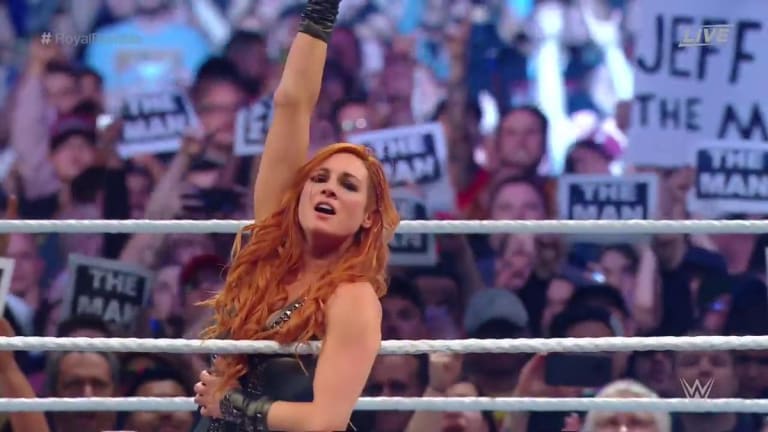 Becky's Injured Leg, How Long Will Stephanie and Becky Storyline Go? Superstar Shake Up, Vince's Latest Kick, Lashley vs. Brock? More On Dean Ambrose Leaving WWE
The following article is part of our premium news section. If you're interested in this news and you're not a premium subscriber, why not give it a try? We put out breaking premium news and backstage news on a frequent basis that we can 100% confirm. If you ARE a premium member, welcome back! Thanks for helping us do what we do.
-While Becky Lynch's leg injury is obviously storyline related, some question how the decision is being handled. This all stems from Becky being pulled from the house shows due to the storyline. What people are questioning is why not just "suspend" Becky for 30 days due to her actions on Raw which would allow her to still work house shows without breaking kayfabe. This would then give the company the ability to use Becky's main event power at these house shows, especially given that at this time WWE is injury ridden all over. 
-For those wondering Stephanie McMahon and Becky will likely continue to play out after Wrestlemania. Before the cart is put before the horse, the main match is still planned to be a triple threat match between Becky, Ronda Rousey, and Charlotte Flair. This has not changed. While it is always possible for plans to change, it is very likely that we will see Charlotte inserted to the WrestleMania match around the Elimination Chamber PPV. There are a few backstages who feel the better idea is to stretch this and do Asuka vs Charlotte, and Becky vs Ronda. Holding off Charlotte and Becky until later. The contrary of this is the fact that the shakeup is happening the week after WrestleMania week and the likelihood of both being on the same show with Ronda, limiting her appearances, is slim.
-The Superstar Shakeup was leaked on Canadian TV last night during RAW in certain markets. WWE will hold the Superstar Shake Up live from the Bell center in back to back nights on April 15th and 16th.
-Vince McMahon is continuing to reevaluate names of talent having more than 1 name, and the kick he is on. As of Monday night, it was talked about Otis and Tucker losing their last names in Heavy Machinery. Otis was the original one brought up. As of 11 AM Otis has had his name changed on WWE.com.
Thanks to his penchant for putting up inhuman numbers and reps in the Performance Center's weight room, the 330-pounder has made waves since his arrival at the WWE PC. A 455-pound floor press is a warm-up for Otis. But pure power isn't the only attribute the Wisconsin native brings to the squared circle. Otis was a standout amateur heavyweight wrestler at Colorado State University-Pueblo and a medalist in Greco-Roman wrestling at the Pan-American Games. He's also trained extensively at the U.S. Olympic Training Center and studied under Gold Medalist Rulon Gardner.
-While WWE plants seeds for angles and storylines, Bobby Lashley mentioning Brock Lesnar last night was originally just to make Lashley looking bigger and comparable. At the time of the promo there was no match planned for Brock and Lashley.
-Take this for wait you will be Wrestlemania Axxess event have Dean Ambrose appearing at Axxess on Sunday morning. With all the talk on Dean leaving, this could simply be its one of his last appearances. However, it could indicate more because it does not look like Dean will be pulled from storylines and looks to be involved in WrestleMania in some way. For those asking if there is anymore information on if this, it could possibly be turned into a huge work, but there is nothing new at this time. Dean was involved last night, doing a promo with EC3, as well as then doing the honors to EC3.