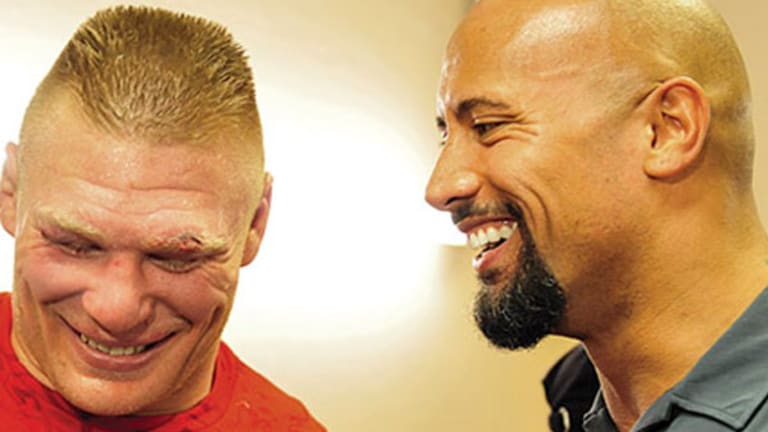 Large Backstage News: Braun's Recovery, Who Caught Management's Attention This Week, What Program is Souring Backstage, Brock's Future and More!
The following article is part of our Premium News section! If you're not a premium subscriber and you're interested in this article, why not give it a try? We put out behind the scenes and breaking news frequently and with the highest accuracy of any other pro wrestling news site. We'd love to have you join us!
-WWE doctors examined Braun's elbow on Monday to see where he is in the healing processes. At this time it was simply too hard to get a clear read and they will reevaluate before RAW next week.  WWE did plan to do a Braun/Corbin segment last night, however, opted against it and other segments went long.
-Some officials were caught off guard with how well Finn got over as he was costing the heels matches. Some thought of it as a fresh side we have not seen yet, while others thought he played the role well.
Thomas's Take: Finn's has been gone for a while, of course, performing on a level such as Finn should and did showcase his talents on Raw. I personally think it would have been a very cool angle if Finn played the role of a vigilante like Sting, and when the lights go out and come back on the Demon is recking the heels and when the turn back off and on Finn is on the Tron in no makeup. It brings a different superhero/ fan favorite dichotomy to WWE. After time with that, there is plenty of guys you could aline Finn with to have his own faction. 
-Elias was icing his lower back after his segment on Raw, he had a minor tweak over the weekend.
-Some are getting sour on if Rollins and Ambrose is a strong enough main event program, the concern is not because of the IC title. The concern is this feud is cooling off before it even gets into the ring.
-The original plan for Lars Sullivan was for him to make his debut at the Royal Rumble and then be put onto a brand. This got sped up a few weeks as Vince is a big fan.
-For those that may be stuck under a rock, it's not just WWE trying to lock up talent to contracts. ROH has recently signed PCO and Brody King, however, they are far from done. They understand that they have to sign talent now with the impending exits of not only The Elite but potentially Kaz and Daniels as well. ROH was able to re-sign the services of Silis Young as many thought after his WWE courting he was headed there. ROH is trying to lock up talent additionally to maintain their working agreement with NJPW. With The Elite leaving and again potentially 2/3rds of SCU the challenge is going to be what is ROH offering NJPW at that point to make talent exchanged that make sense. Unfortunately for ROH, it looks as though Cody (with the new company) will be tieing NJPW into a working agreement in exchange for his services and potentially other members of his company. The timing of all of this is simply bizarre due to the NJPW and ROH G1 Supercard at MSG Wrestlemania weekend, which will not be going head to head against NXT any longer. However, will ROH even be unopposed that evening? Logic should dictate the MSG show is a huge payday for everyone and if Cody and The Bucks are not doing MSG as they have stated, do they potentially have a different payday lined up? Moving back to ROH they will continue to monitor contracts of MLW and Evolve workers however it will be a challenge, to say the least filling their top of the card as they along with WWE need to create some new stars.
-Speaking of Wrestlemania weekend, I'm being told WWE is finally done planning all of the Axxess events and location details and should release a sale date in a few weeks. Tickets for Raw, Smackdown, and NXT go on sale to the public this Friday at 10 am. Expect NXT to sell out quicker than in past years with the move to Friday, however, why WWE thinks it will help the Hall of Fame I'm unsure. Some have asked if this is due to a potential Hall of Fame inductee's schedule but we have no information at this time on that. 
-The original plan prior to Roman's devastating battle with his returning leukemia was The Rock vs. Roman under the lights in New York. Obviously, those plans were scrapped and the new idea was for The Rock to go into the Hall of Fame that weekend. WWE is still in talks with The Rock in regards to Wrestlemania but keep in mind, not only the money being offered to The Rock, but also his appeal was putting over Roman. Not sure if another match appeals to Dwayne, however, as we have stated a million times until Vince wants to do Brock vs. Rock. From what I'm told Rollins and Brock is far from a lock but is a tentative backup plan for Brock.
-Speaking of Brock, for those that have not noticed, UFC has been slowly backing away for pushing a huge Brock fight. The reason is simple, UFC understood the huge amount of leverage Brock would have negotiating with UFC if they were already hyping a fight that Brock was not under contract to do. I would look for an announcement either way into which direction they go with Brock by the end of the year. Let's also not forgot, UFC needs Brock not the other way around and all parties know this.