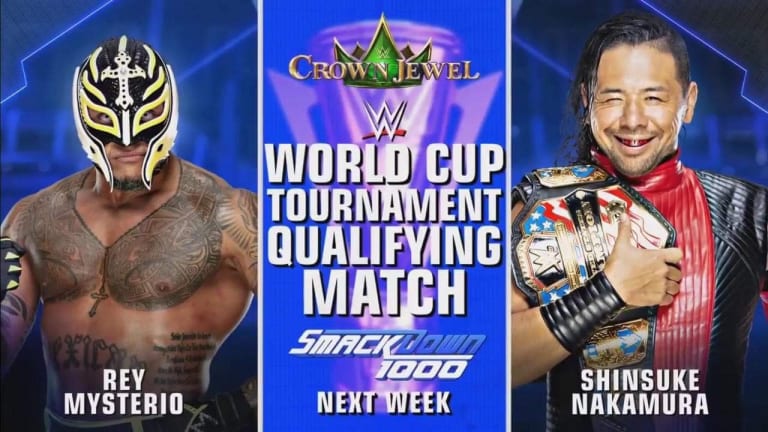 Backstage News After Raw and Smackdown; Praise for Five Workers, More on Rey Mysterio's Return, Top Worker Walking With A Limp
-There was some backstage praise for Charlotte and Becky for their match on Smackdown that went around 25 minutes. Smackdown as a show was well received by everyone, even though it had a different flow and pace with much more time spent in the ring.
-The MizTV segment also came across great backstage and was not scripted line by line, there was room for AJ and Bryan to improvise based on the crowd's reaction.
-Once Rey resigned with WWE (the story broke first here at WNW) we also stated he was going to the Smackdown brand, and then later stated Nakamura would be his first program. As we saw on Smackdown it was announced that at Smackdown 1000 Rey will return to action vs. Nakamura in the Crown Jewel World Cup qualifying match. Knowing what we've reported, this it is likely going to be the start of this feud when Rey wins pinning the champion and then being in the World Cup tournament. The feud will likely start as soon as Crown Jewel is over.
This will also be a very quick turn around for Rey as he has the Jericho Rockin Rager At Sea until the 31st then fly to Sudi. For those asking Rey signed a deal with Jericho for the show prior to him returning to WWE. WWE was aware and obviously knew this prior to, know whether or not Rey wrestlers is a different question mark. You could, however, see one of the crazier moments in wrestling on the cruise when the ring could have a contracted talent from ROH, NJPW, IMPACT, and WWE all standing in it at once.
-As we saw on Raw, they are moving forward with the Corbin Angle control of RAW storyline. This story was planned for some time and will go through Survivor Series.
-Braun was icing his upper leg and walking gingerly backstage at RAW. While nothing seemed serious let's keep in mind Braun has worked at the top of the card for a while now, in addition to his size, Braun bumps more than most big men have. I would say this is just normal wear and tear for him.