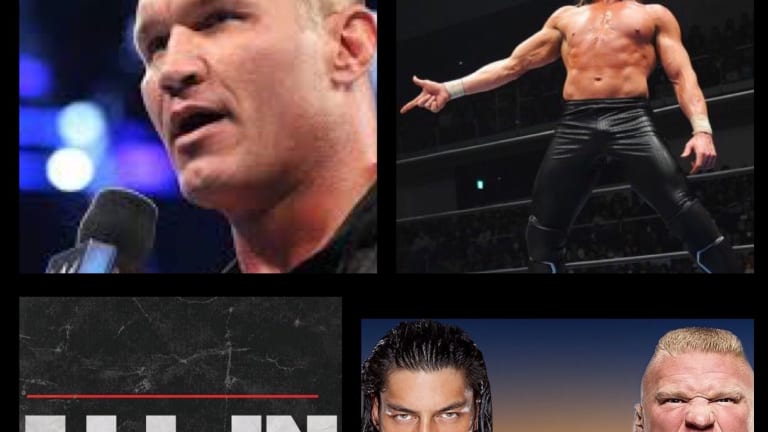 Premium News On Randy Orton's Situation, Kenny Omega Healing From Injuries, Updated Look Into Lesnar And Reigns Match
- The recent news of Randy Orton is officially now a story and not a rumor or a tall tail. If you have not heard yet, the story is about Randy Orton and how he would interact with new WWE producers and officials when they were first hired for the job. Orton would reach into his pants to remove his genitals and began to touch himself in a sexual manner. He would then try to shake the hand of the new employee after doing this act after a minute or so. When a person did not reach out to shake Randy's hand, he was quoted by saying, "Are you big leaguing me, man? Do I need to go talk to Stephanie and Vince?" This became a story when WWE made a comment in regards to this information coming out by stating, "We are looking into the situation." With it being 2018, a workplace with this behavior is unheard of and termination would be the actions to take. With that being said, this happened in the early to mid-2000's, over a dozen years ago. While we are not condoning any of Randy Orton's actions or approving of them, but WWE was a different company back in the day. Many things, including the likes of hazing would be considered a normal business for them. We are discussing a man that once defecated into a female worker's bag, along with urinating in the female talent's locker room. How disciplinary actions can be taken that happened many years ago, I am not sure. The fact is, WWE has now issued a statement on this matter and it appears that this story will play out.
Thomas' Take: Look, I have stated this before, the wrestling business has changed in the past ten years and even more in the past five years. Back in the day it was ran like a 'Mom and Pop Shop' as they felt they can run their business as they wish, and unsavory things have happened in the past. It is a much better atmosphere nowadays, but still not perfect, yet it is a completely different business.
- Tegan Knox as you may have heard, injured herself during the tapings of the MYC, and what originally thought to be a broken leg, she actually broke her knee cap. This will be aired entirely when the episode is aired next week on the network. Knox was originally supposed to win the match and then go on to lose her next match in the tournament.
- On top of Kenny Omega's heel injury, which is believed to be fractured, he is also suffering from a shoulder injury. As we stated last week in WNW Premium, the plan is for Omega to rest up and take it easy with NJPW the next couple of weeks before ALL IN.
With the subject of ALL IN, with the announcement of Pentagon Jr. vs Omega at the event, and with Vince's mood to ROH/NJPW selling out MSG this past week, Pentagon's name has raised much higher on the WWE want list. This is not to urt ALL IN exactly, but more so that Impact cannot sign him or Ring of Honor. Most importantly, Vince does not want him on the MSG show.
Thomas' Take: If you swim with sharks, you may just get bit. Look, ROH had to make the next logical move by getting bigger and growing their company. Once WWE got their first MSG show cancelled and ROH fought back, the war was on. To poor more fuel on the fire, ROH picked the weekend with the most wrestling fans in the world at one place, with it being WrestleMania weekend. They then chose to run the show on a Saturday night, going head to head with WWE and their NXT TakeOver show. ROH sold out MSG in 20 minutes. Vince is trying to water down the event and the company so this does not continue. I think ROH needs the full support on Sinclair and much bigger talent for this show, otherwise, each talent will get picked one by one. Same goes for New Japan Pro Wrestling, while WWE is not exactly eyeing them, expect retribution signing on WWE's end.
- Vince is keeping the finish to Brock Lesnar and Roman Reigns. He has even gone to book different finishes for the match including different match times and angles built around this. In the past, when the meeting for the time of the show took place, it would be hard to hide the main event match time due to when the show would go off air. Now with the WWE Network, they could take time out of the show and leave the main event a mystery until the bell of the match rings, making it a hush hush scenario.
Thomas' Take: I have a feeling this will be one of those matches that only a handful of people will know this finish and maybe only a dozen when the match starts. Let's also keep in mind that if Brock is in the main event for UFC in January. He cannot risk injury here and cost that, or cost his leverage in negotiations with both WWE and UFC as both companies still want him long term.