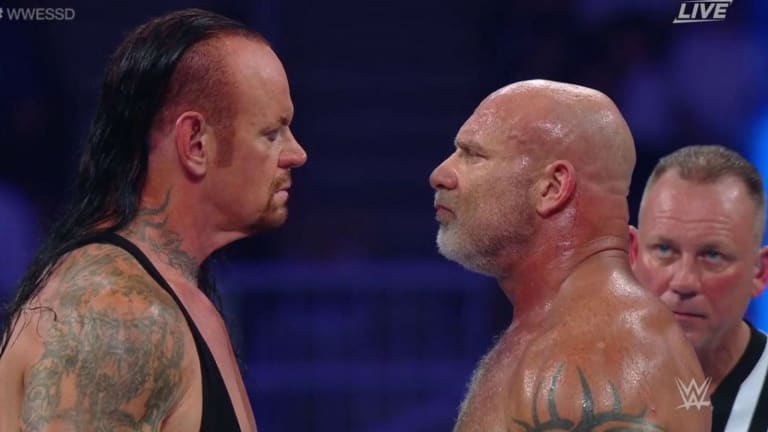 Premium News: Goldberg vs. Undertaker, Contracts Expiring, WWE Talent Eyeing AEW, AEW's Plan for WWE Talent
The following article is part of our premium news section. If you're interested in this news and you're not a premium subscriber, why not give it a try? We put out breaking premium news and backstage news on a frequent basis that we can 100% confirm. If you ARE a premium member, welcome back! Thanks for helping us do what we do!
Tom Fenton Reports
-The Undertaker vs. Bill Goldberg match has faced a lot of scrutiny, not as much by companies directly but more via talent. It's important to note from the outside looking in that very few blamed The Undertaker for the poor match. The Undertaker had quite a few discussion backstage about the match as he wasn't a fan of it and didn't want to work it. This wasn't something he was totally against but just didn't think it was the best option. WWE, as we noted, was trying to keep The Undertaker exclusively under the WWE "umbrella," blocking him from Starcast and then ultimately paying Taker's asking price to get him back. Obviously, using the funds from the Saudi show helped make this decision even easier for WWE. The company felt pressure that The Undertaker could end up in AEW if a new deal could not be made. There was, and still is, obviously tremendous interest from the outside for The Undertaker in limited match roles and even more on screen or appearance deals. While these things will obviously be on hold for some time now that Undertaker has signed a new contract, it is safe to assume interest will flare up again next May.
-While, yes, there are talent waiting for their WWE contracts to expire, much of the talent are the ones you would expect to be frustrated with the way they and their characters are being booked. It is important to note that while anything can change until the very last day, we could start to see talent starting to leave WWE as soon as August. Many fans assume all of this talent is earmarked for AEW, however, this is NOT the case. AEW are going to be selective about the talent brought into the company. The EVP's and President Tony Kahn have a plan for what they want to do and will obviously take the opportunity to scoop up the talent they can use, but they aren't planning on taking anyone and everyone who left WWE. They have a very specific game plan and have learned from companies in the past who have done that very thing. They will not be that company who has 75 contracted workers and only use 25. They will be strategic and do their researching in the signings. Many talents that are prepared to leave and take the gamble on themselves do understand that they have many options as well and can still negotiate good deals elsewhere. AEW will continue to look to follow their momentum from Double or Nothing into the summer through All Out and on to TNT. The belief is that AEW is not done with surprises and we will see more surprises closer to the launch of television to really bring in the momentum and hype.
-Some officials backstage in WWE are still trying to and attempting to spin that it is "the only place to work," and that they are big leagues. Unfortunately, this time around the rah-rah speech rubbed some people the wrong way. The message WWE wanted talent to hear was that they worked for the biggest and best company in pro wrestling. However, many of the superstars took it as "everything you did before this didn't matter."
-The obvious names that keep coming up are Karl Anderson and Luke Gallows. Their contracts are up towards the end of summer. Obviously, both have made mentions of this on social media and it has been no secret they are unhappy with their position in the company. Both will be teaming with AJ Styles and Triple H in an 8-man tag team match in couple weeks in Tokyo, Japan. The way WWE booked Dean Ambrose (Jon Moxley) makes it impossible to tell anymore if a worker is headed out or staying in the company. It used to be that talent was buried or taken off the card entirely. The way WWE used Ambrose surprised everyone, him included, and makes it harder for people outside the company to know who re-signed and who is leaving. AEW became a much better outside option for travel for Karl Anderson with his children, in addition to the history he and The Young Bucks have. 
-At the time of writing, I have no update on Shinsuke Nakamura's contract, it was due up this summer. At this point, Nakamura may love surfing more than wrestling and may just want to cash in. Only Shinsuke knows if it's the WWE style or his physical status that are hindering him. 
-Another name that is going under the radar is Roderick Strong. According to WWE, he signed a 3-year contract in September of 2016. If Strong is brought up to the main roster a new contract would follow. It is not to suggest Strong is leaving or would leave with his wife in NXT as well. From a contract standpoint, it will be interesting to see if WWE just brings up all of Undisputed Era after Summerslam before further contract issues become an issue with the group.