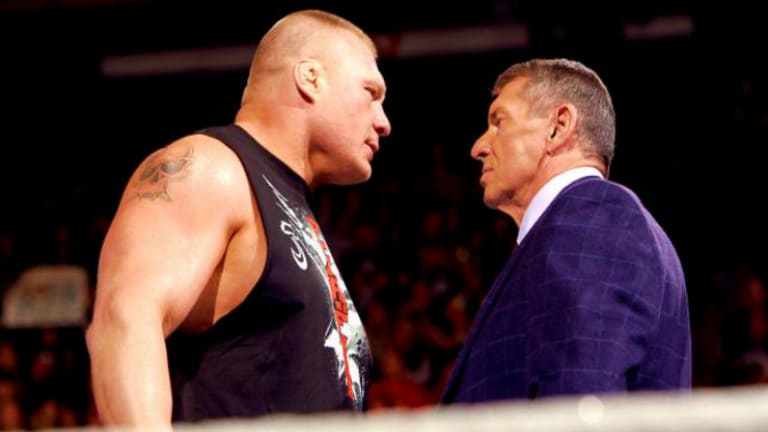 Premium News On Lesnar Going Into SummerSlam As Well As Other SummerSlam Backstage News
Vince McMahon and brass will once again be attempting to negotiate a new contract and or contract extension with Brock Lesnar over the weekend. This will be a challenge albeit doable with his planned January UFC heavyweight championship fight with Daniel Cormier. Vince sees Brock and always has as the biggest star he currently has and feels he legitimizes WWE. These negotiations will obviously effect any potential outcome of his championship match with Roman Reigns this Sunday at Summerslam. As we reported previously in premium 2 different match out comes and timing have been planned and they are working on a third scenario now if Brock does sign any type of an extension. If you remember Brock was originally advertised for the Raw after Summerslam however in the weeks leading up to it WWE has made no mention of it on purpose.
Thomas's Take: Brock is a huge star and has huge drawing power, however since he has came back to WWE he has put over Cena,Triple H, Undertaker, and Goldberg. WWE has done zero with giving anyone the rub over Brock under the age of 40 nor used him to elevate any talent.
Speaking of match outcomes, WWE does have a surprise finish they are planning for the match, at the time of writting details are to shaking to write however I think everyone will appreciate the efforts if it comes to fruition.
NXT's current run time for tomarrow night is scheduled for 2 hours and 28 minutes, however not sure if those match run times include the preshow match at this time.
Plan as of now is indeed for Ronda to capture her first championship this Sunday at SummerSlam. There was talk of waiting till Evolution however Vince feels SummerSlam is a much bigger stage.