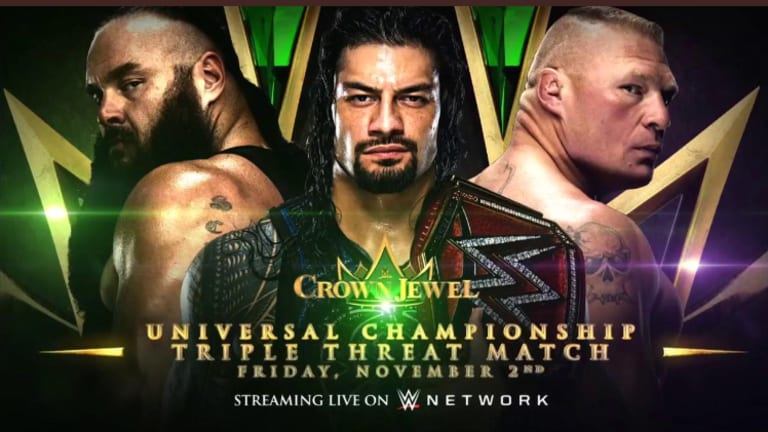 Premium News On WWE's Crown Jewel Plans And Possible Returns
This article is for our premium members. If you're interested in this article and you're not a premium subscriber, why not give it a shot? We put out articles like this all the time and make sure to only put out content we can verify with inside sources. If you are a premium subscriber, welcome back! We appreciate your support as always. Without you, we couldn't do what we do! Much love!Subscribe for full article
-Look for Rey Mysterio to be added to the Saudi Arabia show, as many have been hinted towards, along with some announced already. As we were first to break the news two weeks ago, Rey Mysterio and WWE have come to terms on a new two-year deal (story here)The only struggle will be that Rey is booked on the Jericho Cruise, which will make the traveling a challenge, yet do-able. 
-The Saudi show will not only feature Brock vs Roman vs Strowman in a double main event show, but it will also feature the in-ring return of Shawn Michaels. He will team up with Triple H to re-unite D-Generation X to take on the Brothers of Destruction. The show is also featuring a singles tournament. For those asking the exact money figures on how much Michaels and Lesnar are getting paid for this event is unknown, however, each of them are being heavily compensated, heavily compensated. 
-On the topic of Saudi's show, it is highly likely that if Hulk Hogan is going to appear WWE programming in 2018, Smackdown 1000 and or Crown Jewel would be the show. Now whether WWE is ready to put him on Smackdown 1000 is one question, however, I can confirm that he was asked by Saudi officials if he could be on the show. 
-It is also very likely that Kurt Angle is added to this show as well, along with returning to television sooner than later. 
Thomas's Take: Look, leaving politics and moral governing bodies out of this, The Kingdom of Saudi Arabia is paying unseen and unheard of money for these shows and over the top of just the cost of the show. Their money was enough to get Brock to wrestle, and get Shawn out of retirement. If they want Hogan there he, will be there plan and simple.
-WWE has discussed adding 'Talking Smack' after the Smackdown 1000 show to extend potential viewership gains on that night. As you have already read, they are going all out for this show just like they did for big anniversary shows for Raw in the past.