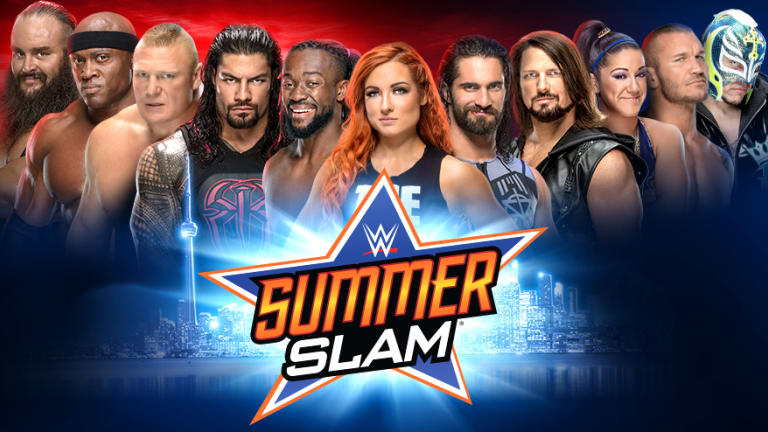 Backstage Midweek Update, AEW TV, Future Talent, NXT, Summerslam Moves
The following article is part of our premium news section. If you're interested in this news and you're not a premium subscriber, why not give it a try? We put out breaking premium news and backstage news on a frequent basis that we can 100% confirm. If you ARE a premium member, welcome back! Thanks for helping us do what we do!
Thomas Fenton Reports:
With AEW kicking off ticket sales this Friday for their live television event on Tuesday, October 2nd at 8pm east. time on TNT, many have asked if other locations are discussed and talked about for future shows and when those will be available. AEW will be releasing future locations for week 2,3 and 4 soon. There is a great market strategy from this as announcing it one by one creates interest and more eyes for sometime. While I do expect the first show to sellout, the bigger question is what the audience of week 10 will be doing. The first several weeks of tv will be from larger venues then the trend they will continue to do. Crowds of 6-8k passionate fans will come across better on tv in the long run then attempting to sellout bigger venues while growing with lesser than great crowds. AEW will also focus on not making each show look exactly the same, as each venue will look different and they won't hide it. Younger eyes have demographically been attracted to things that don't look manufactured each week. AEW looked into areas and cities in which demographics did good for their PPV's. While this all makes sense in the world, they will also look at the New York's, LA's and other big markets when it fits into their programming. It would not be out of question for one week to run a 5k venue and the next to run the world's most famous arena. The combination of the smaller intimate settings and engaged crowds mixed in with the bigger venues should play well from a marketing stand point while growing and moving forward. 
Many who I have spoken with feel a deal for LAX in AEW is very close or even agreed upon at this point. Both workers are not taking later dates in the year for booking. While their drawing power is high within to some companies, the assumption is that they will not be free agents for long. 
Chris Sabin is coaching at the WWE Performance Center this week. Chris has worked so hard in the business that I can not be happier for him to work with any major company. One can't help but to think with Shelly currently working for Ring of Honor that the interest from AEW in the Motor City Machine Guns would have been high if the timing was different. Make no mistake about it, WWE's timing on this was no coincidence. 
If WWE is going to announce a NXT Wednesday show to a new format on FS1, you can expect this announcement SummerSlam weekend. The big question is all of this is timing, did WWE have enough time to pull all this off? It is one thing to air it on FS1, but this isn't going to be a half-hearted effort. Again, the announcement would likely be SummerSlam weekend if they were to adjust and reschedule things. 
Many of the camera shoot changes and different looks on Raw were Heyman influenced. One of the key examples of this was the way the final angle of the show was shot. Whatever plans WWE had for Roman Reigns at SummerSlam on Tuesday morning changed on Tuesday evening and once again Wednesday morning. While there is a lot to digest, let's unpack that a little bit. Some of the plans were Roman vs Joe and Roman and Undertaker vs McIntyre and Joe. The newest regarding Roman is open ended so if the plan doesn't go through, they can go back to one of the original plans. For those who will ask "If plans don't go through", this is for many reasons but for the most way Vince has changed his mind on a daily basis of the direction of the product. One huge example of this was Andrade vs Rey Mysterio was discussed for Mania, instead of the Hair vs Mask never happening, it looks as though some influence is there now that it's a plan for SummerSlam. 
Ciampa is recovering faster than first diagnosed. To those who know him closely this is no shock as he was determined to get back and get healthy as quick as possible. Ciampa has put in the work and a TakeOver in the main event to set up in the Fall is not out of question. 
Look for Nakamura and Ali to be added to Summerslam in some capacity, SummerSlam has "Kick-off" show set for 1 hour and the main show beginning at 7pm est.