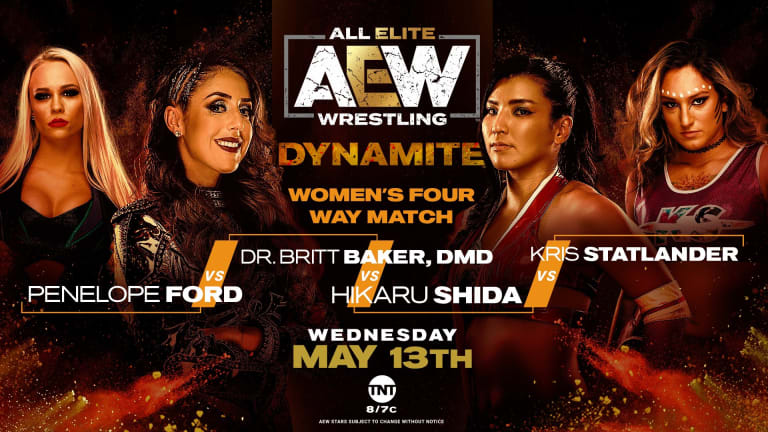 AEW Dynamite LIVE Coverage 5/13/20
AEW Dynamite Live Coverage
AEW Dynamite Live Coverage
Here we go! Good Ol' JR on the mic with Tony Schiavone and Excalibur. Both heels and faces are in attendance, with MJF still wearing his mask.
Lance Archer comes out, kicking a stagehand out of the tunnel! Jake Roberts walks in and gets on the mic. Jake says he's supposed to apologize to Brandi but says as soon as she kisses his behind he'll do it. The ring is our area, our book and we'll write every single chapter. He makes some chauvinistic comments that would make Archie Bunker blush. He says that Cody can no longer hide, and we get the roaring of an engine, and it's Cody in his Black Ops Ford F-150! He has his hands taped up and they go at it. Kick to the midsection and Cody goes to town. He makes a beeline for Jake but Lance jumps him from behind. Jake continues to insult Cody but he lays into Archer. Quickly Archer attacks with a chokeslam but turns his back and Cody grabs his hair. Jake gets out of there and Cody throws a chair to Lance. Blackout attempt reversed and Lance reverses the cutter. Jake calls off the Murderhawk Monster as Cody wants to continue the fight. 
They show a great video package of the AEW tag team division, including the incredible match at Revolution between the Elite.
Next up is Jurassic Express with Marko Stunt against the Best Friends w/Orange Cassidy. Interesting note by Excalibur how the #1 ranked team Dark Order's inactivity could drop them from the rankings. JB and Chuck Taylor lockup and a side headlock takedown by JB. Dragon screw legwhip by JB and rolls up Chuck for a two count. Armdrags are exchanged. They tag in their respective partners. Luchasaurus throws Trent to the ground like a ragdoll. Chops by Trent have no effect on Luchasaurus and they exchange elbow smashes until Luchasaurus throws Trent down to the ground and hits a spin kick. He tags in Jungle Boy and he jumps on Trent but it's reversed into a sick backdrop driver style! He puts JB on the top rope but fights off the Best Friends. Orange Cassidy is chillin. Chuck assists Trent to superplex JB but he dropkicks Trent and Chuck eats a spinner kick. Flatliner combo by Jurassic Express. Trent cuts off the suicida and his own is interrupted by Luchasaurus. However, Chuck comes to the outside and helps his partner with a double suplex. They hug it out until JB dropkicks both of them.  
Back from break and we see Luchasaurus chopping Trent but he hits the spear. Tag to Jungle Boy and Chuck Taylor and they're going at it with an exchange of shots to the quads. Elbow by JB and Chuck with a knee smash. JB with the clothesline and Trent hits the splash. Luchasaurus attempts the spin kick but Trent reverses. Orange Cassidy attempts to get into the ring but Ray Fenix kicks him into oblivion. Meanwhile, MJF attacks Jungle Boy on the outside with a cheap shot and throws him into the ring, only for Chuck Taylor to hit the piledriver and win the match for Best Friends. ANALYSIS: Great tag team match and they advanced the Casino Ladder Match with Fenix attacking Orange Cassidy as well as MJF-Jungle Boy. 
Alex Marvez attempts to interview Jon Moxley about losing his belt to Brodie Lee's theft and Mox ain't having it. He shoves the camera man out of the way.
Time for the Women's Division to be front and center as Penelope Ford, Hikaru Shida, Dr. Britt Baker and Kris Statlander are facing each other in a four way match. Baker's rubbing her nose remembering what Shida did to her weeks ago. Statlander offers a boop but Ford kicks her in the gut. They're all going at it with Baker getting the surfboard. Statlander intercepts and Baker offers a boop but gets dropped for her troubles. Ford hits a cross body on Kris and Shida. Shida misses the step up enzuguri. Slingblad by Britt and Kris attacks Britt from behind as she attempts the Lockjaw. Ford breaks up the attempt and hits a DDT for a fall. No allies here as Britt kicks Ford out of the ring. Baker begins to stomp onto Kris and Shida breaks up the two count. They take it outside and Kris gets an electric chair drop on Ford for a two as Shida breaks that up. Shida picks up Britt and Kris does the suplex drop. She almost botches the slam but drops Ford onto Baker. Shida hits the flying knee smash on Kris as we go to break! 
Back from break and Kris' Big Bang Theory attempt is broken up by Baker, who hits a Canadian Destroyer. Slingshot cutter by Penelope gets a two count.  Stunner by Ford. Corkscrew neckbreaker by Britt but Statlander attacks with the Neutralizer. Shida takes Ford and suplexes her into Kris. Whip into the ropes but Baker kicks Kris to the outside. In the ring, springboard kick by Ford onto Shida gets a two count. Kip grabs Shida and Ford misses the charge. They kiss and Shida breaks that up. Falcon Arrow by Shida gets the two as Kris breaks it up. She gets Ford in an electric chair drop but Penelope hits a DVD. Shida gets Ford up and a knee backbreaker. Meanwhile, Baker gets the glove and has Kris in the Lockjaw. In the ring, Shida hits the knee strike and pins Ford for the victory! ANALYSIS: This is the type of match that AEW needs more of in the Women's Division. Shida is head and shoulders above the rest, but everyone got in their moves tonight. 
We get Pineapple Pete as he discusses his upcoming match with Jericho. He was at first insulted by the name but has now embraced it.  
During the break it was announced that Nyla Rose will take on Hikaru Shida at Double or Nothing. 
Next up is Santana & Ortiz as they take on Kenny Omega and Broken Matt Hardy. Omega doesn't get the chance to do his entrance as P&P jump Omega from the start. Hardy just walks out there in what is apparently his Damascus role and Santana goes out to attack but Hardy throws him to the entrance way. Ortiz gets knocked to the ground and the bell rings. Omega attacks Ortiz while Santana throws Hardy into the railing. Hiptoss by Omega and he drops P&P with a crusher. Hardy tagged in and he helps Omega with the Whisper in the Wind. Double suplex to Santana. Side Effect by Hardy and gets a two count. JR notices how much bigger Santana and Ortiz have gotten. Omega whips Santana into the ropes and he hits an elbow strike. Ortiz throws Omega off the apron. We go to break.
Back from the break as we see Santana putting Omega in the Boston Crab. He tags in Ortiz and he put Kenny in the Steiner Recliner. Ortiz goes to attack Hardy but backs off. Thumbs to the eye of Omega and taunts Hardy. He tags in Santana who drops the leg on Omega. More taunting by Ortiz but Omega fights back with elbow smashes. Snapdragon suplex by Omega! Hot tag to Hardy who lays into Santana and slams his head on the ring post. Clothesline to Santana and Side Effect to Ortiz for a two count. Knee drop to the head of Santana and Ortiz breaks up the Twists of Fate. Santana with the top rope suicida. Streetsweeper broken up and Omega with the piscado onto Ortiz. Twist of Fate to Santana but it's broken up at two. Hardy takes Ortiz to the outside and meanwhile Omega and Santana go at it in the ring. Shotgun drop kick by Ortiz and a diving senton by Santana gets the two and a half count. Scratches to the back of Omega by Ortiz as he tags in. Streetsweeper is countered and Omega gets the tag to Hardy. He suplexes Ortiz and gets the Body Torture hold and Sammy Guevara comes out with a neck brace and chair, but that means nothing as Hardy hits the Twist of Fate. He puts Ortiz on the top. V-Trigger by Omega and Hardy hits the cutter for the three count. ANALYSIS: This was a much better showing than last week as the Elite gets the expected revenge on the Inner Circle. 
We're back with Taz interviewing Darby and he keeps bringing up how Darby lost to Cody in the TNT Championship semi-finals. He offers to train Darby but Allin's not having it and walks away.
Excalibur explains the rules of the Casino Ladder Match. Nine men will enter and whomever grabs the chip gets to "cash it in" for a AEW World Title shot. 
Lexy Nair is interviewing Shida and Nyla goes to congratulate her, and hits her with the kendo stick we've been missing for weeks. 
Time for MJF to make his long awaited return, with Wardlow assisting him to the ring. He's taking on Lee Johnson, who lost in tag team action to Private Party last night on AEW Dark. MJF attacks Johnson and gets a German Suplex. He does the Flair-like strut and puts his foot on Johnson's throat. Clothesline takes down Johnson. He slaps Johnson and throws him outside. Powerbomb onto the ring apron and throws Johnson into the ring. Shoulder breaker and the arm breaker gets the quick tap. Afterwards he cuts a promo saying that he will take on Marko Stunt next week. ANALYSIS: MJF showing off a new submission hold helps expand his range as a wrestler.
Pineapple Pete (Suge D) is in the match of his life as he takes on Le Champion. He's wearing a Pineapple Pete T-shirt, oh that Jericho! They talk smack and Jericho slaps Pete before he lays into Jericho with shots. Elbow charges and a splash into the corner by PP! He tries one more time and Jericho hits the Judas Effect for the quick one-two-three. ANALYSIS: Squash City
Now that the threat of Pineapple Pete has been vanquished, Jericho calls out the Elite and asks if they're even a group anymore. He challenges them to a "Stadium Stampede" match. They'll fight at TIAA Stadium, and it will be literally in the stadium. Vanguard1 is off quarantine and has the Inner Circle shirt offered to him by Jericho. Vanguard1 says the Elite will accept the challenge. He then introduces "Floyd" the sixth member of the Inner Circle and smashes Vanguard1! No respect for robotic life as the Inner Circle destroys what's left of Vanguard1. Hardy comes in and is inconsolable as they killed Vanguard1 and bounce. How is Hardy gonna explain this to the kids?
UPDATE: Shida-Rose will be at Double or Nothing as a No DQ, No Countout match. 
Iron Mike Tyson will be at Double or Nothing to present the TNT Championship. 
Main Event time as Christopher Daniels takes on Brodie Lee. Mr. Lee demands for Dasha to announce him as the "self-proclaimed World Champion." The Dark Order minions are holding the AEW World Championship he stole from Moxley last week. Daniels tries to gutwrench Lee but he no sells it and kicks him in the gut. CD charges and Lee slams him to the ground as he throws him outside. Strike to the back of Daniels' head and brings him into the ring. Lee talks smack to the rest of SCU until Scorpio Sky hits him. Daniels takes advantage with a suicida to Lee. Brings him in and hits some mounting punches. Lee throws him off and hits some knife edge chops. Lee gets in the referee's face and goes back to stomp on Daniels' neck. He goes outside to intimidate SCU but then goes back in to stomp on Daniels some more. Black Hole Slam gets a two count. We go to the final break of the evening. 
Back from the break and Lee is just laying in more shots to Daniels as he gets off a vicious kick for only a two count. He goes for a back body drop but Daniels gets a counter DDT. Elbow strikes to Lee and a Frankensteiner. Daniels charging in. 10 of the Dark Order tries to distract but SCU distracts. Ref goes outside to break it up and Daniels hits the chairshot on Lee. Colt Cabana helps SCU fight off the Dark Order. Competitors weren't touched so the match continues. Angels Wings only gets a one count. BME gets a two count. He kicks Lee in the head and goes up top and a dropkick is countered by Lee for a powerbomb. Discus lariat ends it for Mr. Lee and he gets the three count. ANALYSIS: The distractions were unnecessary and Lee allowed too much offense to Daniels. 
After the match the Dark Order comes in and presents him with the championships. Moxley comes through the stairs and lays into the minions with reckless abandon. Lee goes out of the ring and walks away with 10. Paradigm Shift to the minion. Moxley grabs the mic from Dasha and says he can admire guts but not disrespect. He says that Brodie Lee will pay for his crimes at Double or Nothing.