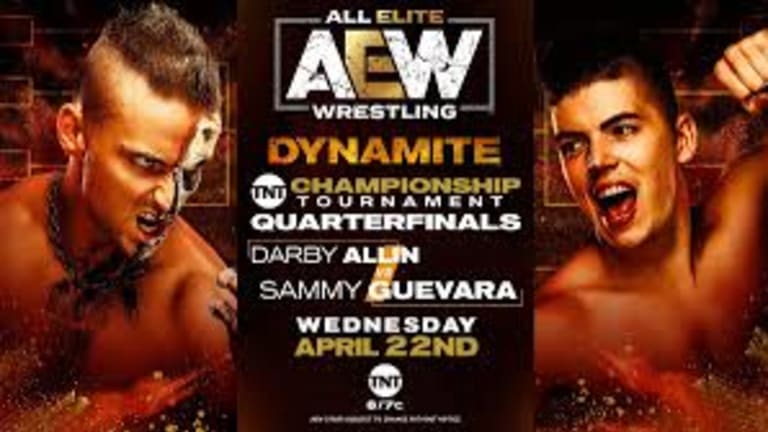 AEW Dynamite LIVE Report for April 22
The TNT Championship Tournament continues!
Here we go with Wednesday Night Dynamite! It starts with Cody sitting down at his office of many monitors looking over the potential opponents remaining in the TNT Championship Tournament. We hear from Coach Arn predicting that Cody will win, but the EVP begins to wonder what is his true role in AEW. Interesting how he brings up the response to critics moving the goalpost for only a one-year old promotion. Great package highlighting the importance of the title. 
We're back with another week of Tony Schiavone and Le Champion Chris Jericho at the commentary booth. We will have videos from Matt Hardy and Scorpio Sky as well as MJF, who has been tweeting about his surgery. More from the Bubbly Bunch as well. Dasha is on the ring announcements. 
The first match is the TNT Title Tournament quarterfinal between Sammy Guevara vs. Darby Allin! Shawn Spears has a sign saying that Sammy owes him $$. They recap the Darby video of him dragging Sammy in effigy. I guess Darby's skateboard is in quarantine. Sammy gets a somersault outside of the ring onto Darby! He shurgs off the Gunn Club and gets in a few cheap shots, reminiscent of their match at Revolution when Darby did the same thing. Sammy pulls out a ladder then throws Darby into the barricade. He puts Darby on the ladder and lays in some shots. Up to the top, and Sammy hits a Snuka-like splash on Darby! They're both out as we go to commercial break.
We're back and Sammy gets him in the ring as the match officially starts. He only gets a two count. Stomps by Sammy and Darby can't even take his jacket off. Sammy's splash affected his arm as well. They get into the corner and Sammy takes some shots to Darby's midsection. Darby elbows him and then takes off Sammy's boot and gives him an ankle lock. Allin gets on the mat and continues to strike at the exposed foot. Another ankle lock countered by Sammy as he boots Darby and hits a springboard cutter! He only gets a two count. Darby is showing some color. Rollup by Darby into another ankle lock. Sammy attempts to reach the ropes but Darby pulls him off and tries to hit Darby. They exchange blows. We go to another commercial break. 
We're back and Sammy avoids a mid-rope suicida and Darby crashes into the back rack! Jericho gets off another shot at Pineapple Pete. Sammy rolls Darby in the ring and goes to the top and hits the 720! However he only gets the two count. Sammy didn't connect as he should have, which had something to do with him not getting the pin there. He tries to throw Darby off the ropes but he holds on. Knee strikes by Sammy. Darby avoids it and his a flip cutter but Sammy gets out at two! Coffin elbow drop attempt by Darby but Sammy picks him up, only for Darby to roll him up in the Last Supper and gets the 3 count! GOOD: A feud match with a lot of heavy action. This must continue. BAD: Too many commercial breaks hurt the flow of the match, but it's nitpicking.
Broken Matt Hardy discusses his proposition to invite Le Champion to the Hardy Compound. He switches to his regular persona to talk about his relationship with the Elite. 
We're back with Taz discussing Kenny Omega's moveset with the "do not do this at home" disclaimer. I've already tried the snapdragon one too many times in the past week, what else can a man do during quarantine? Speaking of which he is getting ready to face Alex Angles, who lost on AEW Dark last week. Omega is currently #4 in the World Championship rankings. Jericho loves the shoutout to Manitoba. They lock up and Angles gets a leg sweep but Kenny moves out of the way. Lock up again and side walk slam by Omega. Angles counters it into a wrist lock. Kenny gets a head lock but goes into the ropes and gets a shoulder block takedown. Leapfrog by Angles and he kicks Omega in the gut. Kenny attacks with some chops and boots. Angles avoids the snapdragon and boots him in the leg. Kenny a back breaker slam for a two count. Shots in the corner by Omega but Angles reverses it and gets in some shots. Omega stops playing around and goes after him but Angles grabs the skirt of the apron and slides it under Omega. He comes back in with a dropkick for two. Omega blocks his shots but he is unable to stop his boots. Enzuguri connects for Angles but it's all for naught as Kenny hits him with the snapdragon! V-Trigger but Angles gets up at two. Kenny picks him up and drops him only to hit another V-Trigger from which there is no getting up. Omega gets the win. GOOD: Angles was pretty impressive in a match where he was a heavy underdog. BAD: Nothing too bad here. 

We get a video package from Scorpio Sky. Once this quarantine is over, he needs to instantly be in line for the TNT Championship picture. 
Dustin discusses his potential retirement on Road to Dynamite's most recent video in a phone conference to his younger brother. 
We're back with Jimmy Havoc taking on the 'Freshly Squeezed' Orange Cassidy. They show a recap of last week in which they collided, setting this up. I wonder if Havoc wears this mask when he's out shopping. This is Orange's Dynamite singles debut. Havoc isn't messing around as he jumps OC when his back is turned. Stomps by Havoc and he chokes OC with it until Aubrey Edwards tells him to remove it. He throws it to Penelope Ford who is stomping on it. OC's chest is exposed and he is chopped by Havoc. Jericho with the classic line of OC being beaten to a pulp. He is gold on the mic! Havoc suplexes OC to the floor and continues to beat his chest so bad he'll be known as Red Cassidy after this. Back in the ring Jimmy stomps on the hand only to twist his fingers Pete Dunne style. Headlock and Jimmy has to break. Chants of 'Orange' from the few faces in the crowd. He goes for Orange in the corner and is booted to the face. Jimmy with a flying elbow for a two count. Lariat into an armlock by Havoc but OC puts his feet on the ropes. He asks OC why his hands are not in his pockets and so he bites them! He places his fingers in his pockets and continues to dominate him. Suddenly, OC puts his fingers in his pockets and gets his second wind. Plancha to the outside by Cassidy! Body press into a DDT for a two count! Jimmy hits a smash to the midsection and takes OC up top, but Cassidy pushes him off. Lazy splash for two. He starts to get off his patented lazy shots but then fires off a spinning elbow and hulks up! Penelope shows up on the apron but is distracted by Chuck Taylor. She does a split and her fiancee comes in to do a suicida on the Best Friends. Ford goes after OC in the ring but misses. The distraction is enough for Cassidy to get a roll up on Jimmy Havoc for the three count! GOOD: Both guys were very impressive and the counters were on point. Jericho's commentary as always calling the spots was great. BAD: Nothing here.
MJF is back! He's discussing his serious injury of his arm due to throwing his cash gambling. Well, who hasn't? He will rise like the phoenix upon his return. 
Lee Johnson on his way to entering squash city courtesy of Wardlow, now referred to as "Mr. Mayhem." At least Lee gets theme music. Shouts of "Wardlow's gonna kill you" as he flattens Lee with a knee smash to his gut. Wardlow picks him up and body presses him only to get dropkicked by Lee. Chokeslam into a goozle by Wardlow. Release suplexes by Wardlow. Shots by Lee but his efforts are for naught as Wardlow picks him up and knees him in the throat. Off come the straps and Wardlow hits the F10 for the academic three count. GOOD: Great power moves by Wardlow and his finisher improves. BAD: It was a squash.
We're back with someone receiving a voice message from Samantha in a dark room. He is drinking and looking at old high school football videos. The individual is typing a message to the Dark Order requesting help. We switch to Brodie Lee who asks how much the gentlemen weighs. Lee claims that people were handed their success, and Evil Uno touts the man's hard work needs to be recognized, so he offers him a minion mask. 
Justin Law (who lost to Shawn Spears on AEW Dark last week) is about to wish he was a minion as he has to face Mr. Brodie Lee. The Exalted One looks into the eyes of his opponent before he attacks with knife edge chops. He then gets a big boot into a suplex. More chops before he runs into the corner. Black Hole Slam into the discus lariat gets the three count. GOOD: Nothing here. BAD: It was a squash. 
Afterwards the Exalted One heads for Marko Stunt, who turns pale white at his presence. 
Back in the weight room the Best Friends discuss the events of earlier this evening. They will take on Havoc and Kip in tag team action next week. We will also have The Exalted One vs. Marko Stunt, and we may have a live murder on television next week. 
Time for the Bubbly Bunch, with Sammy discussing on the disappointment of Jake Hager losing last week's match. Ortiz tells him to cheer up and is backed up by Hager and Le Champion says they need to dance. They do a flim flam video but Sammy ain't feeling it. A container of hand sanitizer to the person who does the best flim flam. Inner Circle > Horsemen. Change my mind.
We see a beautiful Dustin Rhodes interview package discussing his legacy in AEW. Kip Sabian is with Penelope Ford talking about taking advantage of this opportunity before their match. The engaged couple kiss as they enter the ring. Dustin is accompanied by his sister-in-law Brandi. Kip refuses to shake his hand and they lock up. Dustin gets the wristlock. Knee smash to Kip's left arm. Side headlock by Kip and a whip into the ropes. Leapfrog by Kip but Dustin takes him down. Arm drag by Dustin into an arm bar. In the corner Dustin gets series of chops. Penelope holds Dustin's foot and allows her man to get a kick into a forward roll. Kicks by Penelope into a two count. Front chancery by Kip as we go to break. 
We're back as Dustin gets off some chops but misses an elbow smash in the corner. Kip stomps on him for a two count. Front leg lock by Kip while Shida joins from the barricade cheering on Dustin. Kip continues to stomp on Rhodes but breaks to get a quick rest. Shots to the back by Kip and he whips Dustin into the ropes for a dropkick. He only gets a two count. Dustin with a surprise roll up for two. Shots to the leg in the corner by Kip, but Dustin fights off with punches but a scoop slam is countered into a roll up by Kip for two! Arm bar by Kip but Dustin chips away with punches. He rolls up Kip for two but a discus punch by Kip gets a two count. Headlock by Kip but Dustin punches his way out of it. Snapmare by Kip into a kick. Fit Finlay reference by Le Champion! However, Dustin gets an Austin level slam. Running Lariat by Dustin. Kip gets an upper cut for his troubles. Scoop slam for two by Dustin. Charge by Rhodes is missed and Kip gets a springboard DDT for two! Frustration starting to settle in as the young Sabian talks to him and punches him in the face. Aubrey Edwards removes him and they havve a talk. The ladies get into it in the ring and Brandi hits a wicked spear. Meanwhile, Dustin gets a Code Red (Canadian Destroyer) for the win. GOOD: In defeat, Kip showed a lot of potential and psychology fighting a ground and pound type of match. Working with Dustin showed his potential to be a star in AEW. BAD: The interference from the ladies was totally unnecessary and hurt the end of the match.