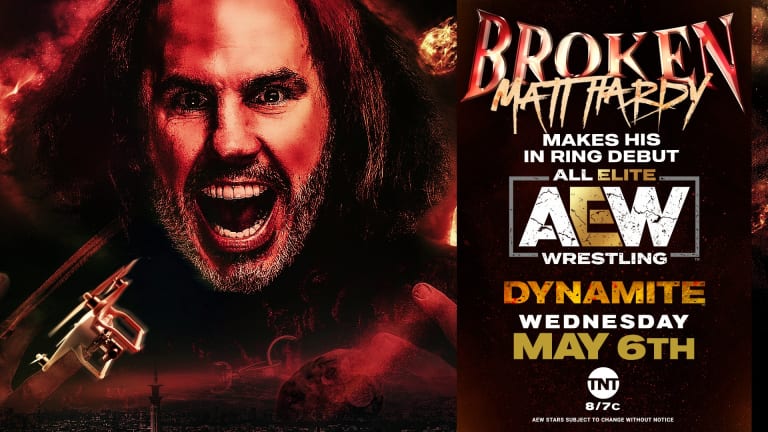 AEW Dynamite Live Coverage and Results 5/6/20
AEW Dynamite Live Coverage and Results for 5/6/20
AEW Dynamite Live Coverage and Results for 5/6/20
We start off with the recap of last week's semifinals of the TNT Championship tournament. The pyro is back and so is Good Ol' JR as we are LIVE back in Jacksonville at Daily's place. The faces and heels are still in attendance as Excalibur and Tony (who clearly misses Le Champion in the booth) is there as well. Later on, AEW World Champion Jon Moxley and so is Nyla Rose.
The first match is Joey Janela taking on Cody. They lock up and Cody separates to get a series of shoulder blocks, but Janela reverses with a whip. Cody and Janela exchange roll-ups for two counts. As Janela chops Cody the EVP invites him to do so, getting angrier with each chop. Cody turns around and slaps Janela in the back. Elbow to the head by Cody as he drops Janela and gets a one count. Janela with a spinning heel kick and scratches in the back. Interesting note by JR to state how AEW tested each wrestler and staff member in Jacksonville prior to entering the arena. Whips into the corner by Janela followed by an elbow. He throws Cody into the ropes throat-first as Shida looks on. Roll up gets one. Janela stomps Cody in the head followed by a snap mare. Cody reverses with a body scissors. Janela fights out and whips Cody to the outside. Shawn Spears blasting the air horn. They take the fight to the entrance steps and Janela using the elbow smashes. On the way back into the ring Cody slaps his back again. Janela begins to run towards Cody but he is dropped, and Cody gets off a Disaster Kick. Moonsault off the stage by Cody! Back in the ring, punches by Cody. Janela with another forearm smash and he goes up top with an elbow smash for two! Janela goes up top for a moonsault of his own but Cody joins him up there. Reverse suplex only gets two. Cody takes off the belt and throws it into the crowd. Cross roads is blocked but Cody gets off a powerslam. Disaster kick countered into a German Suplex by Janela. Running lariat by Janela and he goes up top for another moonsault. Cody cutter gets a two count. Punches are exchanged as the crowd is into it. Janela turns his back, and Cody hits the Cross Roads for the 3 count! Shida holds up the only belt Cody's ever going to have in AEW. ANALYSIS: It was Janela's best match as it was a physical bout with a great series of reversals. 
Nyla Rose is back in action as AEW re-caps her rise to the Women's championship. They also discuss some of the contenders. As Rose comes to the ring her opponent is waiting for them and Tony interviews her prior to the match. She blows him off as Shida and Kris Statlander look on in disgust. Baker rolls her eyes. Rose's opponent is Kenzie Page, making her AEW debut. Rose throws her to the ground and lays her feet on her face in the corner. Rose misses the charge and Page tries a sunset flip but is picked up by the Native Beast. MJF seems to enjoy it but tells the camera man to practice social distancing. Rose goes up top and hits a Swanton bomb for the two count as she picks up Page. Beast bombs finishes it off. ANALYSIS: It was a squash but quickly establishes the focus of the women's division. 
MJF is back with a video of his own. He says that no one wants to admit his greatness because of their hate for him. He has more it in his pinkie at 24 years old. He's not the Rock, not Piper or not Flair but is something that no one's ever seen before. His spot at the throne will be right where it was when he was gone. He will be back next week. 
We're back with a promo from Shawn Spears discussing how Dustin Rhodes is finished after losing to Lance Archer last week due to Cody's actions. Didn't make sense.
Tony is interviewing MJF w/Wardlow exchanging money with Spears. He tells Spears how proud he is of him and the feeling is mutual. Tony tells MJF he's signed to take on Jungle Boy at Double or Nothing. 
Kazarian in his first AEW singles match as he takes on the World Champion Jon Moxley. Kaz is sporting new hairdo since the shutdown. Mox comes out to cheers and sporting his new Paradigm Shift t-shirt. He gets in Kaz' face as the bell rings. They lock up and go into the ropes. Rope break as Kaz pushes him off. Lock up and Kaz gets a drop toehold into a sidelock. Whip into the ropes and hits a shoulder block into another sidelock. Mox reverses it into a one count as Kaz maintains the hold. The commentators continue to discuss how SCU could break up based on Scorpio Sky's recent video. Top wristlock by the champ and he brings down Kaz. Stomps by Mox. He chops Kaz and they exchange punches until Mox takes him into the corner for a chop and a one count into mat-style rear wristlock. Kaz reverses it into a side headlock. They go into the corner and Kaz chops Mox but it has no effect but he gets off another side headlock. Backbreaker by Mox into a one count. Mox gets a chinlock into a series of rear punches. Charges into the corner by Mox. He gets a one count as Kaz gets back up. Irish whip by Kaz and another side headlock as Mox dumps him on the outside as we go to picture-in-picture. Mox and Kaz exchange punches on the outside. They roll back into the ring and Mox gets a half-nelson. Kaz grabs the ropes and Mox gets a running knee that knocks Kaz to the outside. The champ goes up top but eats a boot by Kaz. Inside the ring, springboard dropkick by Kaz. DDT and he only gets a two count. Waistlock reversed into a German suplex by Mox. Kaz reverses a leapfrog into a backstabber into a two count. He whips Mox into the corner but he hits a double dropkick. Paradigm shift blocked by Kaz and he gets a armlock submission but Mox kicks him off. They go to the ropes and as Mox goes for a gut punch Kaz gets a leg whip and slaps the champ. Suplex attempt is blocked as Mox reverses it, but a snapmare by Kaz. Punches by Kaz but Mox gets an elbow smash. Kaz charges but runs into a lariat. Pin attempt by Mox is reversed by Kaz as he gets a roll up for two. Kaz goes up top but Mox joins him and Kaz fights him off. Roll up by Kaz but Mox fights him off, throws him into the ropes and hits the Paradigm Shift for the three count! ANALYSIS: Great match, very mat based and Kaz looked like a singles star in the making. 
After the match the Dark Order minions jump Moxley but SCU comes in to fight them off to no avail. Interesting to see where this goes. Brodie Lee gets on the mic and says that he is here to collect the bounty he put on his head last week. He wants the AEW World Championship, and Moxley says all he had to do is ask. Lee steals the championship. 
We're back and Brandi Rhodes has an interview regarding her husband's match with Archer. She tells Jake Roberts to keep her name out of his mouth. 
Brandi accompanies QT Marshall to the ring as he gets ready to face Archer. Jake the snake comes out with a mask as Archer hits Jason Cade at ringside. Punches by QT means nothing as Archer throws him in the corner and stomps on him. Elbows into the corner. Archer throws QB outside of the ring and pursues Brandi as we go to break.
Back from break and Archer has QT on the ground. Splash by Archer gets a two count. QT goes outside and eats a boot, not to mention a shoe from Britt Baker for his troubles. Brandi throws her shoe into the 10th row. QT hits a nice springboard moonsault into a heel kick. Running shoulder block by Archer and hits the blackout. Picks up QT at two and pounds the EBD Claw for the victory. ANALYSIS: QT got off way too much offense in this one. 
After the match Britt jumps Brandi and throws her into the ring and Jake brings out DAMIEN!!! He throws it onto Brandi and threatens anyone else who gets in the ring to attack.
Next week we will have The Exalted One facing Christopher Daniels and Jurassic Express taking on the Best Friends. Update: at Double or Nothing there will be a Casino Ladder Match for an AEW World Title Shot. There will be a women's four-way match next week between Shida, Penelope Ford, Britt Baker and Kris Statlander.
Judas is playing once again as Le Champion and Sammy Guevara team up as the heels sing to his song. Pineapple Pete gets a hit on Jericho as we go to break. 
Back from the break and Omega and Broken Matt Hardy. He bits Sammy's hand as they go right into the match! Jericho throws Omega into the steel steps. Hardy gets a buckle bomb on Guevara for a two count. Jericho and Hardy go outside as Omega hits a steamroller but his moonsault is blocked. Jericho throws Hardy to the ground and joins his Inner Circle compadre to attack Omega. Kenny tries to fight them off but to no help until Hardy comes back in to help. He catches Guevara in a side effect for two. Jericho throws Omega to the outside while Hardy takes on Sammy with punches. Suddenly, Jericho returns with a bat and lays some spring training shots into him. Guevara tries for a bodypress but is blocked by Omega. Hardy hits a twist of fate and Guevara hits a V-Trigger. Hardy brings in a ladder while Omega gets the tables. They lay Guevara on the table and Hardy gets on the ladder to splash Guevara through the lumber. The two count is interrupted as Hager pulls the ref out of the ring. He looks back at Pineapple Pete as Jericho returns to attack Omega. They go to picture in picture as the heels take the faces to the back of Daily's Place and they lay out Hardy at the fence as we return from break. Jericho hits Hardy with a 20 pound bag of ice. Omega comes back in with a metal trash can and drops both Hager and Jericho. He throws Guevara into the steel door and avoids the jump by Hager. Jericho gets back up and throws Omega into the wall. Jericho uses the cones to hit Omega. Hardy gets back up and is now wearing new gear. He's driving the cart and hits Jericho with it. They now run over Guevara as well. At this point my WNW compatriot Thomas Fenton has lost his mind Matt Hardy has had three outfits in 1 match. Santana and Ortiz jump Hardy and powerbomb him on a table. They take Omega and do the same thing but on a table bed of a semi truck. Jericho covers him for the academic three count. ANALYSIS: WTF was this? I get it was a street fight but the ending of it was ridiculous.