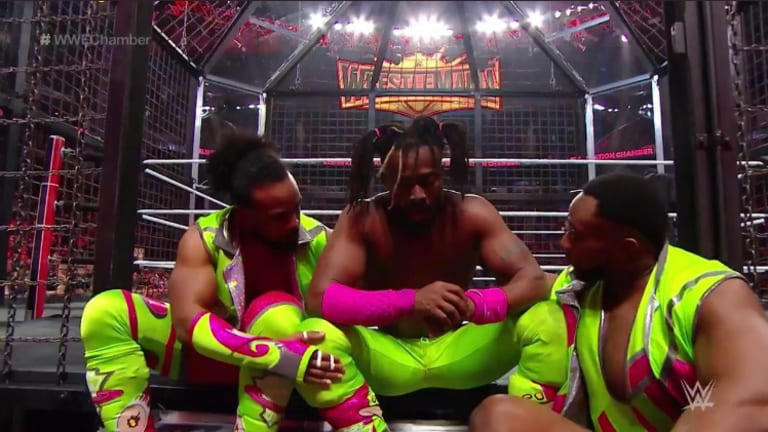 Ask WNW-Elimination Chamber Thoughts, Kofi Getting A Push, Kevin Owens' Return, WWE Bringing Back Classic Championship Looks
What was your thoughts of last night's Elimination Chamber Pay-Per-View? 
I have to admit, going into the show I had low expectations due to Elimination Chamber PPVs in the past don't have the best of track records. Not only that, but it's in the middle of the Road to WrestleMania. With that being said, I have to say it was one of the best shows I have seen in recent time that WWE has put together. The Women's Elimination Chamber Match for the Women's Tag Team Championship was put together well, with a great duo in Sasha and Bayley to the first team to be crowned. All the women put the effort and a feel good moment throughout the match. I'm not surprised the Usos won, but I wish we could have seen more from Miz and Shane as Tag Champs, good match nonetheless. Balor winning any gold is good, and still makes Lashley look strong in defeat since not being pinned. Corbin and Braun served their purpose in storyline services. I expected nothing more than what we saw of Riott and Rousey, but enjoyed every bit of the post match angle between Flair, Rousey and Becky. All men showcased their star power in the WWE Championship Match and all came out bigger stars in the process. Overall, just a good show that's worth going out of your way to see. 
After coming close to winning the WWE Championship at Elimination Chamber, are we in line to see Kofi Kingston getting the push he deserves?  
Kofi Kingston, hands down was the highlight of the show for me. He proved, once again, that he deserves nothing more in the world than to be a WWE Champion. I cannot remember the last time I felt like a child, at the edge of my seat, waiting for him to survive that Chamber Match, and walk out as champion. Reports went out stating that Mustafa Ali was to get that spot that Kofi was in, surviving 70+ in the gauntlet match last week on Smackdown. Whether there's truth to that or not, Kofi proved that he is main event worthy and the crowd was behind him the entire time during that match. He doesn't have to break away from New Day to achieve this. He can do both while being champion. I would love to see a Daniel Bryan vs Kofi Kingston Match at WrestleMania. The story is there. If not at Mania, shortly after would be a great time to give Kofi the championship that he deserves. 
After these vignettes of Kevin Owens and his eventual return, what's to come? 
Let's take a look back all the way to October of this past year. We saw Kevin Owens face off against Bobby Lashley. In that match, we saw Lashley turn heel, and take KO out, essentially writing him off television so he could take time off for his double knee surgeries. During that attack, it was played out that no one was there to come to the aid of Owens. Now, let's fast forward to last night at Elimination Chamber, Braun Strowman was taken out by Corbin, McIntyre and Lashley, playing into the story that no one was there to aid Strowman. I'm assuming this plays into Owens coming back to help Strowman, and we see Owens and Lashley work a program at Fastlane or WrestleMania.
Will WWE bring back the classic looks to their championships? 
I'll be the first to say, I am in no way a fan of what the WWE has done to the looks of their championships. Take a look at the Raw and Smackdown Tag Team Championships. They look like coins and more like toys then they do their classic championships. Even the newly crowned Raw Tag Team Champions, The Revival, took to social media to make a point of bringing back the older style championships. It makes them that much more prestigious in my opinion. All of NXT's Championships look good and the new Women's Tag Team Championships look good. The Intercontinental Championship had the vintage look come back and that has been the same for the past several years, brought back by Cody Rhodes. The WWE Championship was altered due to Daniel Bryan's new gimmick, but that will be changed back once his run as champion is over. The Universal Champion is just terrifying as the red is not the best look. Who knows how much longer we see what's on television, as WWE has been producing better looking championships in recent memory, but an update needs to occur for the ones that have been around for some time now.