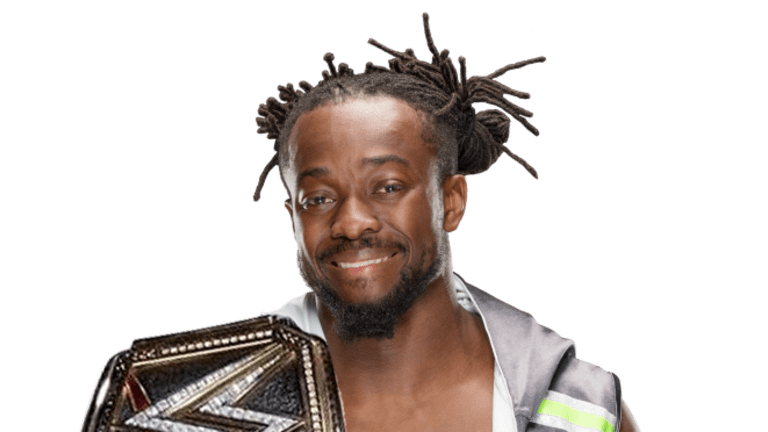 Ask WNW: If Kofi Wins At WrestleMania Will it Be Short Term? Why Don't WWE Women Pose for Playboy Anymore? Who is in For a Rocket Pack Push After Mania? Who Should Cena's Retirement Match Be Against?
I have a question. Let's assume that Kofi goes on to WrestleMania and wins the WWE title. Do you think there's a chance he gets the "Christian" where he wins the title only to drop it a few days later? I just think while it's great he's getting this opportunity, there's a part of me that thinks that since Kofi wasn't in the plans for Mania, they'll let him have his moment and then have him lose so WWE can go on with their original plan. Vince being a part of this storyline gives me hope that this isn't the case but wanted to get your thoughts on this.
This is a very good question and one that I've thought about myself. I remember saying to myself before Elimination Chamber, "Even if he wins it here and drops it back at WrestleMania, I'll be happy he got to at very least be champion for a few weeks and get a WrestleMania Main Event match." However, based on the way they are booking Kofi lately I have to believe this is going to be more than just a short-term push with a quick fizzle out. If they wanted to make this "short and sweet" I think they would've had Kofi win the WWE Championship at Fastlane and then drop it at WrestleMania. It seems they're going to really try to ride the wave of Kofi's popularity right now and honestly, it's the smart decision. If I were booking things I'd have Kofi win, then do a short feud with Bryan after WrestleMania. After that, have New Day try to defend the title under Freebird rules, only to then be told they can't. This would lead to a New Day split with Big E turning heel on a massively over Kofi Kingston, creating a monster heel in Big E.
Why aren't more of the Divas in Playboy?
This reader asked this question every day for more than a week, so I want to answer it for him lol The reason the women in WWE no longer pose in Playboy is fairly simple. With WWE switching to a TV PG rating they didn't want to cross promote with a "mature audience" product like Playboy. I honestly don't even know if WWE would allow a woman in WWE right now to pose even if they wanted to. WWE has a pretty firm grip on what performers can and can't do to promote themselves outside of the company. However, I don't know for sure, but I'm pretty sure Playboy was paying more for women in WWE to pose so WWE would cross-promote. WWE certainly wouldn't be doing that now.
Who has the best chance to come out of WrestleMania with the "rocket" strapped to their backs?
There are two ways I could see answering this question, so I'll do both. First, I see this as, "Whose career will be rocketed forward due to their match at WrestleMania?" I have to go with Kofi Kingston on this one. While his match isn't official yet, it seems insane that he wouldn't be in the WWE Championship match at WrestleMania. I'd like to hope WWE would do the smart thing and have Kofi win the WWE Championship and ride the wave of popularity and support Kofi currently has. I feel that leaving WrestleMania itself, Kofi is the superstar with the highest chance of getting a rocket push.
The other way I could see this question being asked is, "Starting the day after WrestleMania, which superstar is most likely to get a rocket push?" This question is more guess work especially when you remember that the week after WrestleMania they are doing a Brand Shakeup, but I have a few names that come to mind. The first person that immediately comes to mind is Drew McIntyre. He's already landed himself a big match against Roman Reigns at WrestleMania. I expect the push will just keep going from there, especially with the title hopefully off of Brock Lesnar and appearing weekly again. Some other wrestlers that I could see getting a big push starting after WrestleMania; Ricochet, The Miz getting a big babyface push, Aleister Black, if WWE sticks with Baron Corbin there is a chance he'll get a big heel push, I'd love it if Bray Wyatt returned to a big push, Lacey Evans could be in store for a big push in the Women's division. Those are just off the top of my head, but sometimes these things come out of nowhere.
Who should be Cena retirement match opponent when it happens?
John Cena has had such a phenomenal career that spans several eras of wrestling that this is a really difficult question. The FIRST person that comes to mind for me was Edge, because I think their rivalry was probably my favorite of Cena's career. However, Edge isn't an option due to his health issues. Randy Orton is the next person who comes to mind, he had some epic battles with Cena. Other names that float to mind who are younger; Bray Wyatt, Rusev, Kevin Owens, and Seth Rollins. I could also see someone who he hasn't yet worked with getting the rub. Someone like Adam Cole, Aleister Black, Johnny Gargano, Drew McIntyre, if he's fully healed I think Tommaso Ciampa could do fantastic things with being the one who retired Cena. Regardless of who it is, the person who wrestle's John Cena in his last match, it's an incredible honor and that wrestler will hopefully have an enormous torch passed to them.