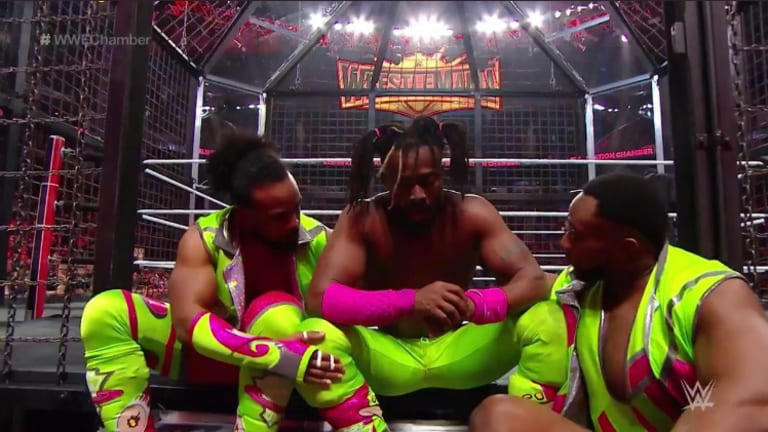 Ask WNW: Finn Balor Teaming With Ricochet? Kofi Storyline Leading to Split? WWE PG or TV14? Is Pyro a Thing of the Past in WWE?
Could we see Finn Balor & Ricochet as Raw Tag Team Champions?
There is always a chance Finn and Ricochet could team up to win the Raw Tag Team Championships. However, as of this writing, they're both doing separate things. Finn is focused on Bobby Lashley and Lio Rush as Intercontinental Champion and Ricochet seems to be focused on a singles run on the main roster after his NXT call-up. While they did team up recently, and made one hell of a team, there aren't any immediate plans for them to form a long-term tag team.
Do you see with what is happening with Kofi leading a heel turn or New Day split?
I could absolutely see the current storyline with Kofi Kingston leading to a heel turn or New Day split or both! Personally, if they're going to go this direction I would prefer it if Kofi were to win the WWE Championship BEFORE that happens. You never know, though. I actually like the idea of Kofi winning and New Day defending the WWE Championship under freebird rules for a bit before being told they weren't allowed to do that. Then leading to a split where each of them claims they are the real WWE Champion because they successfully defended the title at one point or another. New Day is an extremely talented, money making group so if WWE pulls the trigger on a split they better have a damn good storyline in place.
Is WWE now a PG show or a TV14 show?
WWE is still a PG show, but they're starting to move away from being over the top PG. They're starting to push their boundaries again and I think that's for the best. It's possible to be a "PG" product and still be entertaining. To be honest, I think most would prefer them as a TV 14 show but understand that the reason they don't switch back is generally because of advertising revenue. They're able to get and keep more advertisers if they're a PG product.
Are the days of pyrotechnics gone? Or they just going to have them at big events like WrestleMania and Crown Jewel?
Sadly, yes, the days of pyrotechnics being used on a weekly basis are gone. WWE has decided it's not worth the risks or the money to use pyrotechnics several times throughout the show on a weekly basis. That's not to say we'll never see them on Raw or Smackdown again, but it will be few and far between. We'll still see them at events like the ones you mentioned, WrestleMania and Crown Jewel. Especially, because Saudi spends a great deal of money to bring WWE over to them, so WWE goes all out. Personally, I miss the pyrotechnics but I completely understand the burden it must be to set all those pyrotechnics up before and during the show, as well as the risks, and financial burden it must cost.