Backstage Hogan & nWo Photos From Raw, Identity Of Bryan's PT, What You Didn't See On Raw
- Below are backstage photos of Hulk Hogan, Scott Hall and Kevin Nash with various members of the WWE roster backstage at this week's episode of Monday Night Raw in Portland, Oregon: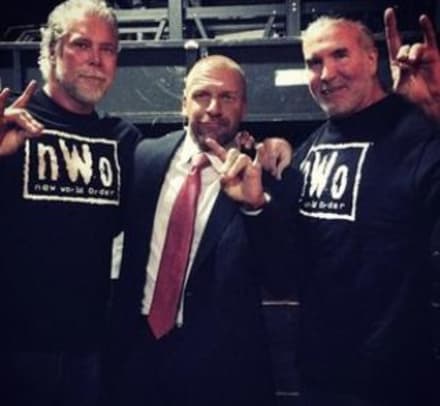 Here is this week's Raw GIF of the night.
- The role of Megan Miller, Daniel Bryan's "physical therapist," on this week's episode of Monday Night Raw was played by Chelsea Green. She is a former student of Lance Storm and his Storm Wrestling Academy.
- After this week's episode of Raw went off the air, Hulk Hogan's birthday bash continued and last an additional 10 minutes after Raw Backstage Pass went off the air on WWE Network. Vince McMahon came out at the end and raised Hogan's hand in front of the live audience.
- Let's be friends! Add me to Facebook for more wrestling news and analysis!