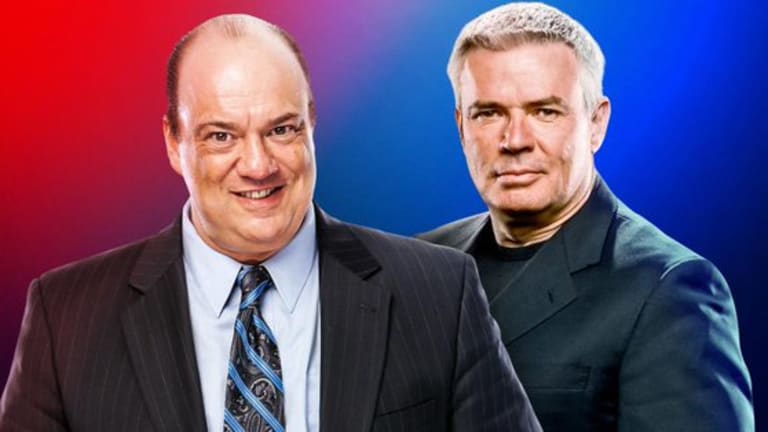 Backstage News on Heyman and Bischoff's New Roles, Plans Heading into Summerslam and Fall, AEW's TV Debut Date
The following article is part of our premium news section. If you're interested in this news and you're not a premium subscriber, why not give it a try? We put out breaking premium news and backstage news on a frequent basis that we can 100% confirm. If you ARE a premium member, welcome back! Thanks for helping us do what we do!
Thomas Fenton Reports:
-We have some important television dates, the launch of AEW on TNT will be Wednesday, October 2nd. It has been heavily speculated the show will be called Wednesday Night Dynamite, and legal documents have been filed for the name. WWE Smackdown will make its move to FOX two days later on Friday October 4th, this was a date that went back and forth based on schedules. 
-Smackdown will have a completely revamped looked moving into the fall and a different roster. While Vince does not like the idea of a draft or the term "draft", a more organized shake up or whatever it will be called is likely happening just after Summerslam. Believe it or not, WWE had some Summerslam plans already set and are going to let Paul Heyman and Erich Bischoff get acclimated to their respected teams and the talent that will be working on their shows. For those that were asking at this time I do not have a ton of answers as to why Triple H is not running all of the shows and slowly moving forward into the eventual role, other than maybe Vince McMahon will oversee operations and not be as hands-on as he always was, or rely on other people, time will tell. 
-I'm told Heyman had a major say of the show produced and the future moving forward of him running RAW. Obviously, Heyman is very liked backstage by much of the talent and younger writers. Heyman has been contributing to some of WWE's bigger storylines and talent over the last few years and is very trusted with what new fans are looking for. Let's not forget Heyman would not be taking this position if everything he came up with was simply tossed aside by Vince, that simply won't be the case. Many thought the opposite with the Eric hired as he doesn't follow wrestling trends and many feel if he is not working with a younger writing team it may be a challenge. One of the important things to note is we do not know these defined roles.  The assumption can be made Eric will likely be working closely with Bruce Prichard, however, that's yet to be determined. For those wondering the mentality behind the positions and the hires, one of the thoughts from a worker I spoke with was that Vince brought on the 2 guys he went to war with and that have decades of wrestling knowledge. He knows that if he has to go to war he wants them on his side and not against him. I'm also told these are not the only 2 major wrestling powers WWE tried to sign. It will be interesting how everything unfolds on television and backstage with both programs.
-Was the decision to put Heyman and Bischoff in charge made after the ticket demand from AEW? Was the decision made based on recent attendance? (14k for 3 shows in The Pacific North and only 9k paid is scary) Recent ratings? (hitting at or below 2 million viewers) I'm not sure if it was one exact thing or a combination of multiple results. The Eric hire came to a shock to many and was a deal that had to all of occurred in the last few weeks, while the Heyman hire was something speculated for a long time. 
Thomas's Take: I think it is important to look at the experience and knowledge that is being brought on. The real question is can Eric catch up with wrestling in 2019 or is he going to be too behind the times? Heyman didn't take a head job like this if he didn't think he could run it in his vision. The biggest question to me is how do the pillars fall and the full leadership structure. 
I expect completely different shows in the fall with completely different rosters of talent and a completely different look. I could also see 205 Live going away moving into the fall and the roster being moved to various shows.