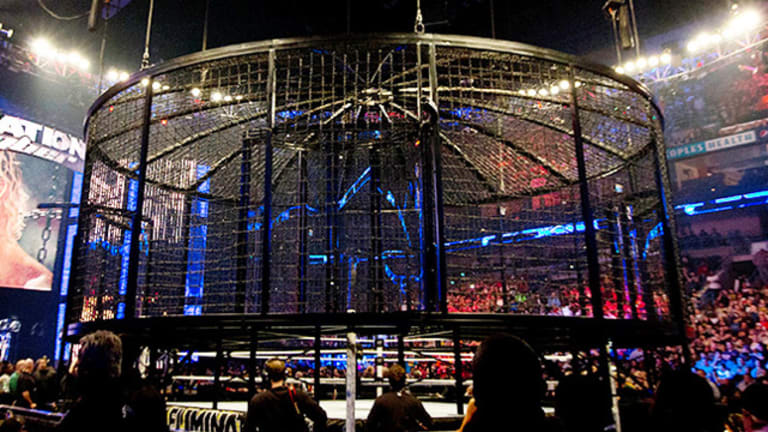 Elimination Chamber 2020 Live Coverage & Results
The Elimination Chamber PPV is tonight and it is the final show before the grand-daddy of them all WrestleMania. The show tonight features four title matches, one number one contender matches and a couple of grudge matches that could help shape WrestleMania. If you would like our staff's predictions on the show tonight you can click here. 
The Title Matches:
The Intercontinental Championship, United States Championship and both Tag Team Championships are on the line tonight. That's right no Universal, WWE or either Women's Title will be defended on this show. The I.C. Championship will be defended in a handicap match between the champion and his rivals Sami Zayn, Cesaro and former champion Shinsuke Nakamura. This feud has been going on since the end of last year where Strowman was teaming with New Day wrestling the faction. In fact, this will be Sami Zayn's first match back in the ring since December 27th of 2019.  
The United States Championship will be defended for the first time since Andrade got suspended for violation of the wellness policy. Much like the mid-card title on Smackdown, this is another long term feud that may be seeing a final payoff before WrestleMania. This feud also began in December of last year when Andrade "injured" Humberto during a Gauntlet match to determine the U.S. Championship number one contender. This would lead to Humberto doing the same to Andrade and the two wrestling numerous times over the months. Will this match put an end to this feud or is it another match to add fire to this feud. 
The Monday Night Messiah and Murphy defeated the Viking Raiders who were on quite the 98-day title reign. The faction members would hold the title for less than three weeks before dropping the titles to the very popular Street Profits this past week on Raw. WWE has done a fantastic job weaving storylines throughout Raw each week and this was no different. In front of a hot Brooklyn crowd, the Profits got the win over the despised Messiah and his teammate with the help of Kevin Owens who made the crowd go crazy. It's not likely that Rollins and Murphy regain their titles here however I do wonder how we will further the feud with Owens and Rollins tonight. 
The Smackdown Tag Team Championships will be defended inside the Elimination Chamber. This is the first match that is showing intertwining stories through the Smackdown brand. You have Otis (Heavy Machinery) who is feuding with Ziggler (and Roode) over the love of Mandy Rose. Otis had his heart broken weeks ago and Ziggler was there to step on the pieces on his way to a date with Otis's love interest. Both teams would battle in the Gauntlet match last week that would eventually see Roode and Ziggler win to have the advantage of entering the match last. 
Let's also move to The New Day, Usos and Miz/Morrison, since Morrison's return these three teams have been battling at the top of the division for the gold. With Miz and Morrison as champions going into the match, it's unsure which team walks away with the gold as this tag division is featuring five teams on the brand heading towards WrestleMania. 
Trying to figure out where Daniel Bryan fits into the WrestleMania puzzle at this time is one of the most intriguing things to do. He went from potential Universal Champion months ago to now wrestling Drew Gulak in a match that could certainly be the Match of the Night. For almost a month Gulak has sent pupils to take down Bryan and Bryan has overcome every obstacle to this point. Now Bryan has challenged Gulak to a match tonight at the Elimination Chamber. This seems like the perfect spot to have Gulak get a major victory while incorporating Bryan's WrestleMania feud. Is it possible that Gulak has one more pupil that we don't know about yet and who will be Bryan's biggest challenge yet?
A.J. Styles has accomplished everything in the WWE that he could ever expect to and that includes handing Aleister Black his first loss on Monday Night Raw. This past week on Raw Black had to go through Anderson and Gallows before facing Styles who then defeated the up and coming star. To finish the match Styles pinned Black using the Undertakers signature pin and clearly taking a shot at the man who won the Tuwaiq Trophy in Saudi Arabia. 
With a no disqualification stipulation placed on this match, you have to wonder if the Undertaker will make his presence felt. The only question is will Aleister Black and The Club be involved in this feud with The Undertaker and A.J. Styles going into WrestleMania?
Finally, the likely main event of this show will be the Women's Elimination Chamber match. The winner of this match will take on Becky Lynch at WrestleMania for the Raw Women's Championship, a championship held by The Man for 336 days. All six women have a purpose in this match and reasoning, Asuka, for instance, has been the greatest foe of the champion since the Royal Rumble in 2019. 
The former Riott Squad members are all feuding as well, this past week Sarah Logan was a special referee for Ruby Riott vs. LIV Morgan that saw Morgan get the win after a fast count. After the match, Logan would be the only one left standing after attacking both Riott and Morgan. This certainly won't be the end of their feud and the women could find themselves as the feature to the Women's WrestleMania Battle Royal or in a triple threat match on the pre-show.
While many see Nattie as just a veteran to help this match be the best version of itself, she has been feuding with Asuka and Kairi Sane for the Women's Tag Titles. It's also worth noting that Beth Phoenix was just on Raw to help further the Edge and Orton feud and that her on-screen best friend Ronda Rousey was just seen at WWE Headquarters. I wonder if this match will help guide Nattie's path to the Women's Tag Titles with either her former partner coming to her aide or her former friend making a spectacular return.
The odds on favorite for this match and the opponent that champion wants to face at WrestleMania is Shayna Baszler. The Submission Magician and former dominant NXT champion has burst onto the scene after biting Becky Lynch in her on-screen debut. This could be the first of many main event victories for Baszler and will set up a true dream match of sorts for WrestleMania.
Check back in on this article once the show starts as we will be bringing you live coverage of the Elimination Chamber. The show begins at 7 pm on the WWE Network and is taking place in the Wells Fargo Arena in Philadelphia so it's likely the crowd will be on fire. 
Hello everybody Eva here ready to begin live coverage. Right before the show Stephanie McMahon announces that on International Women's Day the Women's Elimination Chamber will main event tonight. 
 The first match tonight is Daniel Bryan vs Drew Gulak. This Philly crowd really loves Daniel Bryan. Gulak starts off strong but Daniel Bryan counters. Both men are on the ground and are kicking at each other. The official forces them to break. Daniel Bryan picks at the ankle of Gulak. Bryan really starts to punish him but adjusts to try to submit to Bryan. Gulak begins to slap away and then Bryan chops Gulak in the corner. Gulak disorients Bryan but only gets a two count. Thunderous chop by Gulak to Bryan in the corner. Gulak and Bryan both go over the top rope and a nasty fall to both. Both men get back to the ring and once again Gulak only gets a two count. Bryan counters but only gets a two count. Dragon Suplex by Bryan but only gets a two count. German Suplex by Gulak but only gets a two count. After another suplex, Daniel Bryan lands badly on his neck and rolls out of the ring. Both men down in the middle of the ring after he connects with Gulak. Crowd chants yes as Bryan kicks Gulak in the corner. Gulak goes for the Dragon sleeper but Bryan doesn't submit. Bryan counters and tries to lock in the Yes Lock. He locks it in and Bryan wins after Gulak passes out. Daniel Bryan celebrates with a Yes chant with the crowd. Kayla Braxton interviews Bobby Roode and Dolph Ziggler. Ziggler says he will dedicate tonight's win to his girlfriend Mandy Rose. 
The next match tonight is for the US Championships between Andrade and Humberto Carillo. Right elbow right out of the gates by Andrade but only gets a two count. Big back body drop and Andrade stomps at Carillo. Carillo gets Andrade out of the ring and chops at him. Carillo does high flying moves and sends Andrade out of the ring. Andrade uses the top rope to neutralize Carillo. Andrade continues to work over Carillo in the middle of the ring. Carillo counter but another back elbow by Andrade. Andrade tosses Carillo outside of the ring. Andrade goes to remove the protective mat alongside the floor. Carillo shuts down but is driven spine first into the post. Andrade sends Carillo into the barricade. Carillo gets back into the ring but once again Andrade works the left arm of Carillo. Carillo forearms Andrade but Andrade quickly counters and is thrown out of the ring by Carillo. The tilt of World and Andrade drives him into the corner. Andrade goes for the back elbow but Carillo counters and Andrade stays in the top turnbuckle. Both men fight and we see them both at the top turnbuckle. Super Hurricanerana from the top rope and Andrade kicks out at two. Carillo goes for a moonsault but Andrade rolls away, Andrade gets the double knees but Carillo kicks out at two. Zelina Vega takes away the protective padding but Carillo evades the DDT that Andrade was setting up. Carillo crossbody, Andrade counters but only gets a two count. Both men continue to go for near falls and Andrade wins with a roll-up. We see Charly Caruso interview AJ Styles. AJ says this match is no disqualification and he says that Aleister Black has no friends. He will have the OC ringside for tonight's match and no it will not be a fair match when anyone is in the ring with him.
Next is the first Elimination Chamber match which is for the Smackdown's Tag Tema Title Match. First out are the champions, Miz and Morrison, then we see Robert Roode and Dolph Ziggler, Lucha House Party, Heavy Machinery. Starting off in the ring will be New Day and The Usos.  The New Days have color by number gear and the guide is on their booties.  The Usos and New Day know each other so well and start off very hard-hitting. Thunderous chops by both Usos to Kofi Kingston. Both teams are in a standoff when Lucha House Party comes out. The pace quickens and Lucha House Party takes down both teams. We see multiple spots from the top rope from Lucha to the Usos but Usos kick out. Big E sends both Lucha members into the cage. Kofi is launched by Big E into Lucha House Party. Big E drives himself into the rope after Dorado side steps. Dorado climbs to the top and walks into the top of a pod. Usos try to get him down but are thrown off. Both members of the Lucha Party are at the top of the pod and stomp Kofi Kingston off.  Lince launches himself into the Usos. Grand Metallic into the New Day. Out next is Miz and Morrison.  Running knee and Running boot into Dorado but Metallik saves his team. Both Miz and Morrison attack Mettalik and then go for the Usos but that is broken up. Thunderous chop by Jay Uso and is quickly attacked but kicks out at two. Morrison throws Dorado into the ring and plants him but Metallik breaks things up. Metalik goes to the top of the pod and Hurricanerana to Morrison from the top of the pod and covers but Miz breaks things up. Kofi Kingston attacks both Miz and Morrison and boot drops Miz. Morrison and Miz counter and Big E saves his team. Overhead belly to belly from Big E to Morrison and Miz kicks Big E but is attacked until Morrison saves him. Heavy Machinery enters next because Ziggler and Roode will enter last after winning the gauntlet match on Friday. Heavy Machinery splashes the Usos into the Chamber. Dorado climbs to the top of a pod and we see a kick out at two from Metalik. Collision from Big E to Otis but is clotheslined by Tucker. Otis caterpillars and elbow drops Big E but Dorado goes from the top of the Chamber into the New Day, Usos and Miz and Morrison. Heavy Machinery is left standing and eliminate Lucha House Party. Heavy Machinery goes straight for Ziggler and Roode who don't come out until Miz and Morrison attack Heavy Machinery. Otis is worked by both Ziggler and Miz. Ziggler mocks Otis while the crowd chants for Otis. Otis has Ziggler and Ziggler escapes but Tucker climbs to the top of the pod and throws Ziggler into Otis and Otis catches him and throws him into the top rope. Tucker moonsaults from the top of the pod into Miz and Morrison, Usos and New Day. Ziggler and Roode work over Otis and Otis counters and turns his focus onto Ziggler. Roode goes for the DDT but Otis backdrops him. Otis is driven out of the chamber because Ziggler sidesteps him. Tucker goes straight for both Ziggler and Roode. Roode DDTs and eliminates Heavy Machinery. The New Day take advantage of Ziggler and Roode being distracted after mocking Heavy Machinery and attack Roode and Ziggler. Usos eliminate Roode and Ziggler by a double Uso Splash. While it looks like New Day and Uso will focus on each other they both attack Miz and Morrison. Usos attack Big E and double team Kofi until a two count. Kofi works over and number 8 from the top of the pod but nobody's home and Miz and Morrison eliminate The New Day by pinning Kofi. Double Superkicks by Usos but only receive a two count. Kick out at two when each member of both teams had a cover on the other after another double Uso splash. Miz goes for the Figure Four but Morrison misses and Jey steps in. Jey goes for a pin but Morrison kicks out at two. Miz and Morrison use the rope to pin Jey Uso. Miz and Morrison retain their tag team titles. 
 We see promos for Stone Cold on tomorrow's Monday Night Raw and Shayna and Asuka prepare for their match. Charly Caruso interviews Natalya and asks her about Beth Phoenix. Natalya says that she can't wait to see how Randy will recover after Edge gets his hands on him tomorrow. 
Next up will be the no disqualification match between AJ Styler and Aleister Black. AJ is escorted out by the OC who will stay ringside. At the beginning of this match both men circle each other. Black kicks at AJ and continues to strike at him in the corner. Gallows and Anderson distract Black and AJ isolates the left leg of Black. Black counters but once again is rolled up by AJ who works at Black's left Leg. AJ retrieves a kendo stick and continues to attack Black's left leg.  Black kicks AJ and grabs the kendo stick and is sent to the outside. AJ is caught with a knee midair as he goes for a forearm. Black hobbles but brings out and sets up a table. AJ attacks the left leg with a steel chair. AJ sets up the chair sideways on the top turnbuckle and drags Black but Black avoids. AJ goes for a calf crusher but Black kicks out.AJ continues to attack Black's left leg.  Black counter and plants AJ after a knee strike. Black favors his knee and Styles goes for the calf crusher on the left leg. Black reaches for the Kendo stick and presses it to AJ's face and forces AJ to release his hold. Black uses the Kendo Stick to swing at AJ Styles. AJ goes for the cover but Black kicks out and does a brainbuster but once again another kick out. Black catches AJ with a knee strike when he was setting something up from the top turnbuckle. Black begins to continue to take down Styles but Styles kicks out. AJ catches Black while he goes for the moonsault but Black counters and drives AJ straight into the steel chair that AJ set up.  AJ slows down Black outside of the ring and sends him over the German announce desk. AJ was setting up to drive Black through the table but Black counters and meteoras AJ into the table. Black drags AJ into the ring but Gallows and Anderson buy AJ some time. The OC swarms Black and set up a magic killer. Gallows and Anderson offer up Black when the Undertaker's theme song hits. The Undertaker has a hold of them and takes them out and chokeslams Styles when he tries to attack from behind. Lights go out and we see Black black mass Styles and win. 
Up next will be the rematch of the Street Profits vs Seth Rollins and Murphy. Philly is just as loud for the Profits as Brooklyn was! Rollins and Murphy are accompanied out into the ring by the AOP. Dawkins and Rollins start out the match. Rollins tags in Murphy and Dawkins rolls through Murphy after Murphy slaps him. Dawkins and Ford continue to tag in and work Murphy. Ford tags in and is driven into Rollins and Murphy's corner. Rollins tags in and works Murphy in the corner. Ford showcases his athleticism and Rollins uses a distraction and tags in Murphy.  Dawkins is tagged in and double team both Murphy and Rollins. Double dropkick and Murphy and Rollins are thrown outside of the ring. Murphy tags in Rollins on the outside and Murphy distracts Dawkins enough for Rollins to begin to stomp and work on Dawkins. Rollins sets up Dawkins in the corner, tags in Murphy and Murphy kicks Dawkins on the corner. Dawkin after being stomped at Murphy tags in Ford who takes down both Rollins and Murphy multiple times. Rollins distracts the referee and the AOP attack Ford during the distraction. The Viking Raiders come out and brawl with the AOP into the locker room but meanwhile, Rollins continues to try to make Ford submit.  Ford is caught by a Falcon arrow and tags in Murphy and Murphy is stuck in the corner of Murphy and Rollins. Ford tries to get to Dawkins but is dragged back and Rollins tags in. Murphy sent hard to the outside but Ford is able to tag in  Dawkins who attacks both Murphy and Rollins. Dawkins tags in Ford who tries to pin Rollins who kicks out at two. Slingblade by Rollins to Ford who tags in Dawkins. Rollins tags in Murphy and they both work Dawkins.  Murphy looks to Rollins for guidance who tried to set up the pedigree but is driven into the corner. Rollins tags in and almost pins Ford with a frog splash after he was tagged in by Dawkins. Rollins tags in Murphy and elbow bombs Ford into the corner who double knees, Ford. Dawkins saves Ford and Rollins goes in and is then taken down by Dawkins on the outside of the ring. Murphy tries to get it done all by his own but is caught by a superkick on the top turnbuckle. Ford and Murphy battle at the top turnbuckle. Both Street Profits go in to attack Murphy who is still on the turnbuckle but Rollins slides in and takes down everyone. While everyone is down we see Kevin Owes come down the stadium eating turnbuckle and sits at the commentary table. Owens throws popcorn at Rollins who is then leveled into the barricade by Dawkins. Murphy goes to attach both Street Profits but he is also thrown into the barricade. Both Profits attack Murphy and win when Ford covers Murphy after a frog splash from the top rope. The Street Profits leave but we see Owens step into the ring and stun Rollins who is distracted by yelling at Murphy. As Owen walks back to the top of the stage he dumps a part of his popcorn unto the still recovering Murphy who is down on the floor. As Rollins recovers he kicks at the popcorn and we see him and Murphy sulk and stomp their ways to the backstage area. 
We see highlights of the kickoff show where the Viking Raiders destroyed Zack Ryder and Curt Hawkins. Next up is the 3 on 1 Handicap Match for the Intercontinental Title where we will see Braun Strowman vs Sami Zayn, Cesaro and Shinsuke Nakamura. First out is Braun and then we see Kayla Braxton interview Sami Zayn who says that he is confident about the outcome of tonight's matchup. He says that Braun has never gotten his hands on Zayn. But that changes tonight and he will go face to face with Braun and he will be the one to pin Braun. Zayn starts with Braun but immediately tags in Nakamura but Braun goes after Zayn. Braun takes down Nakamura but Nakamura counter and tags in Cesaro. Cesaro distracts the referee and Zayns kicks at Braun on the outside and then tags in. He then stomps at Braun until Braun gets to his knees and that's when he tags in Nakamura who works at Braun. Nakamura tags in Zayn who stomps at Nakamura and tags in Cesaro. Cesaro hits Braun with a right hand and then lands a kick which Braun kicks out of. Zayn is tagged in and punches Braun. Once Braun gets to his knees Zayn tags in Nakamura. Nakamura goes for the submission hold but Braun is able to counter and Nakamura tags in Cesaro. Braun continues to throw Cesaro into the corner. Braun neutralizes Nakamura who was tagged in by Cesaro. Braun continues to chase Zayn and Zayn hides when he crawls into the bottom of the ring. Cesaro and Nakamura stomp at Braun and Cesaro is the legal man and works away at Braun. Zayn distracts Braun and Cesaro drives him into the ring post and Nakamura kicks Braun. Nakamura tags in Zayn who with the help of his three partners pins Braun Strowman!! Zayn is now Intercontinental Champion. Zayn runs back from the top of the stage and gloats his win in front of Strowman. Zayn is then carried by Cesaro and Nakamura as we hear Braun say that " I can't wait to gets my hands on you, you bitch!"
After a commercial break, we see a recap of all that has happened with Drew McIntyre and Brock Lesnar and promotional images of John Cena vs the Fiend, and Goldberg vs Roman Reigns at Wrestlemania. We also see a promo for tonight's main event the Women's Elimination Chamber match for who will face Becky Lynch for the RAW Women's Championship at Wrestlemania.
Out first we see Asuka who is accompanied by Kairi Sane. But Kairi Sane goes backstage as Asuka walks into the chamber. Sarah Logan walks out next followed by Liv Morgan. While Liv Morgan looks nervous she makes sure to stare off with Logan as she walks into her pod. As Shayna Bazzler comes down to the ring she pauses at each pod and stares off with each woman as she enters. Ruby Riott also stares off with everywoman but takes the most time with the former Riott Squad members. Natalya and Ruby Riott will be the ones to begin the match. Riott goes for an early cover but Natalya kicks out. Riott stomps at Natalya in front of Liv Morgan. Natalya pushes Ruby into one of the support beams and then rubs her face against the chamber as Liv Morgan laughs. Natalya puts Riott into the sharpshooter but Ruby Riott drags her neck first into Liv's pod. We see Becky Lynch watching intensely backstage. Riott drags Natalya and goes for the pin but Natalya kicks out and rolls away. She then pushes Natalya into the cage climbs to the top and continues to throw her into the chamber's walls. Natalya counters and throws Riott into the chamber. Sarah Logan immediately does a double knee to Natalya who goes into the side of Liv's pod. Ruby and Sarah climb the cage and face off on the top of Liv's pod. Ruby goes to escape but Natalya with an assist from Logan powerbombs her. Once both women get to their feet Logan throws herself into both Natalya and Ruby. She drags Ruby back into the ring and they face off in the corner right in front of Liv Morgan. We see all three women down in the middle of the ring after a suplex. Shayna Bazzler comes out and immediately drives Natalya into the post. Sarah taps after Shayna puts her in a clutch. Ruby also taps after Shayna also puts her in a clutch. Shayna drives Natalya into her empty pod. And then uses the door of her pod to slam into Natalya. She then puts Natalya in the clutch and Natalya taps out. Three back to back victories by Bazzler. Shayna continues to do stare offs with both women and Asuka does not care and taunts Bazzler. Liv Morgan points at the Wrestlemania sign while Shayna walks back and forth between the two pods. Liv Morgan and Shayna meet at the pod's door. Shayna then slams Liv into the chamber and into the side of her pod. We once again see Becky Lynch is staring at the TV. Liv Morgan gets in the ring but is immediately slammed into by Shayna. Shayna uses Liv to taunt Asuka. She puts Liv in the clutch while she stares off with Asuka and Liv Morgan passes out. Asuka is more than ready to be let out of her pod. We continue to see clips of Becky watching backstage. Asuka continues to psych herself up while inside her pod. Shayna even lets Asuka get into the ring. Asuka kicks at Shayna until she is caught by Bazzler. Asuka goes for the backslide and catches Shayna with a kick and Asuka goes for continuous Asuka's lock until Shayna rolls out of the ring. Asuka continues to hold on but Shayna drives her into the chamber. Asuka tries to battle back but Shayna works at her previously injured left wrist. Bazzler goes for the clutch but Asuka counters. Asuka almost rolls up Bazzler but once again Bazzler works at Asuka's injured left wrist. She locks in the clutch and Shayna Bazzler wins. She will be the woman who will faceoff against Becky Lynch at Wrestlemania. We see Becky grin while backstage as she sees Shayna win. Shayna points and stares right at the Wrestlemania sign as she celebrates inside the chamber
Well, that was a surprisingly good Elimination Chamber. Make sure to tune in to tomorrow's live coverage of Raw to see the fall out of tonight. You can follow me at @missevacantu and the site @wnwnews on Twitter. Eva out.