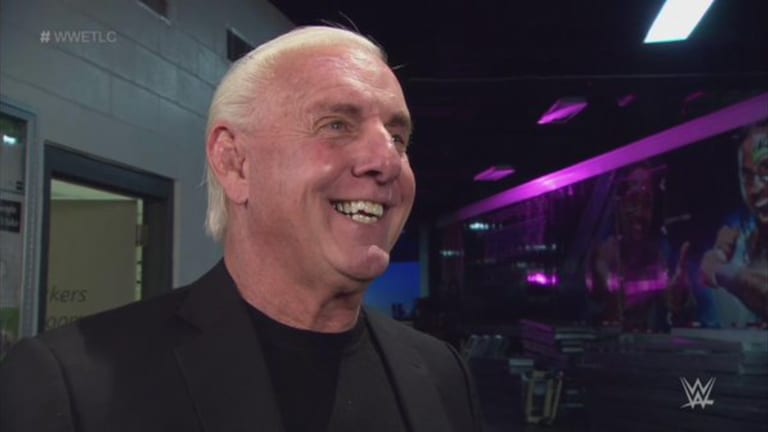 Ric Flair Opens Up About Health Scare, Taking Bumps
On a recent edition of the Stone Cold Podcast, Ric Flair opened up about his health scare last year and talked about his drinking:
"Everybody's blaming it on drinking, but I started drinking, probably, as a kid as young as 15, not obviously on a regular basis. When I was in high school, I was going to a high school in Wisconsin, and you could drink beer when you're only 18, and, of course, we did and that leads to everything else. And then, I got into the business and people thought I was ribbing them or was being facetious when I'd tell people in that 30 For 30 that we drank every day. I said, 'I drank every day I worked' and they'd say, 'well, how many days did you work then?' And I'd say, 'I worked every day, twice on Saturday, twice on Sunday.' And I didn't drink twice on Saturday and twice on Sunday, but when Saturday and Sunday were over I drank probably double the amount depending on how long I had to wrestle that day because sometimes I would do two hours a day with guys like Orton, or Steamboat, or Harley, or Briscoe."
He also talked about how he is even able to bump again:
"I had difficulty doing anything when I still had that bag on my side that was attached to my intestines because it sat right at my waistline and it was hard, but as soon as I got that off, I was back doing 500 free squats. To me, I just need a goal. Does that make sense? But I finally got the weight back on and then I found myself putting more weight back on than I wanted, so I have to be careful with that, but I've been working out. I can do anything, benchpress. I have to be careful after surgery, the second surgery, for hernia issues. But I literally took it easy. I didn't do anything. And now I'm full speed ahead. The guys have cleared me to do anything. I've actually been cleared to get knocked down in the ring. I didn't know if they were going to use me in some capacity and you know the clearances you have to have with the health policy, which is so adamant."