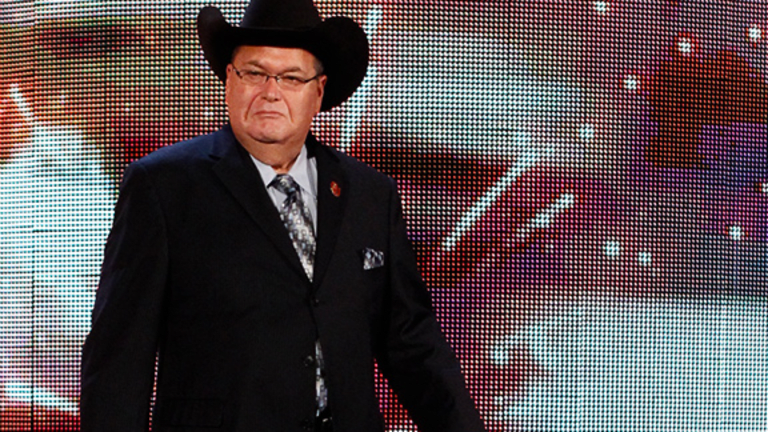 "Grilling JR" Podcast Set to Hit the Road for Three Live Shows
Hall of Fame announcer, senior advisor for All Elite Wrestling (AEW), and the Voice of Wrestling, Jim Ross, will be taking his hit podcast "Grilling JR" on the road this summer for a series of live shows.
Ross, or "JR" as he is known by millions of fans worldwide, and his co-host Conrad Thompson (Something to Wrestle with Bruce Prichard, 83 Weeks with Eric Bischoff and What Happened When with Tony Schiavone) will be bringing their hit podcast to the stage and giving wrestling fans behind-the-scenes stories, unique perspectives and unfiltered commentary on events spanning across Ross' illustrious career.
"Taking our podcast to a live show format is really the first time I'll have the opportunity to fully open up and give 100-percent honest views of the wrestling business. No restrictor plates, folks. And knowing Conrad and his interview style, I'm sure he's not going to make it easy for me," said Ross. "I'm really looking forward to getting on the road and connecting with so many wonderful professional wrestling fans, telling some stories and letting if fly in front of a live audience."
"Grilling JR Live" will kick off in Jacksonville on Friday, July 12, head to Philadelphia on Sunday July, 14 and then hit Charlotte, North Carolina on Saturday, August 17.
"Wrestling fans have heard Jim Ross' voice soundtrack some of the most memorable moments in the business, but this is a chance to hear 'JR' with a live mic and no one holding him back," added Thompson. "'JR' is obviously the gold standard when it comes to announcing, but he also has his finger prints all over the industry, from signing talent, to developing stars. He has done it all, and I can't wait to start firing questions his way. I have a feeling that fans at these live shows will hear 'JR' like they've never heard him before."
For VIP and general ticket prices, show times and location information, see below:
- Jacksonville: GrillingJRLive.com
- Philadelphia: JimandConrad.com
- Charlotte: JRandConrad.com