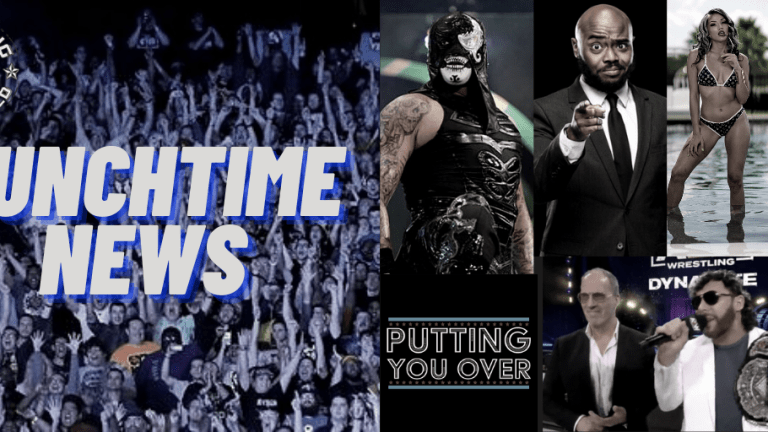 Lunchtime News 12.10.20 | Callis on Busted Open | Big Inner Circle Match | Business with Bivens | Penta El Zero M Update | Salina de la Renta Summoning Somebody
Don Callis on Writing History, Again.
Don Callis was on Busted Open this morning to talk everything Omega, IMPACT Wrestling, AEW & writing history.  For more of these glorious quotes from Callis on Busted Open, CLICK HERE.
Penta El Zero M injury update
 Reported by BodySlam, the spot with Penta El Zero M was done to "write" him out of the match.  The reason for this is because Penta El Zero M is currently dealing with an injury. 
Inner Circle 14-Man Tag Match
Tony Khan announced on his twitter that he has made a 14-man tag team match for next week's AEW Dynamite.


 Inner Circle (Jericho/Sammy/Santana/Ortiz/Wardlow/MJF) v. Top Flight/Cutler/Varsity Blonds/Best Friends! 
Business with Bivens
On NXT last night, Malcolm Bivens spoke to Tyler Rust backstage.  This was the second week in a row that Bivens spoke to Rust & Bivens wants to talk business with Rust.

Bivens was last seen doing business with Rinku Singh & Saurav Gurjar (Indus Sher).  I am personally a big fan of Bivens & hope we get to see him doing more work on screen.  I cannot wait to see what comes from this.
Salina de la Renta is Summoning Somebody
Last night on MLW Fusion, we saw a video promo from Salina de la Renta.  In it she talked about being down in Mexico & summoning somebody.  If you have not seen it, head over to MLW on YouTube & check it out.
Stick & Stay to Wrestling News World for news. reviews & interviews.

Also; Putting You Over is LIVE tonight discussing all topics in Wrestling.  LIVE on Twitch at 9p ET.