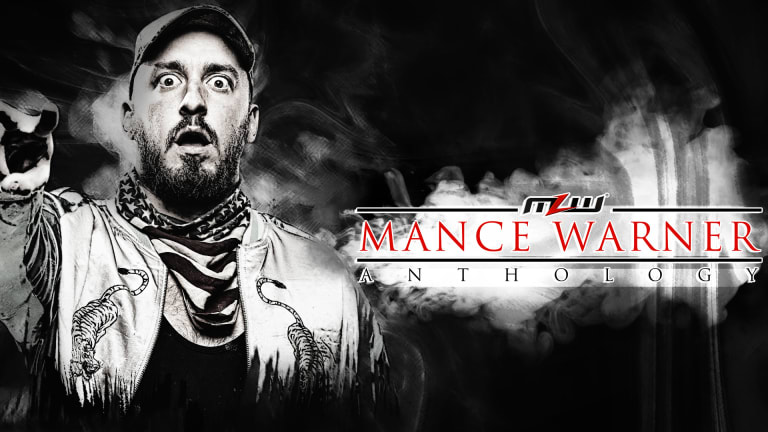 MLW Anthology | Mance Warner
In the second installment of MLW ANthology, we take a look at Mance Warner.  This Southern Psychopath is one of the most unorthodox wrestlers in the business today.  Mance Warner went from fighting in bars to fighting in the ring, but his style has not changed.  Mance is an old school brawler and will destroy anyone that gets in his way & he will use anything in the arena to get it done.  

Today we will take a look at his debut from the legendary 2300 Arena in Philly.  We will also witness two of Mance's best matches.

-Loser Leaves MLW vs. Sami Callihan 
-Last Tangle in Texas vs. Jimmy Havoc

Sit back (I'm going to Stand), grab a Daddy Soda and watch 'Ole Mance Warner throw some lariats and headbutts.  


-Show opens with a video package from CONTRA talking about how their precious wrestlers have been broken & CONTRA has conquered MLW.  

Sami Callihan vs. Mance Warner : Loser Leaves MLW (June 2019, Milwaukee, WI

Mance enters the arena & brings a garbage can full of toys with him.  Sami's music hits second & we see the spitting incident with Jim Cornette.  Sami wastes no time & charges the ring.  Sami starts off leveling Mance with a garbage can lid.  The two continue to battle on the outside.  Sami tosses Mance over the guardrail & throws him into the merch table. 

Sami continues to bring the fight to Mance using anything that is not bolted to the ground to toss at Mance.  Now the two head up to the top of the bleachers.  The two go back and forth at the top.  A brainbuster by Sami at the bleachers.  Sami is in full control right now.  Sami puts a garbage can over Mance's head, but that does not stop Mance from headbutting Sami with the can on his head.  Callihan slam Mance into the concrete wall.  The two continue to battle all around the venue.  Now they are at the concession stand & Mance uses a spork to dig at the head of Sami.  Mance follows that up with some Memorial Day tips on how to use Tabasco sauce.  
The two wrestlers have made it back to the ring.  Sami uses a staple gun and tattoos Mance's forehead.  Sami levels Mance with a steel chair while he has a garbage can over his head.  Sami grabs some some money from the crows.  Mance is busted open.  Sami staples a dollar bill to Mance's shoulders & forehead.  Mance will not quit.  
Mance fights back with an eye poke and a slam.  Mance grabs a sheet of wood from under the ring.  Mance brings the carnage now to Sami.  Levels him with a garbage can lid & arranges the board on two chairs.  A bloody Mance places Sami's head on the wood & heads to the top rope, but he was too slow.  Sami piledrives Mance off the top & through the wood. 
Sami gets his own ring board & places it in the corner, but Sami was too slow & Mance spears Sami through the wood for a 2 count.  Both men sit in chairs in the middle of the ring & exchange rights back and forth.  Now they exchange shots of spit in the face.  Mance heads to the top again, but Sami throws a chair at him.  Now Sami, tombstones Mance & just missed the chair for a two count.  

Sami grabs the staple gun again & staples his tongue to the board of wood.  What in the world!  Mance is irate now.  Mane levels Sami with that board of wood.  Knee pad up, Knee pad down, but Mance only gets a 1 count.  Mance continues to bring the attack to Sami.  Mance gets the 3 count after hitting the knee to the face with a piece of broken wood.

Winner by pinfall, Mance Warner.
-video promo for next week's Anthology episode of Low Ki
-video package of the build up to the Last Tangle in Texas between Mance Warner & Jimmy Havoc.


Jimmy Havoc (w/Prescilla Kelly) vs. Mance Warner | Last Tangle in Texas | January 2020 | Dallas, TX
Havoc enters the ring first with a barb wired bat.  Here comes the Southern Psycho, Mance Warner.  The ropes have been removed and replaced with barbed wire.  The two men stand in the ring holding their weapons of choice.  Mance looks at home inside that barbed wire.  Ding, ding, ding.  Havoc & Mance go back and forth trying to drive the other man into the barbed wire.  Mance irish whips Havoc into the barbed wire.  Warner executes a drop toe hold into the wire.  Warner uses that chair on the back of Havoc.  Jimmy fights back with a chain wrapped fist to the face & then an impaler DDT.  Havoc with a suplex into the barbed wire.  Havoc know carves up Mance's head in the barbed wire.  Prescilla heads under the ring & grabs a staple gun.  Havoc staples up Mance's forehead.  Havoc rips off Mance's shirt & staples it to his back. 

Prescilla now hands Havoc wire cutters & Jimmy cuts free some barbed wire for himself.  Havoc wraps is around the mouth of a busted open Mance Warner.  I think Jimmy was trying to give Mance a JOKER smile.
 Mance is bleeding profously.  Havoc continues to bring the carnage to Mance.  A curb stomp on Mance for a two count.  Mance rights back with a barbed wire bat to the lower region of Havoc.  But, Jimmy gets Mance back by stapling his nether region.  Mance with a spine buster on two steel chairs.  Prescilla placed some ring boards in the ring & Mance set one up in the corner, but Mance was too slow & Havoc drives Mance through the ring board with a running Death Valley Driver.
Havoc sets another ring board up between two chairs, but this time Havoc was too slow & Mance chokeslams Jimmy through the ring board for a two count.  Mance grabs some loose barbed wire of his own.  In the meantimne, Prescilla hands Havoc some powder.  Mance knocks the powder in the face of Havoc & hits him with a lariat with the barbed wire.  Mance piledrives Havoc onto a steel chair for the 1-2-3.
Winner by pinfall, Mance Warner.
-reminder, next week's Anthology is of Low Ki.
-video pf a bloody Mance drinking a beer
-Several video promos from MLW wrestlers from their homes (LA Park, Mance Warner, INJUSTICE, The Dynasty, Von Erichs, Lawlor, King Mo)

Until Next Week.......