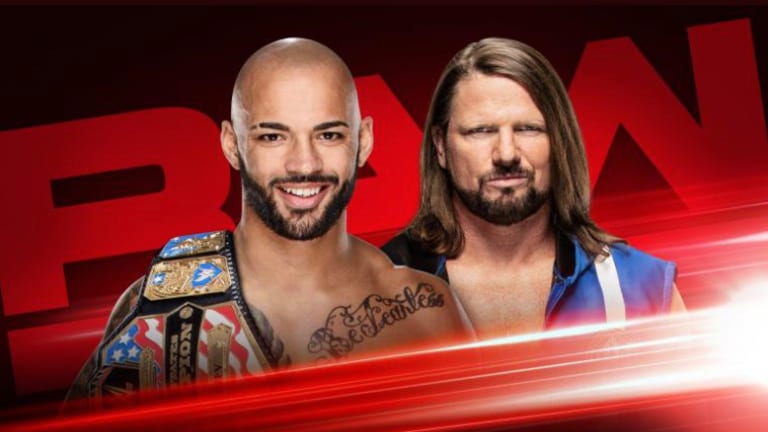 Monday Night Raw Results 6/25/19
We start in the ring with WWE Universal Champion Seth Rollins to a pop. He starts talking about Corbin and Stomping Grounds, but the music interrupts and out comes Rollins' girlfriend, RAW Women's Champion Becky Lynch. Fans also cheer for The Man. Rollins jokes with her about interrupting him. Rollins says he's got to give Corbin some credit because Corbin knew he couldn't beat him by himself, he knew he would have to get a referee like Lacey Evans. However, he wasn't smart enough to realize that Rollins has the best back-up on the planet. Fans pop and chant Becky's name again. Becky says it pays to be The Man's man. Becky goes on and says they proved individually last night why they are the champions of their divisions. Becky says Lacey had nothing when it came time to fight last night, and then she came out trying to steal a title for someone else, but not on her watch. Corbin's music hits to interrupt.
We don't get Corbin but Evans attacks Lynch from behind and beats her down. Rollins eventually breaks them up and Becky shoves him. Rollins looks surprised. Becky gets past Rollins and unloads on Evans in the corner. Corbin hits the ring but Rollins meets him and they brawl. Rollins nails a Slingblade. Lynch continues unloading on Evans and hits a Bexploder. Evans retreats from the ring, as does Corbin. Corbin grabs a mic and screams about Rollins needing Becky saving him again. Corbin says Rollins should put his title on Becky, fly home and put on an apron because Becky is taking care of his business. Evans threatens to put hands on Rollins again. Corbin says everyone knows he would be champion right now if it weren't for Lynch last night. Corbin says he picked Evans because she is the only real woman around here and he'd pick Evans for his partner anywhere. Evans accepts and proposes it for Extreme Rules. Lynch accepts and says under one condition - when they lose, they get no more chances to get in the ring with Lynch and Rollins. This leads to Rollins and Lynch accepting another stipulation the champions put their titles on the line. Winners take all.
Eight-Man Tag Team Elimination Match: Daniel Bryan, Rowan and The Revival vs. The New Day and The Usos
Winners: The Usos
MizTV
Miz mentions how exciting the WWE 24/7 Title chase has been, and introduces his guests for tonight, Carmella and a very paranoid WWE 24/7 Champion R-Truth. Truth checks under the ring but Miz confirms that WWE officials have suspended the 24/7 rule during this segment. Miz talks about the recent title changes and shows us a clip of how Truth captured the championship from Drake Maverick at his wedding. Miz does his "really?, really?" in regards to the wedding title change. Truth talks about how hard his life has been since he won the title.
Drake finally comes to the ring. He's disheveled and looks like he's had a tough weekend. Drake says Truth ruined the best moment of his life. He goes on about how his wife won't talk to him, won't go on the honeymoon with him, and won't even consummate the marriage with him. Fans give him the "What!?" treatment. Truth mistakes "consummate" for "constipate" and recommends fiber. Fans chant "constipation!" now.
Maverick challenges Truth to a rematch on RAW so he can win back the love of his life, the 24/7 Championship. Miz says he's receiving information from the back, if Truth accepts, competitors from the back will be banned. It will be Drake vs. Truth. Fans chant "yes!" as Truth thinks it over. Truth refers to Drake as Hornswoggle, and accepts the challenge. 
WWE 24/7 Title Match: Drake Maverick vs. R-Truth
R-Truth immediately puts Drake Maverick away to retain the title by pinfall.
Winner: R-Truth
After the match, a group of Superstars hit the ring and ringside area to try an get the title from Truth. Truth evades but runs back into the mix of wrestlers in the ring and starts fighting Superstars off. Cedric Alexander tries to pin Truth but Truth kicks out at 2. No Way Jose is also involved. A brawl breaks out outside the ring as Truth escapes through the crowd with Carmella. The chase goes on as Drake is left in the ring. Charly Caruso asks him where he goes next after this rough week. Drake doesn't speak, he just slowly leaves the ring and looks distraught as fans sing goodbye to him
2-on-1 Handicap Match: Shane McMahon and Drew McIntyre vs. Roman Reigns
This match was a 2 on 1 beat down until the end. Drew holds Reigns in the corner as Shane goes to the top for Coast 2 Coast. The lights suddenly go down and the bells toll and fans go nuts!
The lights come back on and The Undertaker is in the ring. Taker nails a chokeslam to Shane and a big boot to Drew. Taker unloads on Drew in the corner now. Taker drops Drew with a big right hand. Shane slowly gets up but Taker clotheslines him over the top rope to the floor. Taker gets down on a knee and does his tradmark pose. Reigns looks on from the corner, still recovering. 
In-Ring Segment
Fans chant "get these hands!" as the Lashley and Strowman get ready to go in a tug of war contest. The winner is the first person to pull the other over the red line in the center of the ring. Lashley almost pulls Strowman over the line early on. Strowman stops and smiles at Lashley, then drags him over the line for the win as the bell hits.
Lashley unloads on Strowman in the corner, then sends him shoulder-first into the ring post. Lashley wraps the tug-of-war rope across Braun's face and pulls back on it as the referee tries to break it up. Fans boo as Strowman recovers on the outside. Lashley follows and charges on the floor but Braun connects with a big shoulder. Lashley sends Braun into the barrier and raises his arms and backs up the ramp.
Backstage
Charly Caruso is backstage with AJ Styles asking about his match with Ricochet, mentioning this is his first night back from injury. AJ talked about being ready and challenging Ricochet, but No Way Jose's music and conga line interrupts. Karl Anderson and Luke Gallows are a part of the line. AJ reminds them they have a match tonight. He takes issue and says he's been trying to talk to Anderson and Gallows, but Anderson insists they are at the top of their game. AJ reminds them they lost a match last week. AJ wants to know where the Gallows and Anderson he met in Japan are, where the Gallows and Anderson who were RAW Tag Team Champions are, what happened to them? Karl asks what happened to AJ. There's more tension but Gallows says they're headed to the ring to prove to AJ.
The Viking Raiders vs. Luke Gallows and Karl Anderson
Winners: The Viking Raiders
Backstage
We go backstage and find Nikki Cross apologizing to Alexa Bliss for her loss at WWE Stomping Grounds. She takes the blame for it. Bliss says Cross can use that for motivation. Bliss says Bayley does know how to manipulate people and crush their dreams. Cross suggests there has to be some kind of way to get a rematch for Bliss. Bliss says they just have to think up a good plan.
We go back to the arena and WWE 24/7 Champion R-Truth is being chased into the ring by Superstars. Kalisto leaps out of the ring and takes out a group of Superstars on the floor. Mojo Rawley tries for Truth but lands out on the floor. Heath Slater, who was supposed to have a singles match with Mojo, drops Truth with a neckbreaker and covers for the pin to win the title.
Winner and New WWE 24/7 Champion: Heath Slater
After the bell, EC3, Eric Young and Titus O'Neil are among those that go for Slater's title. Truth ends up pinning Slater and taking the title back, making him an eight-time champion
Winner and New WWE 24/7 Champion: R-Truth
After the bell, Cedric Alexander flies at Truth with the Lumbar Check and takes the pin for the title.
Winner and New WWE 24/7 Champion: Cedric Alexander
No Way Jose, EC3 and Mojo are going for the title. EC3 drops Cedric on the floor and then covers for the pin and the title win.
Winner and New WWE 24/7 Champion: EC3
EC3 celebrates up the ramp but Carmella comes from behind and snatches the title from his hands, distracting him. R-Truth takes advantage and comes from behind, rolling EC3 up for the pin to take the title back, making him a nine-time champion.
Winner and New WWE 24/7 Champion: R-Truth
Truth and Carmella run off through the back. EC3 sits looking devastated. A group of Superstars run by, chasing Truth.
Kofi Kingston vs. Sami Zayn
Winner: Kofi Kingston
After the match, Owens challenges Kofi to come back to the ring for a match. Kofi accepts and walks back down the ramp. They get ready to start the match as we go back to commercial.
Kevin Owens vs. Kofi Kingston
Winner by Count Out: Kofi Kingston
After the bell, Kofi celebrates again as his music hits, backing up the ramp. Samoa Joe suddenly runs down out of nowhere and runs over Kofi from behind. Joe works over Kofi and catapults him into the LED board on the stage. Joe with a big Uranage on the steel now. Referees try to get Joe to back off as Kofi is laid out. Joe comes back over and applies the Coquina Clutch, bringing Kofi back down with the hold. 
Naomi vs Alexa Bliss
Winner: Alexa Bliss
- After the match, Bliss attacks Naomi and asks Cross to come in. She holds Naomi while Cross readies but just shoves Naomi over, also causing Bliss to hit the mat. Bliss looks confused. Natalya runs down and hits the ring but Cross and Bliss retreat to the floor. 
Natalya and Naomi vs. Nikki Cross and Alexa Bliss
Winners: Alexa Bliss and Nikki Cross
Ricochet vs. AJ Styles
Winner: AJ Styles
- After the match, AJ recovers and stands tall as his music hits. We go to replays. Ricochet looks on from the mat as AJ snatches the title from the referee. AJ hands the title to Ricochet and helps him up to his feet. Fans cheer as AJ raises Ricochet's arm and they stand tall together. RAW goes off the air.