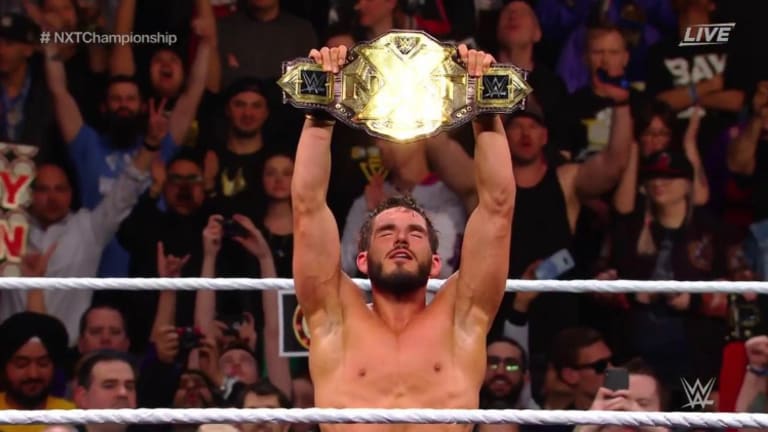 NXT TakeOver: New York Review- Johnny TakeOver
Welcome everyone back to WNW! WrestleMania weekend continues on as we go over and review NXT TakeOver: New York that occurred last night. 
The War Raiders vs Ricochet and Aleister Black for the NXT Tag Team Championships 
I can't think of any NXT TakeOver in recent memory that hasn't started with a tag team match, and I'm totally not complaining. What a way to start off the night and the two teams did not disappoint. When I was doing live coverage it was hard to keep up with the action, as it did not slow down at any time. From one spot to the next, this was a clinic. I figured Black and Ricochet would fall to the Raiders due to them moving on up the the main roster. I loved the post match send-off for the two with the standing ovation they received. Both men showed true emotion and love they have for this business.
Velveteen Dream vs Matt Riddle for the NXT North American Championship 
The crowd ate it up for Dream, but by the end of the match, Riddle got the crowd over for him. I wasn't sure how this one was going to be booked. Dream, already made a name for himself and he oozes stardom. Riddle, former MMA fighter who is laid back and totally relatable to the standard person, but a total monster in the ring. Riddle gave a beating to Dream and that's what needed to happen. Dream Hulked up, and that was awesome and did his fury. Both men worked hard and I loved the finish. Dream continues to become this great big star while Riddle doesn't lose anything from how his shoulders were down during a submission that was countered. Great match by two great talent. 
Pete Dunne vs WALTER for the NXT UK Championship 
Just when I thought the pace of the show was going to slow down in this one, and boy was I wrong. Dunne and WALTER put on a hard hitting match and delivered. I was really hoping to see Dunne continue his reign as NXT UK Champion, as he is just a natural. WALTER ending the reign was the right call on who should end it.
Shayna Baszler vs Bianca Belair vs Io Shirai vs Kairi Sane for the NXT Women's Championship
The momentum continued throughout this match that saw each women get their spots in. Honestly, I thought Belair would've been the one to capture the gold since her last performance against Baszler at TakeOver, but a solid match that continued to show the dominance and legitimacy that Baszler brings to the table. 
Adam Cole vs Johnny Gargano in a 2-out-of-3 Falls Match for the NXT Championship 
I will go on to say this will be the match of the year. Dare I would say this was the best match that has ever happened in NXT. Hell, I would go on to say this was one of the best matches I've ever seen in a very long time. The emotion and storytelling that this had between Cole and Gargano. Cole was super over with the crowd, but Johnny showed why he's called Johnny TakeOver. Just a brilliant match and awesome to see Gargano win the big one. From a story perspective, it didn't make much sense to see Ciampa welcome him on stage after the win to celebrate, but like people have said, the story needed an ending and this will do. I hope we see another Cole and Gargano match before either one of them goes to the main roster.