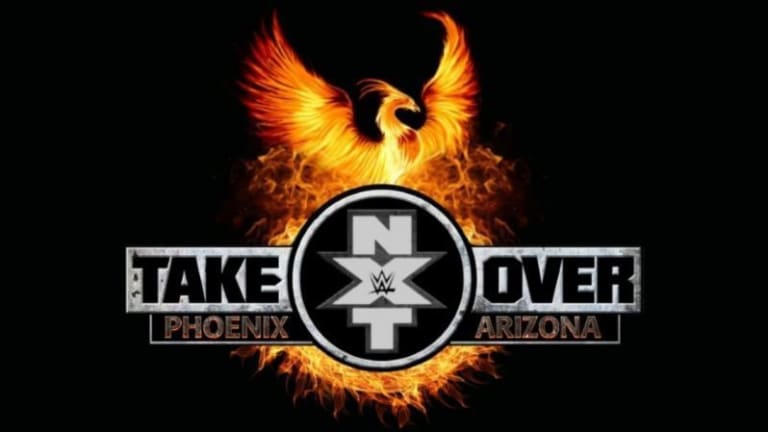 NXT TakeOver Phoenix Live Coverage And Results (01/26/19)
Welcome everyone to WNW! Tonight, NXT TakeOver will be held in Phoenix, Arizona, where the stars of NXT will prove that they truly are Taking Over. Join me tonight to follow live coverage and results for tonight! 
LIVE FROM PHOENIX, ARIZONA 
The show opened with the lights doing to black, and out came raiders that stood on stage. The War Raiders then emerged from the middle of all the smaller raiders and made their way to the ring for the upcoming bout. 
Kyle O'Reilly, Roderick Strong and Bobby Fish made their way to the ring. 
The War Raiders vs The Undisputed Era
Strong and O'Reily started off quick by attacking the Raiders as soon as the bell rang. War Raiders quickly recovered and powered through a fury of offense of UE. Moments later after quick tags, O'Reily took shots to Hanson before Strong tagged in. Strong went for a suplex but couldn't power him up. O'Reily tagged in and the two double teamed Hanson before he was taken to the ground. Hanson made his way to his corner so Rowe could make a tag in. He quickly powered through both men before the quckness of the Undisputed Era had him at ringside. Hanson went to go for a suicide dive and missed, falling to the ground in a nasty bump.
A few minutes after, order was restored and O'Reily worked over Rowe. Strong tagged in and performed a knee backbreaker, before quick tags were going back and forth. Hanson tried to tag in but the distracting Strong stopped the process. Rowe knocked down both men and tried to make a tag, but Strong delivered a drop kick to pause the hot tag. 
Seconds later a knee was struck to O'Reuly to separate some space, giving Hanson a chance to tag in. The hot tag was made and he went on a tear of reign, taking out Strong and O'Reily.
Strong fought back and hit a closeline of Hanson, and both men tagged in their respective teammates. Another rapid fire sequence of all four men went on with War Raiders getting the upper hand with a close two count. Hanson went for a big splash off the top rope on O'Reily and had a two count before Strong broke it up. Strong, moments later delivered a top rope suplex on Hanson, followed by a top knee to the mat by O'Reily for a strong two count. A fight forever chant broke out before High Low was hit on Hanson for another two count. They went for High Lowe again but was countered by Hanson. Rowe got involved and a double power-bomb was done. Hanson and Rowe set O'Reily up for a top rope leg drop for the for the pin fall. 
The War Raiders defeated The Undisputed Era to win the NXT Tag Team Championships
A video package aired, focusing on Kassius Ohno and Matt Riddle's upcoming match.
Matt Riddle made his way to the ring as the crowd chanted Bro. 
Kassius Ohno then made his way to the ring. 
Matt Riddle vs Kassius Ohno
Riddle went for quick shots to Ohno before the two went ringside. Riddle went on offense first, deadlifting Ohno to a slam. He then walked into a big boot, but then began to work over Riddle. He used a leg drop over the back on the neck, then used a neck lock in the middle of the ring. 
Riddle tried to fight back with open palm slaps, but was met with forearms to the face and then went ringside to throw Riddle into the ring post, then the steel steps. Riddle made his way to the ring, but was met with another forearm and a boot. 
This fired Riddle up and delivered a German Suplex on Ohno. He used kicks to the chest of Ohno, but was caught by Ohno. Ohno grabbed his foot and bit at his toe before hitting him with a knee. He delivered a moonsault on Riddle for a two count. He gave a boot to Riddle, then went for a Senton. Ohno went for a second one but was caught in a sleeperhold that was broken up by grabbing the ropes. Ohno pleaded with Riddle and tried to give him a fist bump. Riddle denied it and hit him with a knee, then pounded him with forearms to the back of the head as Ohno tapped out from the shots. 
Matt Riddle defeated Kassius Ohno
Velveteen Dream was shown in the back getting out of a limo, walking. 
Up next, Ricochet vs Johnny Gargano
Gargano made his way to the ring, followed by Richochet. 
Ricochet vs Johnny Gargano for the NXT North American Championship 
The two locked up and did some chain wrestling, before Gargano took early control. Gargano tried to take more control and keep Ricochet down but couldn't keep him down. The two traded forearms with each other before a drop kick was delivered by Richochet. 
Gargano took control once again and kept Ricochet down with hard hits and kicks, working his neck in a lock. Ricochet tried to fight back and did a leg sweep, going for a standing moonsault but was swatted by Gargano.
The laced quickened and Ricochet hit a moonsault on Gargano's back. The two stood, trading blows to each other before a flying head scissors was delivered on Gargano. Ricochet hit a fury for suplexes.
The two went back and forth for some minutes with fury of fast paced offenses from both sides. 
They both ended up on the on the top rope, and Ricochet landed on his feet after Gargano delivered a top rope launch. Gargano was taken down and Ricochet went to the top before Gargano rolled away to the ringside. Ricochet jump over the turnbuckle and landed on Gargano, threw him in the ring and hit a 450 splash. He then went to the top rope and did a moonsault but Gargano got the knees up and rolled him into a two count. 
Fast forward to a few moments, Gargano  hit a ddt on Richochet for a two count. He went to ringside to pull up the floor mat but the referee told him not to do it. Back inside the ring, the two went at it and Ricochet got Gargano in a cross face (Gargano escape) but he got to the ropes to break it up. 
Gargano ended up hitting Ricochet with a brain buster on the exposed floor, where the mat was taken away. 
He threw him in the ring and hit him with a hard  Spring board DDT for the pinfall on Richochet. 
Jonhhy  Gargano defeated Ricochet to capture the NXT North American Championship. 
Bianca Belair made her way to the ring, followed by Shayna Baszler. 
Shayna Baszler vs Bianca Belair for the NXT Women's Championship 
Baszler and Belair started off in a headlock and a standstill as both women outpowered each other until Belair fastened the pace and took Baszler to ringside. Baszler grabbed the pony tail through the ringpost and charged herself into it. She beat down Belair inside the ring, working over her left arm and shoulder, stomping on it.
For the next few minutes, Baszler stayed on top of Belair, besting her down. She told Bianca that she was overrated but was hit with a slap in the face. Belair fought back and hit her with a big spear for a two count. Baszler fought back but Belair whipped her in the mid section with her hair, leaving a welt. There was a ref bump and Belair hit Baszler with her finisher but there was no count. Baszler's friend came to intervene but was taken out by Belair. Shayna got her in a sleeper but Belair escaped and hit her with a suplex. Another sleeper was put on Belair and she tried to fight out and stood up but was eventually taken back to the floor by Baszler and Belair went to sleep. 
Shayna Baszler defeated Bianca Belair to retain the NXT Women's Championship 
Aleister Black made his way to the ring, followed by NXT Champion, Tommaso Ciampa. 
Tommaso Ciampa vs Aleister Black for the NXT Championship 
I missed the first few minutes of the match due to the internet connection going out on me. 
Black had Ciampa in the middle of the ring with a headlock before Ciampa got up and cornered Black. Moments later Black was hitting strikes at Ciampa, sweeping him by the legs for a two count. They ended up on the outside with a closeline by Black, but then Ciampa drove Black into the stairs by the legs. He then gave a suplex to Black into the steel steps before throwing him back into the ring. 
Ciampa worked over his knee inside the ring, keeping Black down in the middle of the ring. Aleister tried to fight back but was quickly taken back down. 
The two ended up back outside the ring and while Ciampa was drinking water, Black hit him with a kick to the chest. 
Through some sequences, Ciampa continued to work the leg of Black but then the two delivered jumping knees to each other and traded blows. Moments later black hit a moonsault on the outside of the ring and then was hit by the fairy tale ending by Ciampa for the two count. He then went to ringside and pulled up mat on the outside and then Black delivered double knees, threw him in the ring and hit Black Mass and couldn't connect. He went for another Black Mass and Ciampa countered with The Fairy Tale Ending and was kicked out by two. He did the Fairy Tale Ending a third time for the pinfall. 
Tommaso Ciampa defeated Aleister Black to retain the NXT Championship
After the match, Gargano joined the top of the stage with Ciampa and the both held their respective championships in the air to close the show. (E)