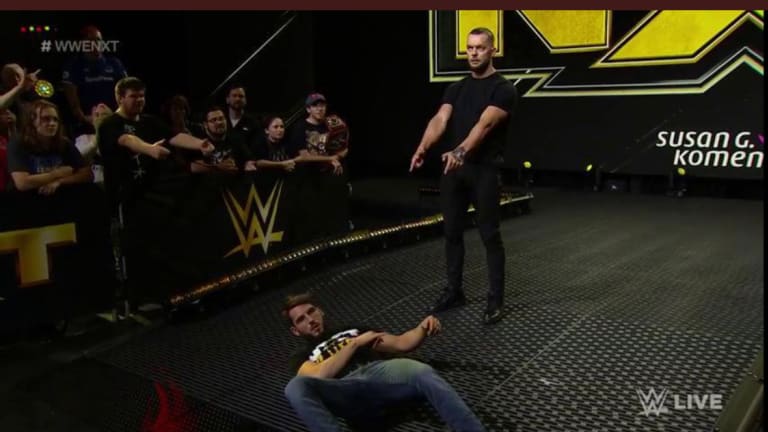 Premium News On Backstage Plans For NXT Following This Past Week
The following article is part of our premium news section. If you're interested in this news and you're not a premium subscriber, why not give it a try? We put out breaking premium news and backstage news on a frequent basis that we can 100% confirm. If you ARE a premium member, welcome back! Thanks for helping us do what we do!
NXT continuing to feature it's tremendous roster of female talent for multiple reasons. NXT feels and rightfully so that they have a very strong womens division and want to showcase each talent and make sure they are getting the most out of those talent. As we have seen recently the initiative of not just have the 1 womens fued for the title, but multiple feuds and angles with the amount of talent they have. As we saw recently Candice has been paired against Io, Rhea and Shayna, and in addition there will be a heavy emphasis on womens tag teams in NXT. Tegan and Dakota have been paired and pushed as a team, also the Four Horsewomen and the upcoming Deonna Purrazzo and Chelsea Green. This is due to the fact the Asuka and Kairi Sane can defend the tag titles on NXT as well as giving the company the opportunity if they wanted to in pushing another team and exposing them to the main roster down the line if they win the tag titles. Further more in all of this NXT/WWE feels one of the biggest strengths on Wednesday nights vs AEW is their women's division. Recently as well in veiwership demographics the Women's talent on AEW as well as NXT has trending younger and that younger audience is so important to both companies.
Finn Balor turning on Gargano for all intensive purposes was also multi layered. With Matt Riddle as of writting not moving to RAW (this changes by the week), NXT was very top face heavy with Gargano, Ciampa, and Matt Riddle, with a second tier coming into their own with Dream, Keith Lee and Pete Dunne. With Walter not working every week in the states and Damian Priest not quite there yet it, it also off sets the balance. WWE talent took to social media on Wednesday night to really try to put over Finn turning. For what it's worth I'm told there is big plans and a long term play for Finn Balor in all of this. With NXT Takeover Wargames Chicago still to take place one month from now on November 23rd, it will be interesting if NXT goes with Undisputed Era vs. Gargano, Ciampa, Lee and Riddle vs. A team lead by Finn Balor, or if they go with a singles match of Finn Balor vs Gargano, however, that does not seem to fit for this Wargames show in particular. We will find out much more in the next couple weeks to see what booking direction they go with.
Keith Lee was praised for saving a spot on NXT and protecting Strong and Dominik Dijakovic. The spot came on the power bomb/superplex spot. Not putting blame on anyone, it was simply bad execution however Lee saved the spot by almost dead lifting the spot. Lee then made sure to leave enough room for the other two to bump even if it ment taking a awkward fall himself.
The NXT brand will be looking to build it's tag team division due to being thin from roster moves. The initiation of this will likley be seen in the next couple of weeks.
Alex Shelly is at the PC this week doing some coaching. His former partner in the Time Splitters, Kushida, is currently out with a broken bone in his wrist.
This should not come as a suprise to anyone however in addition to pushing Austin Theroy slowly but surely, and Jake Atlas wrapping up his Indy dates and headed to NXT, Paul Leveque and WWE brace are eyeballing a few talent that will be free agents in the next month. One of these talents is Jeff Cobb. Cobb who has been extremely complimentary towards WWE in recent interveiws will be a very sought after talent. Cobb will likley have offers from every wrestling company including Ring of Honor where he is now. The problem is there is not alot of leverage on the ROH side as the days of talent signing with both ROH and NJPW seems to be coming to an end with the launch of NJPW US.