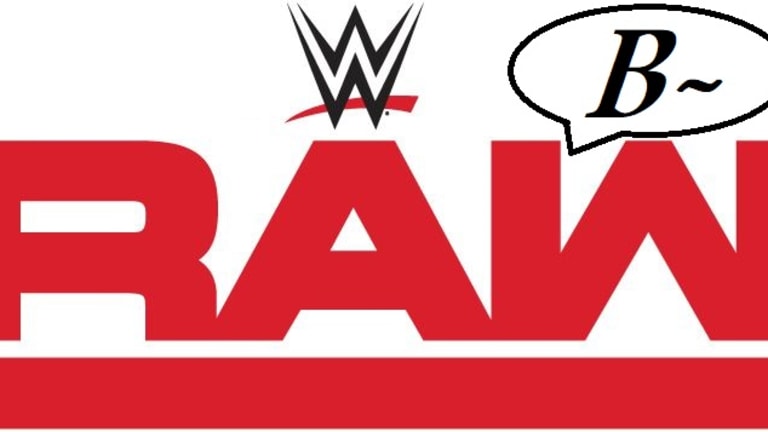 The Raw Report Card (2/18/19): Hello Fresh Faces by Ben Bekavac
Opening segment Triple H announcement 
Grade: A-
Reasoning: The Mic work itself by Triple H wasn't what everyone thought it would be. Announcing NXT Superstars debuting tonight was a breath of fresh air to open the show. Very nice to see the WWE do something different.
Baron Corbin vs Braun Strowman Tables match 
Grade: F
Reasoning: This match didn't much sense to me to end the way it did. Braun winning this match cleanly with no outside interference from Bobby Lashley or Drew McIntyre like at Elimination Chamber made me question who truly is writing this stuff in the back? It didn't do anything for Braun, it didn't do anything for Corbin, it wasn't that entertaining. So what was the point?
Paul Heyman segment 
Grade: F
Reasoning: This grade has nothing to with Heymans mic work. This was a poor attempt at trying to keep Rollins and Brocks feud going at this point. Brock not showing up week in and week out makes this feel like a mid-card match or an opening match at WrestleMania that's how bad this has gotten. Instead of Brock being at Raw this week they had to show a video package with Heyman showcasing what he's done in UFC and WWE. Here's a thought to the people in the back "we know his history we also know the show is failing because the belt and it's champion are never on the show." Very poor segment and did nothing to energize an already apathetic crowd.
Finn Bálor and Ricochet vs Bobby Lashley and Lio Rush 
Grade: A+
Reasoning: This match was pure gold. Ricochet had a lot of great spots in his debut match, the 630 splashes looked great on the main roster, and Bálor and Ricochet worked great as a tag team. As for Bobby and Lio, that's another thing. I'm questioning what the hell is creative doing with those two. Nonetheless great win and showcase for Finn and Ricochet in his debut match.
Lucha House party vs Zack Ryder and Curt Hawkins 
Grade F
Reasoning: Why? Just why? After a great tag match, why does WWE feel they need to make this entire show tag team matches. Why can't we have a serious build towards WrestleMania? This was a pure waste of time putting this match on instead of an actual build towards something.
Heavy Machinery and Lacey Evans segment 
Grade: F
Reasoning: After a strong opening and great debut for Ricochet, Raw seems to have come to a screeching halt. Raw is sinking fast with random, pointless segments.
The Revival vs Johnny Gargano and Tommaso Ciampa 
Grade: A-
Reasoning: Great debut for Johnny and Tommaso picking up the win against the new tag team champions the revival. Very much so a surprise that DIY got the win cleanly it makes me believe that they'll challenge for the Raw Tag Team titles at WrestleMania 35. Great match by both teams both teams have great in-ring chemistry with each other.
Bayley and Banks In Ring Celebration
Grade: B+ then D
Reasoning: Great promo by both Bayley and Banks on how much it meant to be the 1st Women's Tag Team Champions. They also teased they'll defend the tag team titles on Raw/Smackdown/NXT which gives us fans endless options and possible dream matches. They were then interrupted by Jax and Tamina as a possible tease on what's to come next. Sigh... not again. Nia really cuts terrible promos that seem sort of all over the place.
Drew McIntyre vs Dean Ambrose 
Grade C+
Reasoning: Great backstage segment between Triple H/Drew/Dean that set up this match I'm enjoying the new (old?) Dean's character. Drew picking up the win via pinfall seems to be headed towards a match with Seth at Fastlane.
Elias vs Aleister Black 
Grade: A+
Reasoning: Elias cut a decent promo on how NXT call-ups are taking away from his spotlight. Aleister interrupts with the best entrance and theme music in the WWE. The match itself was very decent, Black ended up picking up the victory hitting Elias with the "Black Mass" and getting the pinfall victory. All the NXT call ups won there debut matches.
Ronda Rousey vs Ruby Riott for the Raw Women's Championship 
Grade: B+
Reasoning: This was the type of match we expected between the two at the Elimination Chamber this past Sunday. Ruby hit Ronda with two Riott kicks Ronda kicked out of both. The match went back and forth between the two and Ronda ended up retaining her Raw Women's Championship via tap out. I do want to note that while the match was good, the show ending on this match felt...incomplete.
Grade for the whole show: B-
Reasoning: This episode of Raw had a chance to be the best one of the year between a surprisingly good outing at Elimination Chamber and four MAJOR NXT call-ups. However, it failed to capitalize the way I was hoping. It was very nice to not see Becky Lynch on Raw tonight, WWE is taking the longer route instead of forcing Becky in on every show. Triple H tipping his hat to her at the start of the show was enough. The biggest talk of the night was the debuts of all the NXT talent and very, very successful debuts. This finally gives the main roster a jump start it very much needed. Alister Black has me most excited I truly hope that we get a match at WrestleMania between him and Finn Bálor for the IC title. With the influx of NXT talent, we got on Raw tonight I'm once again excited and hopeful we get Velveteen Dream on Smackdown tonight!