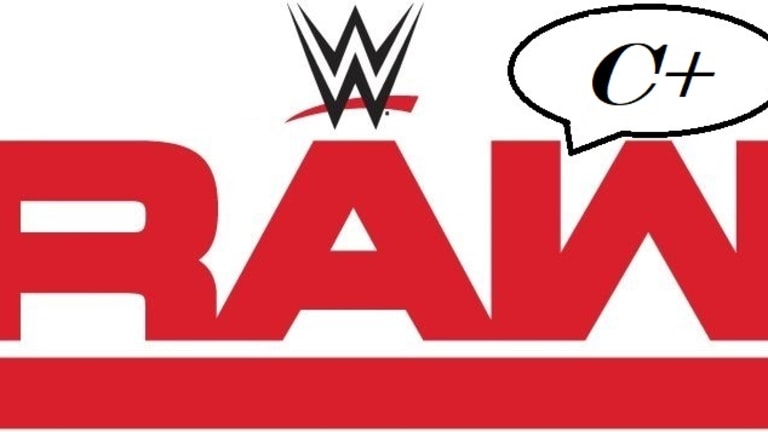 Raw Report Card (3/18/19): A Phoenix Rises
Opening segment: Brock Lesnar and Paul Heyman are interrupted by Drew McIntyre and Seth Rollins
Grade: A
Reasoning: The promo work by Heyman was good as per usual, but what really sold this segment for me was Seth Rollins unleashing chair shot after chair shot on McIntyre and then going after Lesnar. Lesnar did a pretty good job of reacting with facial expression. The brilliant thing about Lesnar (I can't believe I just said that) is that he has no love for ANYONE but himself. Watching him be surprised, but amused, by Rollins attack was a great reaction. The ONLY thing that was missing for me was Rollins grabbing the mic and telling Lesnar to do what he does best, go home.
Finn Balor and Braun Strowman vs. Bobby Lashley & Lio Rush
Grade: B-
Reasoning: The match was fine. I felt like Braun was used to be the muscle and Finn was used to be the speed against Bobby's muscle and Lio's speed. I don't love that because it implies that Finn is more suited for Lio instead of Lashley, which is who he's being put against. All in all Bobby Lashley abandoned Lio to be murdered again by Braun Strowman.
Funny note, my wife walked into the room during Bobby and Lio's entrance and asked when WWE started doing take your child to work day. Now I can't unsee it.
Moment of Bliss w/ Elias
Grade: D-
Reasoning: I just kept waiting for something important to happen and it never did. Waste of time.
Elias vs. No Way Jose
Grade: D
Reasoning: This match was a bathroom break. Honestly, Elias is a great heel and has yet to have a legitimate feud since being called up to the main roster. Not cool.
Kurt Angle Announcement
Grade: D
Reasoning: I've heard some people say that we shouldn't criticize Kurt picking Baron Corbin as his retirement match because it makes sense within storyline context. Screw that. This should be a huge epic match, not a midcard almost throwaway match. My only hope is that WWE swerves this at the last minute to be John Cena.
In-Ring Segment: Bayley and Sasha discuss WrestleMania plans
Grade: B+
Reasoning: This segment was only fine, however, it gets bonus points for Beth Phoenix coming out of retirement. Beth is easily one of the best of her generation and of all time. Beth coming out of retirement is very exciting, I hope she gets to hold the championships even if she ends up dropping them a week later.
Sasha Banks vs. Natalya
Grade: C
Reasoning: This match was only fine to begin with, but it never really got of the ground. Match ended up not going far because our note as Tamina and Nia caused a DQ, so those two are involved yet again despite REPEATEDLY losing.
Ricochet vs. Jinder Mahal
Grade: C+
Reasoning: I never thought I'd rate a Ricochet match less than a B grade but this match was sloooow. If you have a superstar like Ricochet you don't ground them the whole match! This match was essentially one long chinlock. Get your crap together WWE.
Dana Brooke vs. Ronda Rousey for the Raw Women's Championship
Grade: C+
Reasoning: This "match" did was it was supposed to do, made Ronda look strong and show her new edgy style. Didn't make Dana look good, and it didn't do a ton for Ronda either in my opinion. This flip in Ronda's style should have been done before Fastlane, not with 3 weeks until Mania. It feels rushed.
Apollo Crews vs. Baron Corbin
Grade: C-
Reasoning: Honestly, another snoozer in my opinion. Maybe I was just tired last night or maybe everyone is on cruise control heading into WrestleMania, either way, I was not pulled in AT ALL last night.
Batista Interview Via Satellite
Grade: B-
Reasoning: While this wasn't the best interview segment I've ever seen, it at least fleshed out the Batista/Triple H rivalry. It gave more substance to why Batista feels the way he feels. Honestly, I think Batista would've been better as a face in this rivalry, but it is what it is. Fact is, this match will probably be very good, but the build hasn't been great.
Seth Rollins vs. Drew McIntyre
Grade: B
Reasoning: Right off the bat, I have a really big problem with McIntyre not showing ANY signs of wear from being brutalized with a chair less than 3 hours earlier. The match itself was, again, fine. Easily the match of the night, but that isn't saying much. Rollins certainly looks like he's ready for WrestleMania. The ending was obvious, Lesnar was always going to distract or interfere in the match. We got the former.
Grade for the whole show: C+
Reasoning: I actually wrote B and then B-, but I couldn't justify that good of a grade. Raw was barely able to keep my attention all night and I found myself scrolling on my phone and finding other ways to keep myself entertained nearly all night. The problem with having matches and segments that drag down the show is that when the good segments happen my brain is sluggish and I can't get into them as much as I would like. This was definitely a "catch the highlights online" edition of raw.