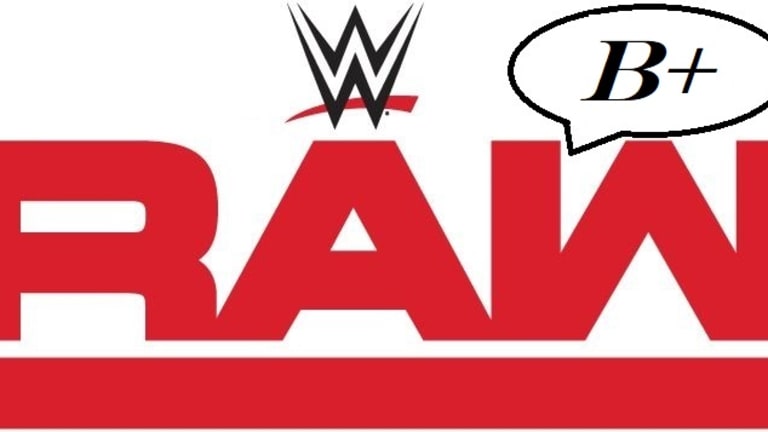 The Raw Report Card (3/4/19): Hounds Reunite!
Opening segment: Roman Reigns and Seth Rollins reunited
Grade: A
Reasoning: I enjoyed the false tease about Roman going after the Universal Title match at WrestleMania. When it shifted into reunited The Shield I was even more happy. Great segment that ended on the perfect teaser.
Finn Balor, Braun Strowman, & Kurt Angle vs. Drew McIntyre, Bobby Lashley, & Baron Corbin
Grade: B
Reasoning: I feel like a broken record by man WWE is just throwing Kurt Angle matches away like they're garbage. This is a LEGEND and they treat him like some mid-carder. I did enjoy watching Lio Rush get actually murdered by Braun Strowman. Finn was pinned by Lashley, but that's probably for the best. It's nice to see wins and losses get exchanged.
Natalya vs Ruby Riott
Grade: D
Reasoning: Man, who did Ruby Riott piss off? This better be leading to an angle. They did make mention that this was ANOTHER loss for Riott, but still…let's not have her be the next Hawkins. This one got a D instead of a full-on fail based on the ring work, but honestly the match was short and felt like another nail in the coffin for Ruby. At the end of the match we had a Lacey Evans appearance that seemed to bother Natty. Here's my quote from last week. It still applies. "Lacey Evans interrupting everyone just to do a model walk is already starting to bore me. Do something! Talk to someone, smack someone, attack someone! This isn't a runway it's the WWE! She's too talented to just have her do a model walk with no purpose."
In-Ring Segment: Triple H Promo
Grade: B-
Reasoning: This was a promo that was written with heart and soul. It was written to tug the heart strings and pull the curtain back just a bit to make it more "real." However, Triple H was just a little off for me. It didn't seem like he was able to do the soft, caring side of the promo very well. However, when it came time to turn on the intensity he nailed it, as he always does.
Gauntlet Match: Heavy Machinery vs. The Ascension, The B Team, & Curt Hawkins/ Zack Ryder
Grade: D-
Reasoning: I'll go on record as to saying I don't like Heavy Machinery. I don't mean it to be mean, but I just can't get on board. It was nice that this week we got actual English instead of hillbilly gibberish, but I'm still not at all on board with them. They came in and tore through the "lesser" Raw Tag Teams which does less good for Heavy Machinery than bad for the three teams who got wrecked. Not a fan.
Elias vs. Dean Ambrose
Grade: C
Reasoning: The match itself was fine. Elias and Ambrose can both work a decent match and they did. It wasn't anything to write home about. At least, not until….
Post-Match In-Ring Segment
Grade: A+
Reasoning: After the match Roman and Seth come out to try to talk Dean into reforming The Shield one last time. Ambrose seems reluctant and proceeds to leave through the crowd when Corbin, Lashley and McIntyre make their way out to insult and attack Roman and Seth. Ambrose looks like something clicks into place in his mind and he runs down to make the save. The reforming of The Shield can only mean an A+ grade.
Tamina vs. Sasha Banks
Grade: C
Reasoning: Another short match for the women tonight. Not a fan. The match itself was fine. I have to think they if given more time the match might have been better.
Raw Tag Team Championship Match: The Revival vs. Aleister Black & Ricochet
Grade: B
Reasoning: This was a really solid match and had my attention throughout. I loved the DQ ending by Roode and Gable. The difference between this tag team action and the tag team match from earlier in the night is night and day. This is exciting tag team action. I also have to give a shout out to Black and Ricochet for the awesome team pose they did. They're like friggin' superheroes.
In-Ring Segment: Stephanie's Announcement with Becky, Charlotte and Rousey
Grade: B+
Reasoning: This segment was really strong. It says a lot that WWE put this on as the main event even though The freaking Shield reunited on the same show. Not only did WWE have faith enough in the women to put them in that spot, but the crowd was very hot for the whole segment. The ONLY reason that I rated it a B+ instead of an A+ was a couple minor things that I couldn't overlook. To begin with, there were some questionable gaps in logic. First, Ronda vacated the title, then she hadn't. It was Becky vs Charlotte for the Women's Championship, then it was to see if Becky is added to the WrestleMania match. Last week Stephanie couldn't do anything to help Becky. This week Steph was able to drop the arrest charges and lift her 60 day ban without any issue. It almost felt like an afterthought. We saw Ronda finally snap and …turn heel? It wasn't clear if she's a heel now or a tweener, but in the moment it felt very heel. Another weird thing was after the beat down Stephanie was interviewed backstage and talked in circles about consequences and how it'll make for "one hell of a Triple Threat at WrestleMania.---er, uh, Or a singles match." The segment was really strong, but it just had some awkward points with some questionable logic choices.
Grade for the whole show: B+
Reasoning: A show that reunites The Shield and puts Becky Lynch back in the running for a title match a WrestleMania is a winner in my book. Despite some weaker matches and segments sprinkled throughout, the show was solid over all. This was a week where I really have to think if Raw was two hours instead of three we would've gotten a perfect show. In the end, I can't complain too much and that's pretty easy to do with WWE some weeks. Now on to Smackdown for some #KofiMania