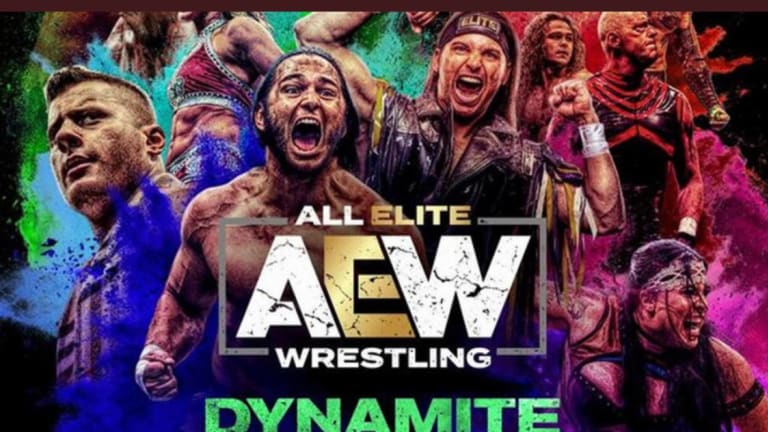 Ryan's On-Site Coverage And Review For AEW Dynamite (11/06/19)
Welcome everyone back to Wrestling News World!
We were live last night in Charlotte, NC, for AEW Dynamite on TNT.
I was running a little bit behind getting to the arena and didn't officially get into the arena until about ten minutes before the show started. Traffic was terrible getting into the Bojangles' Coliseum so I expected a full house. Finally getting to our seats five minutes before 8pm and there was not anywhere near the amount of people I thought that was there.
The hard camera was basically tarped off the entire half of the arena, but the rest of the seats seemed pretty full. The atmosphere was good, but no where near what it was on week one at the Capital One Arena in D.C. Nonetheless, the crowd was hot the entire night and was engaged from start to finish.
Let's get into the show match by match, shall we?
PAC vs Trent
The Best Friends are over, but Orange Cassidy is a fan favorite. The interaction he had with PAC and delivered the slow kicks to the shins popped the crowd hard. PAC had some great heat when he cut off Cassidy with a boot to the face but it's hard to hate the guy when he's just so damn good at what he does. A great show opener and showcased both workers. I would love to see Trent get an eventual single's push. The guy can work. We saw PAC grab the win after a botched pinfall from the Black Arrow, but smoothed it out with a submission finish.
PAC grabbed a mic after the match and told Adam Page he heard his naughty words and will see him Saturday at Full Gear.
Cody's Career Announcement
Cody is hands down the top face of AEW. It was clear in D.C. and it was once again clear in Charlotte. Cody announced that he will never compete for the AEW World Championship if he does not defeat Chris Jericho at Full Gear and the way he delivered the promo was just majestic. The guy has passion for what he does and the shot he took at Jericho about his biography being only three dollars on Amazon and how they both have had a silver spoon in their mouth since they were born. This promo tops it off for me being the best of the year thus far in any promotion.
Private Party vs The Dark Order
Finally, I think this is the first time we've seen The Dark Order get a reaction from the live crowd. Now with that said, they didn't get a reaction coming out to the ring, but they told a great story during the match with Private Party, one of the best tag teams going in tag team wrestling, period. A good match with a fifteen time limit and the winner was added to the AEW Tag Team Championships Match at Full Gear between SCU and The Lucha Bros. Once I heard that, I thought for sure we'd see a draw and both teams inserted. Once the five minutes remain mark hit, I was like, okay, draw inbound. I was wrong. Private Party secured the win and now they will see themselves challenging for the AEW World Tag Team Championships come Saturday.
Chris Jericho Video Package
This was beautifully hilarious. The package showed all members of the Inner Circle tell in detail on how great Jericho was. Sammy made the comment that Jericho was the youngest AEW World Champion at age 48. Every time Hager was on screen, he'd just stare into the camera which got laughs. We even saw a cameo of legend, Virgil, calling Jericho the greatest of all time and said he's like a basket of breadsticks from Olive Garden, unlimited. Let's not forget about Chris' church teacher as a kid where she said Cody is going to get the shit beat out of him and that she'd pray for him.
Sakura and Jamie Hayter vs Riho and Shanna
Hayter plays and a great heel and I was impressed very much from her performance, standing out from everyone else involved in the match. It seemed like a lot of people used this match for a bathroom break but it was awesome. Riho is beyond loved and Shanna put in some great work and selling. I was surprised at the ending when we saw countless roll up packages between Riho and Sakura, where Sakura actually picked up the win over Riho in surprising fashion.
Shawn Spears vs Brandon Cutler
This was probably Cutler's best performance to date and of course he was in the ring with a ring veteran of Shawn Spears. The match didn't last long and we were getting ready to see a post match beatdown after Spears picked up the win before Joey Janela made the save. I'm intrigued to see how the two will put a match together and I'm betting it's going to be brilliant.
Kenny Omega and Jon Moxley Video Package
Another short and sweet package to build their match for Full Gear, hitting hard that this will be a Lights Out Match. Mox is over huge with everyone, and I do love him, don't get me wrong, but it just seems like he can only be this badass that the volume is turned up to a ten. I want to see a slow and methodical speaking Moxley where he can whoop ass without screaming into a microphone. Regardless, I'm looking forward to this match and I'm assuming this will be match of the night.
Chris Jericho and Sammy Guevara vs Kenny Omega and Adam Page
Okay, so before the match started and they went to commercial break, Jericho grabbed a mic as the live crowd was calling him a "Stupid Dick". This led to him telling the audience that he didn't understand them with the heavy southern accent. We continued this and he said, "Are you guys saying stupid Katie Vick? That wasn't my idea." The crowd then chanted "Asshole" at him in which he told us that we were the assholes. This is why you heard us chanting, "We are Assholes" coming back from television break.
The match had 30 minutes including the entrances and I figured it would not go that long. I felt for Sammy as he chest was lit up red from Kenny and Page hitting him so hard with chops. The match ended when the referee was distracted and PAC ran out and hit a low blow on Page, who was then hit with the Judas Effect for the win. They all continued the beat down on Kenny and Page until Cody made the save to run off Jericho and Hager. MJF then came out down the ramp and hit both Jericho and Hager with a chair and threw Jericho back to Cody, who hit him with Cross-Rhodes.
Moxley then made his was through the crowd with a barbed wire bat. Kenny told Cody he had this one and Kenny grabbed the barbed wire broom, where the two were at a stalemate. Santana and Ortiz then came out and beat up both men. The Buck came out and hit a double Super-Kick and a whole brawl erupted between the Elite and Inner Core. We saw a crazy spot where Nick climbed part of the entrance set and did a flip onto everyone. You can look at the clip where I recorded it on WNW's Twitter or Thomas Fenton's Twitter.
Overall, I thought this week's show was so much better than last week and there's not much I can think of to nitpick about. Being at an AEW show is so much of a fresher atmosphere vs being at a WWE show. A great go-home show that ended in a brawl to where everyone that was involved, served a purpose heading into Full Gear on Saturday.