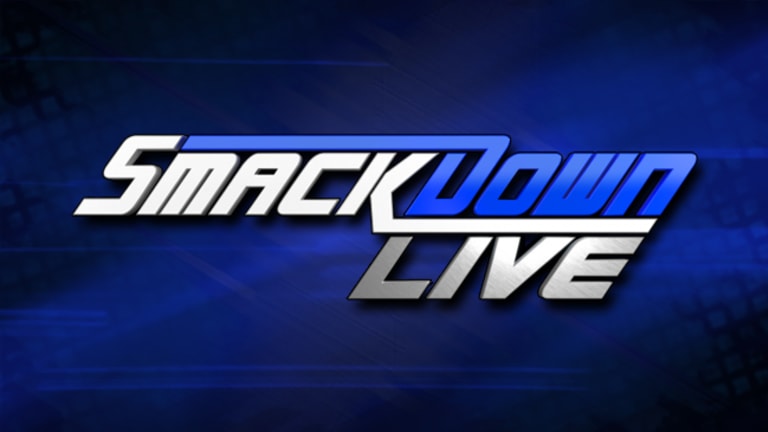 Smackdown Live Coverage And Results (04/16/19)-The Big Dog Bleeds Blue
Welcome everyone for live coverage of Smackdown Live tonight! Join me tonight as we continue the WWE ShakeUp and see who joins the blue brand! 
Live from Montreal, Canada. 
The show opened with a recap of last night on Monday Night for the first night of the Superstar ShakeUp.....
Kevin Owens made his way out to the ring for the Kevin Owens' Show. The crowd gave Owens a standing ovation as they are in Montreal. He welcomed the crowd to the show in French. Owens said tonight we will have a lot of surprises and said later tonight Vince McMahon will be announcing the brand's biggest acquisition in history. 
Moments later, Owens introduced the WWE Champion, Kofi Kingston. Kingston was joined by Xavier Woods, as the two joined Owens in the ring. The crowd erupted in Kofi chants. Owens said it was great to have them on the KO Show and said what he did at WrestleMania will never be forgotten. He then said he was happy for him and clapped along with the crowd. Kingston said it was because of the crowd that he was champion, and the WWE Universe. Owens said he did not want to be a downer but Big E was not here and Woods said he was injured last week. He said Raw took 80% of his UpUpDownDown roster and wants to have Tyler Breeze on the blue brand. 
It transitioned into Kofi and Xavier being in a tag team match Nakamura and Rusev. Owens then asked if he could join the duo as the third part of the New Day tonight. He named himself Big O! Kofi and Woods questioned him and all that he could do, but most importantly if he could move his hips. Owens then shook around and the three celebrated....
Backstage, Cesaro joined in on Nakamura and Rusev saying they need a teammate for tonight.
Finn Balor then made his way to the ring, as he is the first superstar to join Smackdown Live! Balor in action next! (c)
Ali then made his way to the ring for a match with Balor.
Finn Balor vs Ali
The two started off with some chain wrestling until Ali gained control with a headlock. Balor tried to fight back, hitting an elbow to slow down Ali's momentum. Balor worked over the arm and shoulder, keeping him matted down. Chops were then delivered but then Ali sent Balor to the outside. He dove onto him to send us to break...(c)
Coming back, the two went back and forth, then seeing a Bronco Buster hit by Ali on Balor. Chops were then delivered, but moments later Balor came back with a sling blade. He tried for a run into the corner but was met with a superkick. Moments later Balor set up for a Coupe de Grace but Ali met him up top and crashed Balor to the mat. Ali went for a 450 but Finn reversed it into a drop kick. He hit the Coupe de Grace for the pinfall...
Finn Balor defeated Ali
After the match, both men shook hands and Balor celebrated the win. 
Backstage, Kingston and Woods found Owens and told him he has to beat Big E's record for pancake eating. Owens protested but then went for it....
R-Truth and Carmella made their way out to the ring, as Carmella faces Charlotte Flair next! (c)
Charlotte then made her way to the ring. 
Carmella vs Charlotte Flair
Flair quickly put Carmella down to the mat and toyed with her. Carmella pushed back and hit a boot the face of Charlotte. Flair rolled to ringside and Carmella met her out there. Both women brawled and Carmella hit a body cross from the top of the barricade. 
Back inside the ring, Carmella continued to put the boots to Flair in the corner. Moments later, Flair hit a big boot on Carmella to send her down to the outside. (c)
Flair messed with Carmella before Mella fought back. Flair quickly gained control again and threw Carmella into the barricade on the outside. Carmella then hit another superkick on the outside. Coming in the ring, Flair put in the Figure 8 and Carmella tapped out...
Charlotte Flair defeated Carmella
After the match, R-Truth came to the aid of Carmella, but then Lars Sullivan made his way out to the ring. Truth took it to Lars but Lars smiled and slammed down Truth. He then turned his attention to Carmella, but referee Charles Robinson got her out of the ring. Sullivan then picked up Truth up for a powerslam. 
Up next, Becky Lynch is live on Smackdown Live! (c)
Becky Lynch then made her way out to the ring.
She said it feels good to have beaten Ronda Rousey at WrestleMania. She then brought up the Superstar ShakeUp. She said she has Lacey Evans on Raw and on Smackdown she can fight anyone. Ember Moon then came out to the ring, announcing that she was officially on Smackdown Live. Becky said she better not interrupt her. Moon then said she was here to make a name for herself and is here to step up to Lynch. Bayley then made her way to the ring and then said she was now on Smackdown Live. She then stated she is now a singles star and has her eyes on a championship. This then brought out the IIconics and told Bayley they took hers. They told Becky their belts are better because they are IIconic. 
Paige then came out to the stage and told the duo that they would be better defending their belts. She tried to introduce a new tag team, but then Mandy Rose and Sonya Deville made their way to the rings and told Paige they do not need an introduction. Paige said they would have to wait because then she introduced Asuka and Kairi Sane, stating that they would be the next WWE Women's Tag Team Championships. Both women then attacked everyone, then stood Sane and Asuka, Bayley and Moon....(c)
The IIconics, Mandy Rose and Sonya Deville vs Bayley, Ember Moon, Kairi Sane and Asuka
The match was in the in progress coming back from the break. Tags were made in and out before Asuak was isolated into the heel corner. Asuka fought back against Rose, who then tagged in Sane. Chaos then formed and we saw Ember Moon take a cross body to everyone on the outside of the ring...(c)
Bayley was inside the ring with Royce, before Asuka made a hot tag and hit a fury of offense on everyone. She went for a cover but Rose broke it up. More chaos began and moments later Sane tagged in and hit an Insane Elbow on Royce for the pinfall....
Bayley, Ember Moon, Kairi Sane and Asuka defeated The IIconics, Mandy Rose and Sonya Deville
A recap occurred of Lars Sullivan attacking everyone these past couple of weeks...
The Hardyz were backstage and they were saying they were the best tag team of space and time....
KO then introduced the New Day and the trio came out.....
Buddy Murphy then announced that he will be joining Smackdown Live!
The New Day and Kevin Owens vs Nakamura, Rusev and Cesaro
Rusev and Woods started the match, and Rusev ate a chop from Woods. Rusev took control quickly. Soon after, Kofi and Nakamura were in the ring, in which he took Nakamura to their corner and did a Unicorn Stampede. Woods was then legal but Nkamura took him down and tagged in Cesaro. He threw woods outside and tagged in Nakamura. He threw Xavier into the barricade. (c)
Coming back, Woods was still being worked over by Rusev. Nakamura tagged in but woods fought back for a moment before Nakamura met him on the top rope. Woods threw punches and knocked him down, hitting a missle dropkick. Kofi made a hot tag and hit a fury of offense on Cesara and hit a SOS. Soon after Cesaro got Kofi in a swing, before applying a sharpshooter. KO got in a hit a superkick. The pace quickened and Kofi hit a Trouble in Paradise followed by a stunner by KO for the win....
The New Day and Kevin Owens defeated Nakamura, Rusev and Cesaro
Up next, Vince McMahon....(c)
Vince made his to the ring and went on to say this next man is the future of WWE. He said he is talented and oozes charisma.... He then introduced Elias. Elias made his way to the ring and thanked Vince McMahon. He then said he questioned some decisions Mr McMahon has made but he is happy he chose him. Elias said he is happy to be on Smackdown but not happy to be in Montreal. Elias said the show will be the temple of Elias. He began a song and was then interrupted by Roman Reigns... He went to the ring and hit a superman punch on Elias and then Vince himself. He grabbed a mic and said that Smackdown Live is his yard now...... He went to leave but turned around and went back to the ring to hit Elias with a spear. He played to the crowd to close the show....(e)
(Keep Refreshing For The Latest Updates)