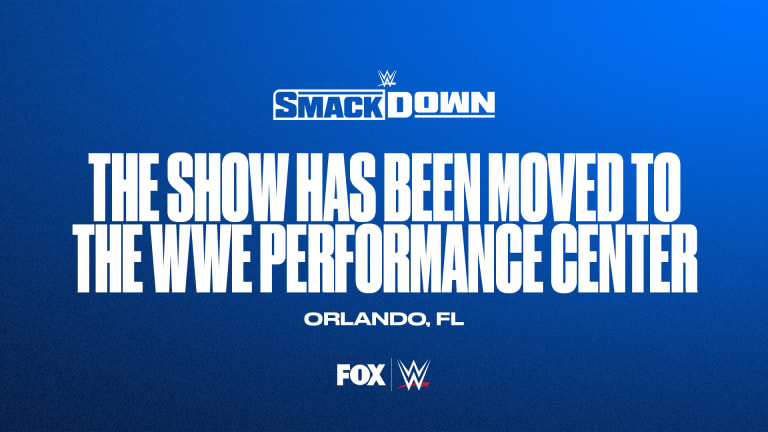 Smackdown Live Coverage: Live From The Performance Center
Tonight's Smackdown will be live from the Performance Center with no audience. It will certainly be interesting to see how the show is put together tonight due to the uncertainty surrounding WrestleMania. The WWE is only advertising the three returns in their preview for the show. 

- Paige confronts Smackdown Women's Champion Bayley
- John Cena returns to Smackdown after being challenged by The Fiend
- Jeff Hardy makes his return to Smackdown

Please make sure to check back to this article as more details for the show come out as well as live results of the show as it happens.

WWE Smackdown Live Coverage
Good evening everyone, Chris Deez here! Tonight's episode of Smackdown is certainly an interesting one, coming to us live from the WWE Performance Centre after WWE moved all programming to it's in house training facility following more Coronavirus fears. How will the show come across without a live audience? Will WWE employees and trainees fill the room instead? Not long until we find out!
Triple H welcomes us to tonight's show, giving us a small intro on the Performance Centre and what it brings to the WWE. A great opening vignette, with no mention of Coronavirus. Michael Cole introduces us to tonight's talking points and runs down what is coming up over the next two hours. 
Bayley & Sasha Banks are kicking things off tonight. Cole informs us that tonight he will be joined by a number of guests, the first of whom is triple H himself.
Sasha & Bayley claim that regardless of how many fans attend, they're still the faces of Smackdown. Alexa Bliss & Nikki Cross cut them off, challenging them to a tag team match to kick things off tonight.
Alexa & Nikki vs Sasha & Bayley
A quick start to the match with both teams going on the offence. Nikki & Alexa gain the upper hand after Nikki hits a nice crossbody on the heels. We break for our first commercial. Very weird feel to this episode. Back from the break and the heels are back on top, wearing Alexa down. Sasha hitds a nice double knee to Alexa in the corner but only manages a 2 count.
Nikki is trying to get the non-existent crowd going. Brilliant stuff! The heels stay on top with traditional cowardly offence, but Alexa battles her way back and makes the tag to Nikki. Nikki goes on a crazy hot tag, before attempting 4 pinfalls all of which only make it to a 2 count. All of a sudeen Asuka comes out of nowhere, attacking Alexa and distracting Nikki. The distraction was enough for Sasha to hit Nikki with a Bank Statement. Nikki taps and the best friends pick up the win.
Winners - Bayley & Sasha
A decent match this. Both teams played their part well and the interference from Asuka sets up Alexa & Nikki getting their shot at the tag championships at Wrestlemania. The action itself was fine, with all 4 women adapting to the strange atmosphere naturally.
Grade - B
A quick recap from 2 weeks ago of Roman Reigns deciding that he gets a championship opportunity at Wrestlemania against Goldberg. Roman makes his way to the ring to talk to Cole about the last year of his career. Cole highlights the fact that a lot of people aren't happy with Roman walking into the main event of Wrestlemania. Romans answer? Literally that he deserves it. Just... because. Cole reminds us that this match is being advertised as Spear vs Spear. Roman talks up his respect for Goldberg and the legacy he has carved out, before calling him out for being a part-timer.
Grade - C
Eh. This was fine, didn't need to happen and didn't achieve much, but on a night like this it certainly helped to fill some dead air.
Backstage we see NEW Intercontinental Champion Sami Zayn celebrating last weeks title victory. They depart and Jeff Hardy makes his long awaited TV return. King Corbin cuts Jeff off and talks some trash, before we find out that Jeff's in-ring return will take place tonight against the King himself. Elias butts in with a song for Corbin but his royal highness storms off. After the break, Daniel Bryan approaches Drew Gulak to say he wants to work with Gulak again. They're cut off by Sami, Cesaro and Nakamura, with the heels interference resulting in a match tonight between Cesaro and Bryan.
Grade - C
Underwhelming way to reintroduce Jeff Hardy, but on a night like this it's going to be hard to do anything massive or spectacular. Always nice to see Jeff back though, let's hope nothing hampers this latest return, The Sami segment was very interesting. More than enough hints that Gulak will be getting more T time and a potential Intercontinental Championship opportunity. Also, Cesaro vs Bryan? YES PLEASE THANK YOU VERY MUCH!
We seem to be getting a replay of the Tag Team Championship match from last week's Elimination Chamber PPV. The majority of the match is being shown here as a big way to fill up time.
People will complain about this big section of filler, but WWE didn't need to give us anything tonight really. We've been given Jeff wrestling on his first night back and a dream match between Cesaro and Bryan.
Back from the Chamber replay, Miz & Morrison are in the ring hyping themselves up. They run down and play off the empty arena, some brilliant stuff here from the hosts of The Dirt Sheet. As they leave the arena, Bryan and Gulak make their way to the ring. Gulak tries starting a YES chant before Bryan points out that there are no fans in attendance! More great content again. Triple H is filming Cole at ringside, taking on the role of cameraman, while reminding Cole that he isn't very good at his job. A short vignette letting everyone know about Rob Gronkowski being on the verge of joining WWE. We finally see Cesaro making his way to the ring.
Cesaro vs Daniel Bryan
Cesaro starts things off with his impressive trademark athleticism, hitting bryan with a whole bunch of uppercuts in the corner before we break for commercial. Back from commercial and Cesaro is still on top, wearing Bryan down with heavy blows to the body. Bryan picks things up with some of his patented fast-paced offence, leading into him hitting a tonne of sharp kicks. Cesaro launches Bryan 10 foot up into the air, smashing him with a beautiful uppercut as he comes crashing back down. Bryan somehow finds a quick roll-up and picks up the victory over Cesaro. All 3 heels beat down Bryan and Gulak following the match, throwing Gulak into the steel steps. Bryan gets a little bit of offence in before Sami gathers his troops and retreats.
Winner - Daniel Bryan
Grade = C
This match was again just fine, but it was more about what it does in the long term. It's main purpose was obviously to keep all 5 men on TV, while furthering the bubbling rivalry between Bryan and Sami. Keeping Gulak in the mix can only be good for him going forward, working alongside 4 of the best in the business today. Gulak is a very much underrated talent who the WWE Universe have barely seen anything of since his move from 205 Live. Hopefully we get to see more of his incredible technical ability very soon.
Elias joins Cole and Triple H on commentary for the final match of the evening. Corbi is already in the ring, Jeff makes his way down.
King Corbin vs Jeff Hardy
Corbin beats the hell out of Jeff before the bell is even rung, throwing him around at ringside. The action returns to the ring and the match officially starts. Corbin carries on as he started but Jeff quickly turns things around hitting a basement dropkick. Jeff's resurgence is quickly cut off by a sweet Deep Six from Corbin, who can only manage a 2 count. Elias starts playing guitar at ringside to distract Corbin, allowing Jeff to hit a Twist Of Fury (really?) followed by his trademark Swantom Bomb. Jeff covers Corbin for the quick victory.
Winner - Jeff Hardy
Grade - C
The right kind of match to book Jeff in on his return. Nothing too taxing, picking up a clean victory over an established star. Jeff seemed a little slow at times, but nothing to be too concerned about. Hopefully within a few months he will back in contention for a mid-card championship. The real story, if you can even call it that, is Elias vs Corbin. Most likely on the pre-show of Wrestlemania.
Triple H thanks the WWE Universe for watching tonight even if they couldn't be there in person. John Cena makes his way to the ring to face some questions from Cole. He asks Cena how he feels about being the man responsible for the birth of The Fiend, which stemmed from Cena defeating Bray some 6 years ago. Cena blames only one person... Bray himself. He fights back against the people who claim he has been handed everything by running down a list of all of the big losses he himself has faced over the years, such as CM Punk, The Miz, The Undertaker and Brock Lesnar. He blames Bray for being lazy and complacent, blaming everybody else for his failures apart but never himself. He says that people like him should stop getting multiple chances and insists that those chances should be going out to the likes of Drew McIntyre  Tomasso Ciampa, Matt Riddle, Velveyeen Dream and many more. He promises that he will accomplish what he should've done 6 years ago, destroying the most over-hyped, undeserving, over-pushed wrestler in history. 
FunHouse Bray is in the building! He speaks to Cena in person, stood behind the barrier. Bray enters the ring saying that Cena is actually wrong and doesn't really care about the future, only himself. As long as he gets his spotlight, it doesn't really matter who has to fall along the way. He explains that the loss from 6 years ago destroyed and warped Bray's mind, but he stopped running from the voices and started listening to them. Bray promises that their match at Wretlemania will be a slaughter. The segment closes out with Bray making one simple request - "Let Me In John"...
Grade - A
Phenomenal stuff. Passionate John Cena is untouchable in a promo... that is until Bray Wyatt comes along. FunHouse Bray explaining the reasons behind the match and what he hopes to achieve was the perfect way to move forward with this feud. The psychology of the rivalry is what makes it so good, so lending more towards promos and history instead of sneak attacks is so much more effective. This is the highlght of the Wrestlemania card for me.