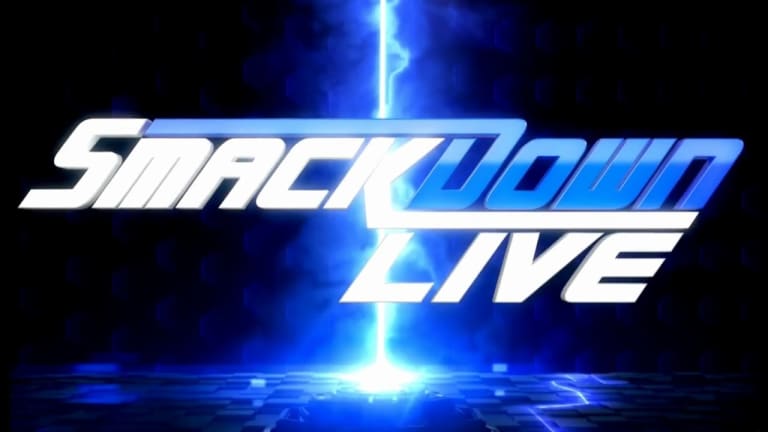 Smackdown Live! Live Coverage & Results (03.12.19)
Good evening wrestling world! Tonight's Smackdown comes to us live from Dayton, Ohio. In what looks to be an action packed night, we continue to travel down the road to WrestleMania. After his actions at Fastlane this past weekend, Shane McMahon will address the betrayal of his former partner, The Miz. Also, tonight we will see a star studded 8 man tag match, when The Hardys, Ricochet, and Aleister Black take on Rusev, Shinsuke Nakamura, and The Bar. And to top it off, Vince McMahon will address his decision regarding Kofi Kingston. All this, ad more in the coming moments!
We kickoff the show with Shane McMahon making his way to the ring. In the ring is the Best in the World trophy from Crown Jewel. He brings announcer Greg Hamilton into to the ring and tells him to address him as "Best in the World." In the ring, Shane says he's been asked why he betrayed his "bestie." Shane says that he is sick of people coming in his life and asking him to help them get better in life. He says this all stopped Sunday, when he beat Miz in his own hometown.
Shane says that he is the best in the world because he was born that way. He says from this point forward, he is going to do what is best for him. He tells everyone to get used to the new Shane. He says that he is going to continue beating Miz, and that he will give him a "best in the world beating" at WrestleMania.
Up next, a huge 8 man tag team will take place when Ricochet, Aleister Black, and the Hardys take on Rusev, Shinsuke Nakamura, and The Bar. (Commercial)
Aleister Black, Ricochet, & The Hardy Boyz vs. The Bar, Rusev, & Shinsuke Nakamura
Black and Nakamura start the match off. The two strikers trade strikes to start the match off, but Black is able to floor Nakamura with a leg sweep. He tags in Ricochet, who is able to land a flip onto Nakamura. After a pin attempt, he tags in Matt Hardy. Sheamus tags in and the two trade blows. Hardy is able to down Sheamus when he delivers an elbow from the middle turnbuckle. Jeff tags into the match and continues to bring the heat to Sheamus. A quick distraction from Cesaro allows for Sheamus to down Jeff with a big clothesline. Cesaro is able to tag in and deliver a couple of stiff shots to Jeff. Rusev tags in and continues the assault on Jeff in the corner. He locks Jeff into a side headlock, and Jeff continues to fight out, but his attempt is unsuccessful as Rusev yanks Jeff to the ground with a hair pull. Rusev gets Jeff into the corner, and the four men, with quick tags, deliver kicks to the midsection of Hardy. Hardy is able to fight out of the corner and tag in Ricochet. He comes in hot, delivering some high flying offense to Rusev. He continues his assault, but when he bounces off of the ropes to deliver another move, a distraction from his foes sends him to the outside of the ring. (Commercial)
We come back as The Bar continues to dominate Ricochet. Ricochet attempts to fight out of a side headlock, and succeeds when he sends Sheamus to the outside of the ring. Cesaro pushes Sheamus into the ring ad tags in. However, Matt is able to make a tag and go on the attack to Cesaro. He tags in Jeff and the duo deliver Poetry in Motion. The action starts to breakdown as each man comes into the ring and deliver their signature moves onto one another. Jeff is able to hit a Twist of Fate ad Swanton Bomb onto Cesaro. He goes for the pin, but the entire team breaks up the pin. All eight men begin to trade blows, when the New Day makes their way to the ring and attack The Bar, Rusev, and Nakamura. The Bar, Rusev, & Shinsuke Nakamura win by DQ
The New Day show an aggressive side, as they relentlessly attack their opponents. The attack ends with a Trouble in Paradise onto Rusev in the ring.
Backstage, The Usos cut a promo sending a message to all of the tag teams on Smackdown Live. They invite any of the tag teams to step into the Uso Penitentiary.
Randy Orton make his way to the ring, and he plans to address the actions of AJ Styles next! (Commercial)
Randy Orton has entered the ring and he grabs a microphone. In the ring, Orton compares his career to the career of AJ Styles. "This is the house that Randy Orton built!" AJ Styles immediately interrupts Orton and makes his way to the ring. In the ring, Styles says he is flattered that Styles followed his career so closely, especially since he came from the indies. Orton and Styles both say that people from the indies and people in the WWE have stolen gimmicks from each other. Styles says that the people from the indies have fought their way to the WWE instead of going to their hall of fame fathers. Orton says that he's done everything in his career on his own, but Styles points out how he's had help his whole career by naming the various stables Orton has been in. After a couple of more verbal jabs between the two, AJ Styles challenges Orton to a match at WrestleMania. Orton exits the ring without giving an an answer.
Up next, The Empress of Tomorrow, Asuka, takes on one half of Fire N' Desire, Sonya Deville! (Commercial)
Asuka vs Sonya Deville
The bell rings and the two women trade quick wrestling holds to start the match. They separate and begin to trade big kicks to each other. Asuka misses a drop kick from the middle of the rope, and Deville is able to cut Asuka in half with a huge spear. Asuka is able to kick out of a pin at two. Sonya picks up the champion, and begins to deliver strikes. However, Asuka is able to battle back and send Sonya to the outside of the ring. Asuka attempts a baseball slide onto Deville, but she moves out of the way and Mandy Rose ends up eating the slide. Sonya is able to get back into the ring, but she trips over the ring a skirt, allowing for Asuka to catch her and apply an Asuka Lock. Asuka is able to force Deville to tap out. Asuka wins
Backstage, The IIconics ask Sasha Banks and Bayley why they have not been on Smackdown yet. They tell the champions that they should be their next challengers for the tag titles.
Up next, we will hear from the WrestleMania bound Becky Lynch. (Commercial)
We return as "The Man" stands in the middle of the ring. She says that she is glad to be back in the main event at WrestleMania. She tells the WWE universe not to forget that she had to earn her way into this match twice. She says that she got Rousey so wound up, that she did her work for her. She says that at WrestleMania, she is claiming what is meant to be hers. She is then interrupted by Charlotte Flair. Flair congratulates Lynch for making it into "her" main event. She says that while Lynch was getting suspended and arrested, she was doing work. She says that although Lynch has been hot for six months, Flair herself has been hot for the last four years. She tells Lynch that the WWE Universe supports her because they feel sorry for her. She says she has never seen anyone do so little to get o much. She says that at WrestleMania, she will make Rousey and Lynch relevant again when she makes them bow down to the queen. Lynch says that at WrestleMania, she will see that the WWE won't need a Queen when they have "The Man."
Backstage, Daniel Bryan announces that Vince McMahon has put he and Rowan in a match with Kevin Owens and Mustafa Ali. (Commercial)
Rey Mysterio & R-Truth vs. Andrade & Samoa Joe
Andrade and Truth start the match off. Andrade delivers a huge elbow to the jaw of Truth, but Truth is able to fight back, delivering a barrage of strikes and finishing with a spinning back elbow. Rey tags in to the match and goes on the attack. He sets Andrade up for a 619. As he bounces off of the ropes, Samoa Joe is able to make a tag into the ring. He makes his way in and sends Rey Mysterio to the ground. He follows this with a couple of big right hands and then tosses Mysterio out of the ring. (Commercial)
We come back as Joe has Rey in a crossface in the ring. Truth breaks up the crossface and makes his way back to his corner. Andrade makes the tag in and delivers a knee to the midsection of Mysterio. He then attempts the three amigos to Mysterio, but Rey counters and delivers a sunset flip powerbomb. Mysterio is able to make the tag and goes on the attack to Andrade. He continues to do moves out of John Cena's moveset, delivering a five knuckle shuffle onto Andrade. He attempts an AA, but Joe interrupts and makes the tag. Joe begins to go in the attack, but Rey tags in. He's able to position both Joe and Andrade for a 610, and he hits it on both men. Mysterio goes to the top and delivers a splash onto Andrade. At the same time, Joe is able to hit a senton onto Mysterio. He picks Mysterio up and attempts a Uranage, but Mysterio is able to counter and rollup Samoa Joe for a pin and is successful. Rey Mysterio & R-Truth win
After the match, Samoa Joe snaps and delivers a Uranage onto Truth and Andrade. (Commercial)
Kevin Owens & Mustafa Ali vs Rowan & Daniel Bryan
Ryan and Owens begin the match, where Owens is able to get the advantage, until Rowan tags in. Rowan is able to down Owens with a big shoulder tackle. Owens gets up and delivers an enziguri. He tags in Ali, who attempts a flying cross body, but is caught by Rowan. Ali is able to get out of the predicament, but Rowan sends Ali to the ground with a huge spear. Bryan tags into the match and begins to work on Ali. A huge snap suplex allows Bryant attempt a pinfall, but Ali kicks out at two as we go to commercial. (Commercial)
The match continues as Rowan is in control of Ali. He sends Ali into the corner stomach first and perches him n the top turnbuckle. Bryan tags in and delivers a double hook suplex from the top rope. Bryan transitions into the LeBelle lock, but Ali is able to get to the bottom rope. Ali is stood up and hit with a big european uppercut. He stands Ali and whips him into the rope, but Ali answers with a big dropkick. He goes for the tag to Owens, but Bryan catches his leg. He stands Ali up and attempts a back suplex, but Ali counters and delivers a backbreaker. The action breaks down as all mean enter the ring. The action spills to the outside as Owens is sent into the barricade. Ali and Bryan continue battle in the ring. Rowan is able to sneak a tag to Bryan. Distracted by Bryan, Ali is met by the huge hands of Rowan, who delivers a big chokeslam like slam, and is able to pick up the pinfall victory. Daniel Bryan & Rowan win
As the two men exit, Vince McMahon makes his way into the ring. Up next, he plans to give Kofi Kingston a Wrestlemania opportunity. (Commercial)
We come back as Mr. McMahon stands in the middle of the ring. He says that he is there tonight to give the people and Kofi Kingston what they want. He says he is giving Kingston an opportunity at the WWE Championship at WrestleMania. McMahon then recaps the events of Fastlane. He says that people like Kingston and the WWE Universe don't listen to things correctly. The New Day interrupt him with a much more serious tone than we are used to seeing from them.
In the ring, Big E says that they are not in the mood to be taught any lessons. He says that they have done everything they have been asked for, yet they are still treated terribly. Vince McMahon tells Kingston that he doesn't deserve anything. He says the no one deserves anything. E says that this is bigger than them, even bigger than Vince's ego. Woods say that they deserve things because they have earned things. He tells how Kingston defeated men that were WWE Champions while they were champions and still hasn't gotten a shot.
E says that the WWE Universe has one demand, and that is to see Kingston compete compete for the WWE Championship. McMahon says that he wishes Kingston deserved a shot. He tells him if he was worthy of being in a championship match, he would've gotten one a long time ago. He tells Kofi that his athleticism is incredible. He says that he will be in the hall of fame one day, but the only way that will be is with the New Day. McMahon continues to say that he is not WWE Championship material, saying that he is a good B+ player. Kingston says that he is not asking for a handout. He says that eleven years ago, he began to fulfill his dream. He says that he has proved that he is worthy, by Vince hasn't seen it that way. Kingston says that he hasn't complained about anything in his eleven year career. Kofi says that what he needs for Vince to tell him what he needs to do to gain his WWE Championship opportunity. Before McMahon can answer, Randy Orton, Samoa Joe, The Bar, and Rowan make their way to the ring. McMahon says that if Kofi can beat them all in a gauntlet match, he will have his title opportunity. All of the men, except Orton, make their way to the ring and battle the New Day.
We end the night with the New Day clearing the ring and celebrating. However, Kingston will have to refocus next week as he attempts to run the gauntlet and earn a shot at the WWE Championship at WrestleMania.