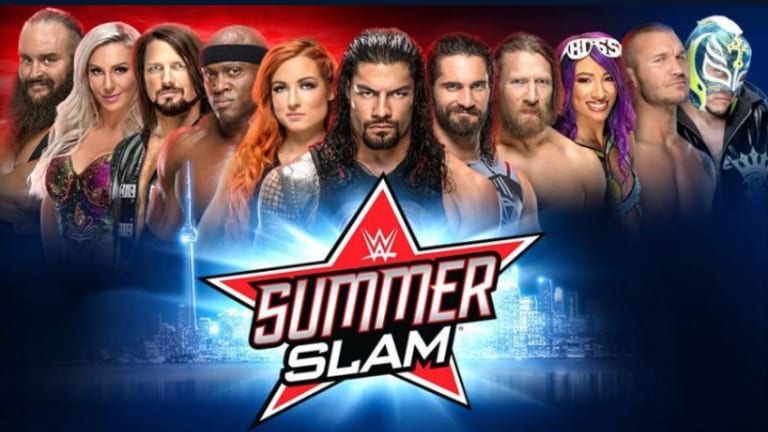 SummerSlam 2019 Live Results And Coverage (08/11/19)
Welcome everyone to WNW! Join us tonight for live coverage of tonight's SummerSlam PPV that will be residing in Toronto, Canada! The Biggest Party of the Summer will feature Lesnar/Rollins, Kingston/Orton, Owens/McMahon, Wyatt/Balor and much, much more! 
Live From Toronto, Canada
So far, this kickoff show has been decent. Rowan attacked Buddy Murphy, Elias is getting the WWE Universe all hyped up with his insulting music and Edge has made his appearance in his hometown! Also, the first title defense for the new WWE Women's Tag Team Champions, Alexa Bliss & Nikki Cross. Tonight should be a great night for the main card!
Tonight, Natalya has the opportunity of a lifetime to become a WWE women's champion in front of her home country. But The Man isn't standing for any of that. She wants to put an end to Nattie's fantasy. Who will leave Toronto as the Raw Women's Champion? Let's kick the show off!
Submission match: Becky Lynch (c) vs. Natalya - Raw Women's Championship 
They traded slaps felt all the way in North Carolina until Becky Lynch started firing away on the challenger in the corner. Lynch is trying to keep control of Nattie. She goes for an early triangle hold and converts it into a leg submission. They get to the ringside area and Nattie begins working on Lynch, going after the legs to weaken her for the signature sharpshooter.
The Man tries fighting back but Nattie uses the brilliant strategy of attacking the injured leg. She locks in a sharpshooter in the ropes on Lynch but Lynch falls to the outside. Lynch capitalizes and send Nattie crashing in the announce table and steel steps, arm first. Lynch wants to damage the arm well enough to apply pressure for the signature. 
They get back in the ropes and meet up on the top turnbuckle, Nattie with a superplex! Lynch looks like she just had the wind knocked out of her! Becky gains control and locks in her own version of the sharpshooter on Nattie! Nattie forces Lynch to go crashing neck first in the corner.
Toronto is coming to life with the "THIS IS AWESOME" chants. Nattie locks Lynch into her own Dis-Arm-Her! Lynch tries to flip it into the Dis-Arm-Her but Nattie stops it and locks in the sharpshooter! Becky gets to the outside to try and break it up, Nattie looks to pull her back in. Lynch capitalizes and pulls Nattie in for the Dis-Arm-Her! Nattie taps in her own country! 
Winner by submission and still champion: "The Man" Becky Lynch
What an intense match! And the whole crowd was into it! Trish Stratus is doing an interview and discusses where the pioneers of the women's division had come from. And looks to take it to Flair tonight.
Coming up, it's Goldberg vs. Dolph Ziggler. Ziggler has been disrespectful towards the men that came before him in the industry. Goldberg took exception to it. Stay tuned!
Goldberg vs. Dolph Ziggler
Ziggler cut a pretty nice promo before the match. He didn't think Bill would show up. Surely, he's in Toronto and is ready to face Dolph!
They stared each other down but then Ziggler snuck Goldberg with 2 vicious Sweet Chin Musics with 2 1 count pins. He set up for a third and was met by an even more vicious spear and Jackhammer from Goldberg. Of course, that's it.
Winner by pinfall: Goldberg
Ziggler hopped on a mic when Goldberg walked up the ramp. He told Goldberg that it was like getting hit by a baby. Bill came back to the ring and speared him one more time. Ziggler demanded the mic back and insulted Goldberg again. This made Goldberg come back to the ring, pick him up and hit him with another vicious spear. And Ziggler sold that one to the fullest, Shawn Michaels style! What's next for Dolph Ziggler in WWE?
Kofi Kingston is preparing for his championship match. His New Day brothers came back and claimed they got Drake to come to the show. In came.... Drake Maverick ;) anyway, the fellas are hyped and Kofi looks ready to fight! Will he leave the 6 with the WWE Championship? 
Up next, "The Phenomenal," Champ That Runs the Camp will be defending his U.S. Championship against Ricochet. After Styles turned his back on Ricochet and the WWE Universe and has embraced the heel side once again, this rivalry is continuing tonight! Can Styles retain or will Ricochet become a two time U.S. Champion? We will see, next!
Ricochet vs. AJ Styles (c) - WWE United States Championship
Off the bell, the two competitors went at it. Styles went ringside and Ricochet uses Gallows and Anderson as stepping stones to get to Styles. Back in the ring, Ricochet ran towards Styles and got caught in the ropes. Styles struck the leg which is smart, it forces Ricochet to have a disadvantage when he goes through the air. 
He's attacking that injured left leg. Ricochet is hurting pretty badly! Ricochet catches Styles with a kick to the face and gets himself back in it. He launches himself off one leg from the top rope and lands a clothesline. Ricochet is catching fire!
A couple of near falls but Styles still won't stay down. His title is on the line! Ricochet looks to climb high but Styles is recovering. He goes back at the bad leg. He sends Ricochet to the outside and follows with a couple of baseball slides. Back in the ring, Styles sets up for the Styles Clash but Ricochet takes exception. 
Ricochet tries to pick fire back up but Styles flips it into the Calf Crusher on the injured leg. Ricochet creates separation and turns it into the Anaconda Vice! Both men break it up. Ricochet drops Styles with a couple suplexes and looks for the finish. The OC tries to distract him but they couldn't stop him. Ricochet sets up for Whisper in the Wind but Styles catches him and drops him with the Styles Clash for the win! 
Winner and still champion: A...J....STYLES!
After the match, Gallows and Anderson dropped Ricochet with the Magic Killer. Too too sweet!
The Street Profits are backstage, hyping all of Toronto up! Ric Flair joined them in a WOO! battle! 
Up next, the Smackdown Women's Championship is on the line! Bayley will defend her title against Ember Moon! Should be an epic match! 
Ember Moon vs. Bayley (c) - Smackdown Women's Championship
They start off trading moves. Ember Moon is taking advantage of this opportunity. She's wearing the champ down early. Bayley turns it back over and uses that power to her advantage. Ember tries to fight back in this one but Bayley using that championship instinct.
Ember Moon tries to use the acrobats on the champ. She delivers the hurricanrana. Moon followed with the knees to the face and a near fall! Moon looks to capitalized and goes to the top rope. Bayley meets her up top with the super Bayley-to-Belly and the win!
Winner and still champion: Bayley
Up next, it's bout that time for The Kevin Owens Show! KO has taken exception to Shane McMahon's antics on Smackdown Live! He's grown tired of Shane using his power of authority. This rivalry has been a bit of a Vince McMahon/Stone Cold rivalry. Tonight, KO gets the chance to get his hands on Shane and in KO country!
Kevin Owens vs. Shane McMahon
Before the match started, Shane brought Elias out as a special guest enforcer. Shane attempted to toy with KO and used Elias to distract him. Shane tried to capitalize but KO put a stop to it. Elias created a diversion and Shane took advantage, wearing the former Universal Champion down.
KO tries to fight back but Shane with the vicious strikes and a Russian Leg Sweep. KO can't get an edge and goes for a Pop Up Powerbomb but Shane counters. Shane goes for a sharpshooter, as a McMahon in Canadian territory...but KO counters and delivers the Pop Up Powerbomb. 
Elias with the distraction and slides a chair in for KO. He dared him to use it. KO dropped it and goes at Shane. KO with the frog splash and senton! Elias distracts the ref again and KO delivers a cannon ball to Elias and the ref off the apron to the outside. He picks up the chair back in the ring to strike Shane but Elias pulls him out of the ring. KO beat him down with the chair, jumps back and wants to use the chair on Shane. The ref comes back in to stop him. KO gives him the chair and, with the refs back turned, kicks Shane in the nuts! He followed it up with the Stunner for the win! The Kevin Owens Show isn't ending just yet!
Winner by pinfall: Kevin Owens
For weeks, Roman Reigns has been getting attacked. His attacker remained anonymous until he questioned Buddy Murphy. Murphy revealed it was Rowan that didn't it. Will Reigns get his revenge? 
Up next, Charlotte Flair takes on Toronto's own Trish Stratus. Which one of these Elite women can come out of Toronto as winners? Stay tuned! It should be a brilliant match!
Charlotte Flair vs. Trish Stratus
You never realize how tall Charlotte is until you see her go toe to toe with others. She looks like a giant compared to Trish! She is toying with the former Women's Champion. That's not the best idea. Trish shows Charlotte that she still has a mean streak.
This spilled out to the ringside area but Charlotte quickly gains control. Charlotte is woman handling Trish, wearing down the veteran. She's thinks it's too easy facing Trish. Flair goes for a back drop but Trish turns it over into a pin. Flair kicks out and gives a vicious right. Charlotte is all out disrespecting the greatest women's wrestler of all time! Trish has had enough and is delivering to Charlotte. 
Charlotte flips her over the ropes and gives her a big boot off the apron. Trish takes her time recovering on the outside while Flair mocks her. Trish gets back in to beat the count and Charlotte goes back to work. She climbs up top for a moonsault and Trish moves. She capitalizes and takes more time to recover off the STO. Flair tries to fight her off but Trish with the vintage chops!
Flair kicks her off and heads to the top but Trish stops her with the hurricanrana and a near fall. She goes for a Chick Kick but Flair counters and hits her with a vicious Big Boot and a near fall. Flair, in disbelief, goes at Trish's left leg. She attempts the  Figure-4 burn Trish turns it over. Trish locks in her own Figure-4! Flair can't get out! Trish converts it into the Figure-8! Charlotte gets to the ropes.
Flair lines up for the spear but Trish sends her into the turnbuckles. She delivers a Stratusfaction and a near fall! The WWE Universe is alive! The two trade vicious chops! Trish with the Chick Kick from out of nowhere and a near fall. Flair turns it back around and locks in the Figure-4 turned Figure-8. Trish couldn't break the hold and taps.
Winner by submission: Charlotte Flair
Seth Rollins is preparing for war with Brock Lesnar for the Universal Championship. With injured ribs and all, can he come out as a winner? We shall find out tonight!
Up next, Kofi Kingston finally gets redemption against Randy Orton. He almost broke through his glass ceiling 11 years ago against the Viper. But, apparently, Orton was the reason why Kofi never succeeded until 2019. Orton always thought Kofi was STUPID. He felt like Kofi wasn't ever on his level. But Kofi is here's to show Orton why he is the WWE Champion. Can he leave Toronto still as the WWE Champion? Or will Orton put an end to his championship reign tonight? It should be an awesome match of redemption, a sort of "long-time-coming" type of match! Kofi vs. The Viper for the WWE Championship, next!
Randy Orton vs. Kofi Kingston (c) - WWE Championship
Orton tries to get under Kofi's skin early. He knows that it takes only one second for an RKO to happen. Kofi flips it back around and fires up. But Orton puts a stop to it and sends Kofi flying to the barricade. Orton stalks the champ and is picking Kofi apart on the outside, imposing his will on him.
Back in the ring, Orton lays Kofi out and is stopping away at the limbs. He's wearing the champ down and sends Kofi back to the outside. Orton looks to send Kofi crashing into the steps but he jumps right over them! Kofi soars back and brings the fight to Orton. Orton turns it back over and goes back to picking the champ apart. He sends Kofi spine first onto the announce table.
He gets Kofi back in the ring and goes for the cover but Kofi fires out of it. Orton props Kofi on the top turnbuckle and meets him up there. Kofi fires out of the superplex and knocks him off, followed by a tornado DDT and a near fall. Both men are showing signs of fatigue. They get to their feet and Kofi with the vicious thunder chops to the chest of Orton. He's picking the fireball back up! He sets up for T.O.P. but Orton counters with the back breaker and a near fall. 
Orton mocks Kofi and the New Day with their infamous claps and goes for an apron DDT.  Kofi wills his way out of it and dives to Orton on the outside. Kofi attempts you pick the speed back up. Kofi goes for the kick in the ropes but Ortons turns it into the apron DDT and a near fall. Orton sets up for the RKO to the champ! Kofi is getting to his feet slowly and turns the RKO into a pin. They trade counters, Kofi kicks Orton in the ropes and climbs up top, Orton counters with the RKO in the air!
Kofi rolls to the outside out of instinct. Orton follows and stares down Kofi's family. Randal...Keith...Orton...you've done enough....And Kofi just lit up on Orton, forcing the double count out!
Draw
Kofi lit fire into Orton with a kendo stick and finished him off with a brutal Trouble in Paradise. Toronto fans weren't really happy with the outcome of this match. It's the second year in a row where the face WWE Champion walks away from Summerslam as champion under the circumstances that the heel competitor disrespected the champ's family....yeah Wrestling World, I agree with Toronto when we all say that's "bullsh*t!" It'll Ben interesting if they continue the feud this week on Smackdown Live.
Next, "The Fiend" Bray Wyatt has been tormenting Finn Balor. Wyatt looks to impose his will onto Finn Balor. This match takes place, NEXT.
Finn Balor vs. "The Fiend" Bray Wyatt
Bray Wyatt's new theme is just a remix of his one from before and it is absolutely AMAZING! His new look is amazing and the entrance is well done! He even got a new lantern basically showing that his old self is dead and gone. "The Fiend" is here to stay and he's coming for Balor. Finn truly looks shook. 
Off the bell, Wyatt is firing away at Balor. Balor tries to turn it around but Wyatt with the spider in the corner. Wyatt goes back to picking him apart! The Toronto crowd is loving this new look on Wyatt. Wyatt is struggling with voices in his headband and sets up for Sister Abigail. Balor turns it around and kicks Bray in the corner, he sets up for the Coup de Grace but Wyatt catches him with the Mandible Claw for the win!
Winner by pinfall: "The Fiend" Bray Wyatt
Wyatt made it all dark and disappeared on everyone. Toronto loves The Fiend and showed it! 
Up next, it's finally time for the Universal Champion to defend the title against the former champ. Lesnar has attacked Rollins for the last few weeks. He forced an injury on Rollins and all. Rollins, being the Beastslayer he is, is looking for redemption. He's ready to get the title back. Who can leave Toronto with the championship? Sit back, relax and enjoyed this main event! It should be one hell of a fight! 
Seth Rollins vs. Brock Lesnar (c) w/ Paul Heyman
Rollins went right after Brock, who targeted the injured ribs. This is going to get ugly very quickly. Rollins fought back with a kick to the jaw. Lesnar turned it back over to go for a German but Rollins landed on his feet. He connected with the Curb Stomp and a near fall. Lesnar rolled out of the ring to buy some time. Rollins went back for offense but Lesnar went for another German, only for Rollins to land on his feet again! He put on a Superkick Party and set up for the stomp again but Lesnar caught him with the F5!
Lesnar didn't go for the cover. Instead, he picked Rollins apart with a little bit of Suplex City. Lesnar took his time with Rollins and attacked those ribs. Rollins tried to get some offense back but Lesnar caught him with another suplex. He's back to going after those ribs. Rollins is in serious pain. 
Lesnar drove Rollins into the corner and went for a shoulder thrust. Rollins moved out of instinct! He takes Lesnar to the outside and sets up for the suicide dive multiple times! Lesnar caught him on the third one and drove him into the ring post. Both men are down outside the ring.
Lesnar takes an announce table apart and Rollins super kicks him onto it. He goes up to the top turnbuckle and delivers the dive to a stunned Lesnar through the table! The crowd is in shock! Heyman is in shock! And, surely, Brock Lesnar is in shock! Rollins looks to capitalizes and hits another frog splash in the ring. He sets up for another stomp and delivers! Lesnar kicks out at 2.81/3! What more must Rollins do?!
He set up for the stomp again but Lesnar caught him in the air for another F5. Rollins landed on his feet and super kicked him, followed by, yet, another Curb Stomp to win the title back! New Universal Champion!
Winner and new champion: Seth Freakin' Rollins
Through all of the German suplexes, weeks of torment from Lesnar, the Beastslayer is back as Universal Champion! What a performance from both men! Congratulations to the now 2X, and second multiple time, Universal Champion, Seth Rollins! Hope you all enjoyed the show. Have a great week and a great rest of the night! Good night Wrestling World!