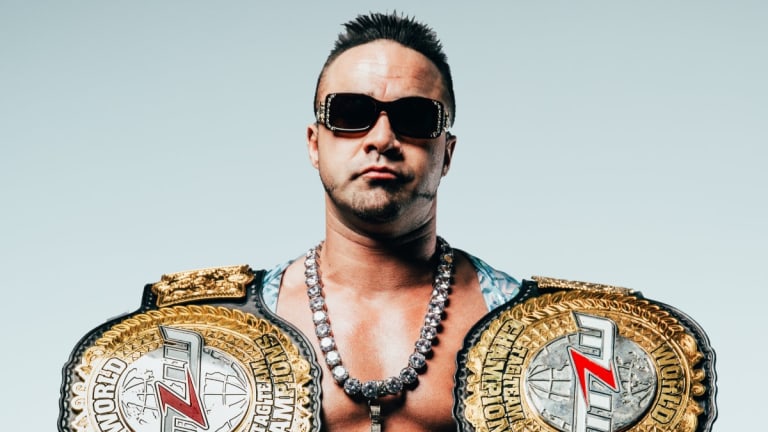 Teddy Hart enters the 2019 Battle Riot in NYC
NEW YORK – The Hart family's prodigal son Teddy Hart is one step closer to becoming the first-ever triple crown champion Major League Wrestling history... all he has to do is outlast 39 other wrestlers in the 2019 Battle Riot®. See Teddy Hart live on beIN SPORTS at 8 p.m. ET on Friday April 5th as looks to win the 40-wrestler bout and punch his ticket to a World Heavyweight Title shot anytime, anywhere.
MLW today announced that the reigning World Middleweight and Tag Team Champion Teddy Hart will compete in the 2019 Battle Riot® at MLW's April 5th event at the Melrose Ballroom. Both the April 4th and April 5th events will be MLW FUSION TV tapings for beIN SPORTS.
Tickets start at $20 at http://www.MLWTickets.com.
Hart joins Pentagón Jr., MJF, Minoru Tanaka, Alex Hammerstone, super heavyweight Ace Romero and his cousin Davey Boy Smith Jr. as the participants announced thus far for the Battle Riot®.
A member of the reigning World Tag Team Champion Hart Foundation, alongside Davey Boy Smith Jr. and Brian Pillman, Teddy Hart has been reborn in Major League Wrestling over the last year. Crashing an MLW Fusion match in Orlando demanding one last shot, MLW CEO Court Bauer granted the black sheep of the Hart family his one last chance... and Hart has made good on that opportunity.
Harnessing his uncanny athleticism and innovation, Hart has blazed a trail throughout the league winning the World Middleweight Championship in December in a ladder match in Miami. Hart further cemented his comeback dethroning the Lucha Bros. on live national television with cousin Davey Boy Smith Jr. to claim the World Tag Team Titles in February at SuperFight.
Now, Teddy looks to secure the elusive World Heavyweight Championship... but in order to do so he must outlast, outwit and outfight 39 other wrestlers in the Battle Riot®!
What is the Battle Riot®?
A mash-up of a battle royal, royal rumble and anything goes street fight, this super-sized main event will feature 40 wrestlers with new participants entering the ring every 60 seconds.
There will be surprises!
There will be legends!
There will be WTF entries!
And there will be no disqualifications!
Elimination is by pinfall, submission or by throwing an individual over the top rope.
Anything is possible April 5th in a Battle Riot!
What does the winner get?
The winner gets a World Heavyweight Title Shot anywhere, anytime! It could be that night; it could be in 6 months. The challenger has the key to unlock an instant title shot against whoever the champion is!
Tickets start at $20 at MLWTickets.com!
See the 2019 Battle Riot® LIVE in New York April 5 at the Melrose Ballroom as MLW presents a live national network special for beIN SPORTS (buy tickets).
Tickets to witness the event live in New York start at $20 at MLWTickets.com. Tickets will also be available day of show at the box office unless the events sells out in advance.
Buy tickets starting at $20 at MLWTickets.com.
Signed thus far for April 4th's RISE OF THE RENEGADES:
NYC Street Fight for the World Championship: "Filthy" Tom Lawlor vs. Jimmy Havoc
Pentagón Jr. vs. LA Park (presented by Salina de la Renta)
Sami Callihan vs. Mance Warner
MJF vs. Brian Pillman Jr.
Plus: World Tag Team Champions The Hart Foundation • Rey Feníx • Low Ki • Daga • Konnan • Salina de la Renta • Hijo de LA Park • Gringo Loco • Simon Gotch • Jacob Fatu • Josef Samael • Ace Romero • Alex Hammerstone • Myron Reed • Ace Austin • Richard Holliday • Ariel Dominguez
Signed thus far for April 5th's BATTLE RIOT II:
THE BATTLE RIOT:
Participants: Davey Boy Smith Jr. • Pentagón Jr. • Minoru Tanaka • Teddy Hart • MJF • Ace Romero • Alex Hammerstone
More matches and wrestlers will be announced at MLW.com.
There will be several meet and greet opportunities featuring Major League Wrestling wrestlers and personalities. Additionally, there are limited VIP tickets available which includes early entry (5:30 p.m.) featuring a special pre-show meet and greet with extended meet and greet privileges.
Tickets to each event start at $20 at MLWTickets.com. There is also a $30 fan appreciation ticket that gives you access to both the April 4th and April 5th matches.
General Public Doors Open: 6 p.m. with a bell time of 7 p.m. League officials anticipate the card will end at approximately 10:45 p.m.
Please note: General Admission SRO Tickets are: $20 for advance sales, $25 Day of Event at the door.
MORE ABOUT THE VENUE:
Located in the heart of Long Island City just minutes away from Manhattan, the Melrose Ballroom is one of New York City's premiere exclusive venues for live performance, music, and entertainment shows.
The venue is located at: 36-08 33rd Street Long Island City, NY 11106.
PUBLIC TRANSPORTATION:
Subway, bus and directions to the Melrose Ballroom can be found here: http://melroseballroomnyc.com/directions/