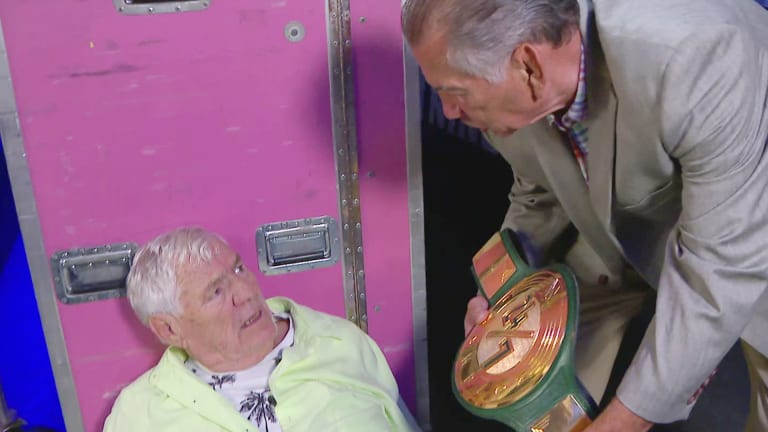 The Journey of the 24/7 Title at RAW Reunion
The WWE 24/7 title changed hands nine times this evening on Raw Reunion.
 1) R-Truth was rolled up by Drake Maverick.
2) Maverick distracted and scared by The Boogeyman backstage, who filled Drakes luggage with worms. Pat Patterson walked in kicked Maverick several times to win the title. 
3) Patterson was attacked by Gearld Brisco, Brisco pinned him. 
4) Kelly Kelly backstage then kicked Brisco in the groin, and pinned him to win the title.
5) Kelly Kelly was backstage with Candice Michelle, Naomi and Melina who had a referee's shirt on under her jacket. Candice Michelle then attacked Kelly Kelly and pinned her to win the belt. 
6) Alundra Blayze then choked out Candice to win the title. 
7) Alundra Blayze walked over to the announcer's table and teased throwing the belt in the trash can. "The Million Dollar Man" Ted DiBiase came out and bought the title from Alundra Blayze. 
8) DiBiase was then backstage getting into his limo, when Drake Maverick inside attacked him and came out of the limo as champion. 
9) R-Truth later then rolled up Maverick to win the title (his 10th reign). R-Truth also was shown being taken away by the limo which had Maverick's wife with Truth. Maverick was left at the arena with Carmella
What do you guys think about the 24/7 Title's journey during Raw Reunion? Highlight or lowlight?