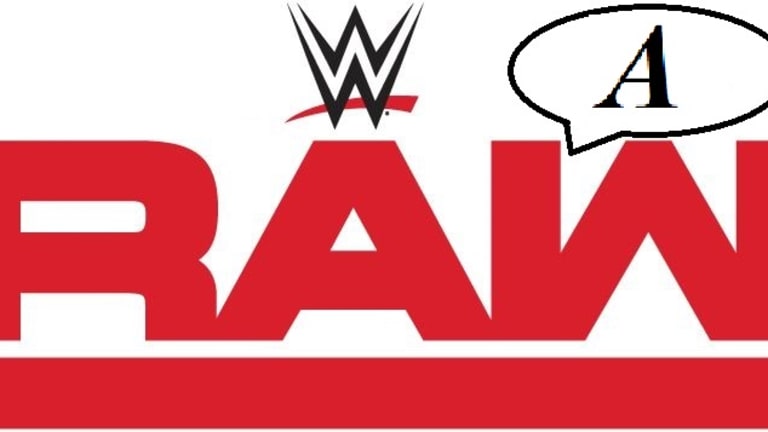 The Raw Report Card (2/25/19): The Big Dog Returns!
Opening segment Roman Reigns announcement
Grade: A+
Reasoning: I mean…did you really think this segment would get anything less than the top grade? Thrill to tears to see Roman back in the WWE happy and healthy.
Aleister Black & Ricochet vs. The Revival
Grade: B
Reasoning: This match went pretty quickly, or at least it felt like it did for me. Everyone did a great job and once again the NXT call-ups pick up the win. The momentum for the NXT guys is really strong right now. However, I don't know how I feel about The Revival winning the championships and then losing two weeks in a row. I hope this goes somewhere….
In-ring Segment: Elias Interrupted
Grade: C+
Reasoning: Lacey Evans interrupting everyone just to do a model walk is already starting to bore me. Do something! Talk to someone, smack someone, attack someone! This isn't a runway it's the WWE! She's too talented to just have her do a model walk with no purpose. Mix that with Elias who hasn't had a real, legitimate rivalry in nearly 18 months other than getting interrupted and it felt very formulaic. However, the second half of this segment was saved when Ambrose came out and ended up hitting Dirty Deeds. Ambrose has been feeling much more comfortable lately, I guess he makes a better face after all.
The Riott Squad vs. Ronda Rousey & Natalya
Grade: Match C+ Post Match: A
Reasoning: This match fine, nothing special. I thought everyone put in a solid match, but it was clearly just a set up for the post-match shenanigans. Becky Lynch showing up again to attack Ronda and company was great. I'm thrilled they decided to mix things up and have her appear here instead of at Ric's celebration was refreshing. Not that her interrupting Ric's party would've been bad, but it was what everyone was expecting. Becky always bring eyes and makes segments better. True to their word, Becky was arrested on sight.
In-Ring Segment: Ronda and Stephanie McMahon
Grade: B
Reasoning: The actual meat of this segment was brilliant and I loved it. Ronda still playing her anti-Stephanie/HHH thing was well executed and her as the "face" of this storyline it makes sense for her to say "Hey I came here to fight the best and you took the best out of the picture, what's the point in having a champion who takes on the 'chosen' challengers?" Laying down the Raw Women's Championship and walking out was just vague enough to keep me interested to see what that means for next week. However, the execution of the promo was a little awkward, so it lost points. Ronda still has some work to do in the promo department, but she's still getting better all the time.
Kurt Angle vs. Jinder Mahal
Grade: D-
Reasoning: I talked about this recently in Ask WNW, but they cheapen Kurt Angle's return to the ring and how special it is to have Kurt wrestling for them again when they use his matches as filler. You've got Kurt FREAKIN' Angle wrestling in a WWE ring again! He should be up there with match from HHH, Sting, Undertaker, and other legends. Instead, it's completely devalued when he faces Jinder Mahal in a random, pointless, throwaway match in the middle of the show.
Moment of Bliss and Intercontinental Championship Match: Finn Balor vs. Lio Rush
Grade: B+
Reasoning: I'm not sure why Alexa Bliss isn't more involved in the Women's Division right now, but it's a shame because she's one of the best characters in all of WWE. We've seen these two guys compete a pretty high number of times in the last several weeks, but they can still entertain. The storyline with Rush and Lashley feels like it takes one step forward, two steps back. Are they friends? Are they allies? Are they fighting? Who knows, not WWE creative that's for sure.
Backstage Segment: Ascension make fun of Heavy Machinery
Grade: F
Reasoning: Normally, I would just skip over something so small. However, I really wanted to address how much I dislike the Heavy Machinery gimmick and it's exactly like Jesse and Festus back in the day. One character who is just "the normal one" but also acts as the "keeper" for the weird one. That gimmick crashed and burned and this one will, too. Nothing against the wrestlers, they're fine. This gimmick is a crash and burn waiting to happen
No Disqualification Match: Dean Ambrose vs. Drew McIntyre
Grade: A
Reasoning: The match itself was pretty good, however, you all know why this got a high grade. After the match was over Lashley, Corbin, and Elias attacked Ambrose. However, Rollins and Roman Reigns came out to make the save! Rollins and Reigns didn't stick around to help Dean up or show him a ton of support, but they had his back.
Nia Jax vs Bayley
Grade: A
Reasoning: I'm glad they had Bayley win this match because, honestly, she's the right person to have win. They need to show that both Sasha and Bayley are still incredible solo wrestlers who are in a tag team together. Honestly, I'm so tired of them hyping Nia like a monster, a destroyer, when she loses quite frequently. I know that may go against what I just said, but for me the ship has sailed on Nia. She's got the Big Show affect where she never wins, but I'm supposed to "oh" and "ah" when she shows up like she's going to dominate. She doesn't. Let's not pretend she does.
Ric Flair's 70 Birthday Party
Grade: A+
Reasoning: What an unexpected end! I thought for sure we'd see Becky Lynch back in the arena somehow, but this was far better! Batista shows up back in WWE, dragging a camera man (which was a brilliant touch) and attacking Ric Flair. Batista drags Flair out and Triple H runs from the ring to make the save. Seeing Batista back was great, I'm thrilled to see him. He's starting off as a heel this time, smart move by WWE. We all knew SOMETHING was going to happen during this birthday party, but WWE crushed it on this one. It easily surpassed my expectations and they were already pretty high by expecting Becky to show up.
Grade for the whole show: A
Reasoning: This show started strong, had strong moments throughout the show, and ended strong. That's enough to get an A in my book. Yes, there were some weak moments here and there, it's pretty expected during a three-hour show. However, if your beginning, middle, and end are strong I'm happy. I'm thrilled to see Roman back, I'm thrilled to see Batista back, and I'm happy we got to see Becky! Great show! Let's see how Smackdown does.