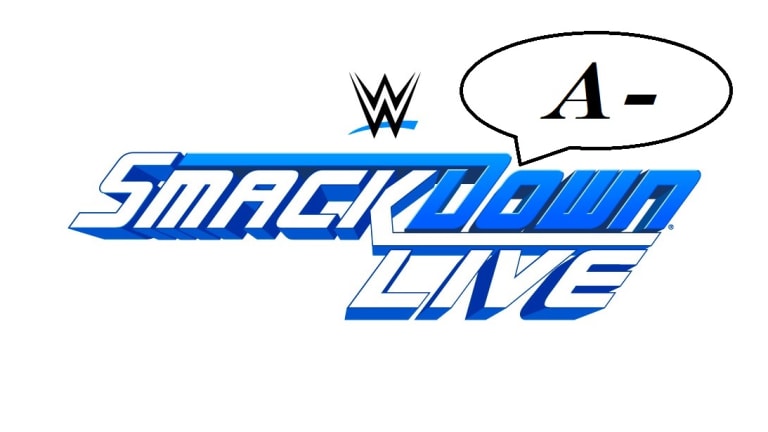 The Smackdown Report Card (2.19.19): Kofi Earns His Shot!
Opening Segment- Shane announces the NXT Call-ups; Rematch for the Tag Team Championships Announced
Grade: B
Reasoning: The opening segment wasn't anything spectacular, but this crowd's reactions were so much better than the crowd from Monday's crowd on Raw that it seemed much more exciting. I am still deducting points from this storyline with Miz and Shane and the Usos because of the overplayed "my dad loves me now" angle. Miz has won the Tag Team Championship SIX times before this run (making SEVEN total), he's an EIGHT-time Intercontinental Champion, a two-time United States Champion, a former WWE Champion who beat John Cena at Wrestle-freaking-Mania, a grand slam champion, a former Money in the Bank briefcase holder, hell he and his wife have their own TV show because of WWE! You're telling me that all that was RUBBISH to his dad and THIS is the moment he decided he was now proud of his son? Get outta here.
Andrade vs. Aleister Black
Grade: B+
Reasoning: Solid match! Great to hear the crowd give a damn about Black (looking at you Lafayette)! These guys have a history with each other, so no surprise things felt smooth and they worked well together. I think it's amusing Vega had to cheer for Andrade even though she's married to Black but shhhh we're not supposed to acknowledge that. In the end Black picked up the win after Black Mass and Smackdown is off to a good start.
Backstage Segment with Evil DIY and The Bar
Grade: C+
Reasoning: This little segment was fine, but I always hate when they don't treat NXT stars as equal to main roster stars. I know that NXT is technically the "developmental" league and The Bar ended up getting their comeuppance but still. Meh.
The Bar vs. Evil DIY
Grade: A-
Reasoning: This was a great match worked between two teams that really know how to make tag team wrestling look good. DIY looked strong without looking too strong, and The Bar didn't come off as chumps either. This was a match of pure raw talent vs talent mixed with experience and age. I really enjoyed it and again loved that the NXT guys picked up the win.
Asuka vs. Mandy Rose
Grade: B
Reasoning: We started off with an interview with Asuka and I have to say her promos are getting better the longer she's here. I love that she pointed out she could care less about what's happening on Raw because she beat both Charlotte AND Becky and is above that. Mandy then came out and challenged her and it led to a match. Rose ended up picking up the win after some good old fashion heel tricks, which works very well for her character.
Ricochet vs. Eric Young
Grade: B
Reasoning: Honestly, I can keep this one short and sweet, the reason this match gets a B is because Ricochet could wrestle a broomstick and it'd still get a B. No surprise to anyone who has seen his work in NXT, but this guy can just flat out wrestle. Not saying anything against Eric Young, but he could have been substituted with anyone and the match would've gone pretty much the same way.
Kofi Kingston, AJ Styles, & Jeff Hardy vs. Samoa Joe, Randy Orton, & Daniel Bryan PLUS announcement post-match
Grade: A+
Reasoning: This match was solid and worked by some of the most talented guys on the main roster right now. The match was smooth and kept my attention throughout. It wasn't too short, and it wasn't too long, just enough to keep me focused on the match. Kofi hit the Trouble in Paradise on Daniel Bryan to pick up the win. After the match, Shane came out and made the announcement that we all wanted to hear: At Fastlane, Daniel Bryan will defend his WWE Championship one on one with Kofi Kingston! The match itself was an A- or A but the post-match announcement bumped it up to an A+. I'm really happy to see WWE listening to their crowd.
Final Show Grade: A-
Reasoning: Smackdown does such a great job of using the full 2 hours to their advantage. Smackdown rarely feels like it's dragging on like Raw does. Tonight was no exception. We got the NXT call-ups showing off their skills which filled out the card nicely. We got all the top guys in a smooth and entertaining 6-man tag match. Finally, we ended on a very high note hearing Kofi would get his shot at the WWE Championship. Let's hope the momentum keeps rolling!