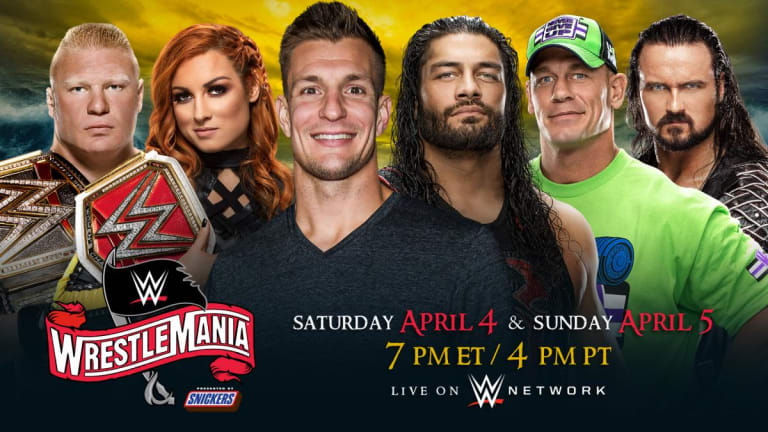 WrestleMania 36 Night Two: Preview, Live Coverage, & Results
For the first time, ever the Wrestlemania billed as too big for one night will head into its second night following a surreal but largely successful first night from the Performance Centre. The much anticipated Boneyard Match between The Undertaker and AJ Styles stole the show, the production was fantastic and in the Main Event of night one, a victory for the American Badass meant that the show ended on a real high note.
Other winners on the night were Alexa Bliss and Nikki Cross who won the women's tag team gold beating the Kabuki Warriors, Elias got his revenge on King Corbin and "The Man" Becky Lynch survived an onslaught from Shayna Baszler to retain the Raw Women's Championship.
Sami Zayn escaped with the Intercontinental Championship with victory over Daniel Bryan while John Morrison ensured he and The Miz are still the Smackdown Tag Team Champions following a magnificent performance against Jimmy Uso and Kofi Kingston.
Kevin Owens finally got his Wrestlemania moment as he defeated The Messiah of Monday Night Raw Seth Rollins in a match of the night contender before Braun Strowman defeated Goldberg in a match that felt like anything but a Universal Title match.
The Kick-Off show saw Cesaro defeat Drew Gulak and a brief showing from R-Truth on the main show saw Mojo Rawley regain the 24/7 Championship after an assist from his buddy and Mania host Gronk. 
The match card for night two is stacked and you could argue the case for as many as four matches that could main event the show of all shows. We will keep you updated throughout the day with any information on tonight's show plus join us for live updates and results provided by @lavidaporeva. The updated card and results for the show after night one are as follows:-
Night One
WWE Universal Title Match Braun Strowman v Goldberg (c) - Winner: Braun Strowman
RAW Women's Title Match Shayna Baszler v Becky Lynch (c) - Winner: Becky Lynch
WWE Intercontinental Title Match Daniel Bryan v Sami Zayn (c) - Winner: Sami Zayn
Boneyard Match The Undertaker v AJ Styles - Winner: The Undertaker
Triple Threat Ladder Match for the WWE SmackDown Tag Team Championship John Morrison (c) v Kofi Kingston v Jimmy Uso - Winner: John Morrison
Tag Team Match for the WWE Women's Tag Team ChampionshipThe Kabuki Warriors (Asuka and Kairi Sane) (c) v Alexa Bliss and Nikki Cross - Winners: Alexa Bliss and Nikki Cross
Kevin Owens v Seth Rollins - Winner: Kevin Owens
Elias v King Baron Corbin - Winner: Elias
Night Two
WWE Title Match Drew McIntyre v Brock Lesnar (c)
WWE NXT Women's Title Match Charlotte Flair v Rhea Ripley (c)
Fatal 5-Way Elimination Match for the SmackDown Women's TitleLacey Evans v Sasha Banks v Naomi v Tamina v Bayley (c)
RAW Tag Team Titles Match Angel Garza and Austin Theory v The Street Profits (c)
Last Man Standing Match Edge v Randy Orton
Firefly Fun House Match John Cena v "The Fiend" Bray Wyatt
Bobby Lashley (with Lana) v Aleister Black
Otis v Dolph Ziggler
Kickoff Show
Corey Graves and Peter Rosenberg are once again the hosts of tonight's kickoff show. Rosenberg calls the Boneyard match between AJ Styles and The Undertaker one of the best matches in WWE History. The first match to be broken down is the Firefly Funhouse Match between John Cena and "The Fiend" Bray Wyatt. Graves picks Cena and Rosenberg picks The Fiend. Second is the Fatal 5-Way Elimination Match for the Smackdown Women's Title. Corey Graves picks Sasha even if that means her betraying Bayley and Rosenberg also picks Sasha Banks but says to not count out Tamina or any of the other women. Next, we see the vignette that been show in NXT and on Raw for the NXT Women's Championship Match between Charlotte Flair and Rhea Ripley. Graves picks Queen Charlotte Flair and Rosenberg picks Rhea Ripley. The Street Profits appear in a segment and they are more than ready for the smoke to appear at Wrestlemania. Dawkins also tells Charly Caruso that Angel Garza is not the only lothario on Raw. Rosenberg and Graves both say that the Street Profits cannot afford to lose tonight. 
The kickoff match for tonight will be Natalya vs Liv Morgan. Natalya immediately takes down Liv. Liv tries to roll her for a pin but a kick out at two.  Natalya goes for a cover but then a kick out at one. Natalya goes for the shake but Liv slaps it again and goes for the submission. Liv counters and then throws Natalya onto the corner. Natalya counters and does a kick onto Liv. Liv kicks out at two and counters by using the top rope to her advantage.  Liv is thrown off after a kick but both women get back in the ring. Natalya goes for the legs but Liv refuses to submit. Liv gets a two count after she surprises Natalya. Liv does knees to the face of Natalya but only gets a two count. She then does a dropkick to the back of Natalya and Natalya turns it around but only gets a two count. Natalya goes for the sharpshooter but that is countered by Liv. Liv gets caught by Natalya and both women continue to go for the pin until Liv Morgan gets it. 
Winner: Liv Morgan
We are then shown the vignette of the betrayal that was revealed on Friday Night Smackdown. Dolph and Sonya reveal that Mandy is not responding to their calls. Rosenberg picks Otis and Graves picks Dolph. Next up they discuss The Last Man Standing Match between Randy Orton and Edge. They pass it to Booker T, Renne Young, and Christian. Christian picks Edge but does wonder if he will have ring rust, Booker T picks Randy Orton. Next up Rosenberg and Graves, both say either Aleister Black could win tonight. Both men are excited for Firefly Funhouse and mentioned how excited they are for tonight's main event Drew McIntyre and Brock Lesnar.  We are shown Brock Lesnar ending the streak at WrestleMania 30. Rosenberg respects Drew but his pick is Brock Lesnar. 
Main Show  
Stephanie McMahon welcomes us back to Night 2 of WrestleMania 36. We once again see the same SuperHero introduction as last night but they do add different imaging at the end. Michael Cole welcomes Gronk. The first match tonight will be Charlotte Flair and Rhea Ripley. 
WWE NXT Women's Title Match Charlotte Flair v Rhea Ripley (c)
We see Charlotte come out first and then a vignette with all the background on both Charlotte and her entire story with Rhea Ripley. On commentary tonight are Tom Phillips and Byron Saxton. Charlotte immediately takes down and trash talks, Rhea. Rhea gets up and the referee has to break them apart. We see four signature Flair chops. But Ripley counters and catches Flair and does the riptide but Flair kicks out at two and rolls out of the ring. Flair slightly gets in the ring to break the count-out and when Ripley goes to chase her on the outside slides back in and stomps at Ripley. Ripley drags Flair onto the floor. Flair sends Ripley into the steps and Ripley launches herself into Flair. Both women get back in the ring and we see Ripley begin to brutalize Flair and after a suplex gets a two count. Ripley kicks and puts the body scissors on Charlotte. Charlotte battles back and stomps at Ripley again. She focuses on that left leg that she injured two weeks ago on NXT. Flair slams the left leg onto the post repeatedly but Ripley pulls her leg pack and pushes Flair into the post. Ripley tries to get up but Flair slams right into the left leg and we see Ripley buckle onto the floor. Ripley catches and drops Charlotte face-first onto the mat. Both women once again throw chops and punches. We then see Flair dump Ripley onto the Floor and Flair goes to the top rope and Ripley catches her. Ripley puts Flair onto her shoulders and drops her face-first onto the mat again but Charlotte kicks out at two.  Flair gets Ripley up and we see a big right hand but Ripley catches her with another elbow and does a dropkick onto Charlotte. After the dropkick Ripley lands on the left knee and pauses for a second and only gets a two count. Flair does another chop block from behind to Ripley.  Flair goes for her submission but Ripley counters into a standing clover leaf. Flair crawls her way and is able to get out of the cloverleaf. Flair tries to set up the Figure Four and Ripley counters but then Flair sets up a Boston crab. Both women try to pin the other but both only get two counts. Flair stomps at the left leg of Ripley and Ripley gets her with a big boot but only gets a two count. Both women fight in the corner and Flair does a spear but Ripley somehow kicks out at two. Flair goes for the Figure Four and Ripley refuses to submit. Flair transitions into the Figure out and Ripley taps. We have a new NXT Women's Champion.
Winner: Charlotte Flair
Bobby Lashley (with Lana) v Aleister Black
Aleister is out first followed by Bobby and Lana. Lashley is on the attack first. Black goes from the top rote onto Lashley but nobody was home. Lashley launches Black onto the floor. Lashley forces Black back into the ring and continues to throw Black into every ring post. He then slams Black into the ring post and does a neck breaker. Lashley gets him back up and goes for the standing suplex. Black counters and does a massive kick onto Lashley. Black goes for the top rope but nobody is home and Lashley sends him into the mat and gets a two count. Lashley throws Black onto the ropes and does the standing suplex. Lashley gets a two count and we then see a reversal and Aleister gets a two count. Multiple running crossbodies from Lashley onto Black. Lana delivers instructions to spear him but Black does a Black Mass. He pins Lashley.
Winner: Aleister Black
We see Sasha Banks and Bayley backstage. Bayley is tired of people trying to drive a wedge between her and Sasha Banks. Sasha says that we all have to watch and see how badly she wants to be the Smackdown Women's Champion thereby becoming a Grand Slam Champion. We see advertising for Money in The Bank on May 10. We also see JBL and Michael Cole on commentary. Gronk forgives Mojo but says he is looking to win the 24/7 Title tonight. 
Otis v Dolph Ziggler
Sonya Deville is at ringside with Dolph. Otis starts the match slamming Dolph into a corner but he counter. He begins to attack Dolph and he does a set of dropkicks onto Otis! Dolph does an elbow but Otis kicks out at two. Dolph goes for the submission but Otis refuses to tap. Dolph works at the knee of Otis but he is caught and launched into the second turnbuckle. Otis begins to get pumped up with every hit by Dolph and he does multiple clotheslines. Otis has turned the tide and whips Dolph into the barricade and into the post. Otis catches and drops Dolph but Sonya distracts and Dolph does a low kick onto Otis. Mandy Rose comes out and slaps Sonya. Rose pushes Sonya into the referee and while the referee is distracted she does a low blow to Dolph. Otis does the caterpillar and pins Dolph. As they celebrate Otis picks up Mandy and they kiss. 
Winner: Otis 
Last Man Standing Match Edge v Randy Orton
Orton forms out of nowhere does an RKO onto Edge as his entrance is on in the background. The bell officially rings. We see another RKO from Orton to Edge. Orton grabs the camera and pushes it onto the face of Edge and drops him onto the other side of the barricade.  Both men battle on the backside area of the Performance Center. There is a table in the gym and Orton slams Edge onto it. Orton drapes Edge onto some gym equipment and Edge limps down to the ground. Edge grabbed a bar and monkey bar kicked the weight Orton was holding onto him. Edge forces Orton onto an office chair and uses the bars to launch himself onto Orton. Edge helps Orton up and Orton pushes him onto a wall. Orton grabs a sleigh and tries to push it onto Edge but he rolls out of the way. Edge grabs Orton and pushes him into a steel box. Both men continue to travel in the backstage area of the Performance Center. Orton and Edge drive the other onto the steel garage door. Edge is standing up and Orton gets up at six and Edge drives him into the garage door again. They are both in the main ring area once again. Orton slams Edge repeatedly onto the LED board and sends Edge from their perch neck first onto the barricade.  Edge gets up at nine using the barricade for support. Edge dares Orton and he continues to slam him along the barricade. Edge runs away and Orton catches up onto him and they go backstage and he slams him against a window and they are on the main office area of the performance center. Orton gets Edge up and slams him onto a wall. Edge slams Orton into the massive steel desk. Edge then slams Orton onto a picture on the wall. Orton beats the count and Edge pushes him onto the table. Edge uses the roof to elbow drop into Orton who is on the steel table. Orton pushes Edge onto the different walls and into the cameraman. They battle in the warehouse area and Edge pushes Orton into some ladders. Edge then punches Orton and Orton grabs his left arm in pain and runs away and he punches Edge. Orton then pushes Edge back to back into many crates and pushes him headfirst into the steel steps. Edge barely gets up at 9 amongst the steel. Orton catches Edge and grabs his left arm and does damage to it repeatedly. Orton grabs a water bottle and splashes his face with as Edge tries to get up. Once up he slams him into sandbags used to stabilize the camera tripods. Orton gets up ay 7 and Orton falls into a steel crate and Edge grabs him and punches him. He slams Orton into a table. Edge chops at Orton who is on the table and then uses a ladder that is leaning on the side to climb up. Edge then launches him and does an elbow drop through Randy Orton and the table. Orton slams Edge and both men take time to recover. Orton throws Edge onto the back door of a truck. Edge somehow gets up at 8. But Orton once again slams him onto the truck. Both men climb and are on top of the pickup truck. Draping DDP onto the cover of the bed of the truck. Edge gets on top of the NXT production truck and Orton is slow to meet him there. Edge catches Orton with a spear on the top of the production truck. Edge goes for another spear but Orton catches him and does an RKO. Orton climbs down and Edge is barely able to get to his feet momentarily to break the count. Orton is on the ground and we see Edge up top. Orton grabs two steel chairs and takes them up with him. He slams one onto Edge and once again goes to set up Edge between the two chairs but he is caught. Edge uses the submission move on Orton and Orton does not move on the floor of the top of the truck. Edge tells the referee not to count. He grabs a steel chair and slams it onto Orton's neck. Orton does not get up but does move.
Winner: Edge
We see Mojo being chased on the stage by many wrestlers. Gronk jumps from the perch onto everyone and wins the 24/7 Championship. 
RAW Tag Team Titles Match Angel Garza and Austin Theory v The Street Profits (c)
Street Profits have fun with the commentators as they get into the ring. Garza and Theory are in the ring and Theory and Dawkins start. Both men jump over the other until Dawkins rolls over Theory. Tag is made and Ford slams into Theory. Garza gets involved and both he and Theory get double kicked. Theory battles back and Dawkins is tagged in. Theory sends Dawkins out of the ring and Garza takes advantage of referee being distracted to kick Dawkins. Dawkins is slow to get up and Garza is tagged in. Garza beats down Dawkins and both Theory and Garza continue to work over Dawkins and tag each other in.  Dawkins is finally able to tag in Ford and he goes on the attack against Garza. DDT by Ford but is broken up by Theory. Theory slams Dawkins with a big left arm and Ford slams him onto the Floor. Ford launches himself into Theory and Dawkins. Garza moonsaults onto the Street Profits. He drags Ford into the ring and does a moonsault that only results in a two count. Both men tag their partner in and Theory is about to pin Dawkins when Ford launches himself into him. Dawkins rolls over to cover Theory. After the match Garza and Theory attack Ford. They set him for a kick by Zelina Vega. Bianca Belair shows up and spears Zelina Vega. Belair does a KOD onto Zelina Vega. 
Winners: The Street Profits
Gronk has left to keep his 24/7 Championship and Titus O' Neil is our host for the rest of the night.
Fatal 5-Way Elimination Match for the SmackDown Women's Title 
Lacey Evans v Sasha Banks v Naomi v Tamina v Bayley (c)
Sasha is out first followed by Lacey, Naomi, Tamina, and Bayley. We are reminded that Bayley has no champions advantage tonight. All four women team up to go after Tamina. Tamina powers her way out and takes down every woman. Tamina drags Naomi onto the ring. All four women kick and get Tamina out of the ring. Bayley and Sasha keep their alliance strong. They knock down Lacey Evan who kicks out at two. Naomi and Lacey partner up to knock Sasha and Bayley down. Only two women in the ring are Naomi and Lacey. Naomi goes for the roll-up on Lacey but that is broken up. Tamina rolls through Bayley and Sasha. Tamina grabs Lacey and swings her across the ring and sends Naomi onto Lacey. Tamina goes for covers but every woman kicks out.  We see the former Team BAD in a staredown and all three share their own handshake until Tamina does a superkick onto Sasha. Naomi goes for Tamina but she only gets a two count. Lacey helps Naomi but Tamina once again kicks out. All four women do moves from the top rope onto Tamina and they pile up on top to eliminate Tamina.  Sasha and Bayley dick out and we see double baseball slides. Naomi launches into Sasha but Lacey misses due to Bayley sidestepping her. Bayley sends Lacey onto the steel steps. Naomi tries to get at Bayley but Bayley works on Naomi. Bayleys get her back into the ring and goes for multiple count outs that fail. Then Sasha and Bayley double team Naomi. Naomi almost eliminates Sasha until Bayley breaks it up. Sasha taps out Naomi with a Bank Statement.  Sasha and Bayley mock and trash talk Lacey. Once she is on the ring they immediately go on the attack in the corner. They slam Lacey into the ring but Lacey kicks out. Sasha sets up Lacey on the corner but Lacer sidesteps and Bayley knocks out Sasha. Both Lacey and Bayley try to pin the other but they each kick out. Sasha confronts Bayley and Bayley knocks her out of the way. Lacey slams Bayley and does a Woman's Right and eliminates Sasha. Bayley with a knee and elbows to Lacey but she kicks out. Lacey focuses on attacking Bayley's midsection and then does multiple clotheslines to Bayley. Bayley knocks Lacey onto the apron and drives her shoulder first onto the post. Bayley covers and Lacey somehow kicks out at two. Bayley continues to attack the injured left arm of Lacey and drags her onto the corner. Bayley ties up Lacey with the tag rope and punishes until Lacey gets her with a kick to the face of Bayley. Lacey frees herself and fights against Bayley. She drives her full-body onto Bayley in the corner. Laceys goes up for the moonsault salutes and Bayley somehow kicks out at two. Banks does a backstabber to Lacey and then Bayley pins Lacey. We see Sasha get the title and she looks at it but ultimately puts it on, Bayley.
Winner: Bayley 
Firefly Fun House Match John Cena v "The Fiend" Bray Wyatt
John Cena goes out to the ring. We see Bray Wyatt inside the Firefly Fun House. He goes into the closet and Cena is transported to the Fun House. We see Rambling Rabbit appear and he tells him where Bray went. Cena opens the door and steps into a darkened room. He is confronted by the Vince McMahon puppet. Bray reenacts the promo that Kurt Angle did during Cena's debut. We see Cena in trunks similar to his debut. And Cena continues to yell Ruthless Aggression and swing and miss Wyatt. We then see Blizzard and Vince puppet on commentary. We Athens ee a mash-up of the big moments of Wrestlemania past. Bray and Cena reenact an old Hogan promo. We then Cena doing thuganomics. Both men cut a promo on each other. John Cena's in rhyme and Wyatt calls him the golden goose. Cena tries to attack and Wyatt teleports. We then flashback to Wyatt's past and to his match at Wrestlemania 32. Wyatt says that it is time to rewrite his story. He slams into Cena and goes to grab him and grabs a steel chair. Cena steals the chair and he sings at Wyatt but Wyatt teleports once again. We see him appear as Eric Bischoff and Cena appears as if he was in NWO and Nitro. We see him beating up the Pig. When he looks up that's when the Fiend appears.  Fiend does the mandible claw to Cena and he slams Cena and once against does the claw to him. Bray Wyatt counts the victory to the Fiend. 
Winner: The Fiend Bray Wyatt
WWE Title Match Drew McIntyre v Brock Lesnar (c)
Lesnar attacks right out of the gate. He slams McIntyre several times into the post. Lesnar kicks out after the claymore kick. Lesnar then does two suplexes and punches McIntyre's back. We see another German Suplex by Lesnar. Lesnar connects an F5 and McIntyre kicks out at one. Another F5 and McIntyre kicks out at two! Lesnar is stunned anyone he gets up he does another F5 but McIntyre kicks out at two. Lesnar goes for another F5 and we see 4 claymore kicks by McIntyre to Lesnar. McIntyre pins Lesnar. 
Winner: Drew McIntyre
What an exciting Wrestlemania this has been. It truly has been a pleasure to do the live coverage for both nights. This WrestleMania is history-making and I don't know about you but I am extremely happy with most of what has happened and thankful they were able to continue to do this show amidst what is happening in the world. Make sure to tune in tomorrow for the Raw after Wrestlemania, as always we will have live coverage here on the site. I personally will see y'all on Wednesday as I do the live coverage for NXT.