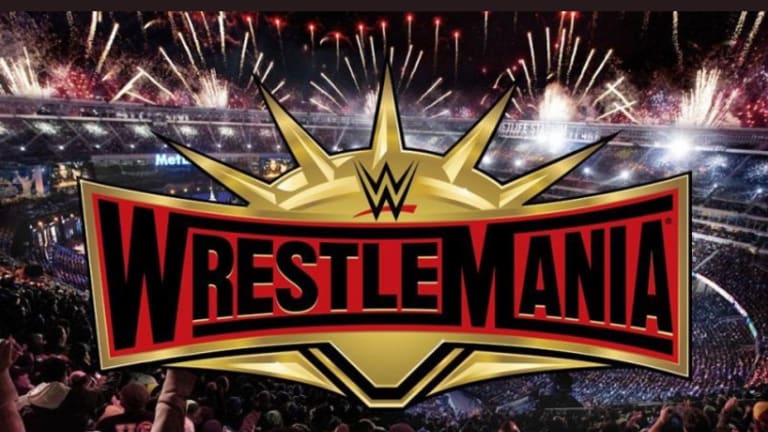 WrestleMania 35 Results (04/07/19)
The show of shows is finally here, the grandest stage of them all, WrestleMania. Join me tonight for coverage of the event with results and review of each match! We will be witnessing the first women's main event in WrestleMania history as Ronda Rousey, Charlotte Flair and Becky Lynch will battle it out in a Winner Takes All Match for the Raw and Smackdown Live Women's Championships.
Live From East Rutherford, NJ
The show opened with Yolanda Adams on stage to sing 'America The Beautiful' and helicopters flying over Met Life Stadium, followed by a video package of this year's WrestleMania....
Alexa Bliss made her way out to the stage and welcomed the crowd. She said the show needs a goddess and everyone is in the palm of her hand. She snapped her fingers and Hulk Hogan made his way out to the stage with a mic. He said it was great to be back at WrestleMania and said he sees 80,000 plus Hulkamaniacs. He did his usual lines and he posed on stage with Bliss. 
Paul Heyman stormed out to the stage and down to the ring.....
Heyman grabbed a mic and yelled wrong. He said if his client is not on last, then he will not wait to have his match, so he can get on a flight back to Las Vegas where he is appreciated...
Brock Lesnar then made his way out to the ring, followed by Seth Rollins.
Before Rollins could make it to the ring, Lesnar met him ringside and destroyed him ringside for the first five minutes before the bell could even ring. 
Brock Lesnar vs Seth Rollins for the Universal Championship
A few German suplexes occurred once the match began but soon after a referee bump happened. Rollins used that advantage and low blowed Brock, following by a kick in the face. Three Curb Stomps later....One...Two...Three....
Seth Rollins defeated Brock Lesnar for the Universal Championship
After the match, Rollins celebrated at the top of the stage and spun his belt around.....
After a brief break, AJ Styles made his way to the ring, followed next by Randy Orton....
AJ Styles defeated Randy Orton
(Definitely difficult for following up after that brief Universal Championship Match, but Orton and Styles delivered. Good match between the two and the crowd seemed to be in it for the most part. There was some cluster from the crowd due to a light being in their faces, hence all of the chants that were not about the match itself)
The Usos defeated The Bar, Nakamura and Rusev, and Aleister Black and Ricochet
(Four teams, that means chaos will happen. What a great spot fest that everyone had a chance to shine in. I was really hoping for a Ricochet and Aleister Black win, but I will do for an Uso retain. Great work from everyone involved.)
A video package of last night's WWE Hall of Fame aired, then all inductees were on stage, and DX got their own entrance.
Up next, Shane McMahon vs The Miz in a Falls Count Anywhere Match
Shane McMahon defeated The Miz in a Falls Count Anywhere Match
(The two fought throughout the crowd and the ending suplex off the camera setup was crazy. Shane got the win due to him being over top of The Miz after the spot, even though Miz did the suplex. Miz stayed in control most of the part and the crowd popped huge for the ending sequence.)
The IIconics defeated Sasha Banks and Bayley, Nia Jax and Tamina, and Beth Phoenix and Natayla to capture the WWE Women's Tag Team Championship
(So many title changes in one night. WWE seems to be hitting a refresh button and I like it. With all these changes, including Rollins winning, I am sure WWE will have something up their sleeve for the WWE Championship Match or the Women's Main Event)
Kofi Kingston defeated Daniel Bryan for the WWE Championship
(That was one roller coaster of a match. Besides from Daniel Bryan's WrestleMania moment at Mania 30, I have never seen a crowd so invested in a match in my life. Kofi earned the right to be WWE Champion and that was one of my favorite WrestleMania moments in history. The two put on a great match and emotions ran high the entire time.)
Backstage, Alexa Bliss was with the SNL guys where she told them they were in good hands. This brought in Kevin Nash and Scott Hall in medical gear, asking them if they were ready for a prostate exam.
Samoa Joe defeated Rey Mysterio to retain the United States Championship
(Makes sense to keep that match short after that WWE Championship Match. There wasn't much to it. Joe choked out Mysterio within 90 seconds.)
Roman Reigns defeated Drew McItyre
(Decent match. I think the crowd is slowly fatiguing. Great to see Reigns back, still not a fan of McIntyre)
Elias was in the ring for his special performance. Elias told the crowd to shut their mouths and then a interruption occurred of a video of Babe Ruth. Seconds later, the Doctor of Thuganomics came out. He spit out some rhymes on Elias and ended with saying there would be no AA but a FU. He hit Elias with the FU and walked back up the ramp.
Triple H defeated Batista in a No Holds Barred Match
(Boy, this night is never ending. Good match between both men and the ending with Ric Flair coming to the aid made sense. I enjoyed the pace of the match and overall, very enjoyable besides the fatigue)
Baron Corbin defeated Kurt Angle
(A great WrestleMania that had a doozie. Kurt deserved so much better for his farewell match. Nothing to complain about. It is what it is.)
Finn Balor defeated Bobby Lashley for the Intercontinental
(Time restraints seem to be happening as we are about 15 min away from 12. I question to why they had Balor drop the title just to win it back here.)
Alexa Bliss came out and said Metlife had a record attendance of 82,265. Then said we need a break. Out came R-Truth and Carmella to do a dance break.....
Becky Lynch defeated Ronda Rousey and Charlotte Flair for the Raw and Smackdown Live Women's Championships 
(Great main event. The three worked hard, hit hard, and sent the crowd home happy. Such a good show overall yet the fatigue kicked in, as the show was almost 7 and a half hours long).