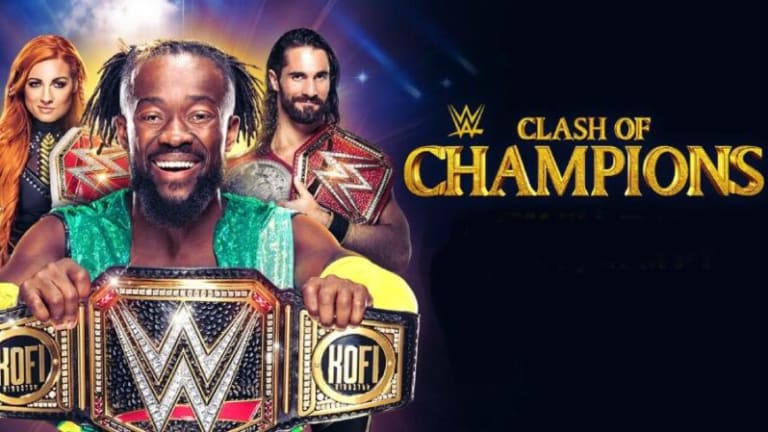 WWE Clash of Champions 2019 Review
WWE Clash of Champions 2019 was absolutely awesome! The littlest things made it all as spectacular as it was. I was able to sit up top in the nosebleeds and this was the biggest blessing since I was able to oversee the whole arena.  The stage display along with the detail in each title that made up the mantles consisted of spartans and past WWE championships. 
Before the show, fans were all warming up the night with chants, mainly consisting of the "WOOOOOO!" made famous by Charlotte's own Ric Flair and carried on by his daughter, Charlotte Flair. Even the event staff were doing it! Everyone lined up outside and, even though it was hot, all you could hear were the most amazing talks about wrestling. Event staff were so hyped up and asked us all about who we came to see. One guy said "air conditioner" in response to that question since everyone had kind of been complaining about the heat. It lightened up the mood outside from the long wait.
The biggest attractions of the night were the hometown heroes of Cedric Alexander, Braun Strowman and Charlotte Flair. Everyone had no other choice to rise to their feet when Charlotte came out, which made her look really polarising. Many felt like AJ Styles vs. Cedric Alexander should have been on the main card, as it was definitely a better match than Roman Reigns vs. Erick Rowan. Speaking of which, we had finally understood why that match had gone so late. It was a setup for the return of Luke Harper! Many were falling asleep and chanting various things in the crowd at that match but when Harper showed up, the arena came back to life. Even Harper had felt the energy from the crowd. 
Randy Orton vs. Kofi Kingston had its ups and downs. Not many people were all cheering in Kofi's favor. Most people looking on live were positive that Orton would win, as he was also another main attraction of the night. To end the night, Seth vs. Braun was a hell of a match. Of course, everyone cheered for Braun since we were in his home. Not to mention, you could just hear fans saying "Braun deserves to have a championship finally. It's been long overdue." This match setup for The Fiend to come out to send us all home, which was the most exciting thing ever. 
Overall, Clash of Champions 2019 was amazing! The fans were in awe, it was well structured, the displays were beautiful, and everyone may have not been happy with certain outcomes of the night, they were happy in the end. So, props to WWE for that one!