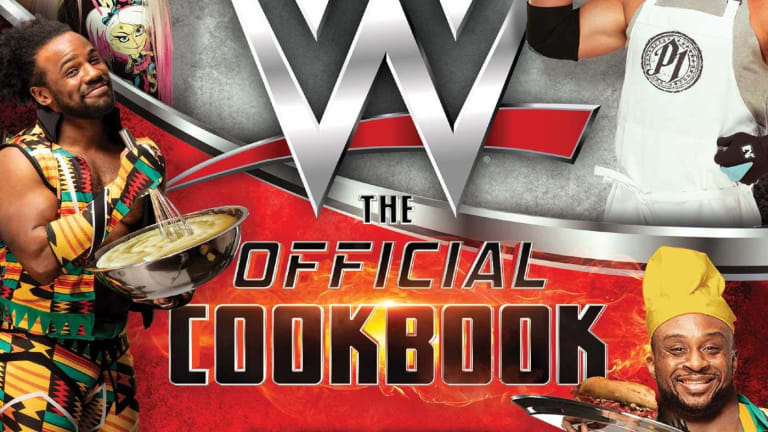 WWE Cookbook Review by Zack Krasney
Professional Wrestling has a very symbiotic relationship with a lot of things. Drinking, for instance. Beer and wrestling go hand and hand. Just ask Stone Cold. But cooking? Well WWE is releasing a cookbook, so we can ALL smell what The Rock's been cooking! World Wrestling Entertainment has allowed us to get a sneak peek at the WWE: The Official Cookbook, set to hit bookshelves everywhere on March 19.
I love to cook so take my opinion with a grain of salt, (Ha! Cooking puns!) however, I thought most of these recipes were pretty great and fairly do-able for the average Samoa Joe. (Ha! Wrestling Puns!) The book features over 75 different recipes which isn't a ton, but hey, I had fairly low expectations going in. And if you enjoy my puns (of course you do), you're going to love this cookbook. Recipes like Ba-Quiche-ta with a picture of Batista or the NWOatmeal will give readers a small chuckle with nearly every page. It's clear they hired a bunch of Dads to handle the names for the puns. Seriously, names like Coffee Kingston, Degeneration Eggs, Aiden English Muffin Pizza, Ginger Mahal. I aspire to this level of pun-tastic humor.
So how did the recipes do? For the most part, really well! I mean Vince McMahon is no Joanna Gaines, but the food is good. Some of my personal favorites were the Big Show's World's Largest Pancake. What did it taste like? A pancake. A really big pancake. Come on, don't over think these things. However, it still tasted great. I mean just ask New Day the power of pancakes! Another personal favorite was the John Cena Fruity Pebble treats. They were kind of like Rice Krispy Treats but using Fruity Pebbles instead which provided an even sweeter treat. Would definitely recommend. Macho Man's Savage Cheese and Nachos was easy to make and it's pretty hard to mess up nachos.
Not all the recipes were great. I tried the Big Boss Ham Steak Doughnuts and personally was not a fan. The Degeneration Eggs was simple and while I wouldn't call it BAD, I just wouldn't go out of my way to make it again. As for The Rock's Jabroni Macaroni Salad, well I don't like Jabronis. At least he didn't stick his strudel in it…. Finally, the NWOatmeal wasn't to my liking. Chia seeds are not something I really enjoy and I would swap out the golden raisins for regular ones.
At the end of the day, I'd say that the WWE: The Official Cookbook is worth picking up, especially if you're a fan of both cooking and WWE.  It's certainly easy enough to cook with friends, family, you can even get the kids involved.  Use this to make  yourself some great snacks to eat the next time you sit down to watch Raw or Smackdown. Heck, throw a WrestleMania party and break this bad boy out to impress your guests and send them home happy. Make sure to tell them to come hungry, know their role and open their mouths!