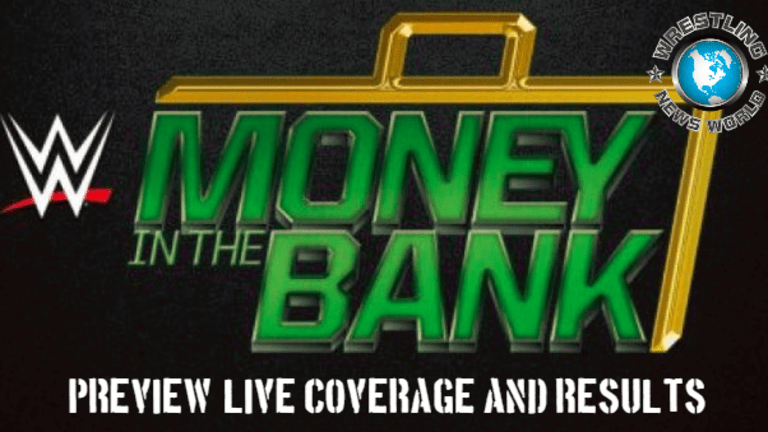 WWE MITB Preview, Live Coverage & Results (5/10/20)
Tonight is the 2020 Money In The Bank match and the event will take place in two different locations. The first will be at the Performance Center in Orlando, Florida. The other location is in Stamford, CT at WWE Headquarters also known as Titan Towers. The show will feature 7 matches on the main card and 1 pre-show match.

This year the Money In The Bank matches will happen at the same time, starting at the bottom of Titan Towers and concluding on the roof. You can see all the matches that are announced for the card below as well as a hype video for the show. 
Money In The Bank Matches:

Men's Money In The Bank
AJ Styles vs. Aleister Black vs. Rey Mysterio vs. Daniel Bryan vs. Baron Corbin vs. Otis

Women's Money In The Bank
Nia Jax vs. Shayna Baszler vs. Asuka vs. Carmella vs. Dana Brooke vs. Lacey Evans

WWE Championship Match
Drew McIntyre vs. Seth Rollins

Universal Championship Match
Braun Strowman vs. Bray Wyatt

Smackdown Women's Championship Match
Bayley vs. Tamina Snuka

Smackdown Tag Team Championship Match
New Day vs. Miz & Morrison vs. Lucha House Party vs. The Forgotten Sons

Singles Match
R-Truth vs. MVP

Pre-Show Match
Jeff Hardy vs. Cesaro

We have tons of content surrounding Money In The Bank on our website, including Predictions, Fantasy Booking, Top 10 potential cameo's and so much more. Also to get exclusive backstage coverage you can become a member today with a 30-day free trial. 

Live coverage will begin below, make sure to check out our live results of the show tonight.
LIVE COVERAGE
KICK OFF SHOW
Scott Stanford and Peter Rosenberg are the commentators for the kick-off show. Rosenberg wonders how it will be when both money in the bank matches are happening tonight. We also find out that Renee Young, Booker T, and JBL will be joining the preview show. Afterward, we get a rundown of every match happening tonight, which you can see listed above. We get a segment of FireFly Fun House in which Bray Wyatt does a storytime titled the Black Sheep and calls Braun the sheep and himself the shepherd. Rosenberg is concerned for Braun Strowman due to the mind games played by Bray Wyatt. Stanford picks Strowman and Rosenberg picks Wyatt. Booker T picks Shayna, Rene picks Lacey Evans for the women's champion. The Backstage panel will be back later tonight to predict the men's MITB match.
Kayla Braxton interviews the New Day and they say they will always come out on top because of New Day Rocks! 
Jeff Hardy vs Cesaro
This match starts with a stronghold. Cesaro brings Hardy to the floor but Hardy battles back. Hardy counters the hip toss by Cesaro. Hardy is caught off the steps by Cesaro and he is dropped and then dumped over the barricade. Hardy gets back in the ring and is stomped at by Cesaro. Cesaro does a dive into the back of Hardy's neck. Cesaro does an elbow from the middle rope but a kick out. Hardy sends Cesaro out of the ring but he is sent by Cesaro hip first into the side of the ring. Cesaro drives him to the side of the ring again and leg drop from the second rope. Hardy kicks out but Cesaro stomps at the ribs and Hardy kicks out at two. Cesaro's sliding forearm connect and he hammers away at Hardy but another kick out. Cesaro applies the chin lock but Hardy battles out of it. Hardy does a jawbreaker and both men trade punches. Hardy knocks down Cesaro and an atomic drop with a basement dropkicks results in a two count. Back elbow by Hardy and Cesaro sends him into the ring post at the top rope. Cesaro sets up Hardy for a gut wrench suplex but he is thrown off by Cesaro. Hardy with a whisper in the win from the top rope and Cesaro favors his knee. Backslide by Hardy but Cesaro rolls through. Hardy does a twist of fate but Cesaro kicks out at two. Hardy slams Cesaro into the mat and catches Hardy at the top and a gut wrench suplex is not enough. Hardy kicks out at two Cesaro does a clothesline but results in another kick out. Cesaro hits the steps hard after Hardy sends him into them and Hardy from the barricade into Cesaro. Hardy with a centaun bomb and he gets the win. 
Winner: Jeff Hardy
Rosenberg and Stanford talk about AJ Styles and the men's MITB match. Stanford says he picks AJ and Rosenberg once again mentions how it will be when both matches happen at the same time tonight. Alysha Ashton mentions how it will be a ten-story brawl and that we might see Mr. McMahon's office. Booker picks AJ, Renee picks Otis but mentions Baron Corbin. Rosenberg picks Aleister Black, Stanford picks Styles. Rosenberg picks Nia Jax, Stanford picks Shayna Bazzler. The top MITB moment is declared to be Seth Rollins cashing in during WM 31. Rosenberg mentions how despite having a great career the win tonight would solidify the Monday Night Messiah's run.  
MAIN SHOW
Smackdown Tag Team Championship Match- The New Day vs Lucha Party vs. Miz and Morrison vs The Forgotten Sons
The fatal four-way starts with Kofi Kingston and Grand Metallik. Kofi slams into Metallik but he begins to counter until Kofi catches him with an elbow. Metallik is kicked by Kofi and Blake from the Forgotten Sons tags himself in. Two of The Forgotten Sons team up and Morrison tags himself in. Morrison meets Metallik at the top and both men crash into all the men who were ringside. Metallik and Morrison are in the ring and Metallik almost gets the pin. The Forgotten Sons tag in and attack Metallik. Cutler with a big elbow to Metallik but Metallik gets the shoulder up. Wesley Blake tags in and Blake and Cutler attack Metallik. Blake and Cutler tag in and out and Metallik escapes with a hurricanerana. Cutler sent into the corner due to a DDT. Lince Dorado is tagged in by his partner and Morrison tags in. Dorado turns Morrison inside out and gets a two count. Kofi is in the middle of the ring and is out cold. Morrison tags in Miz and Kofi counters and almost pins the Miz.  Miz catches Kofi after a Trouble in Paradise. Cutler tags himself in and so does Big E. Kofi tags in and The New Day takeout Cutler. Cutler kicks out at two. Morrison knocks Kofi out of the ring. Forgotten Sons take out Big E but Miz and Morrison tag in. Morrison almost pins Big E but Lucha Party interrupts. Metallik from the top rope and sends Morrison out of the ring. Dorado makes the tag and double team by Lucha House Party. Metallik elbow from the top rope and Blake breaks things up.  The New Day double team and takedown Blake. Ryker is banned from ringside after he is caught by the official messing with Kofi. Big E and Metallik are in the ring. Big E rolls through and with a big ending pins Grand Metallik. The New Day retain the Smackdown tag team titles!
Winners: The New Day
Charly Caruso interviews Drew McIntyre backstage. Charly mentions how some see Drew as an underdog even though he is the champion. Drew highlights Seth's career and he says he will do the world a favor when he breaks Seth's jaw. 
R-Truth vs. MVP
Truth and MVP debate who will teach who about balling. Bobby Lashley interrupts and tells MVP he can take the night off. Truth tries to take the night off and accidentally slaps Lashley. The bell rings and Truth tries to escape but he is caught and slammed into the mat by Lashley.  Truth catches Lashley and spear. Lashley pins R Truth. 
Winner: Bobby Lashley
Smackdown Women's Championship Match - Bayley vs. Tamina Snuka
Bayley and Sasha are interrupted backstage by Kayla Braxton. Bayley does not let Sasha talk but says she does not blame Sasha for Tamina pinning her on Friday. Bayley trash talks and slams into Bayley first. Tamina sends her into the ring and a blow to the back of the neck. Bayley tries to get a sleeper hold but Tamina breaks it by backing Bayley into the corner. Tamina takes Bayley into the top rope and tells her to get down. Tamina slams Bayley into the mat. Bayley rolls out of the ring. Bayley drags Tamina into the corner and slams her leg multiple times into the ring post. Bayley stomps at Tamina and a kick and slams to Tamina's injured leg. Bayley hooks the bad leg but Tamina kicks out. Bayleys stomps at the knee and tries to pun but Tamina powers out. Tamina fights back with a right hand, a headbutt and a splash in the corner. Bayley kicks and punches Tamina but Tamina gets her down. Bayley with a running knee but could not get Tamina up. Tamina bounces Bayley into the ropes. Bayley fights back and is sent out of the ring after a kick to the face. Tamina grabs Bayley and sends her over the commentator's table. Tamina slams her into the barricade and drags Bayley into the ring. Tamina goes for the splash and Bayley tries to block. Kick by Tamina, Samoan Drop, and then Sasha Banks interrupts. Sasha Banks runs away and Bayley rolls Tamina for the pin. Bayley wins and when Tamina goes to attack, Sasha attacks her and goes for the knee. Sasha grabs the title and drapes it over Bayley. After the match Sasha and Bayley force commentary to clap for them. 
Winner: Bayley
Seth Rollins is backstage and he says he admires Drew McIntyre's courage and he will do him the favor of unburdening McIntyre. 
Universal Championship Match - Braun Strowman vs. Bray Wyatt
Strowman sends Wyatt into the corner. Wyatt and Strowman lock-in strongholds. Braun does jabs at Bray and sends him into the corner. Bray begins to fight back but is shoulder tackled again by Braun. Braun attacks outside of the ring and sends Bray into the barricade, steel steps, and steel post. Splash into the corner by Braun and Bray falls out of the ring. Braun goes for the run over and Bray sidesteps and sends Braun over the announce desk. The Pig puppet shows up and he does a DDT to Braun outside of the ring. Bray with a clothesline and goes the pin but a kick out at two. A wicked centaun by Bray into Braun and Braun rolls out. Bray sends Braun into the steel steps. Bray yells to Braun look what you made me do. Kick to the face by Bray, then a tornado DDT, and then a sister Abigail and somehow Braun kicks out at two. Bray yells I know and looks to do a sister Abigail but Braun counters with a massive chokeslam. Splash after splash by Braun and Bray rolls out of the way. Strowman express drives Wyatt into the barricade. Braun sends Bray into the ring. Bray catches him and drives Braun to the floor. Braun puts on his old mask and Bray is happy to see him. Both men hug and the puppets show up all around the ring. Braun takes off his mask and stomps at his mask. Braun picks up Bray and wins with a running power slam.  
Winner: Braun Strowman
The Hacker says that no one is safe and he says that he is everywhere. 
WWE Championship Match - Drew McIntyre vs. Seth Rollins
Interesting Note: Seth Rollins has new entrance music. 
Drew sends Rollins into the corner. Rollins goes for a hold but Drew battles out of it. Drew levels Rollins and Rollins goes to the outside. Drew picks up the steam and sends Rollins out of the ring. The referees break Drew and Rollins up but Drew kicks and chops at Rollins. He sends Rollins into both corners and a thunderous chop levels Rollins. Suplex but a kick out at one from Rollins. Huge chop on the corner and Rollins take a shot at the left knee. He then focuses on that left knee again. He sends Drew into the ring post shoulder first. Rollins dives into Drew and rolls them both back into the ring. Rollins goes for the leg and tries to cover after a sling blade. Single leg Boston Crab by Rollins in the center of the ring and Rollins transitions into the STF. Rollins transitions into another submission but Drew is able to crawl to the bottom rope. Rollins is forced to break and he sends Drew out of the ring. Rollins again dives onto Drew ringside. Rollins resets the count and prepares the announce table and stands on top of it. Rollins does another knee strike and goes into the ring to break the count. Rollins is caught by Drew and launched over the announce desk. Drew catches Rollins with a big boot. He goes to the top rope and goes for the Claymore but Rollins rolls out. Rollins goes for a knee strike and Drew catches him with a spine buster. Rollins kicks out at two when Drew tries to roll him up. Drew sets up for the future shock DDT but Rollins kicks at the left knee, chest, and face but Drew kicks out at one.  Frogslaph from Rollins and Drew once again kicks out at two. Rollins grabs a chair tosses it out. Rollins goes for the stomp but Drew counters. Drew goes to the top rope and Rollins catches him. Both men are on the middle rope and Drew does a headbutt. Both men are at the top rope and Rollins does a suplex and a Falcon Arrow and Drew kicks out at two.  Rollins goes for a stomp and Drew catches him with a future shock DDT but Rollins kicks out at two. Both men are on the top rope and Rollins takes Drew out and Rollins stomps at Drew's knee. Drew flips Rollins and sends him across the ring. Drew goes for the Claymore but Rollins counters with a superkick and a curb stomp results in a kick out at two. Rollins goes for the stomp, Drew counters, superkick by Rollins, and a Claymore kick. Drew pins, Seth Rollins. Drew offers a hand to Rollins and he shakes it after Drew thanks him. 
Winner: Drew McIntyre 
R-Truth is backstage. He is staring at a picture of him and his 24/7 title. Truth mentions Tom Brady but Charly Caruso clarifies and says Gronk is still the 24/7 Champion. 
MITB MATCH TIME 
Men's Money In The Bank
AJ Styles vs. Aleister Black vs. Rey Mysterio vs. Daniel Bryan vs. Baron Corbin vs. Otis

Women's Money In The Bank
Nia Jax vs. Shayna Baszler vs. Asuka vs. Carmella vs. Dana Brooke vs. Lacey Evans
The women are on the ground floor and the men are introduced and meet up in the gym. Asuka starts the match on the second floor on the edge. She immediately dives into the women down below. The men are on the attack in the gym. Asuka immediately goes to the elevator and Shayna, Carmella and Lacey Evans run the stairs to catch her. Corbin focuses his attack on Daniel Bryan and he breaks the mirror. Otis and Styles are focusing on each other. Black sends Mysterio into an exercise machine. Otis takes a break and drops a heavy bar onto Styles. Styles asks Rey for help and he says bad luck dude. The first cameo is by Bruce Prichard. All the men brawl in one elevator altogether. The women on the stairs each battle their way to the top. The women are waiting for Asuka but she uses the men being there as a distinction to sneak away. Aleister Black also sneaks away as Otis is busy doing the Yes chant. Daniel was attacking Corbin but he then attacks Otis. We see a clown grinning in the corner. Shayna attacks Dana and Nia Jax sets her attention on Carmella. Nia Jax and Shayna set their attention on each other. Dana uses a steel chair onto Nia Jax. Dana Brooke thinks she wins but Stephanie McMahon informs her she has not won. Dana is then attacked by Carmella. Carmella is brought down by Lacey Evans. AJ Styles is looking for Rey Mysterio and stops in his track when he sees a photo of the Undertaker. Aleister Black locks AJ Styles in a room with Taker's music and lights. We see Paul Heyman eating and Otis slams a food tray into him. A massive food fight erupts. Shayna grabs Rey Mysterio and Nia and Otis slam into him. Black and Bryan are fighting and Shayna is tossing food into Otis. Nia grabs Dana and sends her into the machine. Nia sends Carmella through the table. Otis and Nia face off but they both go their separate way. Otis stops for snacks. We then see people power Johnny and he is cream pied by Otis. Asuka asks a question to a janitor and she is caught by the women. Asuka throws the mop into the women and she is attacked by Shayna. Lacey Evan sneaks away and is on the stair. Aleister and Bryan are attacking each other when AJ Styles attacks Aleister. AJ and Bryan are then attacking each other in Mr. McMahon's office and he throws them out. Both men slink out and Mr. McMahon washes his hand with hand sanitizer. Both men are talking outside and then they begin to fight again. Baron Corbin takes them both down and then Black joins the fray. Corbin sends Bryan across the table and slams AJ into a wall. He then announces he is going to the roof. 
We are at the roof.  Asuka is there but so is Nia Jax. Asuka attacks Nia but she is then taken down by Evans. Nia has a hold on Evans and she drops Evans. Nia sends Evan out of the ring. Nia grabs a ladder and sets it up in the middle of the ring. She climbs the ladder but is interrupted by Asuka. Asuka and her fight and Nia sends Asuka into the ladder. Lacey sends Nia into the ladder. She climbs the ladder but is taken down by Asuka. Asuka uses the ladder to slam into Nia. She then has to reset the ladder. Lacey Evans slams Asuka into the ladder and moves it to the middle of the ring. Evans climbs and she is taken off by Asuka. Asuka and Lacey battle and Asuka begins to climb. Lacey meets her on the ladder and Asuka sends Lacey into Nia. Asuka is still on the ladder and she climbs to the top when Baron Corbin appears. Corbin does not let Asuka grab so she pushes him off. Asuka wins the 2020 money in the bank. 
Otis arrives and he sets up the ladder but it looks like he can't climb it. Corbin grabs the ladder and sends it into Otis. Otis slams Corbin, Otis does his caterpillar and slams into Corbin. Black kicks Otis and grabs a ladder. Mysterio appears and does a move onto Otis and he and Black then fight for the ladder. Both men are on the ladder and AJ Styles throws them both off. Corbin sends Mysterio and Aleister off of the roof. Aj sets the ladder and climbs but he is met by Bryan and Corbin. Corbin takes off Bryan and Otis takes off Styles.  Styles and Corbin climb and trade shots at the top of the ladder. Both men have a hold on the briefcase but Styles unclips it. Elias slams the guitar into Corbin and Styles drops the briefcase into Otis. Otis wins!!!
Winners:
Women's MITB: Asuka
Men's MITB: Otis
Stay tuned to the site for any breaking news. You can follow me on twitter @undisputedeva. Also to get exclusive backstage coverage you can become a member today with a 30-day free trial.